"Dance, for me, has become a platform to tackle and materialize all of the ideas I'm interested in. But it's also a two-way relationship — while dancing gives me this platform, it's also the practice that allows me to discover these ideas too."— Joshua Serafin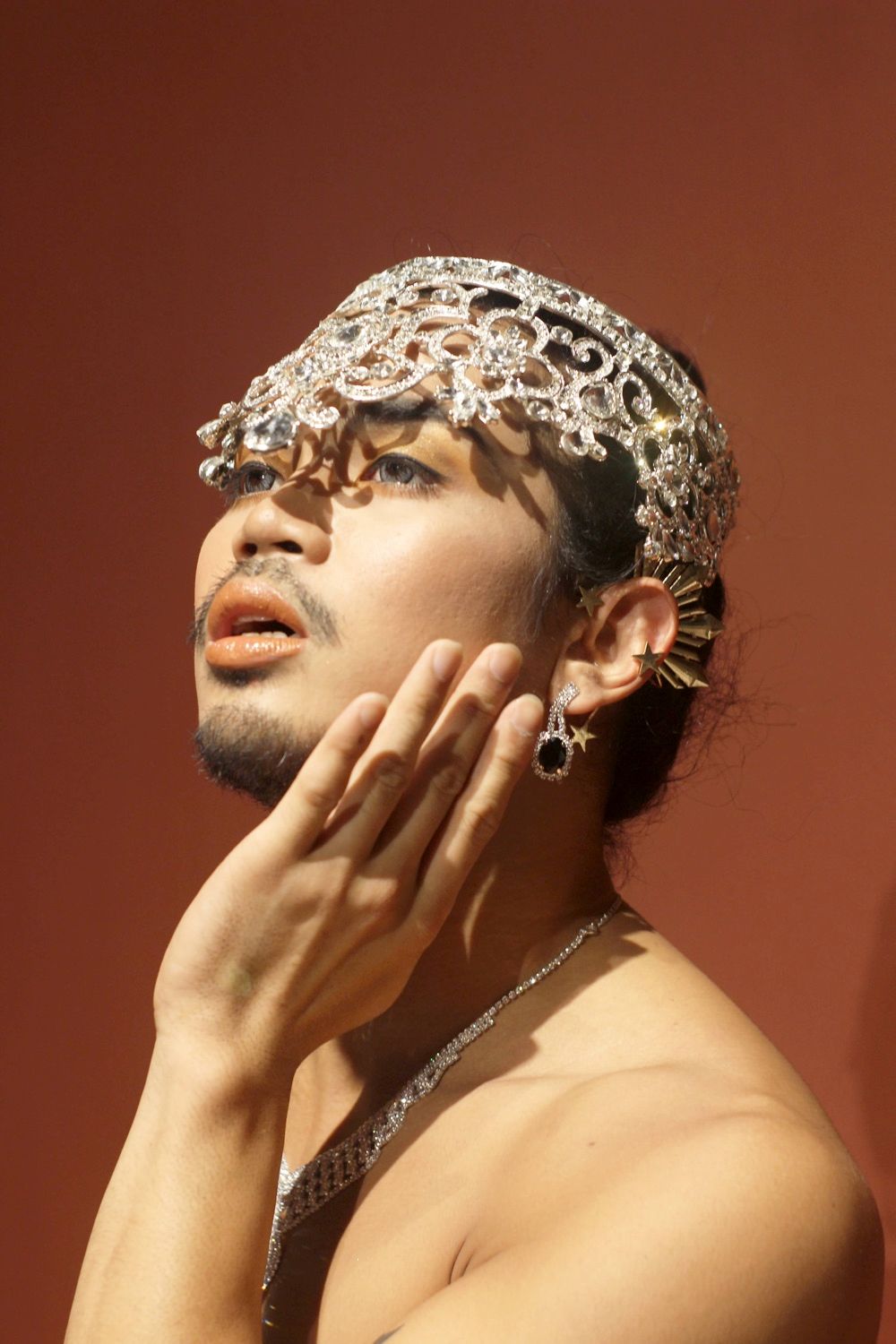 Joshua Serafin, "MISS", 2019 | Image courtesy of the artist and Queef.
Born in 1995 in the Philippines, Joshua Serafin is a multidisciplinary artist that combines dance, performance, visual arts and choreography. Their body of work deals with questions about identity, transmigration, queer politics, states of being and ways of inhabiting the body. Serafin is currently developing a cosmology of works, creating new forms of rituals and embodiment and queer ecologies. They are interested in the duality between the physical form and its representation manifested through "Void", the alternative identity they created.
Serafin is a graduate of Philippine High School for the Arts where they majored in Theatre Arts. In 2014-2016, they studied at Hong Kong Academy for Performing Arts (HKAPA) with a major in contemporary dance. After completing the training cycle from Performing Arts Research and Training Studios (P.A.R.T.S.), Brussels, Belgium in 2019, Serafin studied in Master of Arts in Visual Arts at the Royal Academy of Fine Arts (KASK), School of the Arts in Ghent, Belgium.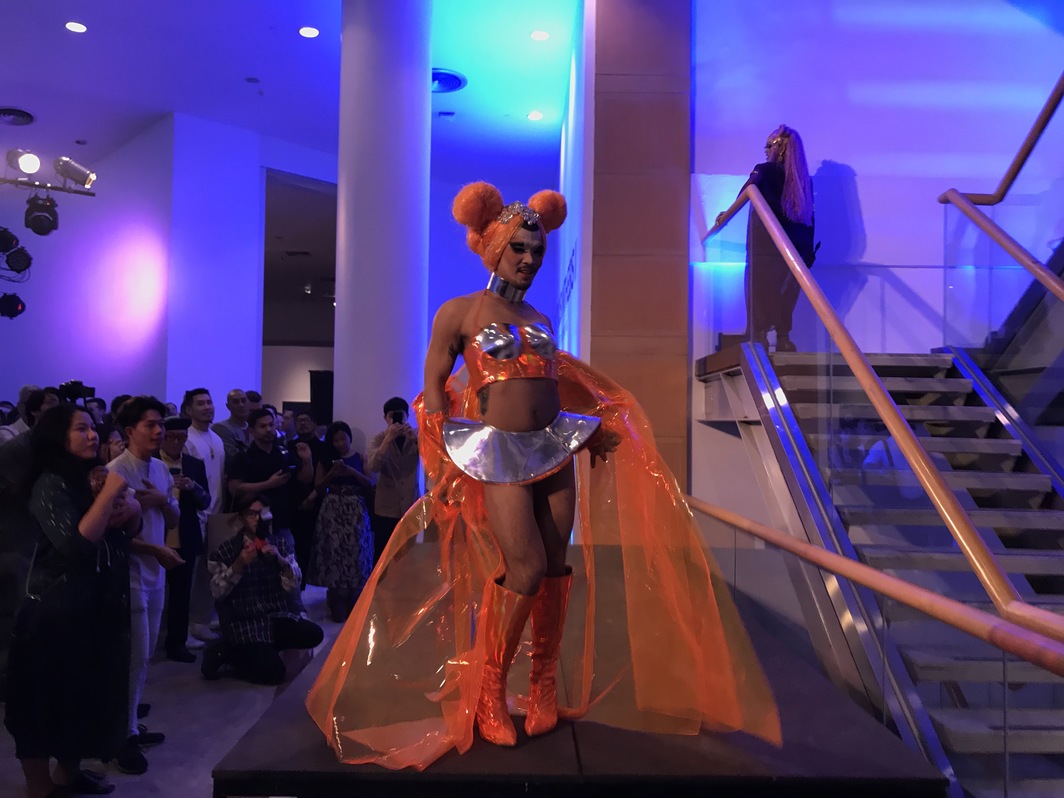 Joshua Serafin, the opening of "Spectrosynthesis II", Bangkok Art and Culture Centre, 2019 |
Image courtesy of the artist and Artforum
Collaborated in Asia and Europe with international artists such as Arco Renz, Eisa Jocson, Manuel Pelmus, Bruno Isacovic, Ming Wong, Adrian Wong, Choy Ka Fai, Leeroy New and more, Serafin has performed in the productions of P.A.R.T.S., HKAPA, Sipat Lawin Ensemble, Ballet Philippines and Pole Academy Philippines. They also participated in the festivals, including No Borders Project in Xiamen, China; 1st Martial Arts and Dance in China; International Youth Festival in Aberdeen Scotland; Deltebre Dansa Festival in Spain; KunstenFestivalDesArt in Brussels, Belgium; Dansand in Ostende, Belgium, and Tanzplattform Deutschland 2018 in Essen, Germany.
Serafin's artistic practice
"My body which is this material object I inhabit doesn't co-relate and never felt belonging to societies I have lived in. This has allowed me to see societies, people, ideals, and ideologies from an objectified and distant point of view." Based on performance practices — dissecting and defining the process of creating a performance, the score and archival materials in the research, Serafin creates material products during his artistic practice. One is creating a vocabulary and images in space that are more metaphysical, formless, undefined personas and structures. The other one is context driven work: ideas and images that already have a pre-existing form in our society and culture.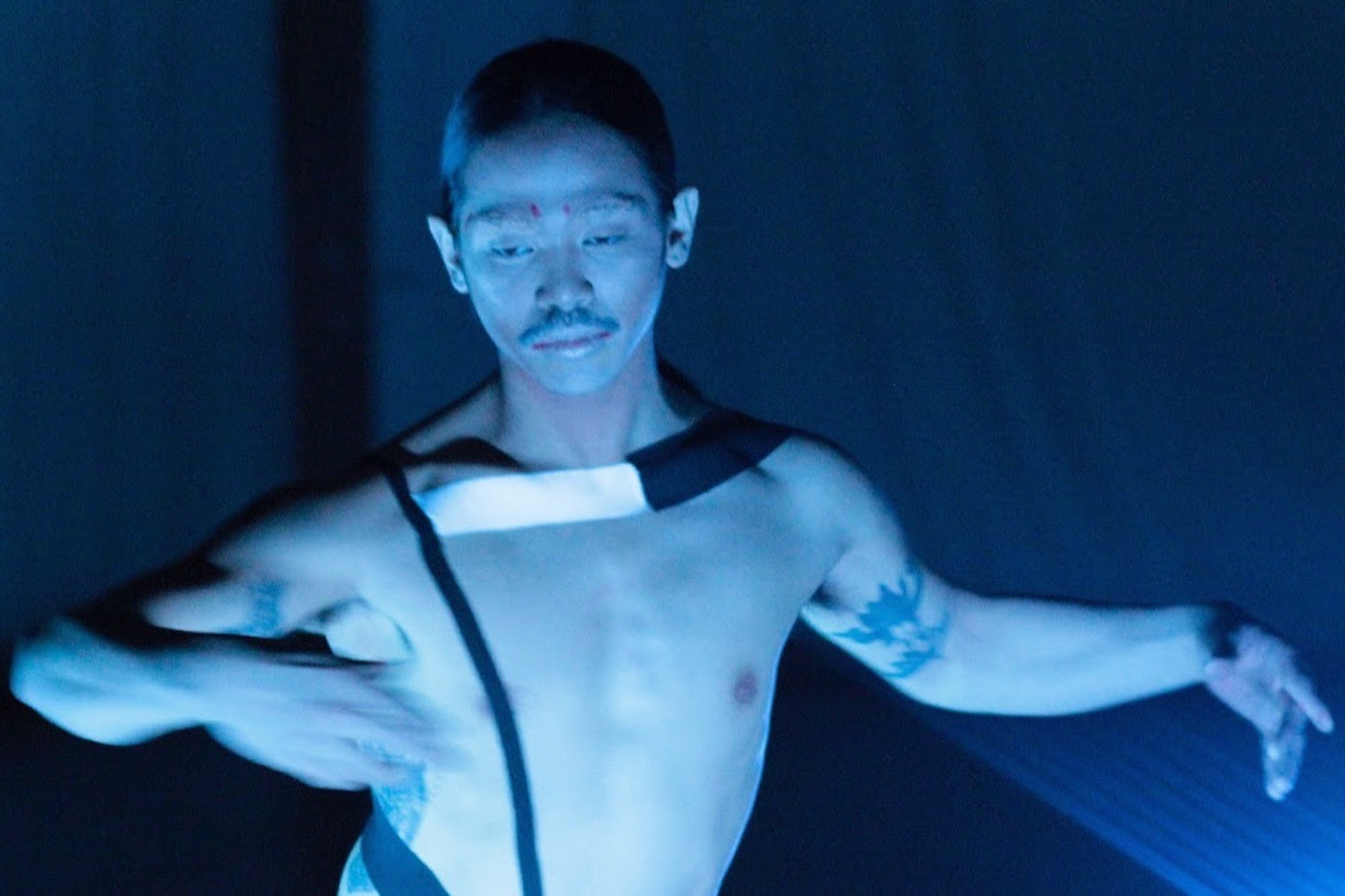 Joshua Serafin | Image courtesy of the artist
Pageant competitions in the Philippines
Serafin is interested in the topic of the pageant. The Philippines is a bona fide record holder in the realm of international beauty pageants, boasting no fewer than fifteen wins in competitions such as Miss Universe, Miss World, Miss Earth and Miss International. Pageant is also a way for the gay community to showcase and express their talent, skills, intelligence. The backlash of these competitions is putting gay man as a spectacle by objectifying themselves as a form of entertainment to the public.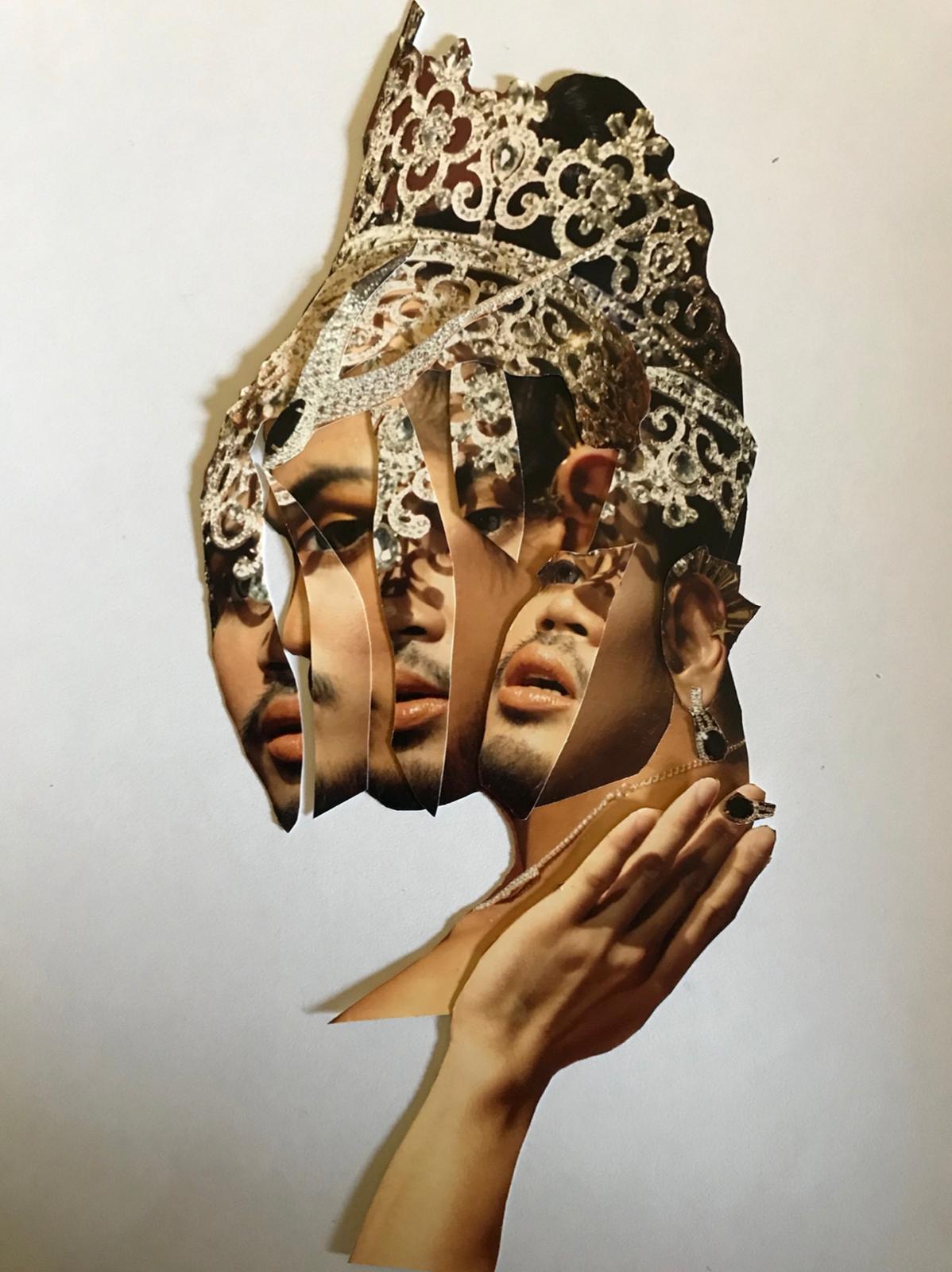 Joshua Serafin, "Ms. Pangkalawakan-19", 2020 | Image courtesy of the artist and Sunpride Foundation
"Pageant", Serafin's solo creation made under and supervision of P.AR.T.S., exploring the aesthetic of Filipino gay pageants presenting to the audience its structural forms, conversations, identity change, and physicality that has been created in this specific aesthetic as it has its own form and vocabulary.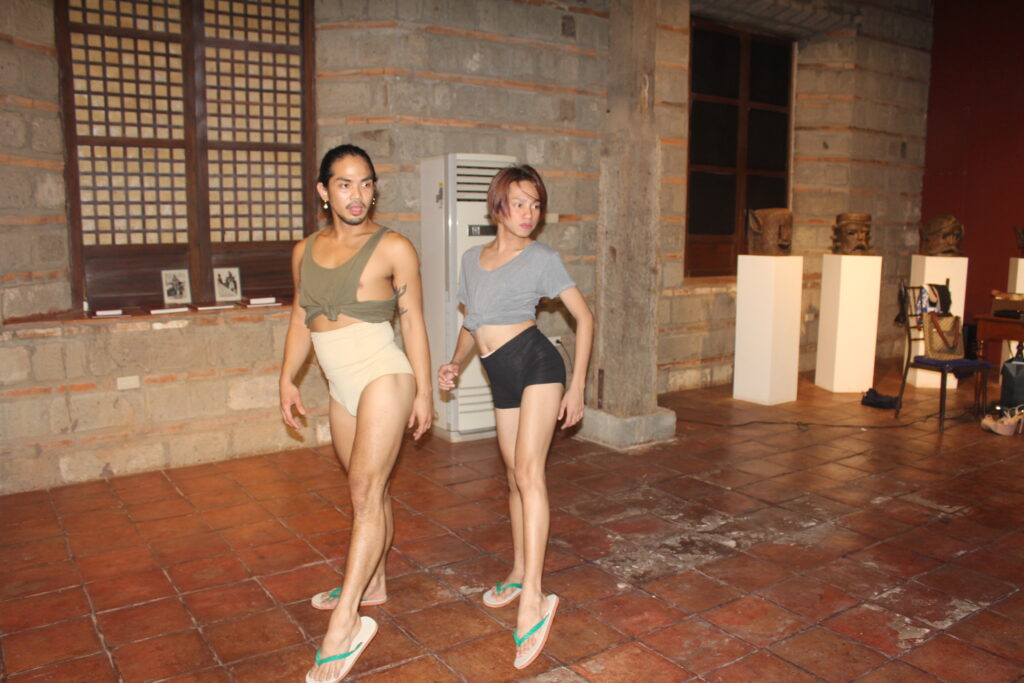 Joshua Serafin and Eljay Villafranca, pageant trainings during the residency at Bella Artes Projects, 2019 | Image courtesy of the artist and Bella Artes Projects
During their residency at Beursschouwburg and at Bellas Artes Projects, Serafin further researched and developed his newest performance, "MISS". They visited Cebu to observe the country's most prestigious transgender pageant competition, Queen Philippines. Serafin found how confident the transgender competitors are in portraying how close they are to being a woman while also playing with the manhood they were still associated with by using it as a comedic tool to supplement their way to the crown.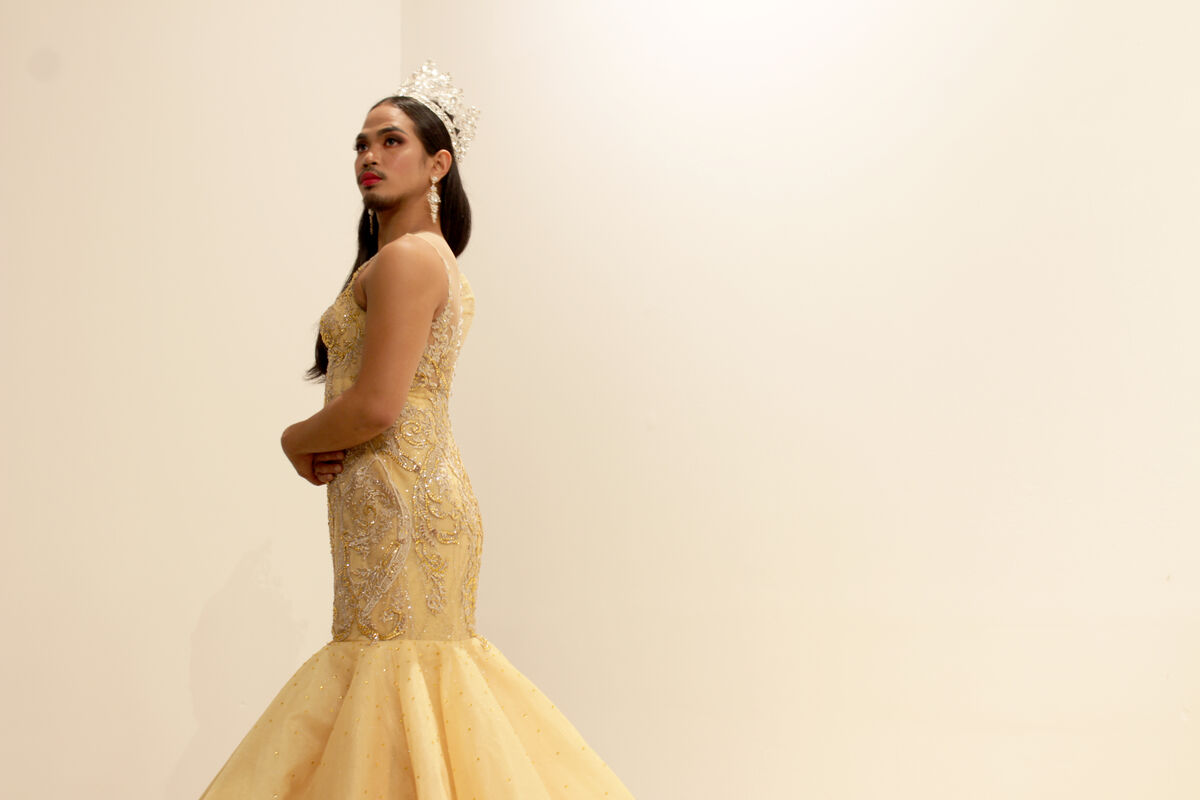 Joshua Serafin, "MISS", 2019 | Image courtesy of the artist and Kunstencentrum VIERNULVIER
"MISS" unpacks codes of representation and performativity found in the more established world of transgender beauty pageantry in the Philippines, and by looking closer to the rigor and choreography in subculture and rural pageantry, where queerness explodes any fixed categorization of femininity and fantasy.