"I start to work on a theme of MON ethnic minority groups in South East Asia, focusing on Animism because this topic is related to my family belief system, It's called Mon's Spirits totem, which is inherited from Mon communities." — Sornchai Phongsa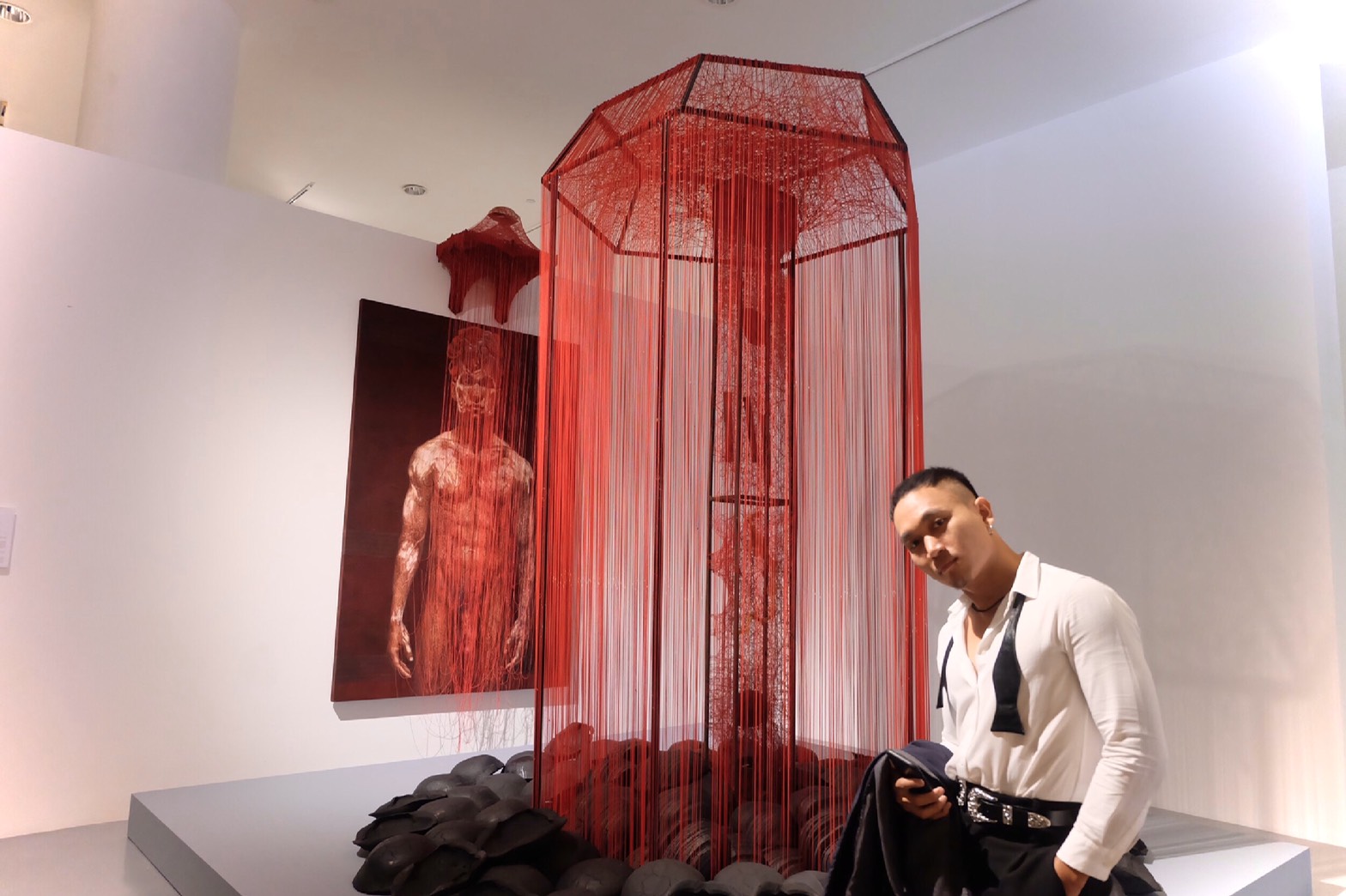 Sornchai Phongsa, installation view of "PatriarXY"
in Spectrosynthesis II, Bangkok Art and Culture Centre, 2019|Image courtesy of the artist, Bangkok Art and Culture Centre, and Sunpride Foundation
Born in 1991 in Kanchanaburi, Thailand, Sornchai Phongsa is a Thai artist of Mon ethnicity. Graduated from B.F.A. and M.F.A at Faculty of painting sculpture and graphic art, Silpakorn University, Phongsa developed his artistic identity from his interest in ethnic diversity. His body of work reflects the relationships between humans, their beliefs and community through the distinctive presence of local materials in installation art and painting. The representation of his ancestor's spiritual beliefs Mon's Spirits Totem is one of his famous projects. Phongsa's work has been exhibited in Bangkok Art and Culture Center, Bangkok Art Biennale, Tokyo Arts And Space, École Nationale supérieure des Beaux-Arts, Paris, and Cité Internationale des Arts, Paris.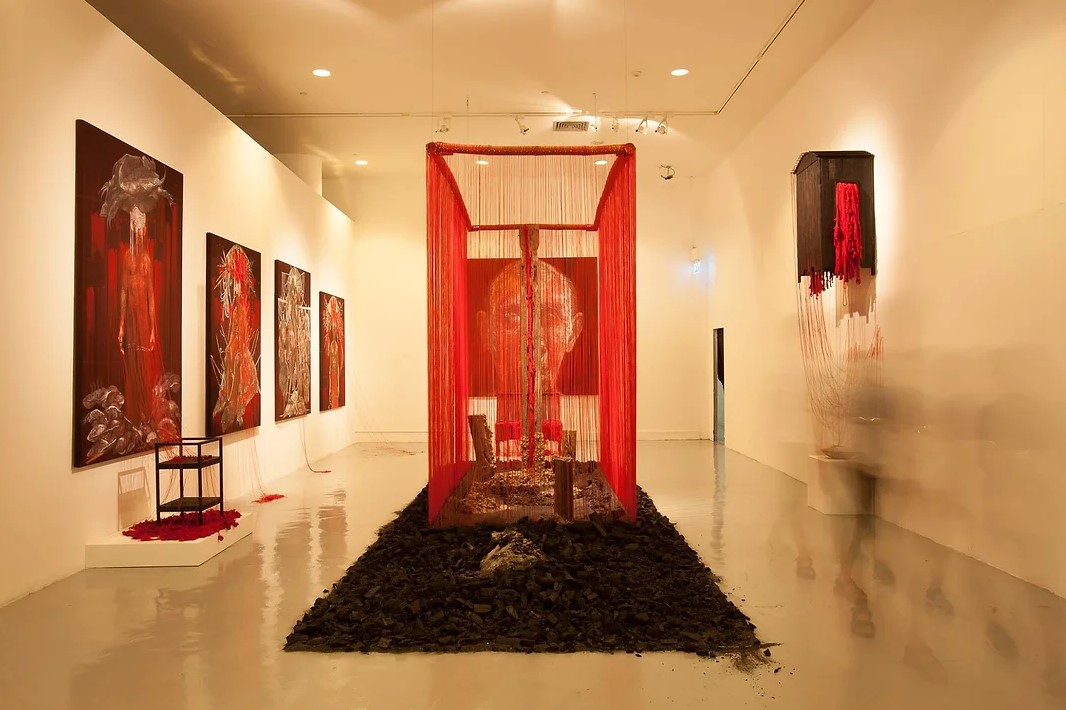 Sornchai Phongsa, Installation view of 'HATOHANO' e
xhibition, YuYuan Art and Antique at Lhong 1919, 2018 | Image courtesy of the artist and YuYuan Art and Antique
The Mon
The Mon, an ancient ethnic group in Myanmar and Thailand, is approximately 0.2% of the total population in Thailand, regarded as a minority. The Mon people worship their ancestors, believing in god and animism. It is believed that everything in heaven and earth has a soul, and the god will protect the Mon people. However, there is also a crisis where the lives of the Mon people are destroyed. Therefore, ceremonies are held regularly every year. Animals as sacrifices contribute to the ancestors and the god for gaining their blessings. Phongsa's ancestors were the Mon from Myanmar who migrated to Thailand in the very early period while Phongsa grew up in Thailand in the 90s, living in a big city. As a Mon born in Thailand with the experience of modern cosmopolitan life, Phongsa is interested in the topics of animism, ethnicity, and identity. Featuring the spiritual beliefs of the ancestral traditions, he incorporates unique local materials into his body of work as his artistic practice.
"Turtle" as the symbol of family belief system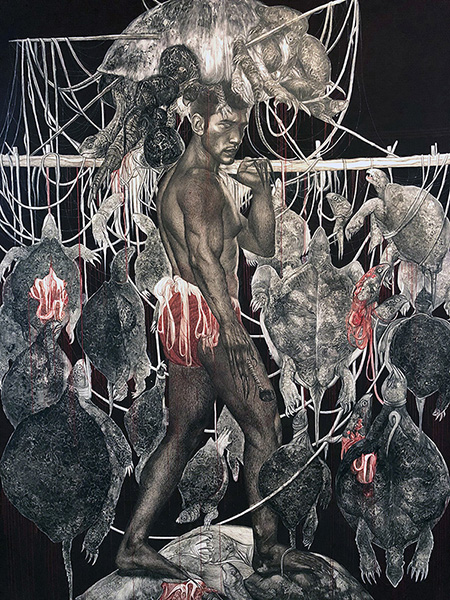 Sornchai Phongsa
, "
Turtle's Spirits Totem", 2018
| Image courtesy of the artist and Sunpride Foundation
Phongsa uses the "turtle" as a symbol that embodies the traditional beliefs of the Mon people. In Phongsa's work "Turtle's Spirits Totem" (2018), the male bears a bamboo pole tied with countless turtles, symbolizing the duty for Mon men to take care of their families and to inherit the Mon culture. In Mon's gender perspective, particularly, as the eldest son in the family, he is expected by his family with great hopes.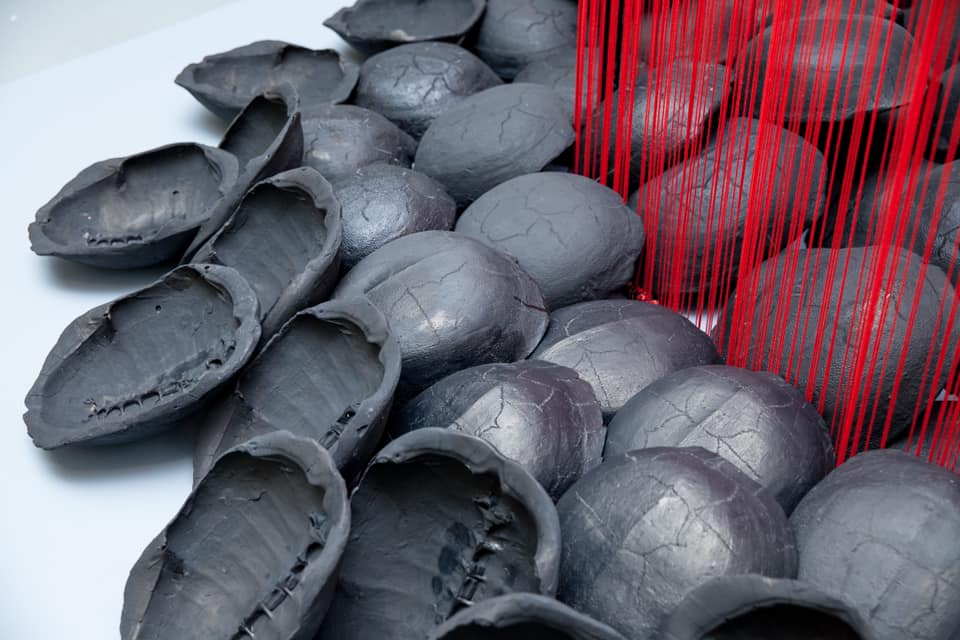 Sornchai Phongsa, "PatriarXY"
, 2019|Image courtesy of the artist, Bangkok Art and Culture Centre, and Sundpride Foundation
In the semi-enclosed installation PatriarXY (2019), Phongsa sets dozens of "Tortoiseshells" on the periphery, symbolizing the presence of the traditional beliefs of the Mon people. The ghost totem is in the center of the installation. It is elusive, but it connects us to the ethnic group through the rituals of the ancestor and the god worship.