"The little art project is like a grain of sand in an oyster, which creates a certain irritation that becomes a beautiful pearl. It's a belief in your fellow human beings – in the audience making associations when confronted with a certain situation. It's not as if we believe that each of these experiments leads to actual change. It's not a direct cause and effect. But through our experiments, and those of many different artists, you can keep alive possibility of change." — Elmgreen & Dragset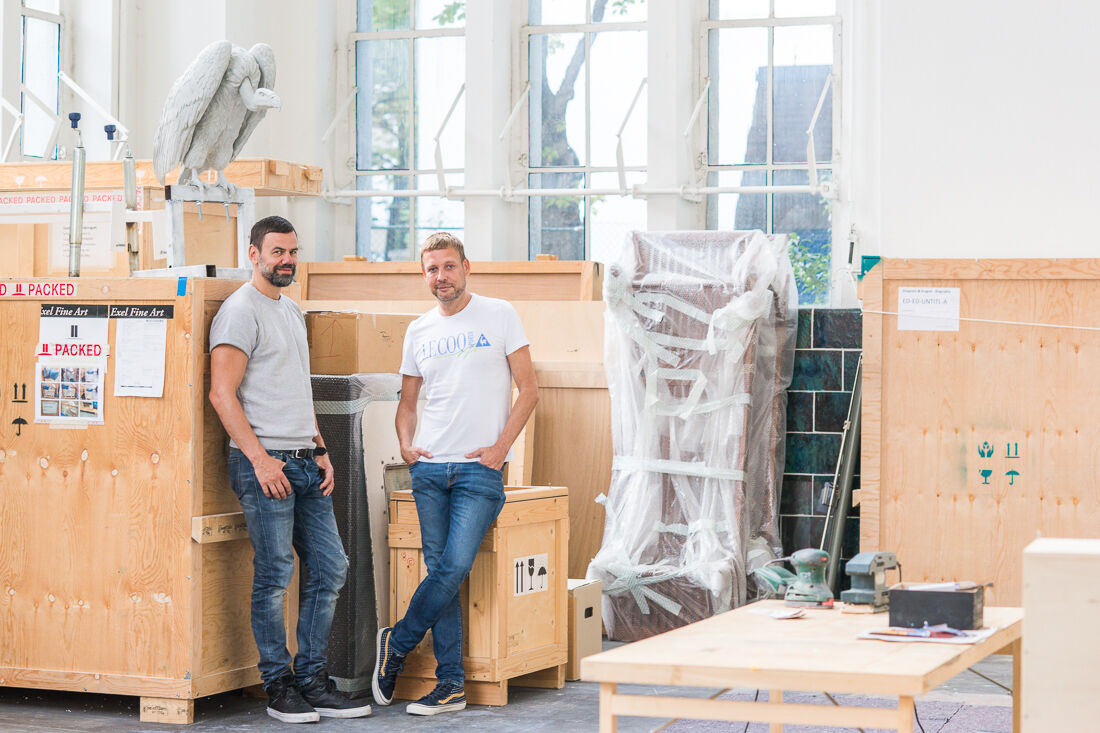 Elmgreen & Dragset in their studio | Image courtesy of
the artist
s
,
Paul Green and Artsy
Michael Elmgreen (born 1961; Copenhagen, Denmark) and Ingar Dragset (born 1969; Trondheim, Norway) marked 25 years of making art together as Elmgreen & Dragset, known for their witty, irreverent sculptures and installations that subtly subvert entrenched social codes and power structures using playfulness, beauty, even delightful absurdity. In their artistic practice, Elmgreen & Dragset pursue questions of identity and belonging as well as investigate social, cultural and political structures, particularly, in the discourse that can arise when those objects are radically re-contextualized and the normal modes for the representation of art are altered by preoccupying the objects and their settings.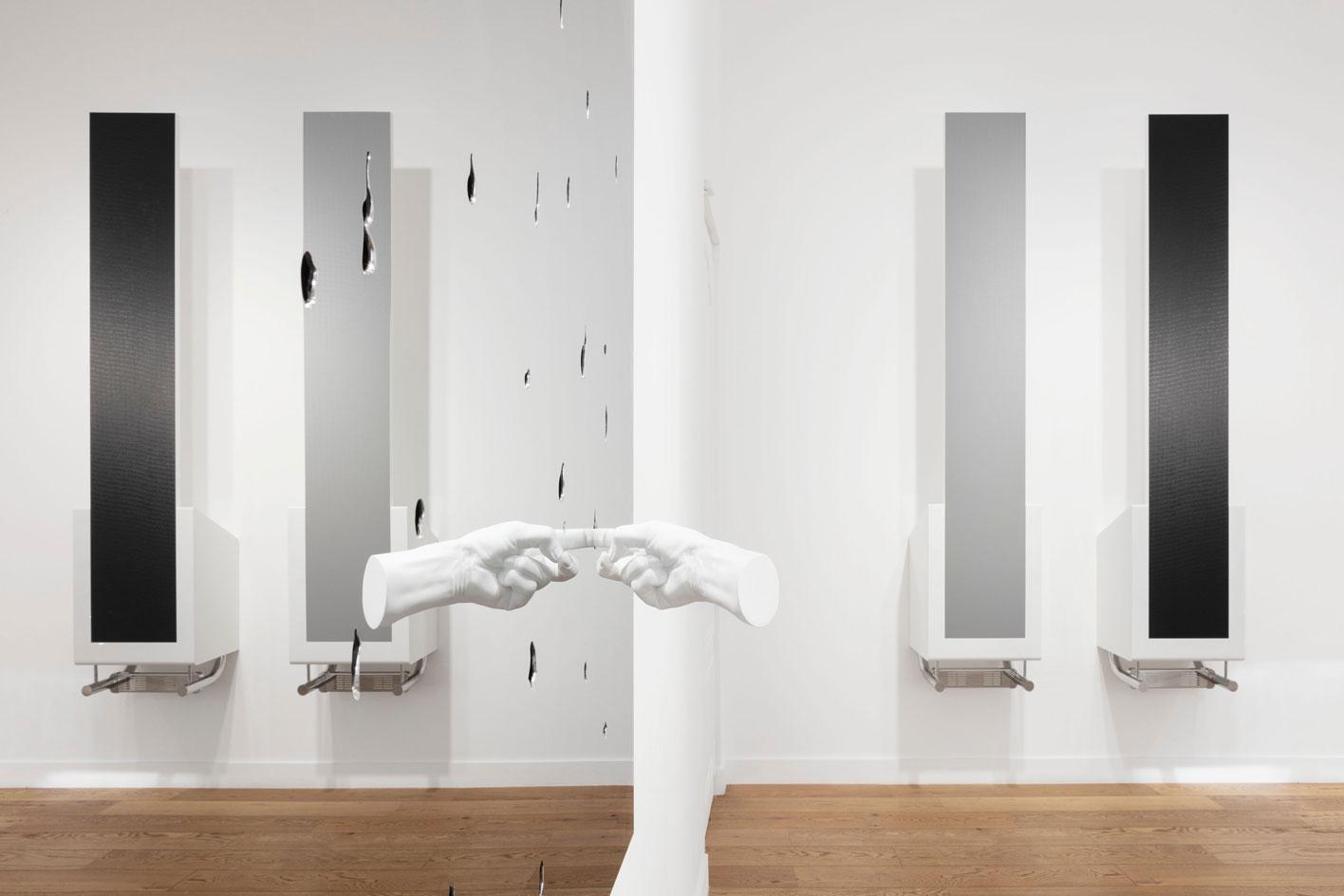 Installation view of Elmgreen & Dragset, 'Doubt', 2019, 'New Tenants'
at Perrotin Matignon | Image c
ourtesy of the artists, Perrotin and Sunpride Foundation
Since their first encounter in Copenhagen in 1994, Elmgreen & Dragset have been developing their careers as artists working in collaboration. They met in a club called After Dark and found that they both lived in the same building on the north side of the city. Elmgreen was writing and performing poetry while Dragset was studying theatre and acting studies. Elmgreen & Dragset were boyfriends and collaborators for almost ten years. They moved to Berlin in 1997 and bought a large 1000m2 former water-pumping station dating to 1924 in Berlin's Neukölln borough from the city, and converted it into a studio in 2006. After breaking up, Elmgreen moved to London in 2008 and they collaborated in an indefinable way like buddies and brothers in one.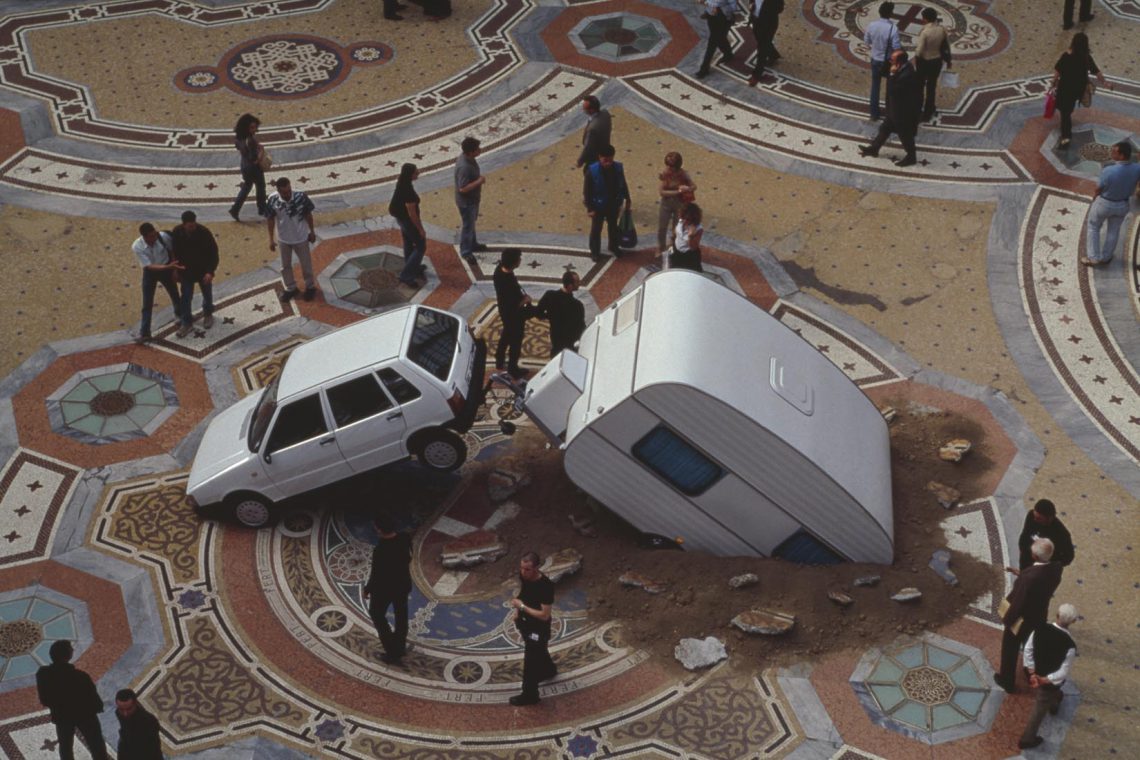 Installation view of Elmgreen & Dragset, '
Short Cut'
, 2003, Galleria Vittorio Emanuele, Milan
|
Image courtesy of
the artist
s
and
Fondazione Nicola Trussardi
The duo's well known works include "Short Cut" (2003), "Prada Marfa" (2005), "Van Gogh's Ear" (2016, 2021) and "Bent Pool" (2019). Their work has also been included in the Bangkok biennial (2018), Istanbul biennial (2013, 2011, 2001), Liverpool biennial (2012), Singapore biennial (2011), Moscow biennial (2011, 2007), Venice biennial (2009, 2003), Gwangju biennial (2006, 2002), São Paulo biennial (2002), and Berlin biennial (1998).
Elmgreen & Dragset, '
Bent Pool'
,
2019
,
outside
Miami Beach Convention Center
|
Image courtesy of the artist
s
and Dezeen
If the structures are changeable, hopes for change happen.
Elmgreen & Dragset are always aware of the structures around them. In the beginning of the 1990s, inspired by Michel Foucault's notion of power structures, they realized that "power structures" themselves are unable to impose any power, and those labels are only effective when we, as citizens, as human beings, agree upon.They chose to be naively optimistic to make art as they believed that things could change with a sense of hope. Humour became a sort of anger management and a tool for communication as Elmgreen & Dragset think that the audiences are more willing to accept a work that can laugh about themselves when confronting something serious.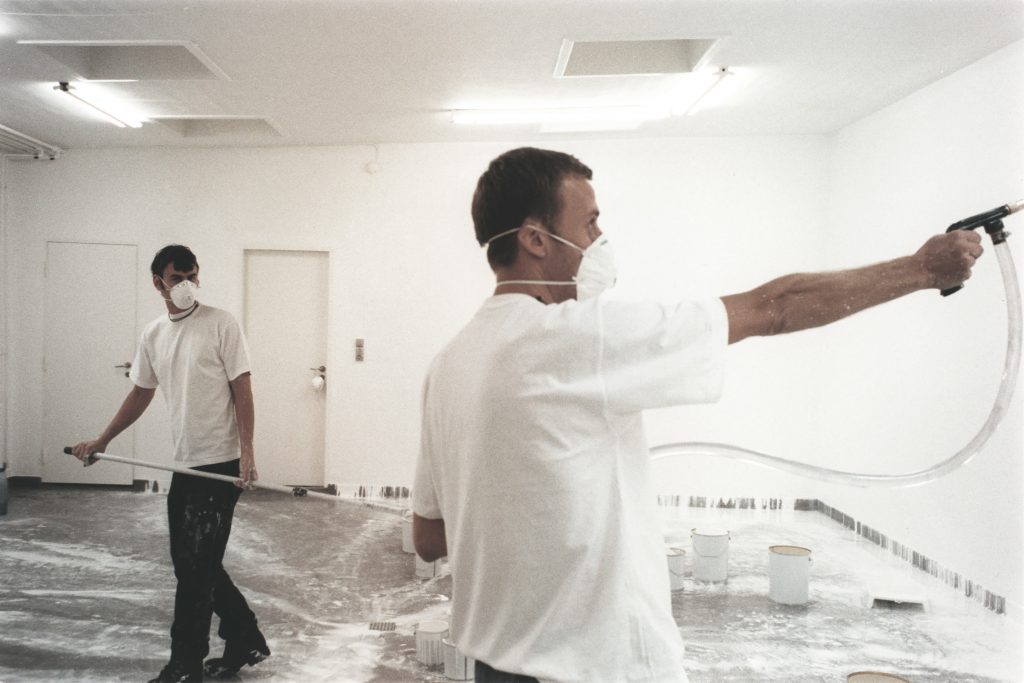 Elmgreen & Dragset,
Twelve Hours of White Paint / Powerless Structure
,
1997
| Image courtesy of
t
he artist
s
and Leif Hansen
Elmgreen & Dragset have sought to expose and complicate the supposedly neutral white-walled gallery or museum space as a structure imbued with power. This began with "Twelve Hours of White Paint/Powerless Structure" (1997), repeatedly repainting a gallery white. It also extends to other works "Dug Down Gallery/Powerless Structures" (1998), in which a gallery space is submerged or when those same wallforms are used to make the "Cruising Pavilion/Powerless Structures" (1998) in a park in Aarhus, Denmark.
All the artworks are
their
research as a life project
"Every artist includes their sexuality in their works. I mean heterosexuals can do it without really explaining it. But we don't want to be boxed in by it — as if we would only deal with queer issues." The starting point of making art is the personal experience of Elmgreen & Dragset, focusing on the familiar and the everyday is a means of challenging presumptions about how things are and asking what else they might be.
Elmgreen & Dragset,

 '

Gay Marriage', 2010 | Image courtesy of the artists and Perrotin
"Marriage" (2004), "Second Marriage" (2008) and "Gay Marriage" (2010) is a series of sculptures symbolizing the entanglements, both positive and negative, that constitute partnership, and using visual humor to contest a restrictive account of coupling. These works are accurate in their account of the entwined psychology of the couple and more open in thinking about whom that couple might be. They slowly draw out the queer possibility of marriage, and by soliciting such parallel identifications and open options.