Samson Young is an artist who can concentrate on only one thing under the scene of many different events happening. "So You Are Old by the Time You Reach the Island" presented by Samson Young is a work for the BMW Art Journey during the opening of Art Basel Hong Kong in 2016. "The island" refers to the corners located at Wanchai and Admiralty. "The growth" might refer to the audience who listened to this work. The history and culture of this place are gradually getting older. The illusory, reality, personal and misery have been tightly intertwined by Young's music, forming a unique and nostalgic context.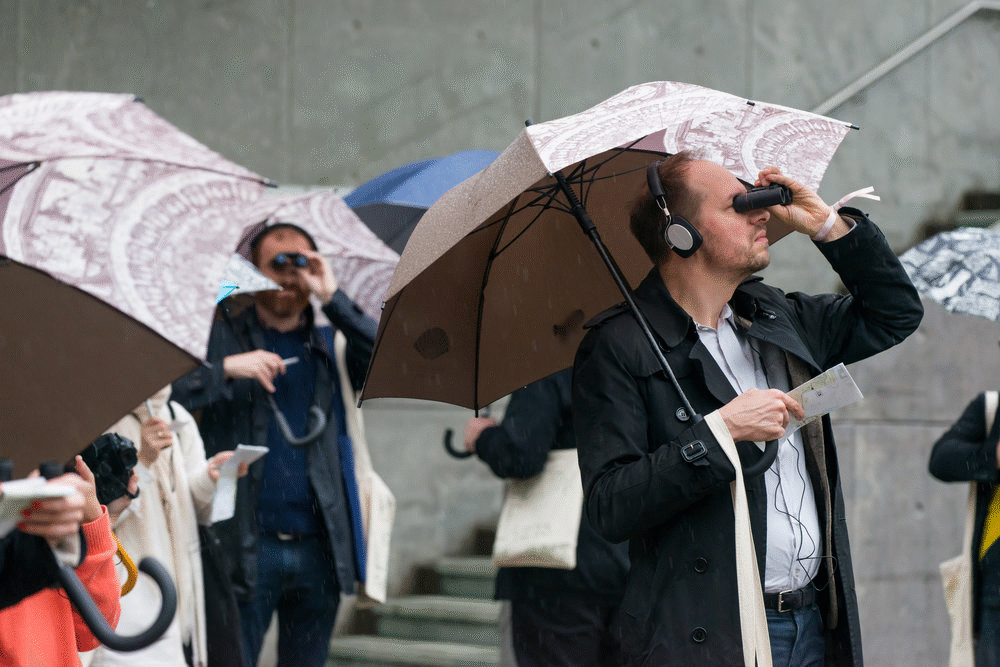 Samson Young,
video screen capture of
"
So You Are Old by the Time You Reach the Island
"
(2016)
|
Image courtesy of
the artist
Born in 1979 in Hong Kong, Samson Young is an artist and composer who champions at merging visual elements with sound and creating integrated diverse work by music composition and performance. Young is interested in exploring the topics of identity, war, trauma, literature and art through music. He merges the sounds from different time and space to build an unexpected connection that gives new meaning to negligible daily life. As Young holds a Ph.D. in music composition from Princeton University and B.A. in Music, Philosophy and Gender Studies from the University of Sydney, it is not unexpected that his work shows his strong academic background.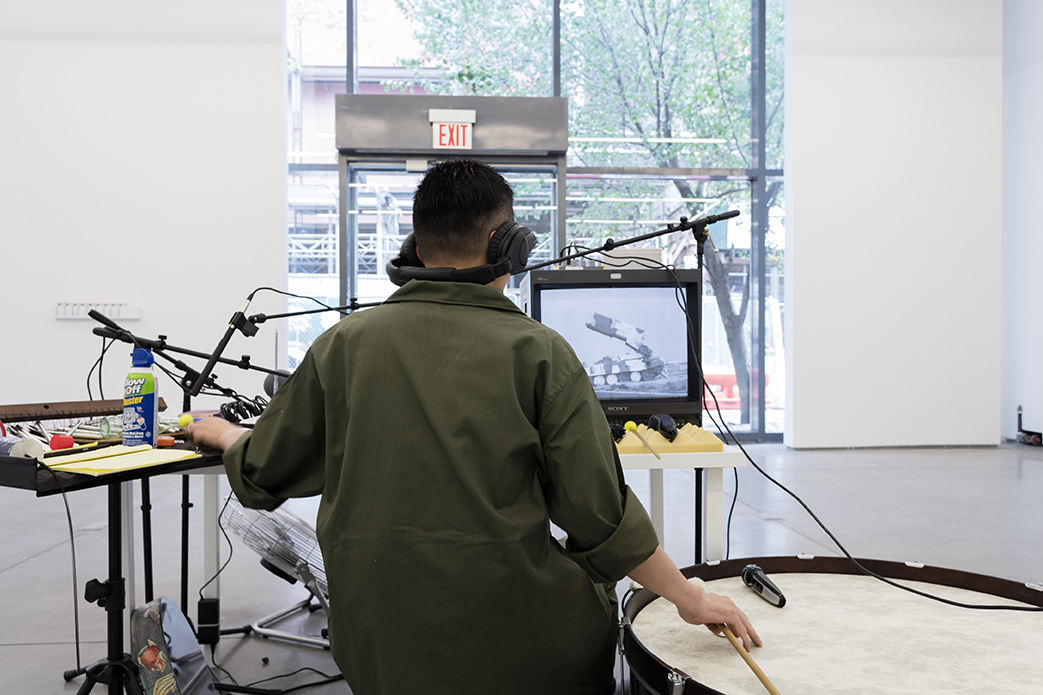 Samson Young,
"
Nocturne
"
(2014) (Performance)
|
Image courtesy of
the artist and TEAM Gallery
In one of his pervious interviews, Samson Young mentioned that music is his whole life and final destination. He also talked about he started creating his work by electronic device after he met someone who composes various sounds by a computer. He was inspired at that accidental moment but he actually received training in composition under the supervision of computer music pioneer Paul Lansky.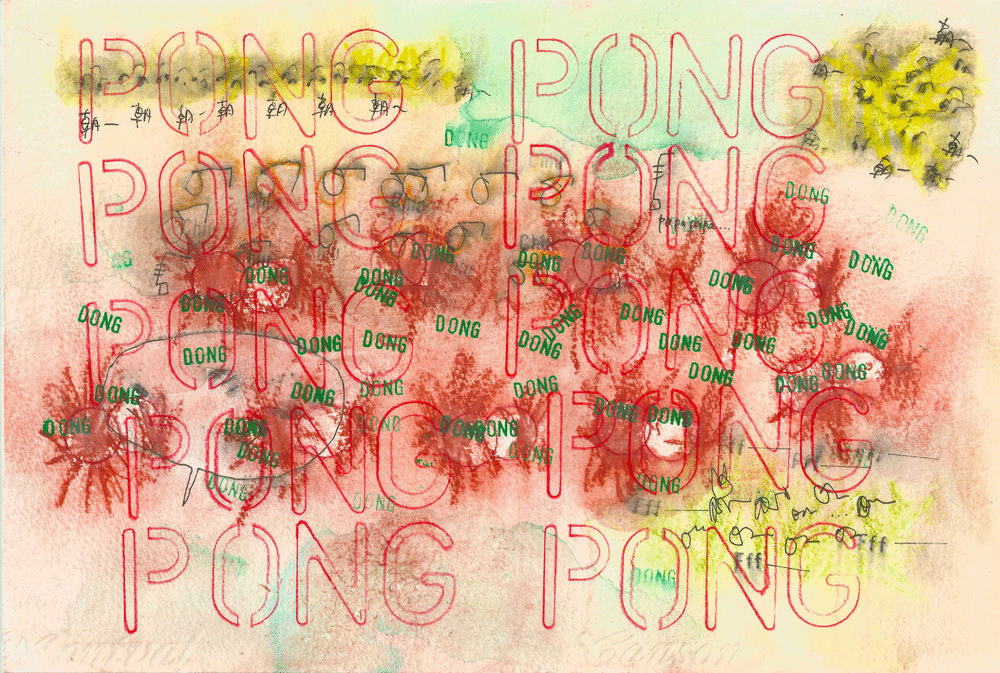 Samson Young,
"
Fo
r Whom
t
he Bell Tolls: A Journey
Into the Sonic History of Conflicts
"
(2015)
|
Image courtesy of
the artist
Since Young received the inaugural Bloomberg Emerging Artist Award in 2007, he has entered different art spaces where are able to approach different kinds of audience such as concert halls, galleries, museums and theatres. War, politic, identity and boundary are Young's most concerned topics. His work "For Whom the Bell Tolls: A Journey Into the Sonic History of Conflicts" in 2015 is originated from a novel "For Whom The Bell Tolls" by Ernest Hemingway, questioning about war. In two years, the archive for bell sounds was built after Young visited different countries to document and research the bells from different districts with different historical backgrounds and meanings as well as therelationships among bell, religion and war. A massive workload is always the behind scene of an artist during creation. Working with sounds is to deal with a huge set of complicated data and endless investigations. The existing meaningful context is created after made the choices from the existing and non-existing melodies.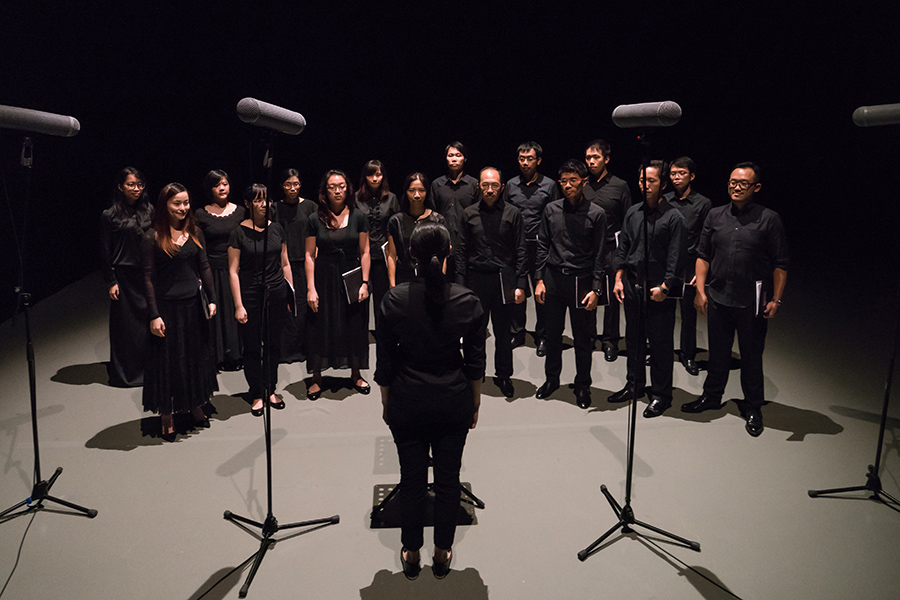 S
amson Young, video screen capture of "
Muted Situation #5: Muted Chorus" (2016)
,
|
Image courtesy of
the collection of the
S
unpride Foundation
In the 2019 exhibition Spectrosynthesis II in Bangkok, Young's work "Muted Situations #5: Muted Chorus" was exhibited next to a video installation by Chinese artist Yan Xing. The unheard and the marginalized voices are revealed by consciously muted choral performance. This weird and suppressed small scale performance takes off the "take it for granted" view from the expectation of audience, developing an experimental act in a silent way.