'This is one kind of "cross-dressing" no matter if I act as a male in the play, an old character or a young character, even speaking the foreign language in the play. Cross-dressing is not only limited to a man dressing as a woman. Identity is full of flexibility. During my cross play and cross-dressing, the representational identity and the associations with it in every aspects have been collapsed along with changing outfits — gender, age, nationality, body, language, race, and social status.' — Ming Wong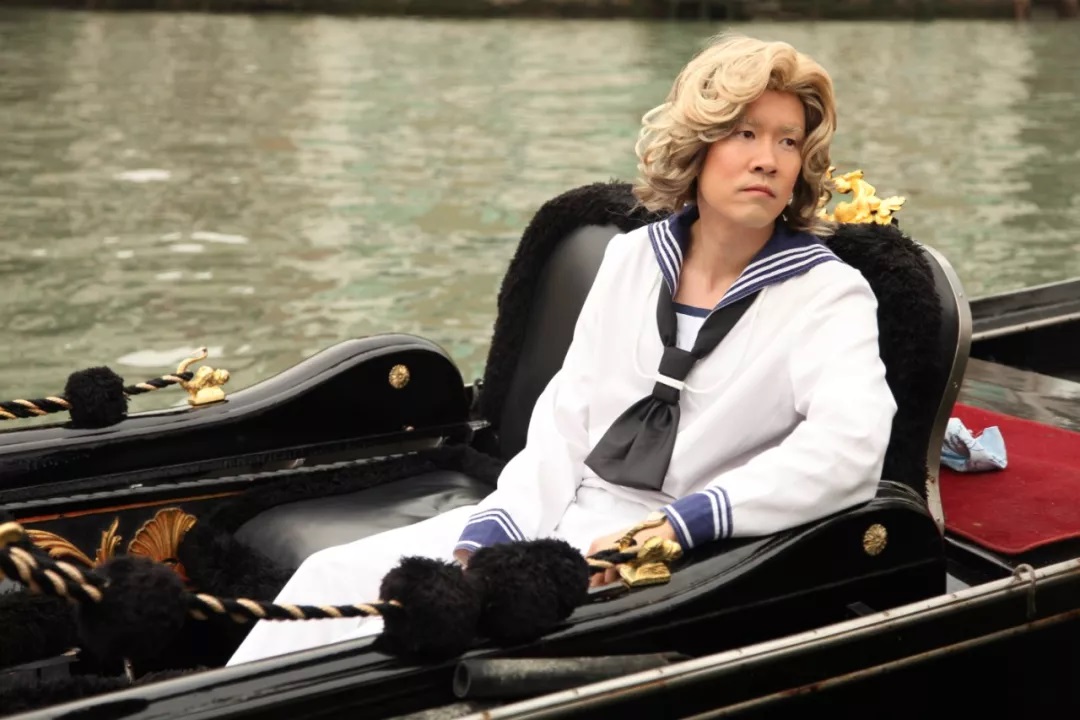 Ming Wong, 'Life and Death in Venice' (film still), 2010 | Image courtesy of the artist and Sunpride Foundation
Born in 1971 in Singapore, Ming Wong lives and works in Berlin. He is known for transforming himself into the film characters by video, performance and installation art. Using a technique of 'reprint' as his way of expression, he re-interprets the iconic plots from the world classic films and popular culture in order to explore the intersection of language, identity and performance. Thereby, unique cinema language, social structure and the reflection on identity are able to be constructed.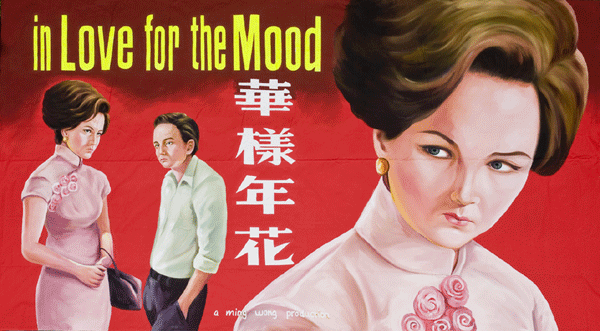 Ming Wong, '
In Love for the Mood
', 20
0
9
| Image courtesy of the artist
After studying Chinese art from Nanyang Academy of Fine Arts in Singapore, Wong further studied new media art in London. 'From my earlier career till now, cinema is my source of inspiration. I learned Chinese art, but my art enlightenment is not art history'. Cinema has been influencing his performance. With no formal acting training, Wong only dabbled in theatre during his studies. 'It is not like acting. I am actually acting but trying to be the character in the story'. Among the differences, Wong looks for the creation, wandering between performativity and positioning in gender.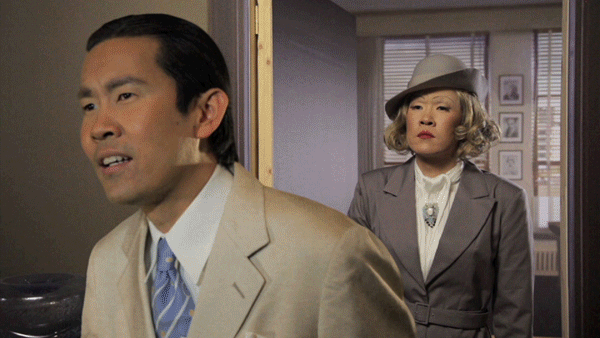 Ming Wong, '
Making Chinatown
', 20
12
| Image courtesy of the artist
Compared with drama, Wong prefers writing and being a playwright. During his studies in Singapore, he participated in writing English drama scripts. Since then, he has tried to set different languages for the characters, including standardized English that represents well-educated, localized Singaporean English, Malaysian and Chinese dialects, and even body language. Besides video work, Wong integratedinstallation art and transdisciplinary forms of expression to enrich his exploration inthe artworks from all over the world, and further reveal how individual identity is shaped, constructed and communicated.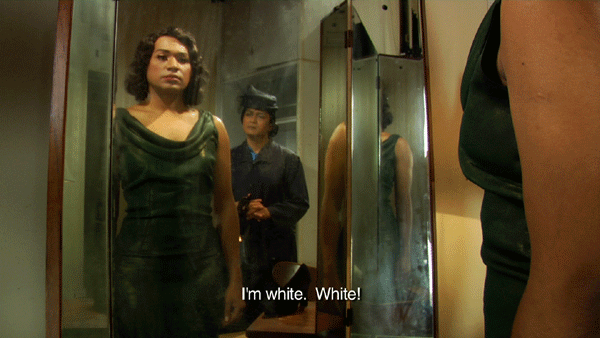 Ming Wong, '
Life of Imitation
', 20
09
| Image courtesy of the artist
In 2009, Wong participated in the 53rd Venice Biennale, representing the Singapore Pavilion. With the commissioned work 'Life of Imitation', he gained wide attention. 'Life of Imitation' is inspired from a conversation between a black mother and hermixed race daughter who escapes from her hybrid identity, one of the plots from the classic Hollywood film directed by Douglas Sirk. In Wong's version, the male actors from three main ethnicities in Singapore, including Chinese, Malaysian and Indian,take turns to play the role of black mother and the role of the daughter who tried to imitate a white. The role played by each actor keeps changing along with lens switching. Chinese actors plays as Afro and mixed race. A man dresses as a woman. Those are not to reflect the fact that the artist's reproduction is not perfect, but to express that gender resetting is an act of imitation.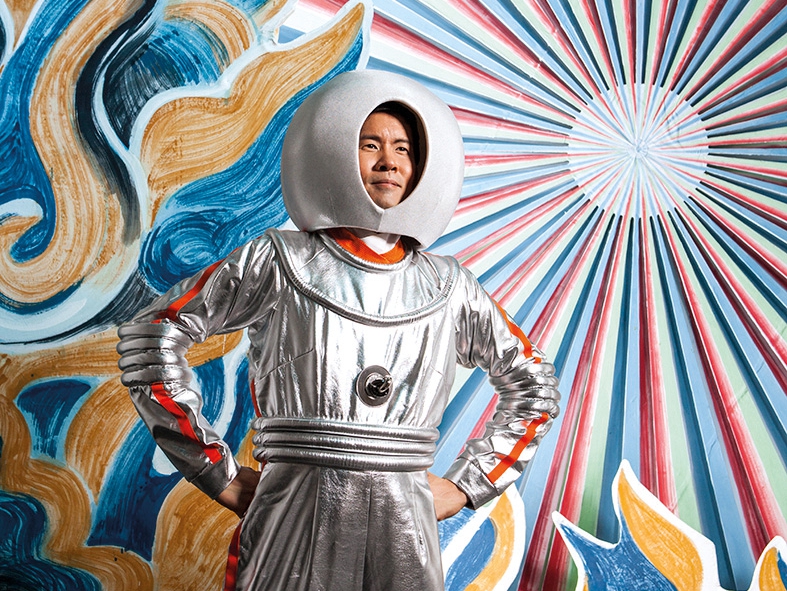 Ming Wong, '
Scenography for a Chinese Science Fiction Opera
', 2015 | Image courtesy of the artist
Wong's work has been shown in various significant international biennales and well-known art institutions. In 2015, UCCA Center for Contemporary Art launched his first solo show 'Next Year' in Beijing. As a foreigner with self-identified as homosexual, Wong felt himself not fitting in mainstream when staying in Beijing. "Incompatible" became what he exactly wanted to achieve from his work. From 'Scenography for a Chinese Science Fiction Opera', one of the works in the exhibition, the corridor of UCCA Center for Contemporary Art has been modified to a stage by integrating the space structure of the space capsule in the history of Chinese and foreign movies with the aesthetics of the traditional Chinese cosmology. The pattern of the clouds is a reference to the traditional Chinese opera stage and ancient religious murals, in sharp contrast with the space capsule inspired by typical Western science fiction movies. Different images represent multiple cultural backgrounds and time dimensions, presenting Wong's fruitful research results on Chinese and foreign Sci-fi movies.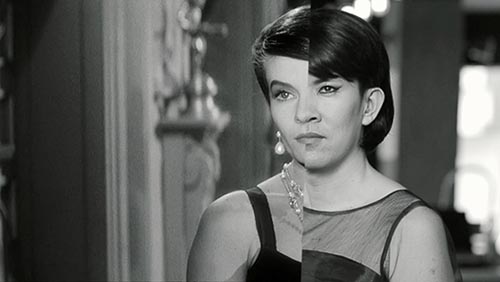 Ming Wong, '
Next
Year
', 20
16
| Image courtesy of the artist
Wong himself even plays multiple male and female roles in his video work of the same name as the exhibition. The shots move in pace with the rhythm of thoughts and emotions. The shots are sometimes duplicated, fallen back, entangled, or blanked. Reality, memory, and fantasy are constantly intertwined, switched and flashed back. It neither follows the priority and order of the objective world, nor does it conform to the narrative law of montage.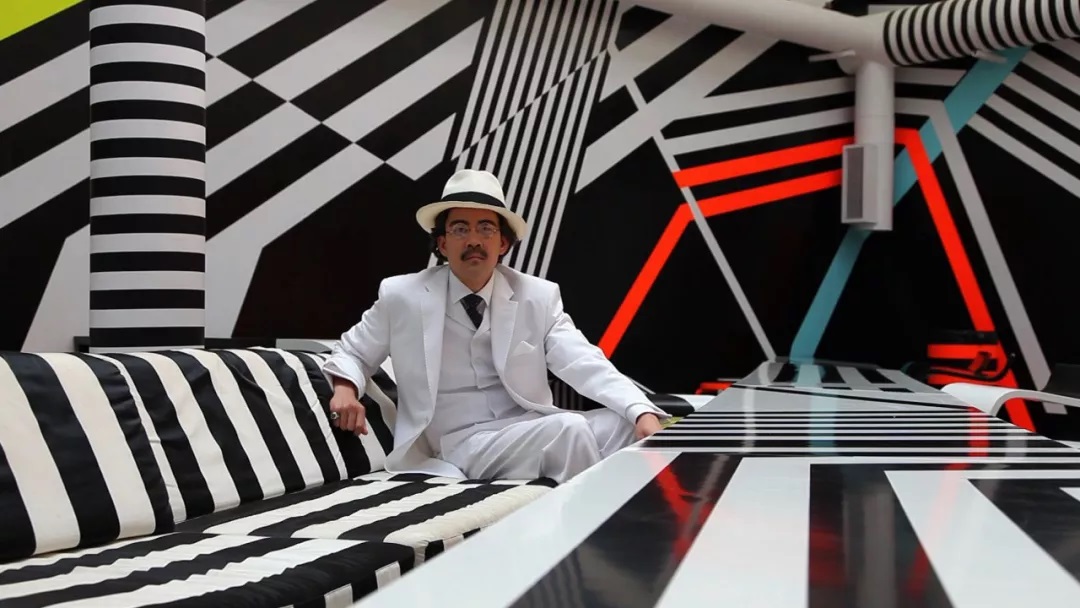 Ming Wong, 'Life and Death in Venice' (film still), 2010 | Image courtesy of the artist and Sunpride Foundation
Wong's work 'Life and Death in Venice', presented during the first station of the touring exhibition 'Spectrosunthesis' by Sunpride Foundation, is a re-representation of the film 'Death in Venice' by Italian director Luchino Visconti. In the video, Wong acts as Gustavvon Aschenbach, a senior musician and Tadzio, a young handsome teenager. The two characters wandered along the canals of Venice and finally met in the exhibition hall of the Biennale, which is the interpretation of Wong's longing for beautiful youth and anxious contradiction about death.