"When I decided to go to art school, hell or high water I was going to be a subject. Some people, God bless them, are born with subjectivity. For some, racially, or for some genders, for some classes, it's easier. All that stuff just sounds like you wanna make me an object. That's not gonna happen. You're not going to make me an object of fame, or make me an object of a hierarchical system. I've already been an object. I've already been put on the stroll." — Mark Bradford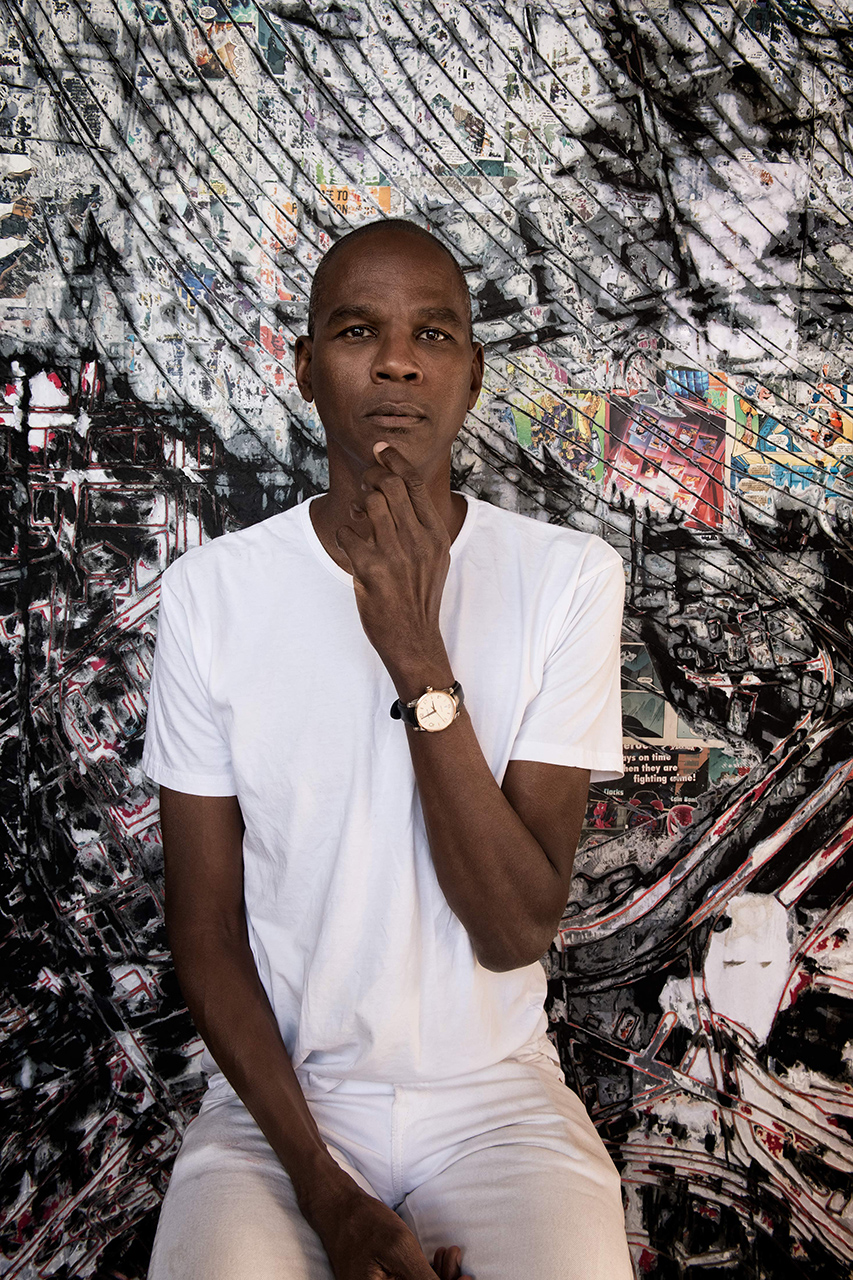 Mark Bradford | Image courtesy of
t
he artist and
Lionel Deluy
Born in 1961 in South Los Angeles, California, Mark Bradford is a contemporary African American abstract painter. He is best known for his large-scale paintings that explore the socio-political potential of abstraction through a rigorous approach to painting. His body of work transforms materials scavenged from the street into wall-size collages and installations that respond to the impromptu networks—underground economies, migrant communities, or popular appropriation of abandoned public space—that emerge within a city.
Bradford was raised by his single mother who owned a hair salon in Leimert Park, South Los Angeles. After graduating from high school, he obtained his hairdresser's license and went to work at his mother's salon where he got his inspiration for his art. From his 20 to 27 years old, Bradford has been constantly traveling between Europe and America while working in the hair salon and visiting nightclubs. In 1991, at the age of 30, he graduated from Santa Monica College and transferred to the California Institute of the Arts (CalArts). In 1997, he obtained BFA and MFA fromCalArts.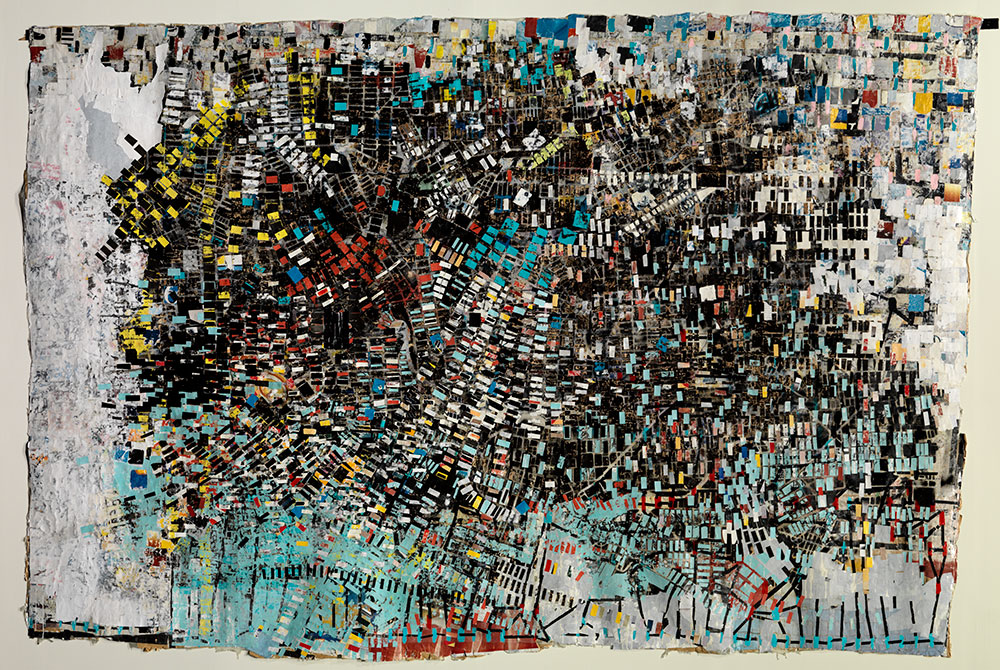 Mark Bradford, "Black Venus", 2005 | Image courtesy of the artist and Hauser & Wirth
During his studies in CalAts, Bradford was interested in learning ideas. CalArts was a school of ideas for him – you read, you process, you think. He stumbled on feminism through reading Octavia Butler and Angela Davis, opening his eyes to the fact that a lot of women were challenging the system and standing up and speaking in voices that were not just of the status quo. As a queer black kid grew up in South Los Angeles and was bullied starting at age 8, Bradford can immediately identify with feminism: you were standing up and not being on the fringe, speaking your truth to people who may not agree.
In 2013, Bradford, neighbourhood activist Allan Dicastro and philanthropist Eileen Harris Norton established Art + Practice, a non-profit organization based in Leimert Park as a developmental platform for transitional age youth, stressing the importance of creative activity and practical skills for personal transformation and social change.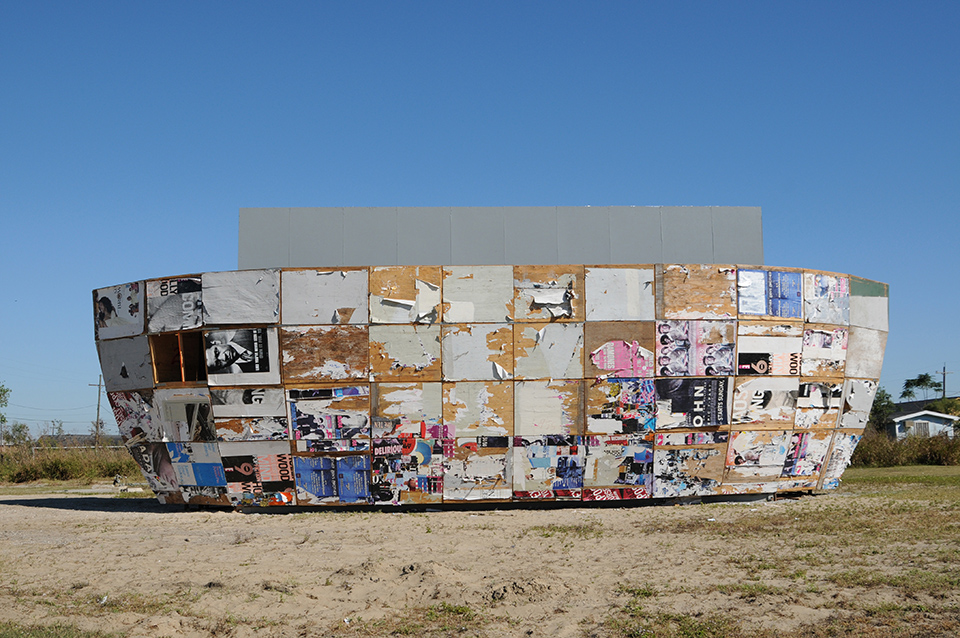 Mark Bradford, "Mithra" 2008, installation view at Prospect. 1, New Orleans, 2008
| Image courtesy of the artist
"Social abstraction"
and "end papers"
Bradford self-described his artistic practice as "social abstraction". He decided to take his experiences and the materials from his daily life with social-political signification into his work. He is not interested in that type of "abstraction" — you go internal, you turn off the world, you are hermetic, you channel something. He thinks abstract expressionism does not belong solely to the Western canon of art, leaving out many African American men and women. Bradford's "abstraction" is "where you look out at the world, see the horror – sometimes it is horror – and you drag that horror kicking and screaming into your studio and you wrestle with it and you find something beautiful in it."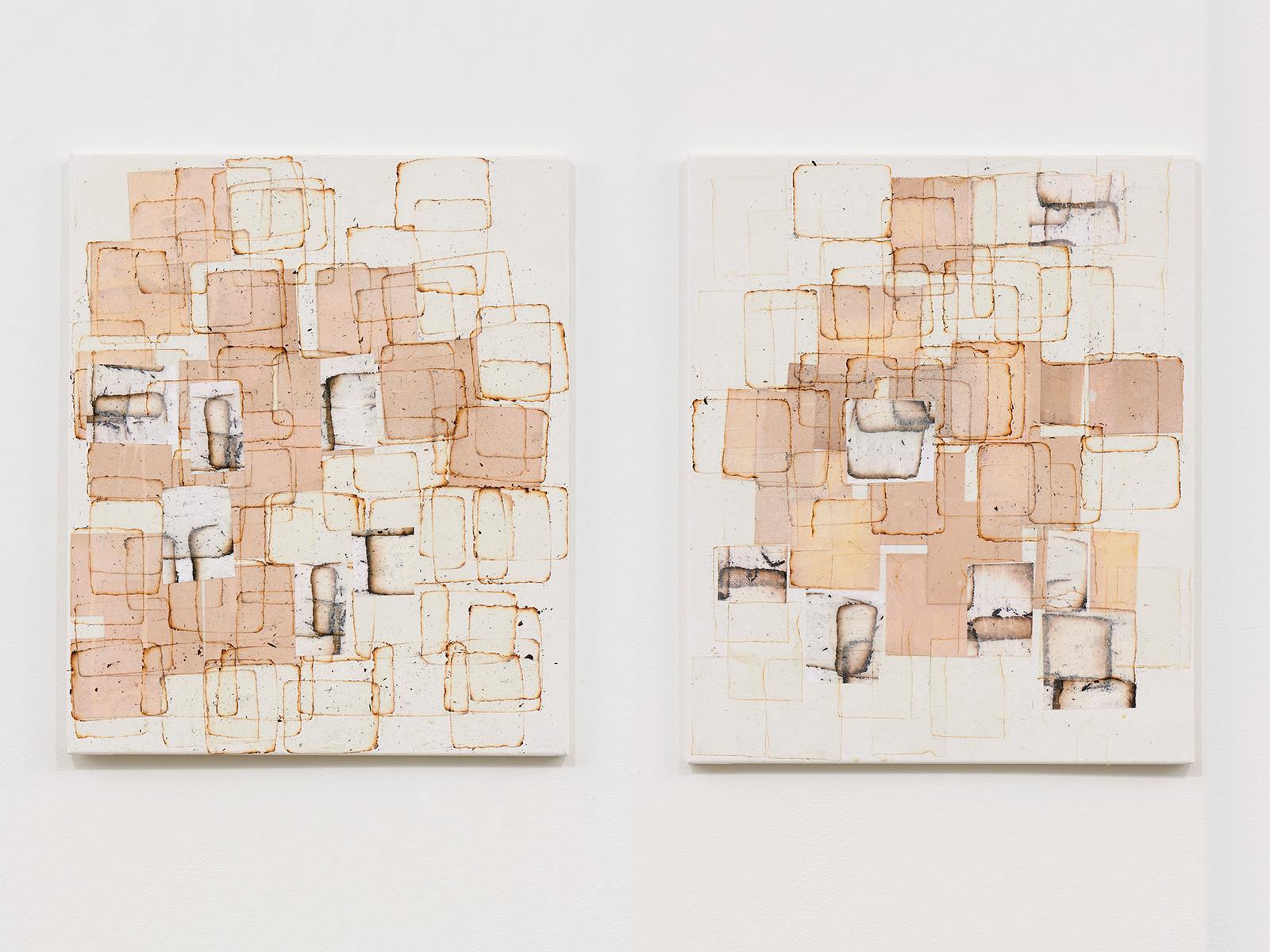 Mark Bradford, "Untitled"
,
2002
| Image c
ourtesy of the artist, Hauser & Wirth, and Sunpride Foundation
Bradford's works are made out of layers of paper and cords which he carves into using various tools and techniques, including gouging, tearing, shredding, gluing, power-washing and sanding. "End papers" were the materials in his earliest works, which are small, translucent tissue papers used in hairdressing that he could acquire cheaply in huge quantities from his mother's beauty salon.
His work is a collection of tensions/interruptions and renegotiated lines and colour fields. The first relationship to the surface is with paint, in the traditional sense. Afterstarting the process of repetition and layering, the coloured paper becomes the stand in for the "real" colour and what is left is the memory of the real colour, but articulated through the coloured copy paper and the burnt edges of the permanent wave papers become line.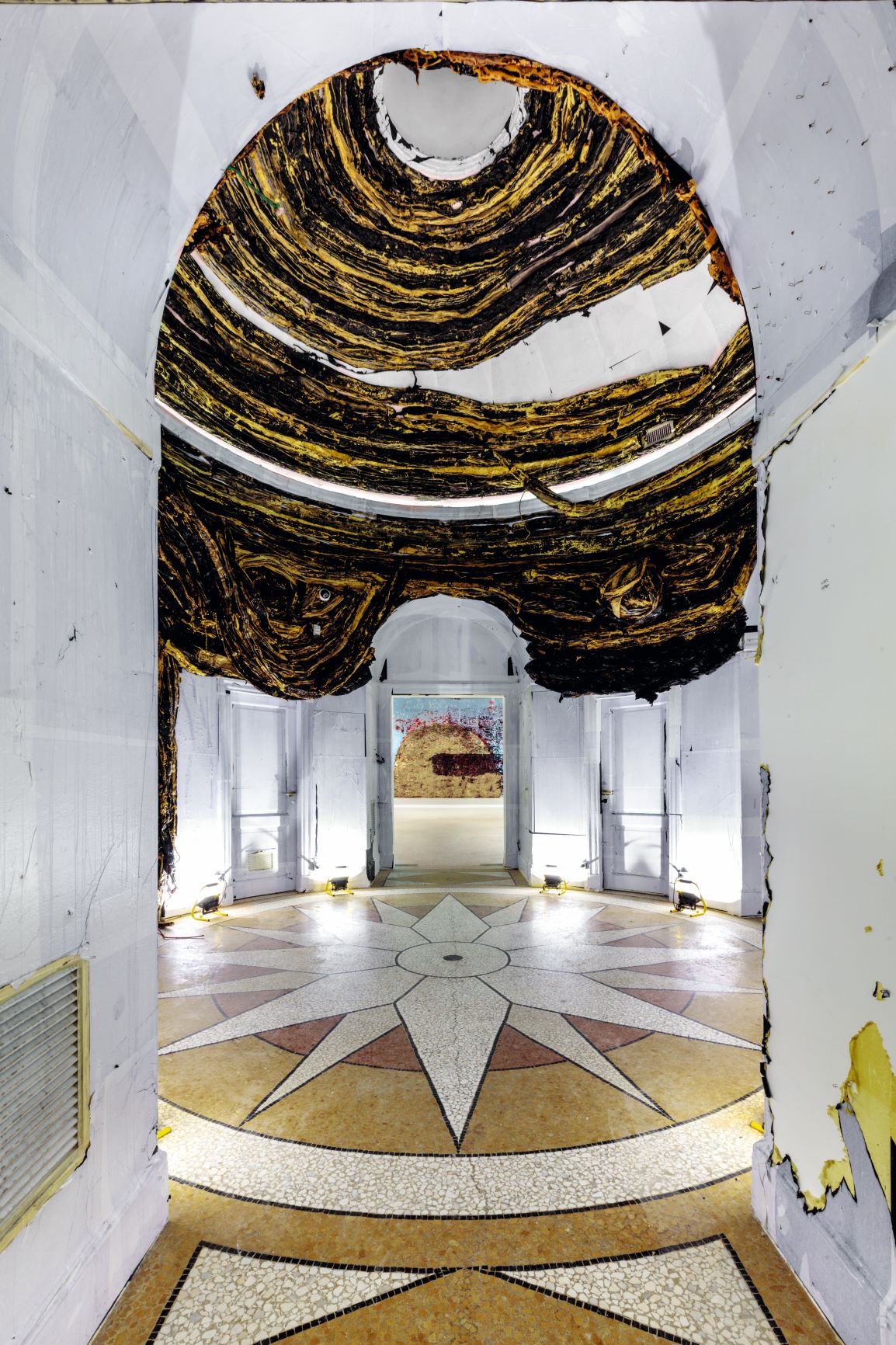 Mark Bradford,
"
Oracle
"
, installed in the US Pavilion at the 2017 Venice Biennale | Image courtesy of the
a
rtist, the US Pavilion and Venice Biennale
Bradford's profound insight and inventiveness have established him as one of the most significant and influential artists of his generation.  He has been included in major exhibitions at Los Angeles County Museum of Art (2006); Whitney Museum of American Art, New York (2003); REDCAT, Los Angeles (2004); and the Studio Museum in Harlem, New York (2001). In 2017, Bradford represented the United States pavilion at the Venice Biennale with his work Tomorrow is Another Day, which was later shown at the Baltimore Museum of Art. Today, his works are held in the collections Hirshhorn Museum and Sculpture Garden in Washington, D.C., The Museum of Modern Art in New York, the Tate Gallery in London, and the Walker Art Center in Minneapolis.