"One of the things which I've been involved in at the studio is working on my archive and that entails us going back to early works and trying to think about a way of reconnecting them to the present. A work that is nearly 30 years old comes kind of into its time in this new time where we're really gone back to revisiting questions around Black Lives Matter, around the notion of black queer visibility. We can say that some of these things have become both mainstreamed and at the same time there's a lot of antagonism."
— Isaac Julien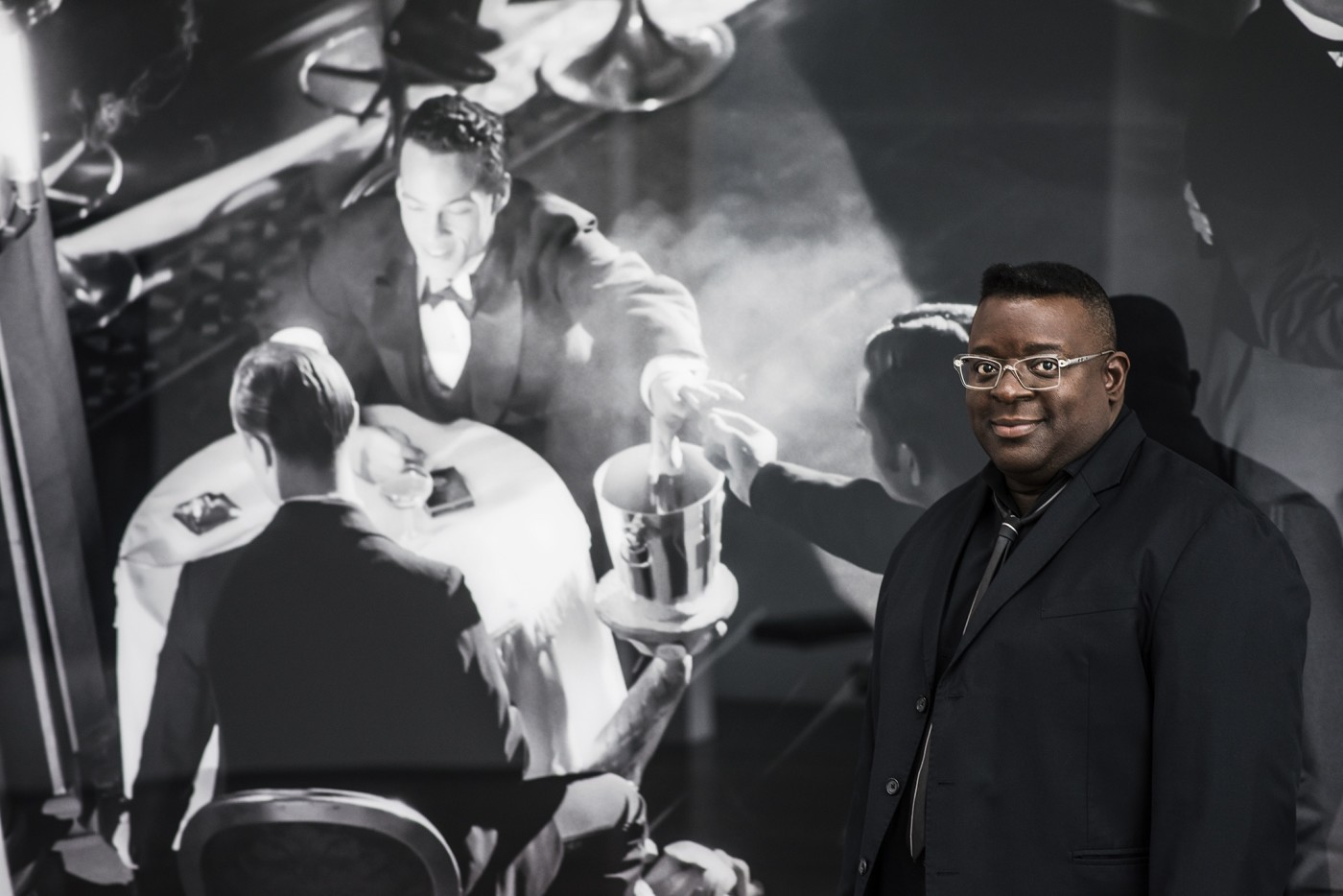 Isaac Julien
| Image courtesy of the artist
and Victoria Miro
Born in 1960 in the East End of London as the eldest of five children of migrant parents from St. Lucia, Isaac Julien is a filmmaker, installation artist and pioneer of New Queer Cinema, highlighting black queer experience generally absent from mainstream films. By uniting and incorporating different artistic disciplines, ranging from film, dance, photography, music, theatre, painting to sculpture, his body of work explores the questions of race, representation, post-colonialism and queer experience and history, creating a unique poetic visual language and narrative in audio visual film installations.
After receiving a BA in fine-art film in 1984 from Central Saint Martins School of Art, London, where his studies focused on painting and film, Julien completed postdoctoral studies at Les entrepreneurs de l'audiovisuel européen, Brussels in 1989. From 1983 to 1992, he organized the Sankofa Film and Video Collective, developing an independent black film culture in the areas of production, exhibition and audience. In 1991, he became the founding member of Normal Films.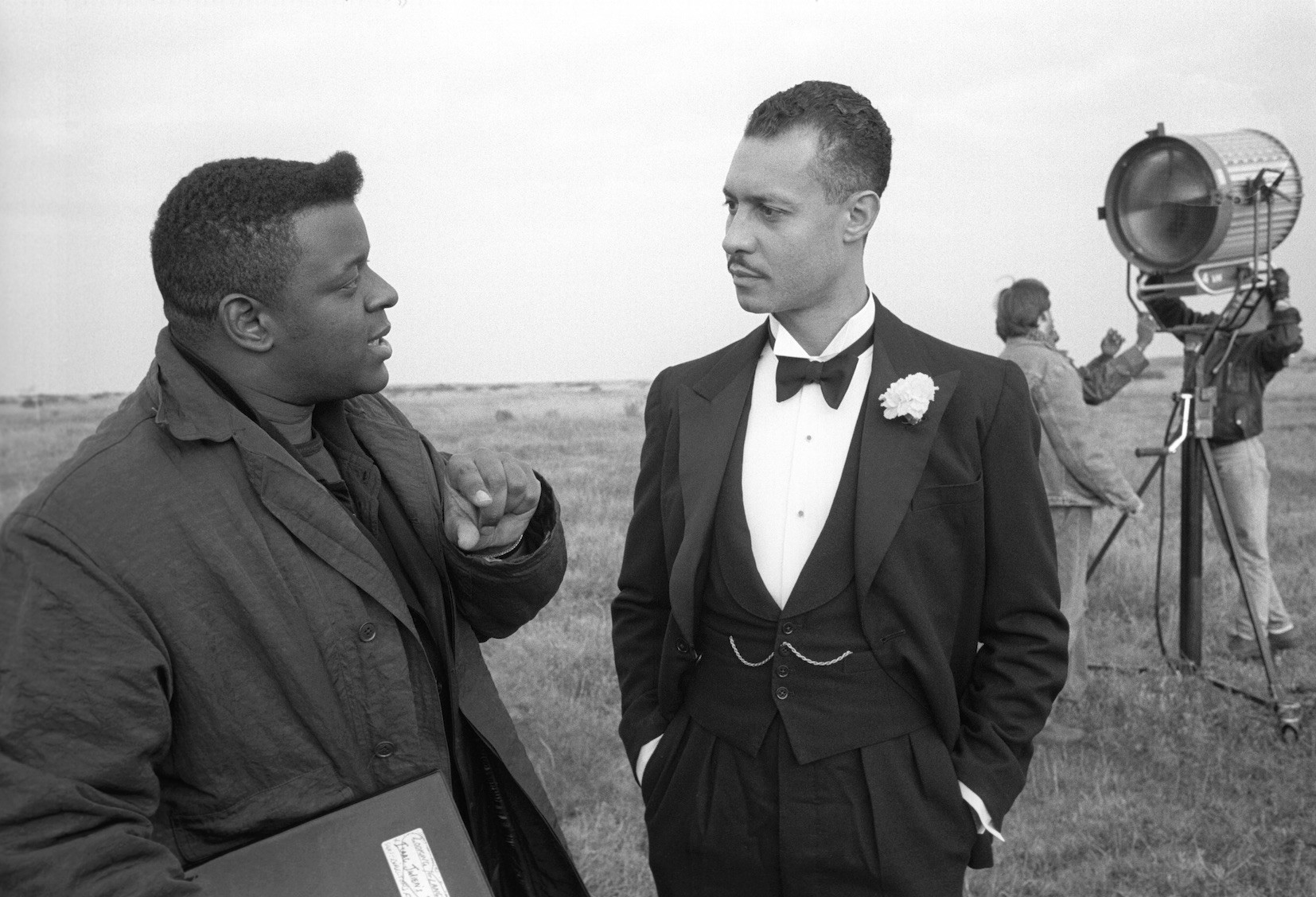 Isaac Julien, "Mise-en-scène No.2 (Looking for Langston Vintage Series), 1989/2016 | Image courtesy of the artist
Julien came to prominence in the film world with his drama-documentary "Looking for Langston" (1989), gaining a cult following. In 1989, it premiered at Berlin International Film Festival at the forefront of a queer film movement, winning the world's most prestigious award for queer cinema. In 2019, this film became one of Tate Britain collections. Through this lyrical exploration and recreation of the private world of poet, novelist and playwright Langston Hughes (1902-1967) and his fellow black artists and writers who formed the Harlem Renaissance, an intellectual and artistic movement that emerged in the 1920s around Afro-American artists and writers, Julien attempted to express the complexity of the black British experience and the misunderstood intersections of race, class, gender and sexuality.
Julien has a long history of participation in educational institutions, teaching extensively and holding posts such as Chair of Global Art at University of Arts London (2014-2016) and Professor of Media Art at Staatliche Hoshschule für Gestaltung, Karlsruhe, Germany (2008-2016). Most recently, he received the Charles Wollaston Award (2017), for most distinguished work at the Royal Academy Summer Exhibition, and he was made a Royal Academician in 2018. Julien was also awarded the title Commander of the Most Excellent Order of the British Empire (CBE) in the Queen's birthday honours, 2017.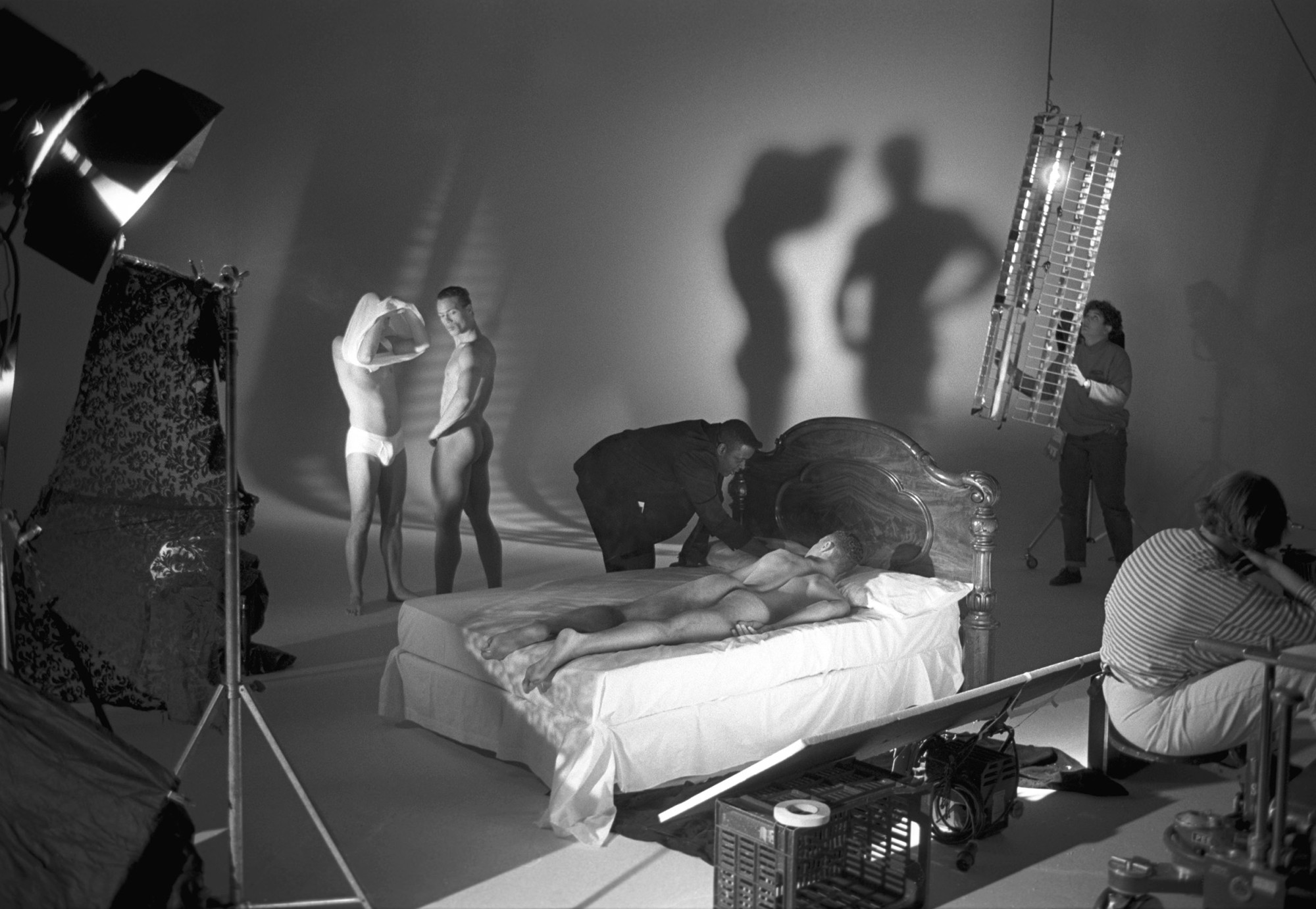 Isaac Julien, "Mise-en-scène No.
1
(Looking for Langston Vintage Series), 1989/2016 | Image courtesy of the artist
Referring
to
1930s black-and-white African American photography
and
1980s
q
ueer cultures
The film "Looking for Langston" is Julien's fantasy of beautiful, gay black men during the Harlem Renaissance, addressing his own experiences and those of his peers: the lives of Black artists, the complexities of gay desire, and the AIDS epidemic. While Julien was directing the film, his cinematic style drew on a range of source material, from the homoerotic photographs of George Platt Lynes (1907–1955) and Robert Mapplethorpe (1946–1989) to the work of Black photographers James Van Der Zee (1886–1983) and Roy DeCarava (1919–2009).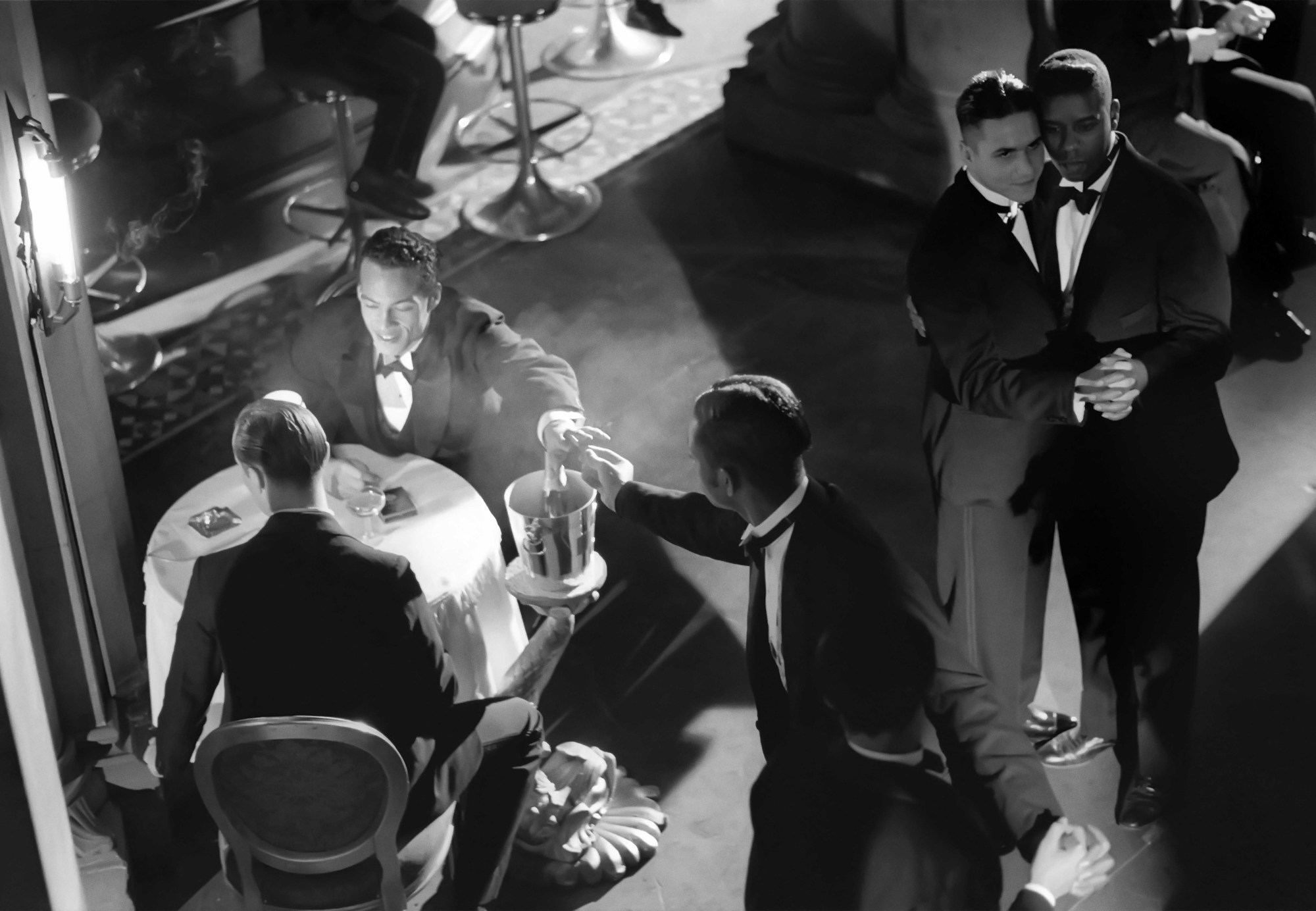 Isaac Julien, "Star" (Looking for Langston Vintage Series), 1989/2017 | Image courtesy of the artist
and Sunpride Foundation
By the archival materials, including Hughes's words with those of Bruce Nugent (1906-1987) and Essex Hemphill (1957-1995) with dreamlike, surrealist scenes, the film evokes the atmosphere of a Harlem speakeasy, combined with the feel of a 1980s London night club. As the film reaches its climax, jazz music at the bar is replaced with 1980s house music, and the dapper men (still in tailcoats) shift from couples dancing to nightclub partying, complete with open, ecstatic faces.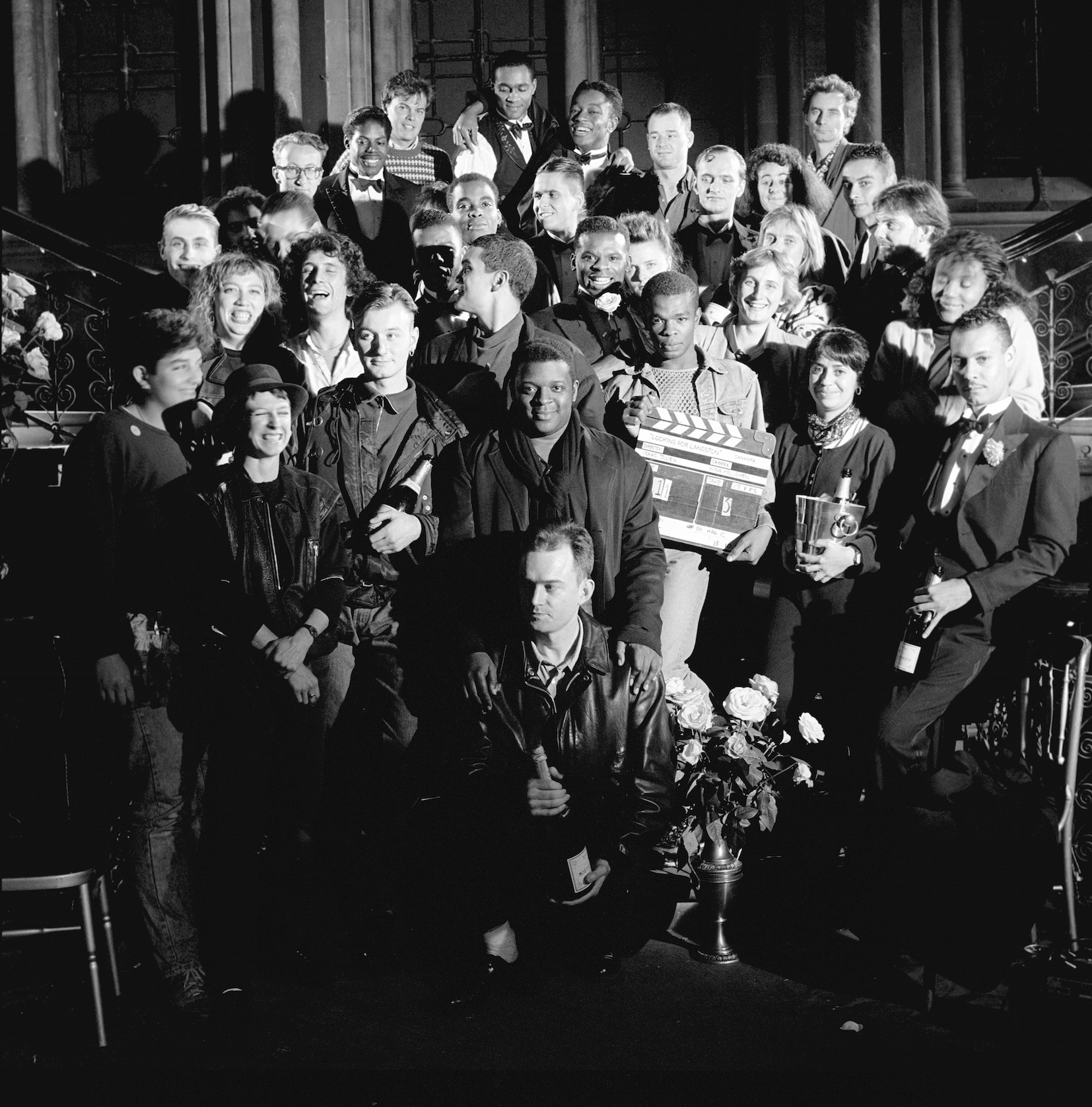 Isaac Julien, "Assemblage (Looking for Langston Vintage Series), 1989/2016 | Image courtesy of the artist
When "Looking for Langston" was made in the 1980s, the AIDS crisis was at its peak in the gay and queer scene. Several actors died after the film was made, including Matthew Baidoo (Beauty, after the Bruce Nugent poem Smoke, Lilies and Jade), Ben Ellison (Alex, the young Langston Hughes character) and Jon Iwenjiora (Dancer at Wake, who appears in Pas de Deux).
"Looking for Langston Vintage Series" (1989-2017)
For Julien's artistic practice, research, archives and access to historical material are greatly important to the production of new and progressive work and ideas, and something evidently that his practice could not have done without. In recent years, Julien has worked on conserving and restoring the images of "Looking for Langston" from his extensive archive. By using both digital and analogue techniques, the immersive andcinematic experience is created. For the smaller photographic works from "Looking for Langston Vintage Series", they are in their original form as silver gelatin works printed on Ilford paper.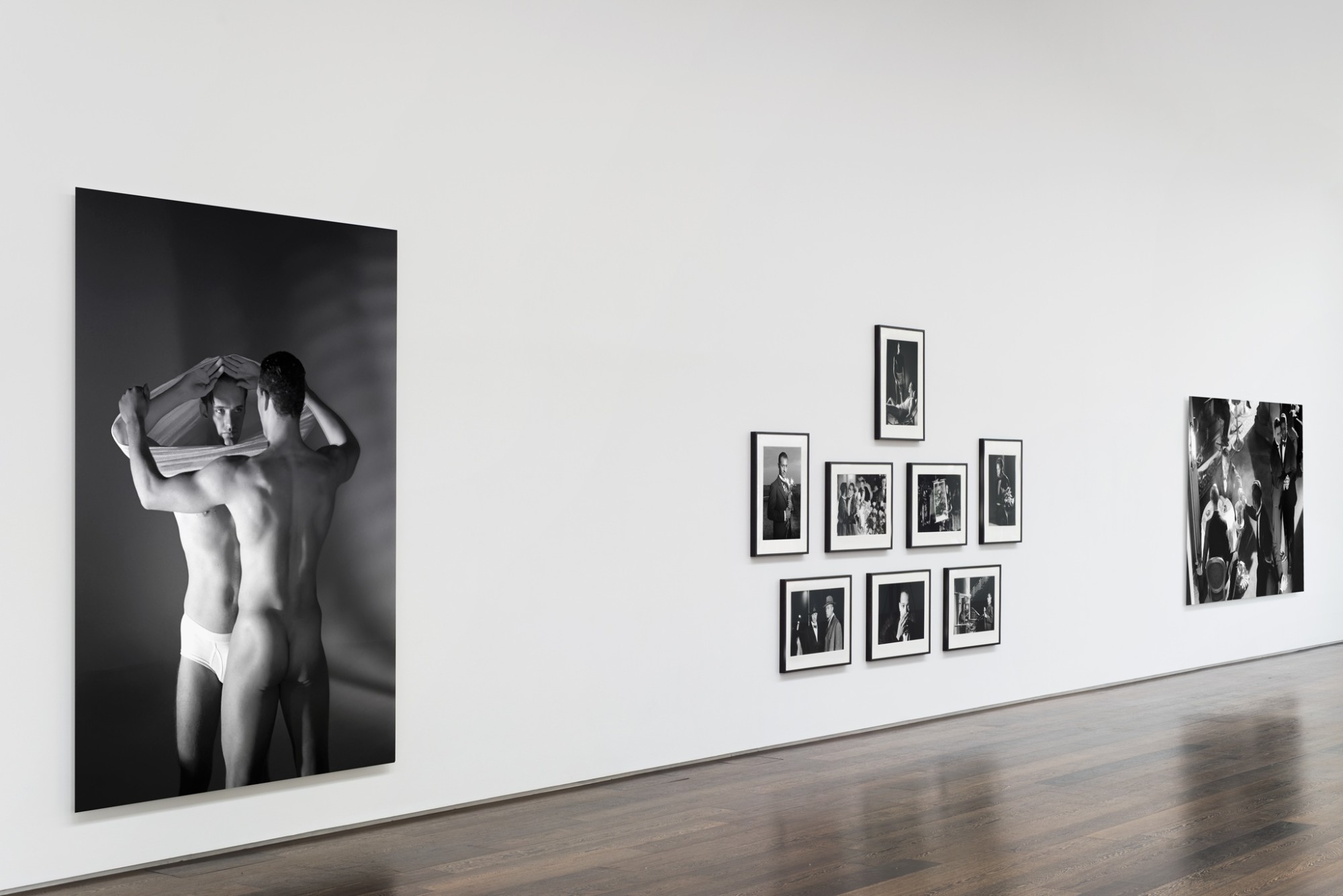 Exhibition view of "Looking for Langston: I dream a world", Victoria Miro, London, 2017 | Image courtesy of the artist and Victoria Miro
"Looking for Langston Vintage Series" has been exhibited at different galleries including Victoria Miro Gallery, London (2017), Jessica Silverman Gallery, San Francisco (2016) and Ron Mandos Gallery, Amsterdam (2016). The film "Looking for Langston" is now regarded as a touchstone for African-American Studies, teaching widely in North American universities, colleges and art schools for nearly 30 years.