"I think when I started working with plants I did use them as metaphors. But as you probably can sense, as I learned more about their life, I'm trying to move away from that, and trying to understand their lives on their own terms. Rather than always putting them into our paradigm of ideas, knowledge, politics. I'm still in the process of moving out of sort of the metaphors." — Zheng Bo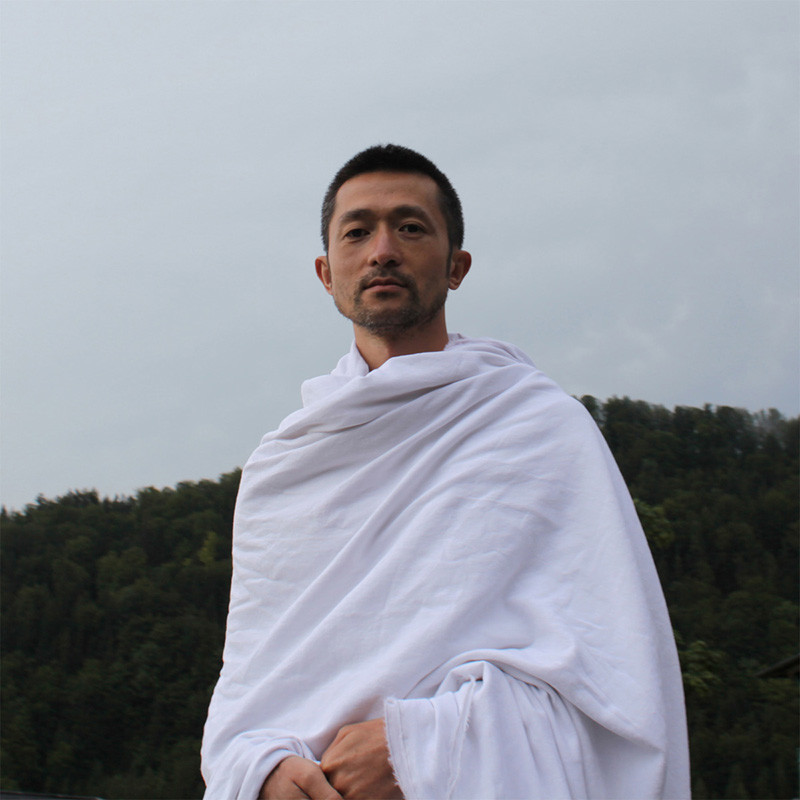 Zheng Bo | Image courtesy of the artist
Born in 1974 in Beijing, China, Zheng Bo, a Hong Kong-based artist, writer and teacher who is committed to all-inclusive and multi-species relationships by investigating the past and imagining the future from the perspectives of marginalized communities and marginalized plants. 
Graduating with a BA in Computer Science and Fine Arts from Massachusetts' Amherst College in 1999, Zheng later completed an MFA at the Chinese University of Hong Kong in 2005 and received a PhD in Visual and Cultural Studies from the University of Rochester in 2012. In his teaching, Zheng first taught at the China Academy of Art from 2010 to 2013 and currently teaches at the School of Creative Media, City University of Hong Kong, where he leads the Wanwu Practice Group.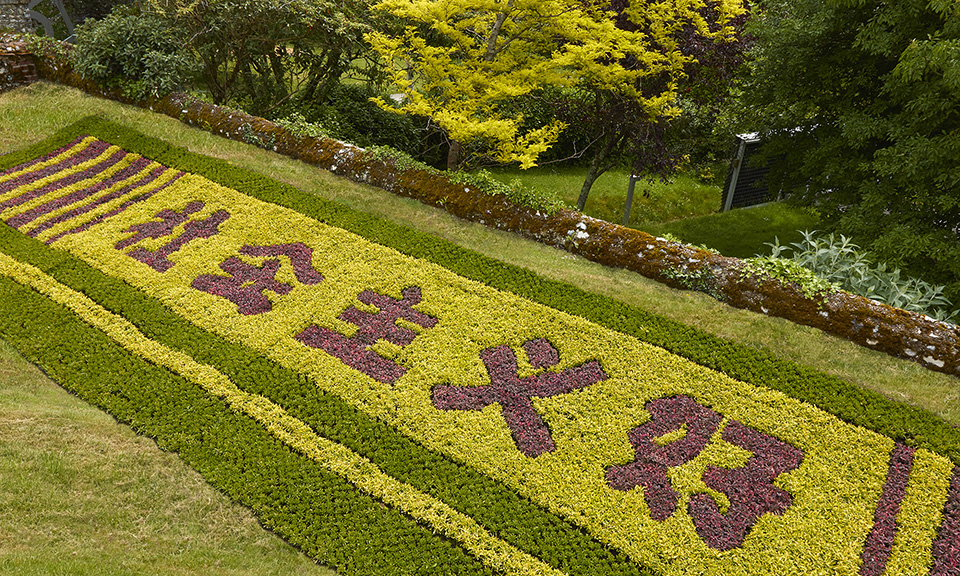 Zheng Bo, "Socialism Good", 2016 | Image courtesy of the artist and Kiang 
Malingue
Gallery
At the heart of Zheng's practice are the notions of relationality and equality. He creates weedy gardens, living slogans and eco-queer films to cultivate ecological wisdom beyond the Anthropo-extinction event. Through his socially and ecologically engaged art practice, Zheng pushes standard notions of human-plant coexistence, de-emphasizing a human-centric worldview and striving instead for interconnectedness between all living beings.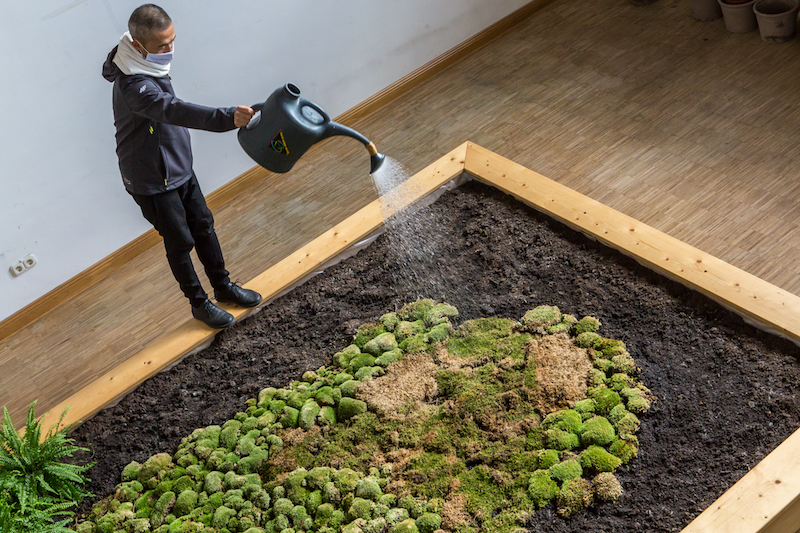 Zheng Bo, Exhibition "
Wanwu
Council", Gropius
Bau's
2020 In House: Artist in Residence, 2020 | Image courtesy of the artist, Laura
Fiorio
and Berlin Art Link
His works are in the collections of Power Station of Art in Shanghai, Hong Kong Museum of Art, Singapore Art Museum and Hammer Museum in Los Angeles. In 2021, Zheng staged three solo exhibitions: "Wanwu Council" at Gropius Bau, Berlin; "You are the 0.01%" at Schering Stiftung, Berlin; "Life is hard. Why do we make it so easy?" at Kadoorie Farm and Botanic Garden, Hong Kong. In 2022, he presents his new dance film "Le Sacre du printemps (Tandvärkstallen)" at the 59th Venice Biennale. Zhang also participated in Sydney Biennale (2022), Liverpool Biennial (2021), Yokohama Triennale (2020), Manifesta (2018), Taipei Biennial (2018) and Shanghai Biennial (2016).
"We need to move towards this direction of inclusivity and equality for all humans and non-humans."
For Zheng, art is a form of social conversation that potentially makes an impact. In 2004, Zhang collaborated with communities, bringing the voices of migrant workers to public space. Through his work "Happy Meal", five Filipino and Indonesian domestic helpers take turns to tell jokes, showcasing their wit beyond the domestic sphere. In 2013, "Sing for her" featured the Filipino song "OIlaw" performed by a group of domestic helpers in Central, Hong Kong. Zheng's rendition prompts reflections on the rights and political demands of Hong Kong's Filipino workers, whilst transposing those on the periphery of economic and political realms to the centre of Hong Kong's artistic and cultural narrative.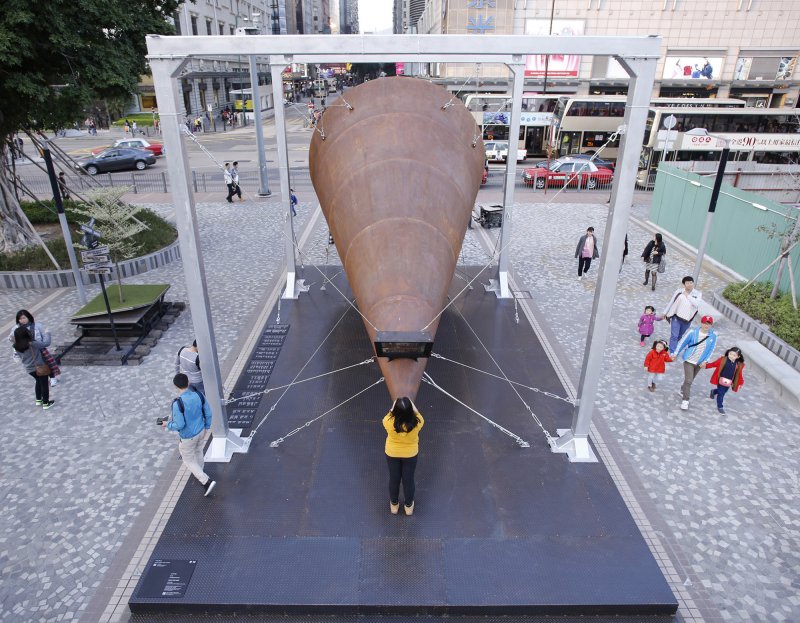 Zheng Bo, "Sing for Her", Installation view,
Tsim
Sha
Tsui
, Hong Kong, 2015 | Image courtesy of the artist
In recent ten years, Zheng's interest has shifted to the reciprocity between plants and politics. A new way of thinking about nature and society is his central probe. His focus on returning to a closer engagement with nature is a call to expand perceptions of human communities and publics, allowing greater interrelation and equality.
Zheng first became interested in plants when he was living in Shanghai in the early 2010s and noticed weeds thriving on the site of the former Shanghai Cement Factory on the West Bund. Much of Zheng's art at the time was exploring political ideas of equality and the marginalisation of minority groups. Looking at the weeds, he began to consider how humanity had pushed all other forms of life to the margins, even though human beings make up only 0.01 percent of the Earth's biomass.
Zheng Bo, "YOU ARE THE 0.01%", Installation View, Oil Street Art Space, Hong Kong, 2019 | Image courtesy of the artist and Oil Street Art Space
Zheng's use of weeds and plants stems from a personal fascination with marginality that draws parallels between society's marginalisation of nature and its marginalisation of certain people, including migrant workers, queer persons, and those displaced by gentrification.
Zhang's film series "
Pteridophilia
"
(2016 –)
"Pteridophilia" is an ongoing investigation into the politics of ferns. Ferns are abundant in Taiwan, cherished by indigenous tribes but overlooked by Japanese colonialists and immigrants from the mainland. Conceived by juxtaposing pterido- and -philia, the moniker imagines intimate relationships one can have with ferns. Simultaneously, it begs the question of whether it is possible to coexist with other species on the basis of mutual understanding and pleasure beyond functional values defined by our contemporary system.
Zheng Bo, "
Pteridophilia
I", 2016, Film Still | Image courtesy of the artist and
Sunpride
Foundation
"A friend in college said that there's one way to get to know someone very quickly – to have sex with that person. That stuck with me. I was doing a residency in Taiwan in 2016 and I was doing research into the local history of ferns in Taiwan, but I thought it was too intellectual. I needed a way to get to know these plants emotionally and bodily. And what the friend said in college came to my mind. So, I thought, let's try it and see if it helps us to get to know the plants. And I think it did."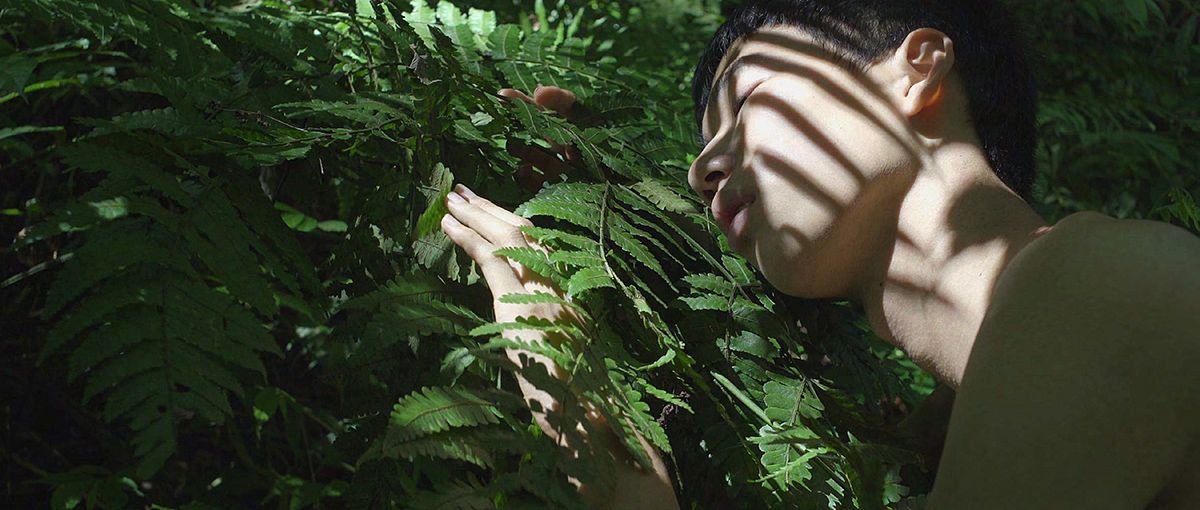 Zheng Bo, "
Pteridophilia
I", 2016, Film Still | Image courtesy of the artist and
Sunpride
Foundation
Connecting queer plants and queer people and exploring the eco-queer potential, "Pteridophilia I" started with six young men walk into a forest in Taiwan and engage in intimate contact with ferns. Making love with the plants and sensing each other's textures, aromas and pleasures, they rely on bodies rather than language to initiate affective relations. Zhang also collaborated with three local BDSM practitioners who in turn collaborate with three ​fern species​— green penny fern (Lemmaphyllummicrophyllum), flying spider-monkey tree fern (Cyathea spinulosa), and elephant fern (Angiopteris palmiformis)​ — to expand BDSM practice.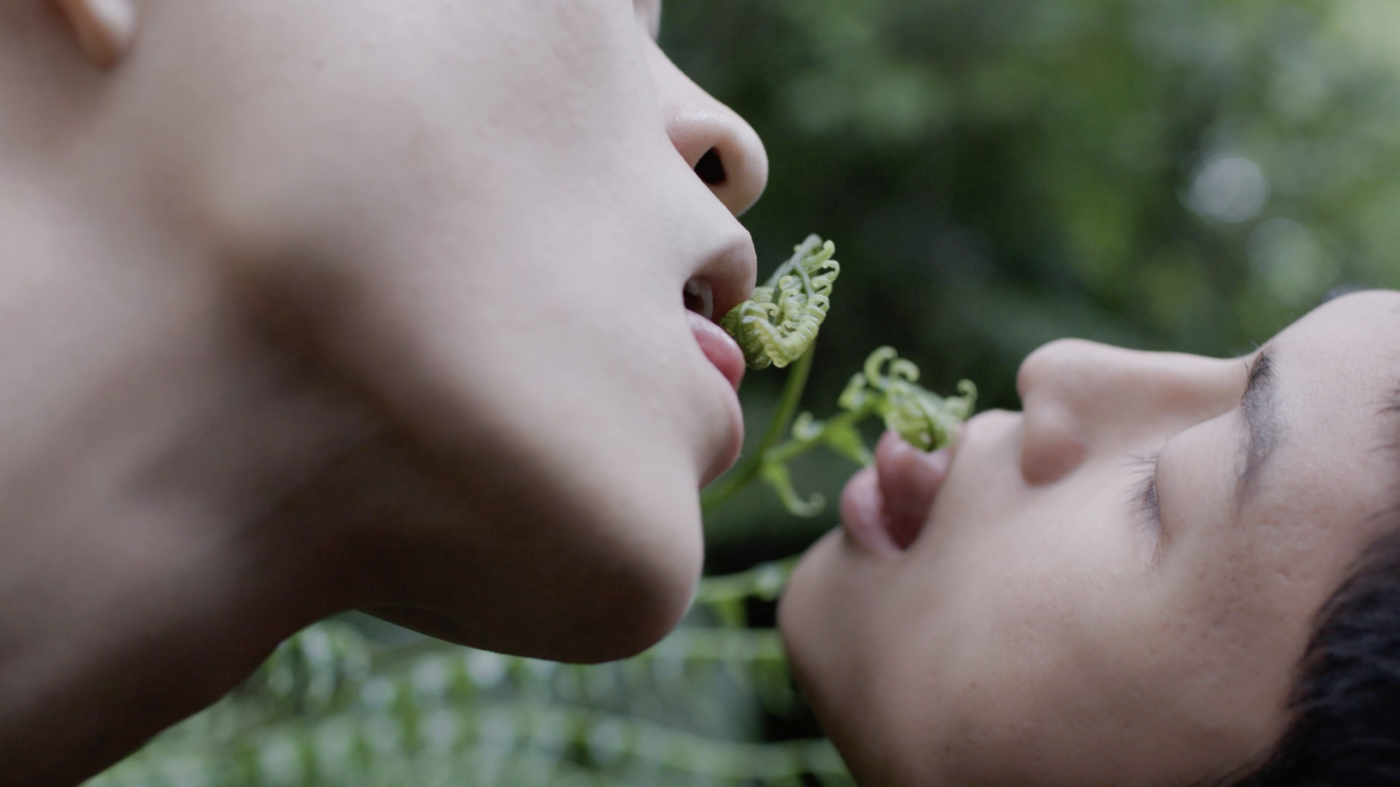 Zheng Bo, "
Pteridophilia
I", 2016, Film Still | Image courtesy of the artist and
Sunpride
Foundation
Incorporating plants into the semiosis of social life, through the on-going series "Pteridophilia", Zheng suggests in his provocative practice that our fantasies are essential to weaving new fables of posthumanism, extending our desires to dissolve into other forms of life, and to renew our understanding of the politics of life.