"My work is full of emotion and drama, you can get to that drama by using a narrative, and my narratives are usually very simple, but I twist it. There is a storyline, but there isn't a traditional beginning, middle, and end."
— Tracey Moffatt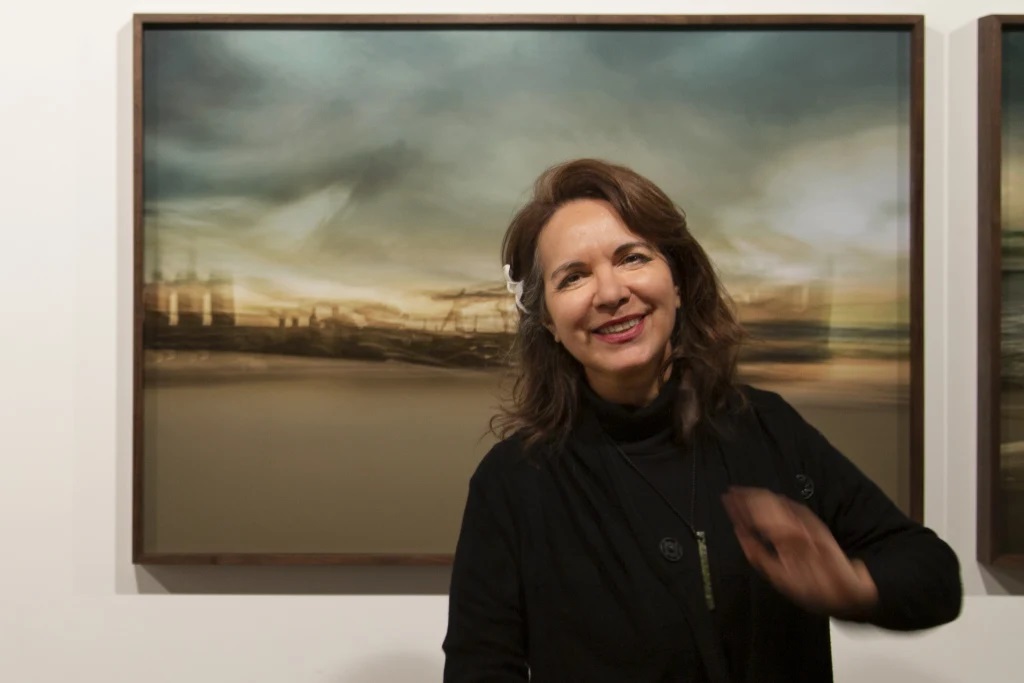 Tracey Moffatt at 
Roslyn Oxley9 Gallery
|
Image Courtesy of
L
uis
P
ower and Roslyn Oxley9 Gallery
Born in 1960 in Brisbane, Australia, Tracey Moffatt is an Australian artist who primarily uses photography and video. She is renowned as a "theatrical storyteller", describing herself as an "image-maker" rather than a specialist in a particular medium. After received her BA in visual communications from the Queensland College of Art in 1982, Moffatt moved to Sydney, commencing her stylistically diverse body of films and photography with ongoing interest in hybridisation and combinatory forms.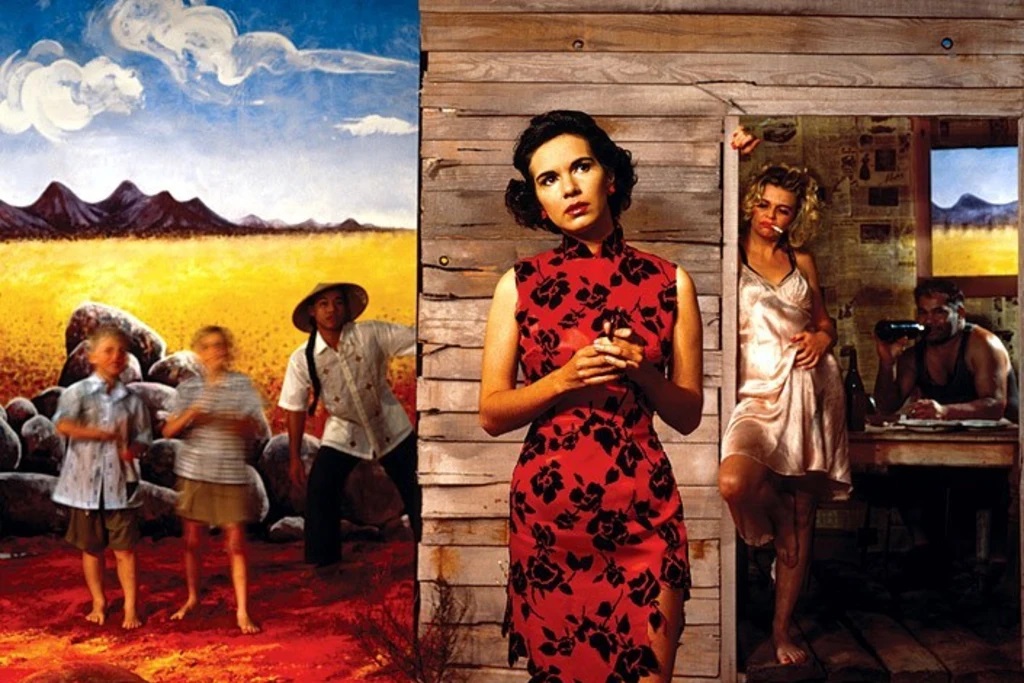 Tracey Moffatt
,
Something Mor
e,
1989
|
Image Courtesy
of
the artist
In 1989, her work first came to public attention with her series Something More. Since then, Moffatt's career has been peppered with achievements, including premiering her film Bedevil at the 1993 Cannes Film Festival and representing Australia in the 2017 Venice Biennale with her work My Horizon. She currently lives and works between Sydney, Australia and New York, NY.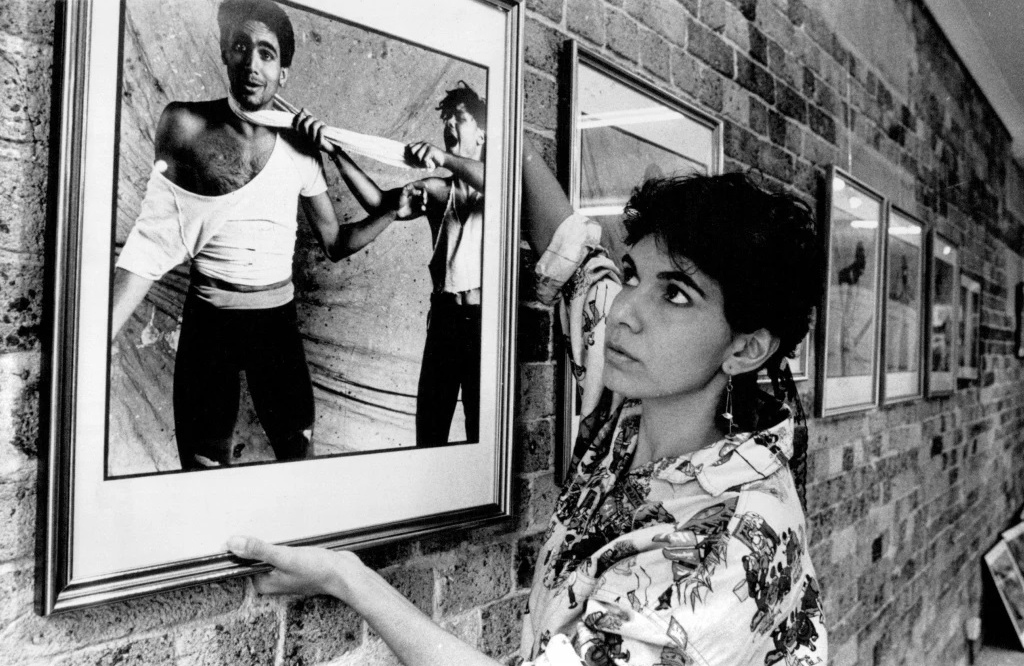 Tracey Moffatt
in 1987
| Image Courtesy of Fairfax Media
Non-traditional Narrative
Moffatt is good at using a variety of strategies to craft visual stories as she understands that viewers have an instinctive need to search for stories. She abandons linear time and put the viewers in the position of not knowing exactly what is going on. With her suggestions of narrative, viewers are drawn into her work.Moffatt carefully crafts the mise-en-scenes, remaining a sense of mystery. Using a photo-documentary style that is traditionally associated with realism, a series of photographs are ostensibly of past events as well as those emanating from the present to leave space for individual imagination. It likes watching an old film of which only a few brief sequences remain and let the viewers to fill in the blanks. Moffatt decides not to predetermine the hanging order of individual images. The sequence can be changed around at will.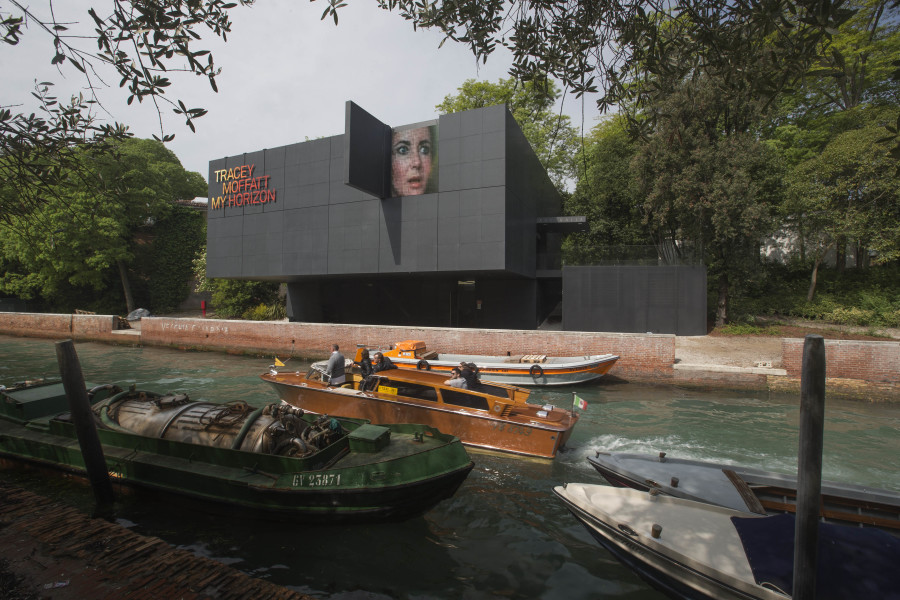 Installation view, Tracey Moffatt, 
My Horizon
, 57th Venice Biennale
,
2017
| Image Courtesy of the artist, The Venice Biennale, and
Roslyn Oxley9 Gallery
Experiments with photographing,
painting
and printing techniques
After 2017 Venice Biennale, Moffatt's newest work Portals is a series of six photographic diptychs. Each diptych consists of a figure and a landscape. Each figure is a self-portrait featuring Moffatt in different roles, shooting in remote locations while the stories are based on true events from those sites.
Tracey Moffatt
,
The Departure/Arrival
, 2019, from the
 Portals series
 | Image Courtesy of
 the artist and Roslyn Oxley9 Gallery
During the creation of the Portals series, Moffatt has been ongoing experiments with shooting and printing techniques in order to achieve a painterly effect. In early or late of the day, she created the illusion of movement by shifting the camera at a low shutter speed under low light and utilizing the old-fashioned technique of strobing to freeze the subject and leave a motion trail around it. After that, she arduously printed and reprinted each photograph until she was able to achieve a painterly effect.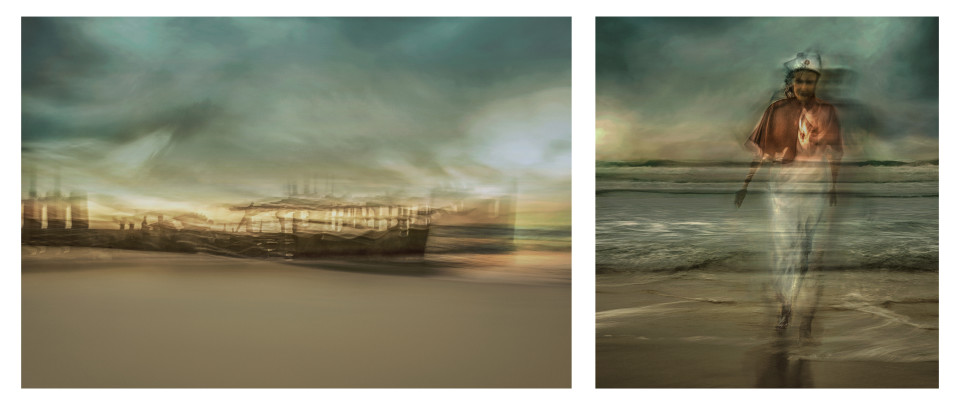 Tracey Moffatt
,
The Hospital Ship
, 2019,
from the
 Portals series
| Image Courtesy of
 the artist and Roslyn Oxley9 Gallery
Application of
the cinematic technique
Moffatt also applied the cinematic technique "day for night" in her work. Moffatt was influenced by Hollywood movies when she was young. "Day for night" technique is always used in Technicolor cowboy films during the 1940s and 1950s, especially the campfire scene or an outlaw escaping on a horse. During shooting in the daytimes, the darkened scenes look like nights but if you look closely, you will find that it is just imitating the night scene.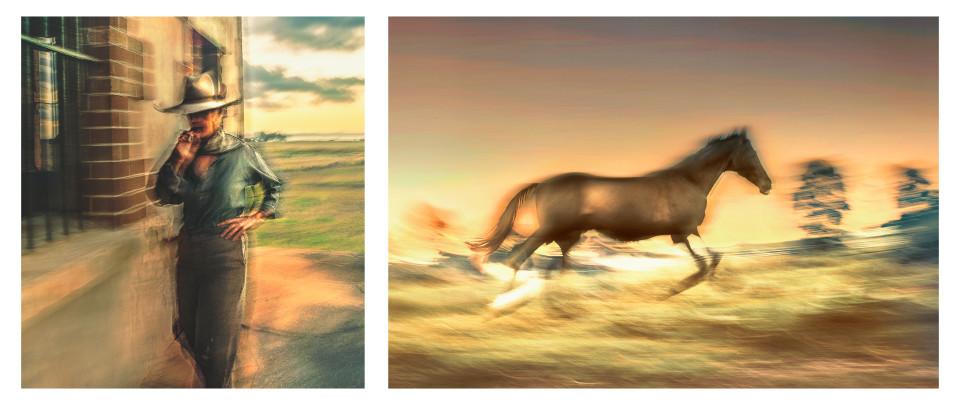 Tracey Moffatt
,
T
he Outlaw
, 2019,
from the
 Portals series
| Image Courtesy of
the artist and Sunpride Foundation