'Sound is a sculptural presence which is entirely contingent on form, time, geometry and space. If you look at objects from an acoustic perspective, they can start to reveal things that we wouldn't have realised had we been observing them purely visually.'
— Oliver Beer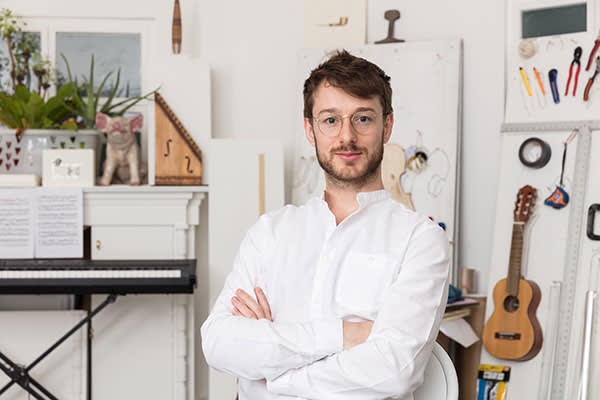 Oliver Beer | Image courtesy of the artist and
Galerie Thaddaeus Ropac
Born in 1985 in Kent, United Kingdom, Oliver Beer is a British artist who works at the intersection of architecture, sound and image, exploring the connections between space, objects and acoustics. The musicality of our environment is Beer's major concern. He reveals the hidden properties of objects, bodies and architectural sites rather than particularly concerns the idea of sound art as a genre. After graduating from the Academy of Contemporary Music in England in 2007 and the Ruskin School of Drawing and Fine Art at the University of Oxford in 2009, Beer also studied cinematic theory at the Sorbonne, Paris. Informed by his training in fine art, musical composition and film theory, his projectsare research-based and use original techniques to test and manipulate the experience of sound. Beerhas translated his research into fascinating performances in which spectators take part by the mere fact of their presence, and he makes sculptures and videos that embody, literally or metaphorically, the plastic expression of this subtle relationship and the way the human body experiences it.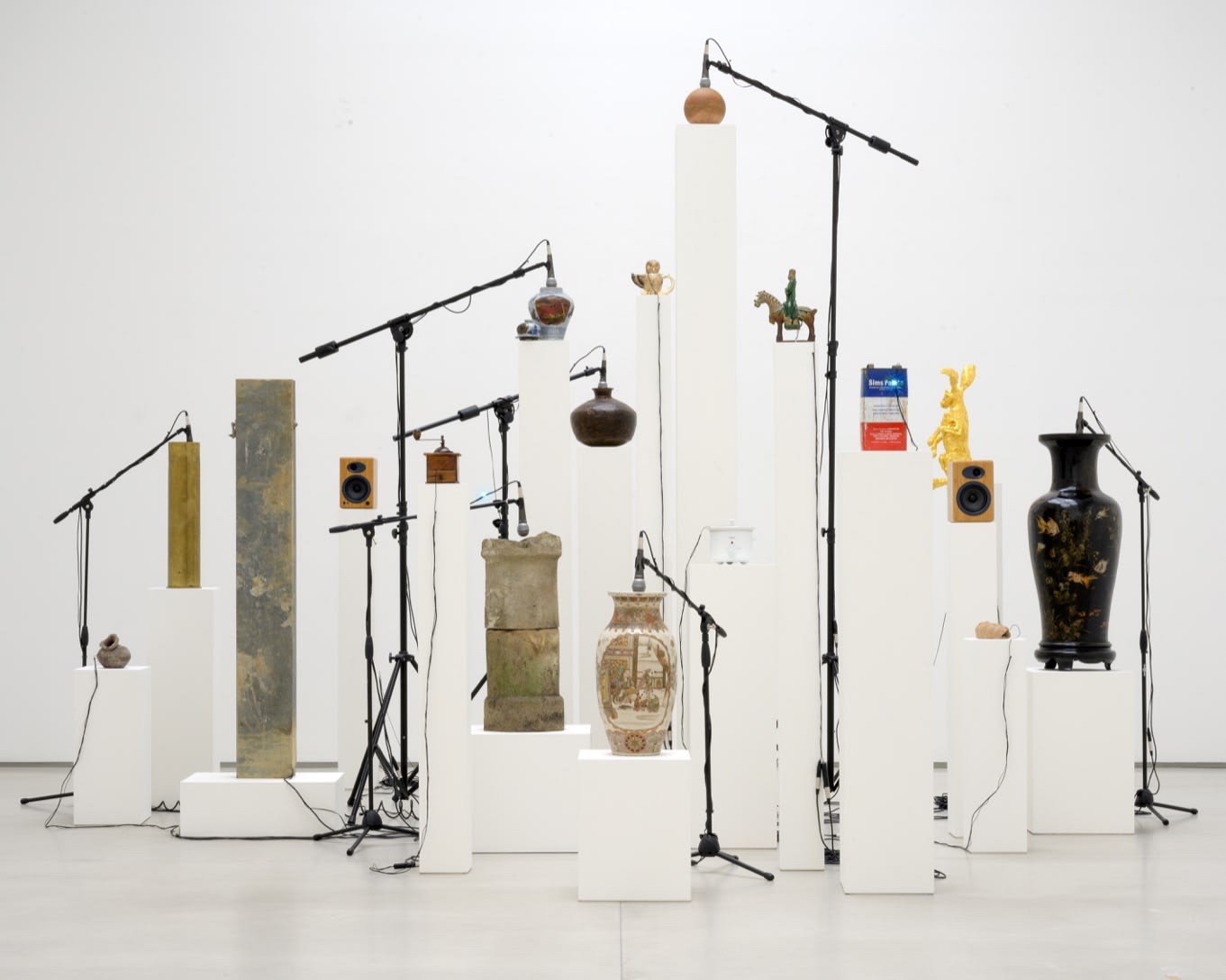 Oliver Beer
,
'Household Gods
(Grandmother)
'
, 2019
| Image courtesy of the artist and Galerie Thaddaeus Ropac
Beer
'
s thoughts on s
ound
, space and body
For Beer, working with a new space and new performers likes working with a new musical instrument, a new set of harmonies and musical or cultural references. Tuning architectural spaces and writing music for them became his habit. Beer thinks every empty space sings as every empty space has its own resonance and one that is entirely based on its geometry. Sound rebounds around space in a very particular way and every empty space has its own harmony – in the same way that a glass or organ pipe or a sea shell has its own note according to its form – and the geometry and dimensions of the space determine the notes at which it resonates.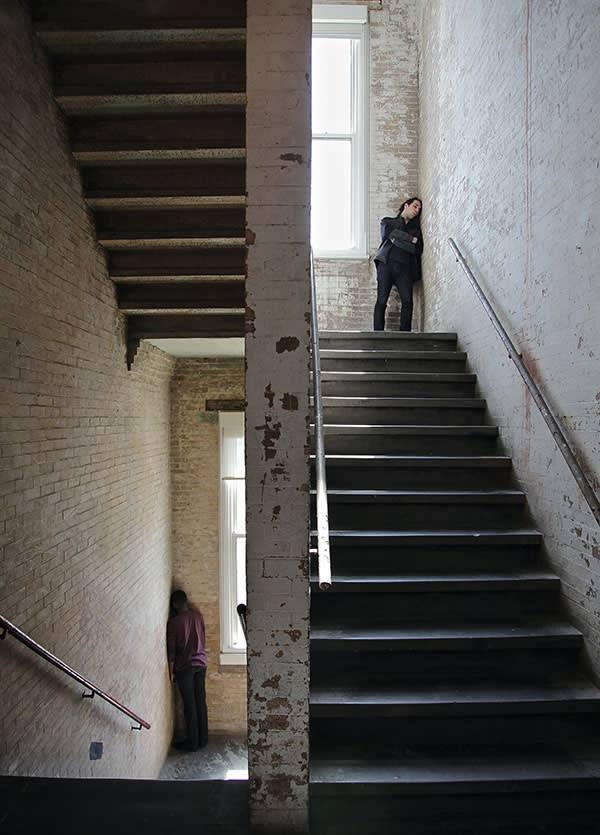 Oliver Beer,
'Tuning an Architectural Space'
from
Resonance Project series
in 2015
| Image courtesy of the artist and
Galerie Thaddaeus Ropac
The nature of a space changes the way we hear sound and our subconscious is constantly interpreting the world through the way sounds bounce and ricochet around us. Beer explored ideas of cultural memory and 'inherited music' in one of his work 'Composition for Mouths (Songs My Mother Taught Me) I & II' in 2018. He asked singers to recall the earliest songs they remembered from their childhood. Singers in pairs to incorporate the melodies into new compositional forms through joining their lips in a tight seal to create a single mouth cavity for exploring the resonant frequencies of each other's faces as well as the architecture.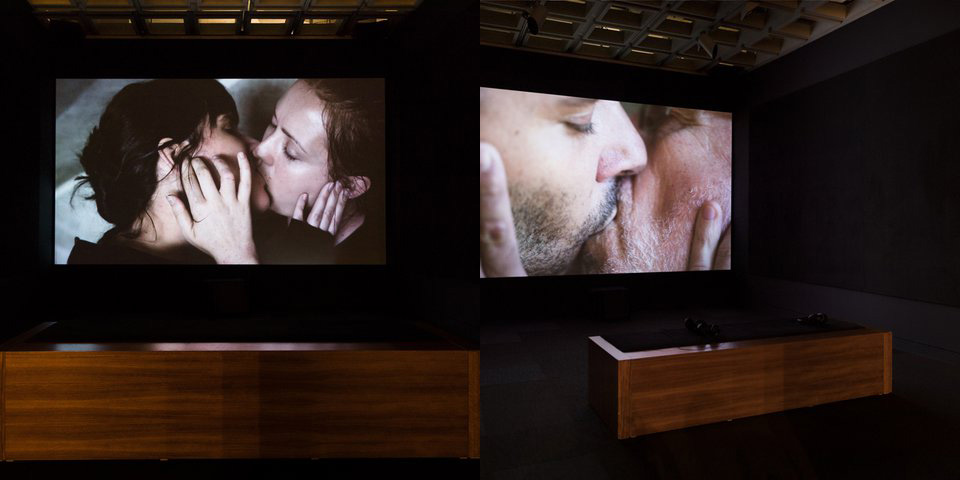 Oliver Beer, 'Composition for Mouths (Songs My Mother Taught Me) I & II', 2018,
 for the 21
st 
Biennale of Sydney (2018) at A
rt Gallery of New South Wales, installation view |
Image courtesy of the artist, Biennale of Sydney and Art Gallery of New South Wales
Beer
'
s
'
two-dimensional sculptures
'
Beer thinks sound does not stop at the surface of objects; it permeates them. He spent a lot of time in the studio to make 'two-dimensional sculptures' when he started to think about how sound traveledthrough our bodies. At the first glance, the 'two-dimensional sculptures' look like graphic works but they are sculptural objects if we look at them closely. When slicing through an object, we perceive it from inside in the way that sound travels and permeates materials. It is like seeing with our ears, or hearing with our eyes. For example, Beer's sound-cuts of 'two-dimensional sculptures' are sections of objects and like a physical ultra-sound that tracing the path of sound through the empty space.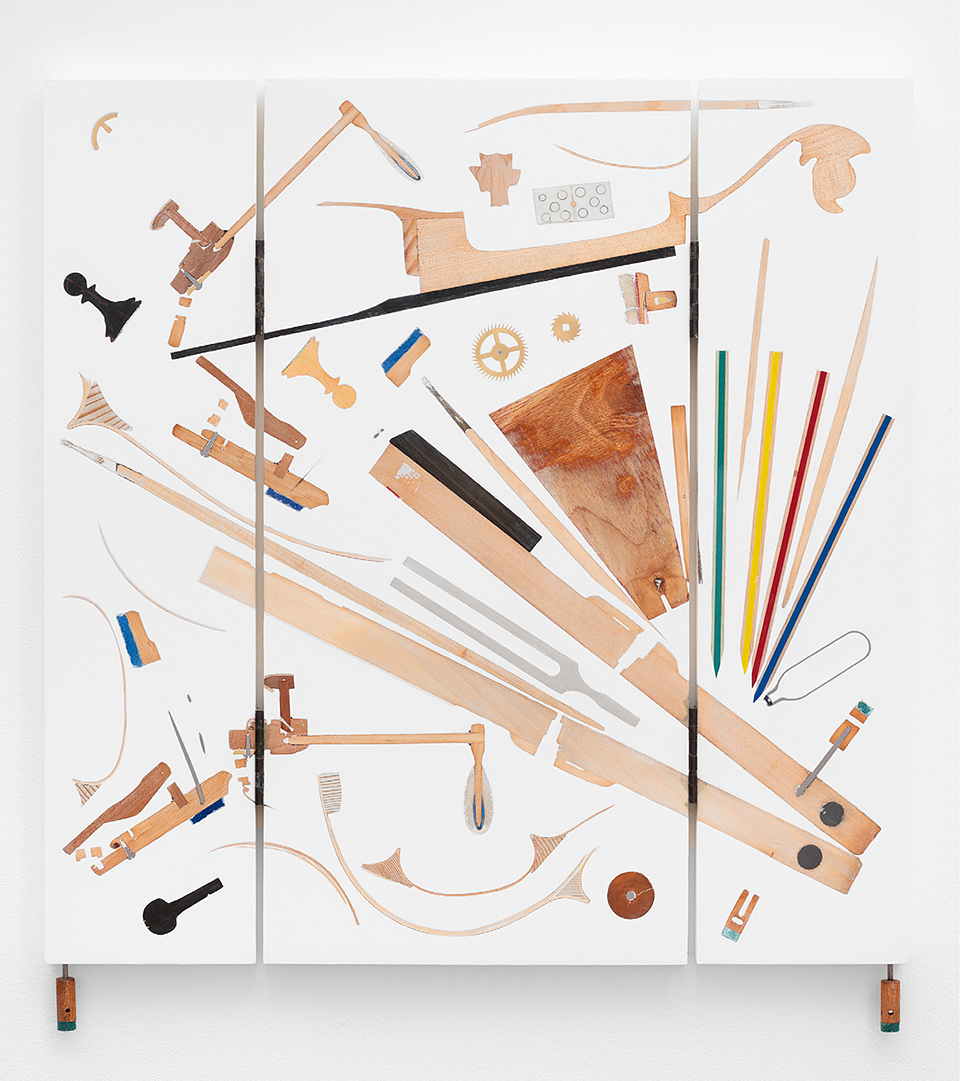 Oliver Beer, 'Recomposition (Rosa Carlisle)', 2020
| Image courtesy of
the artist and
Sunpride Foundation
Beer expanded the vocabulary of these sculptures and used different media and objects. The whole material world becomes a potential palette, with the objects cut at varying angles to create recompositions of their forms. The newest recompositions include objects from his daily life.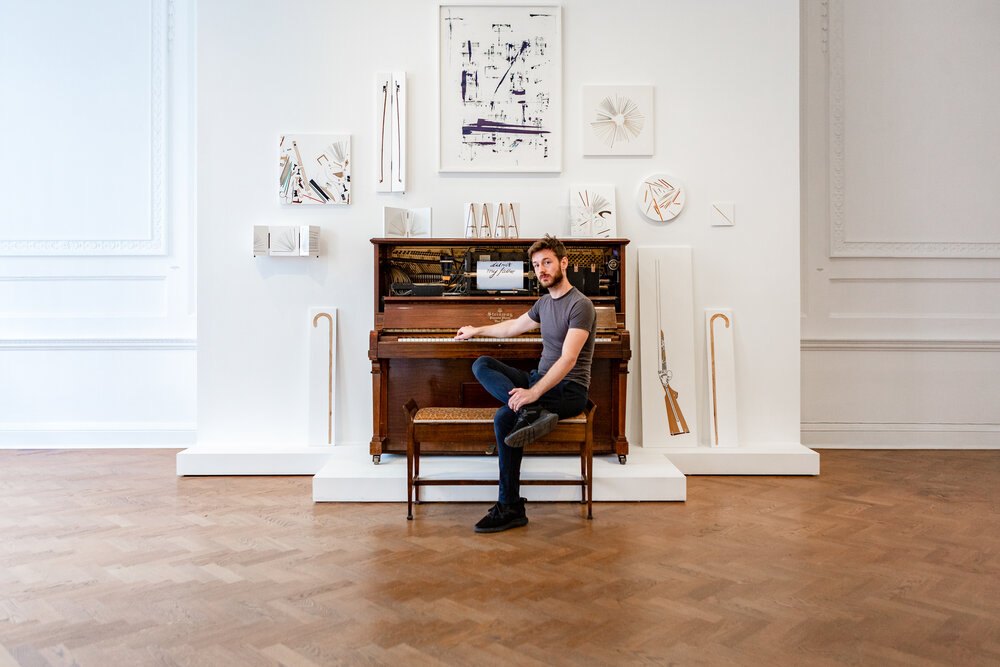 Oliver Beer at OMA, a solo exhibition by Oliver Beer at Galerie Thaddaeus Ropac, London, September 2020
|
Image courtesy of the artist and Galerie Thaddaeus Ropac
Around 2015, Beer started collecting objects from his own life that were in harmony with each other. He found that every object has a unique story of survival to tell: how has it survived generations of successive ownership and evolutions in taste. By listening to them to find ones that resonate perfectly in harmony with each other, he brought together objects that would never have been associated with each other; from every corner of history.