"I'm hoping someone standing in front of my work might get the same feeling I got when I stood in front of the work of Carrie Mae Weems, having a sense of possibility and accessibility. Just as my muses insist on their visibility and identity, I want my viewers to feel present with fierceness and boldness." — Mickalene Thomas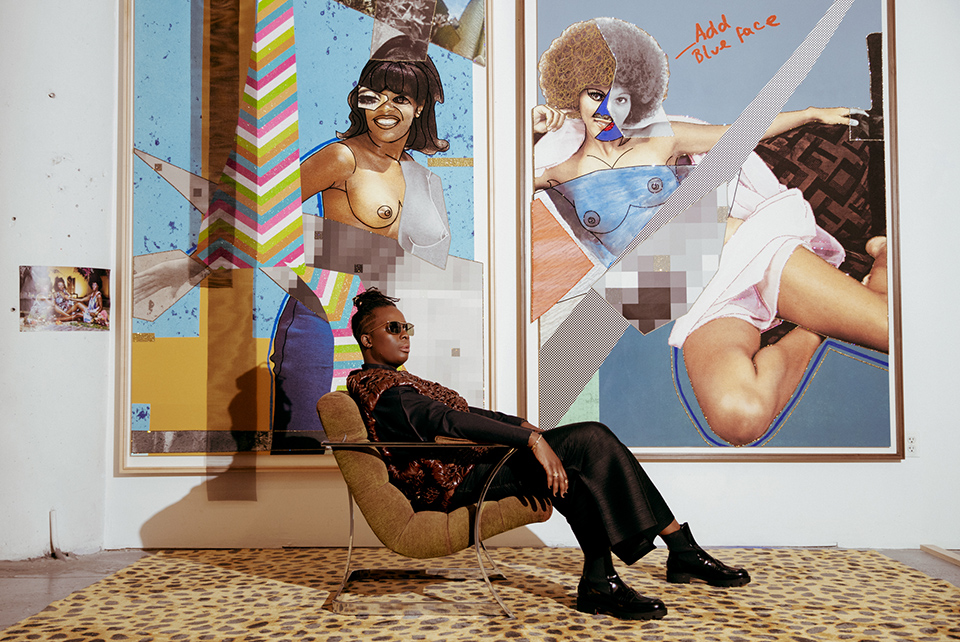 Mickalene Thomas | Image courtesy of the artist and Interview Magazine
Mickalene Thomas (b. 1971, Camden, New Jersey) is a contemporary African-American visual artist living and working in New York. Thomas is best known for her elaborate paintings composed of rhinestones, acrylic and enamel. She makes paintings, collages, photography, video and installations that draw on art history and popular culture to create a contemporary vision of female sexuality, beauty, and power. Blurring the distinction between object and subject, concrete and abstract, real and imaginary, Thomas constructs complex portraits, landscapes, and interiors to examine how identity, gender and sense of self are informed by the ways women are represented in art and popular culture.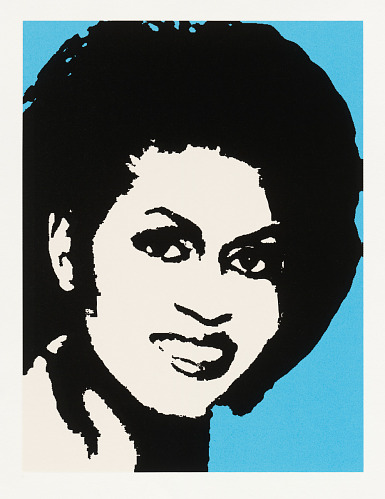 Mickalene Thomas, Michelle O, 2008 | Image courtesy of the artist and the Smithsonian's National Portrait Gallery
Received a BFA from the Pratt Institute, Brooklyn, New York in 2000 and an MFA from Yale University School of Art, New Haven, Connecticut in 2002, Thomas' work is in numerous international public and private collections, including The Museum of Modern Art; San Francisco Museum of Modern Art; Solomon R. Guggenheim Museum; Whitney Museum of American Art; Museum of Fine Arts, Boston; Art Institute of Chicago; MoMA PS1; Brooklyn Museum; Studio Museum in Harlem; Yale University Art Collection and Hara Museum of Contemporary Art, Tokyo. She has been awarded multiple prizes and grants, including the USA Francie Bishop Good & David Horvitz Fellow (2015); Anonymous Was A Woman Award (2013); Brooklyn Museum Asher B. Durand Award (2012); and the Timehri Award for Leadership in the Arts (2010).
Diversifying ideas of beauty by constructivism and abstraction in her paintings
Images as the foundation of Thomas' painting. Photographs and collages serve as a starting point for her paintings. She is interested in the various layers of presentation, perception, and masking that influence of how we see a person. Certain objects, patterns, colors, and spatial relationships bring to mind such diversified ideas of beauty, time and nostalgia, which is ultimately what Thomas wants to achieve through her work. Using photography as a way of capturing and reinterpreting the image, Thomas prints out photographic images and changes the composition, the color and the texture by collages to create a new image and think of how she wants to execute it in the painting.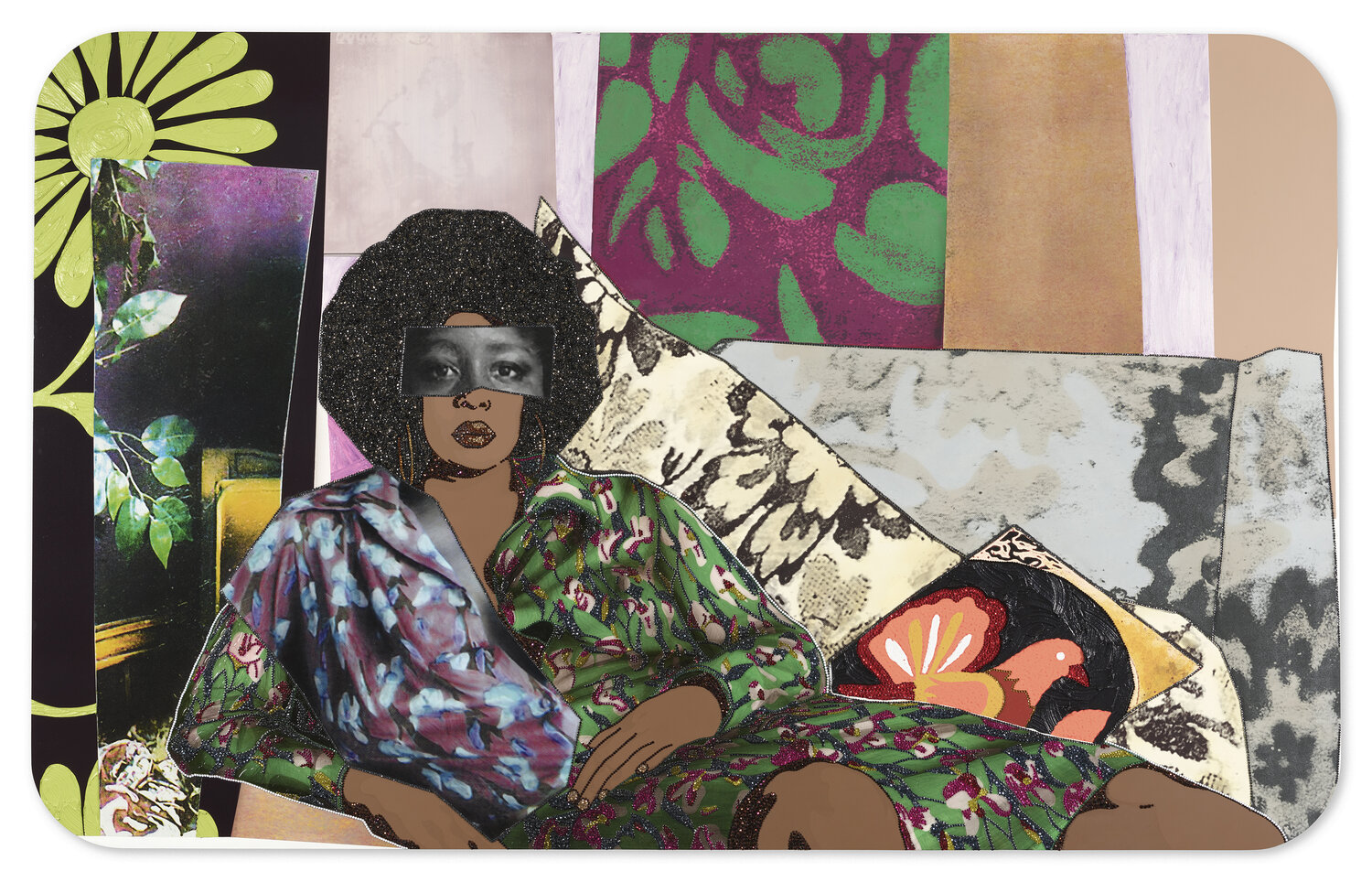 Mickalene Thomas, Afro Goddess Looking Forward, 2015
| Image courtesy of the artist
Multiple artistic periods and cultural influences throughout Western art history inspired her, particularly the early modernists including Jean-Auguste-Dominique Ingres, Pablo Picasso, Henri Matisse, Edouard Manet and Romare Bearden. Thomas models her figures on the classic poses and abstract settings popularized by these modern masters, as a way to reclaim agency for women who have been presented as objects to be desired or subjugated. Her use of pattern and domestic spaces often references various periods throughout the 1960s to the 1980s, which is the time of immense social and political conflict, change and transformation—the civil rights movement, the black is beautiful movement, and the second wave of feminism—during which many women, particularly African-Americans, rejected and redefined traditional standards of beauty.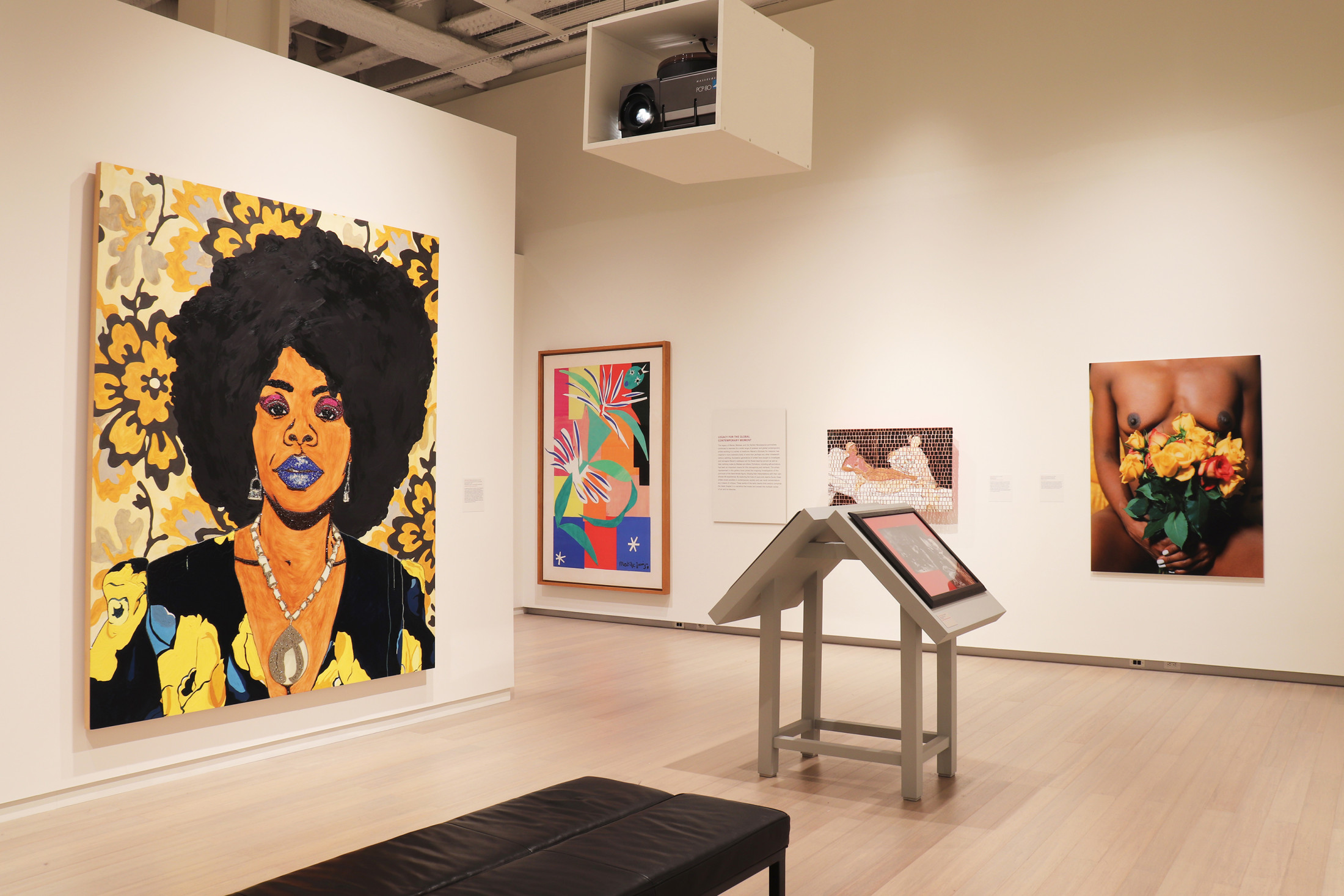 Mickalene Thomas, "Posing Modernity: The Black Model from Manet and Matisse to Today", Wallach Art Gallery at Columbia University, 2018-2019
| Image courtesy of the artist and
Wallach Art Gallery, Columbia University
Mama Bush
, her first muse
possesses a profound sense of inner confidence and individuality
"Tenderness and intimacy and sensuality are a natural impetus that I have always desired in my work. There are not enough images of Black women loving Black women, specifically. So I feel I have a responsibility to contribute positive images for those who don't know anywhere else to go, where they can see themselves in the work." Filled with canvases of beautiful black women—friends and lovers, women in images from once popular publications, sometimes even herself, Thomas developed her signature style, featuring strong African American women, especially her mother Sandra Bush, in elaborately collaged and rhinestone-covered settings.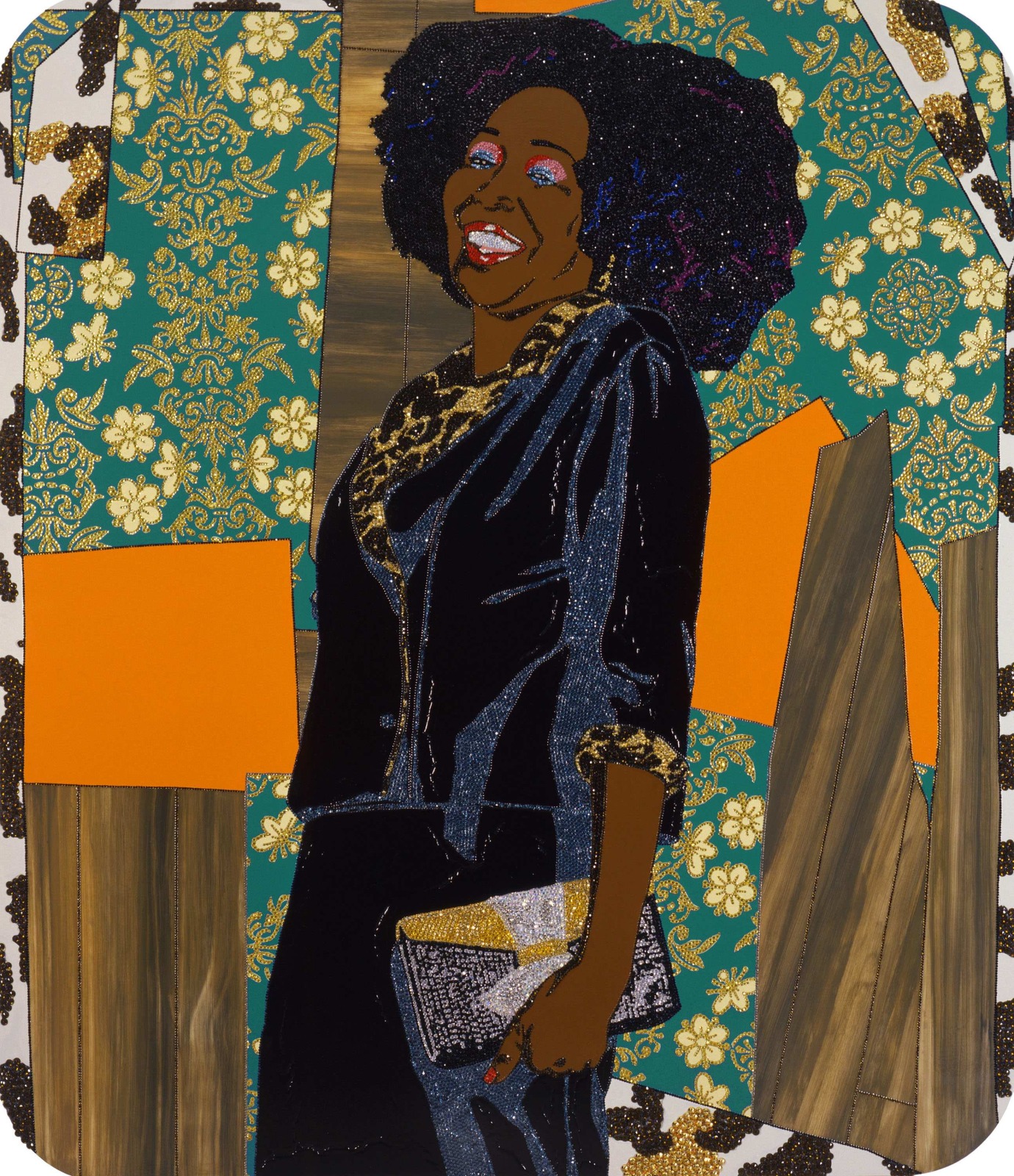 Mickalene Thomas, Mama Bush (Your Love Keeps Lifting Me) Higher and Higher, 2009
| Image courtesy of the artist, Artists Rights Society (ARS) and Private Collection
During her studies, Thomas started experimenting with figurative work in a performance art class and a photography course. That was when she started photographing her mother and herself and transforming the images into collages and paintings. Thomas photographed her mother dressed up like actress Pam Grier. Her mother, who had some experience modeling, warmed to the task, enjoying the role-play and the fashion.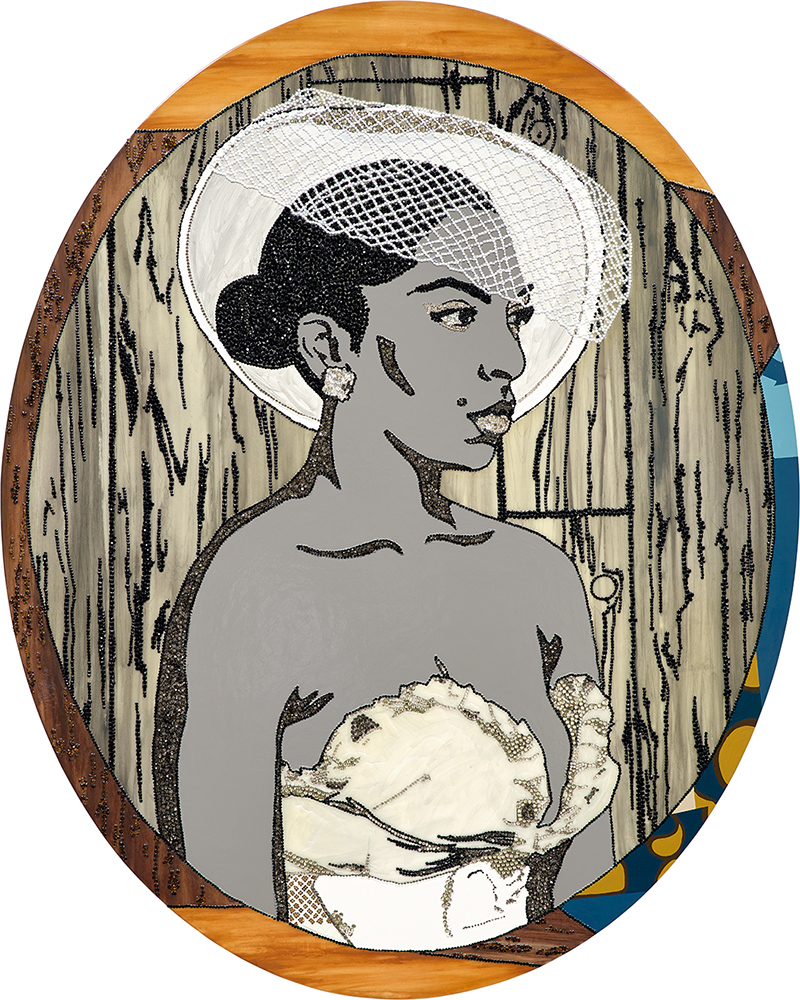 Mickalene Thomas, Portrait of Lili in Black and White, 2008 | Image courtesy of the artist and Sunpride Foundation
Using her mother as a model has enabled them to repair their relationship and grow closer. At the age of 18, Thomas realized that she was gay and afraid to share the knowledge with her mother, she moved to Portland, Oregon, accompanied by her first girlfriend. "Once we started collaborating, she (mother) was open to expressing herself within my art freely. I was so overwhelmed and blown away with her vulnerability and her strength and her willingness to just be free with her own sensuality and sexuality. It was a way for her to share herself." Her mother also taught her resilience and to not rely on the outside world to define who you are. "It started for me at home, growing up, looking at my mother and my grandmother and how they saw themselves. They never allowed who they were or how they were perceived to be an obstacle. It was never age or color that prevented them from doing anything. So I see beauty as a perseverance and resilience in a person. It's definitely something that exudes from the inside out. It's how you're a magnet and how you attract things in your life."