"We need to move past ideas that white symbolises purity, red symbolises romance, and black symbolises evil… Of course colours have had symbolic meanings over the years, but we need to adopt a more open posture when looking and interpreting. When we observe with a restricted perspective, it reduces the work or the artist into simplified versions of our reality."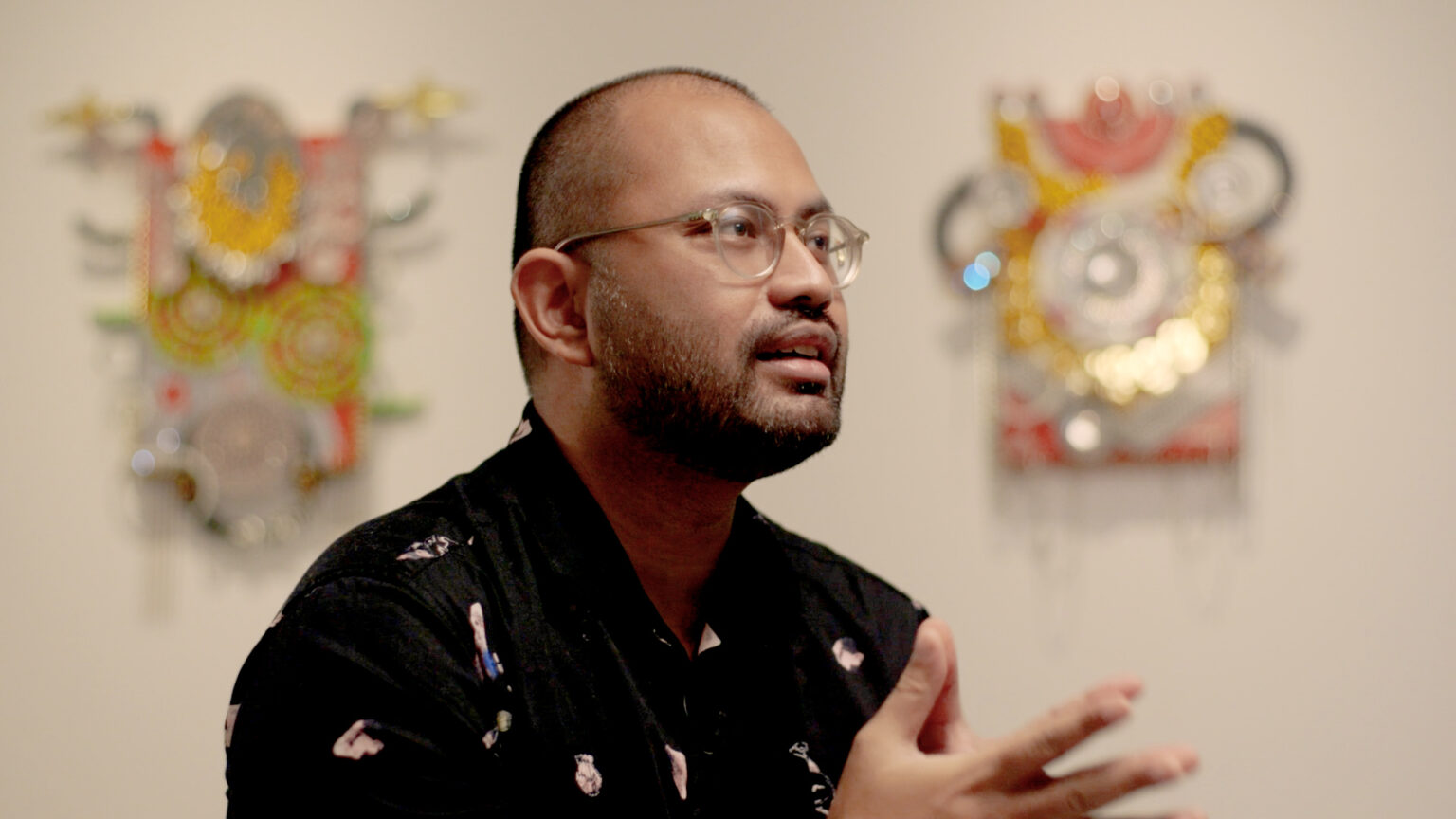 Khairullah Rahim | Image courtesy of the artist and ART SG
Born in 1987 in Singapore, Khairullah Rahim is a Singapore-based artist working across mixed-media installation, object-making, painting, photography and moving image. His practice is concerned with the stories and experiences of marginalised communities whose identities do not subscribe to societal normativity. His explorations delve into complex strategies of resourcefulness for everyday survival in environments under constant surveillance. Through various means of collaboration and critical thinking, his practice considers mindful ways of shedding light onto the veiled narratives of his community while factoring in the necessity for opacity. Materially, he continues to experiment extensively with the sheen, reflection and refraction of synthetic polymers; most evidently through rhinestones. Recurring points of departure in his work premise around themes of queerness, desire, resistance, aspiration, labour and ethics of disclosure.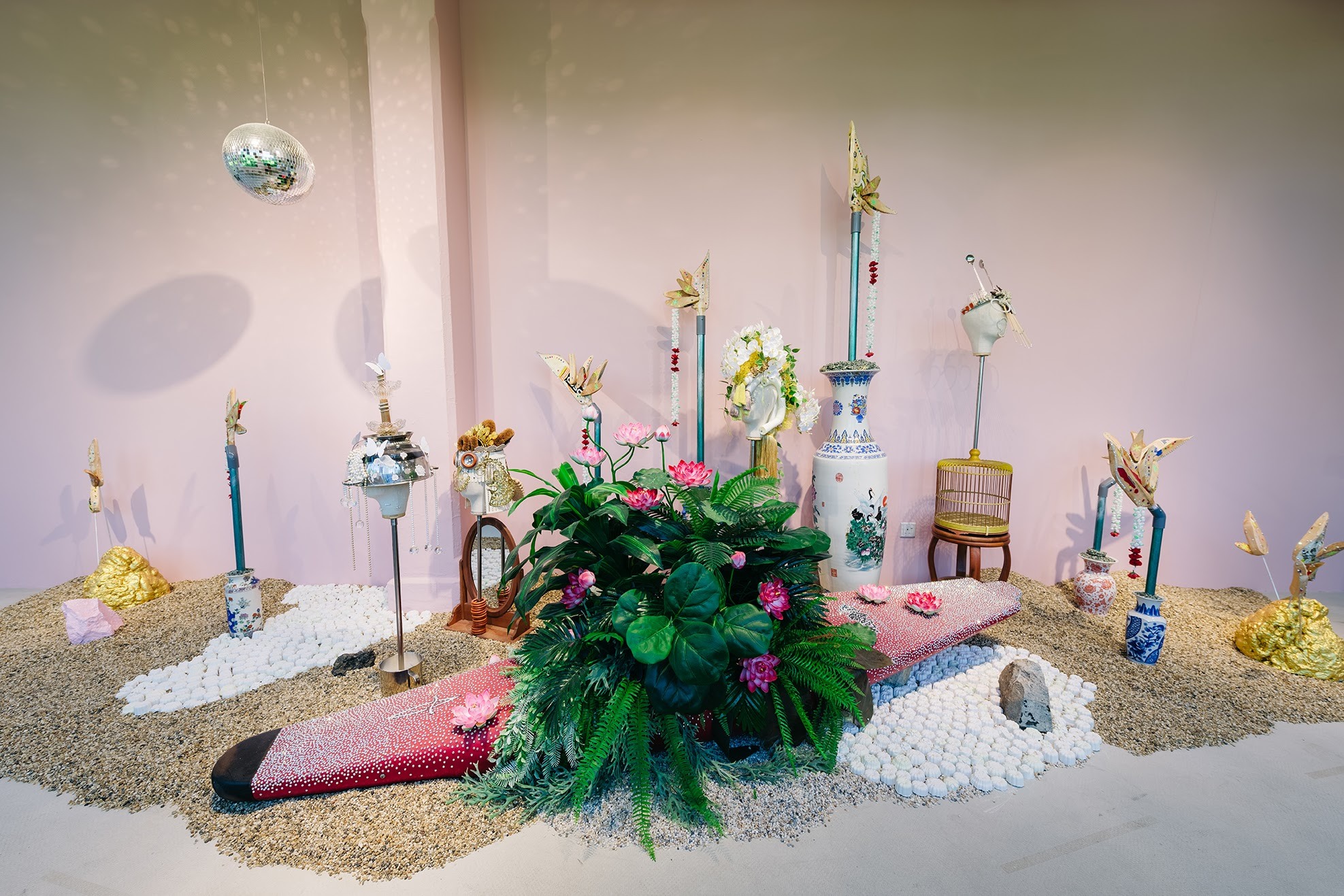 Khairullah Rahim, Intimate Apparitions, 2019 | Image courtesy of the artist, Time Out Singapore, Ahmad Iskandar Photography
Rahim is a graduate of Rutgers University, New Jersey, US with an MFA in Visual Arts from Mason Gross School of the Arts in 2022; and received a BA in Fine Arts from LASALLE College of the Arts, Singapore in 2013, where he currently teaches as an adjunct lecturer. Rahim's works have been showcased in solo and group presentations at venues including the Barbican Centre (London), Centre for Contemporary Arts (Glasgow), Tiger Strikes Asteroid (New York), Tai Kwun Contemporary (Hong Kong), Bangkok Art and Culture Centre (Bangkok) and National Gallery Singapore amongst others. In 2019, his work was included in the 6th edition of Singapore Biennale. His works are in the collection of the Singapore Art Museum.
Behind
his cheerful, effervescent style of painting and sculpture works
"My works are colourful, but I hope viewers engage with them on a deeper level to probe into what I'm actually using these colours to say." Weaving fact, narratives and fictions together with his idiosyncratic style, his works are motivated by engaging and sometimes challenging stories of the marginalisation of minorities, such as the discussion over queer visibility and marginalization in Singapore and are often contextual analogies for human societies. Both factual events and personal experiences are fundamental in his works as he mixes fact and fiction to create a discourse. While his cheerful, effervescent style of painting and sculpture works may evoke a distinctive joyful demeanour, they are however loaded with stories of loss and marginalisation.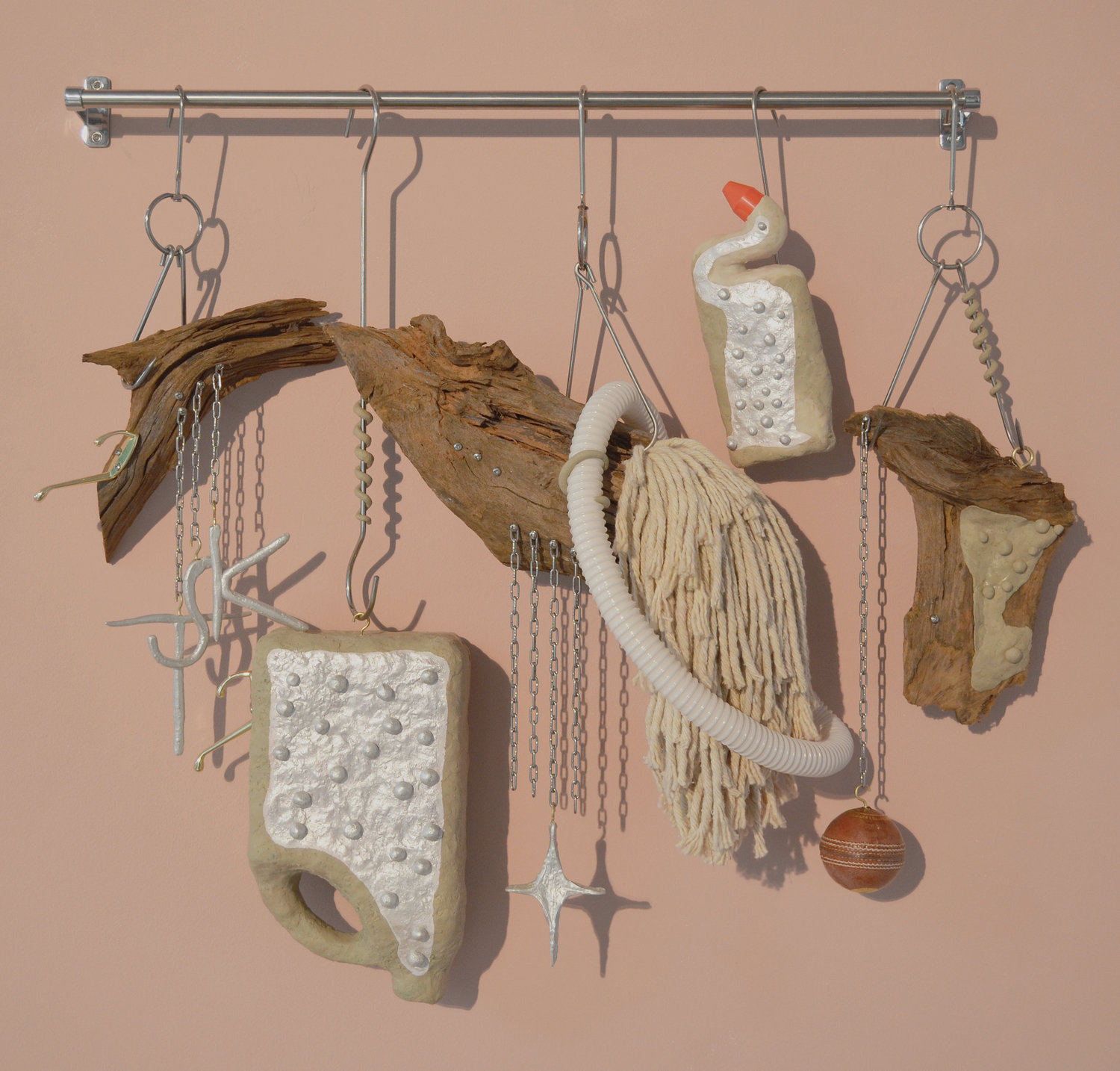 Khairullah Rahim,
Sighing in Unison, 2018
| Image courtesy of the artist
Nature, animals, and drawing
Drawing has always been Rahim's first love. He painted a lot of rhinoceroses when he started to learn painting formally after enrolling in LASALLE College of the Arts in 2005. "I then began to question why I was drawn to painting them and soon realised that it may have stemmed from me feeling that I was always behind someone else. I felt that there was something about this animal that connoted the idea of the second fiddle or of being the sidekick. In some ways, what I was exploring then is not very different from what I am exploring now".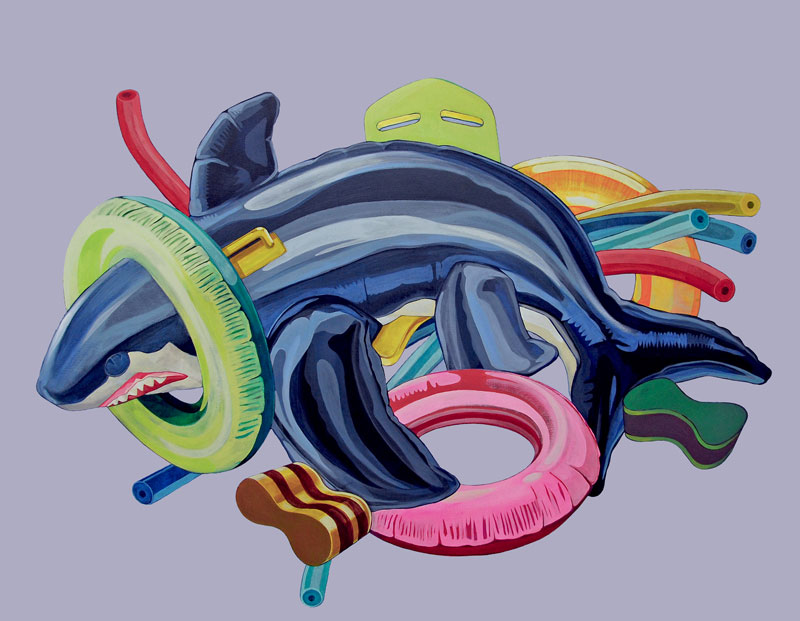 Khairullah Rahim, Catch of the Day!, 2015 | Image courtesy of the artist
The relationship with nature has always been quite elusive and instinctive to Rahim. During his early childhood days, he was trying to figure out ways to connect with his father, which would be deemed as "less feminine" while his elder brother excelled in sports. In the past, he kept numerous birds as pets. After his father passed away when he was 16, and by then, the interest with animals, particularly avians, was already so deep-rooted within him. He found that avians are smart creatures and beautiful.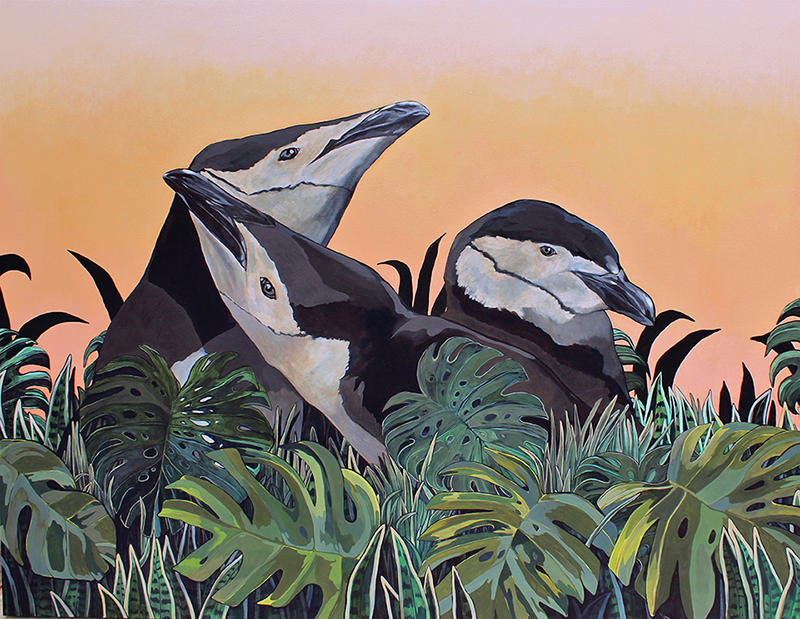 Khairullah Rahim, One Sweet Day, 2016 | Image courtesy of the artist and Sunpride Foundation
In 2016, Rahim painted "One Sweet Day" to tribute a famous gay penguin couple, Roy and Silo from Central Park Zoo, New York. As is his aesthetics, "One Sweet Day" is fun and idiosyncratic. At the same time, it is a call towards accepting and normalising gay rights. Roy and Silo created a stir over a decade ago after they successfully hatched and adopted a chick named Tango. The little family then inspired the children's book "And Tango Makes Three."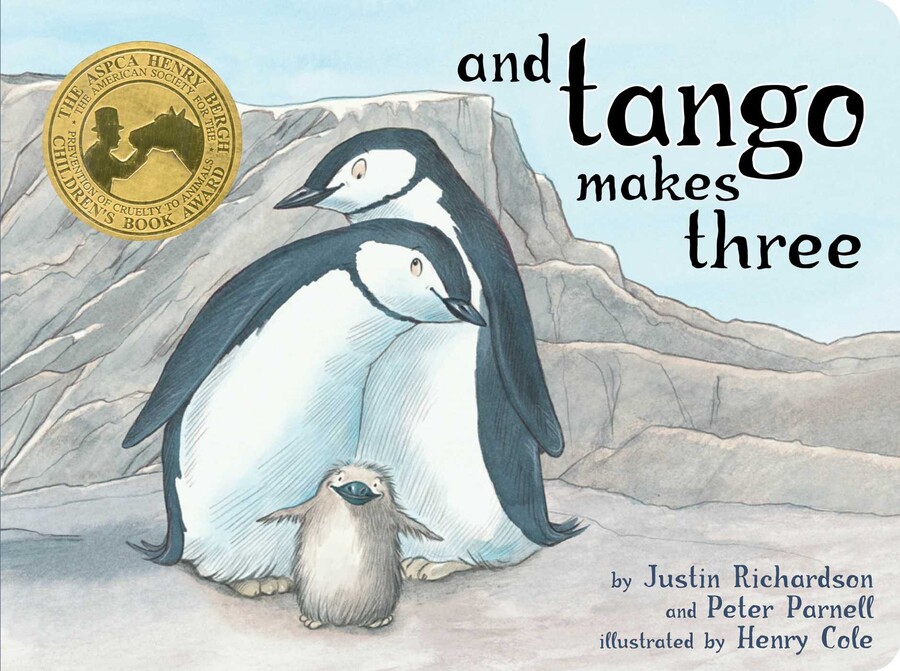 The cover of And Tango Makes Three | Image courtesy of Simon & Schuster children's publishing
In 2014, state-run libraries in Singapore have deemed a children's book about two male penguins raising a baby chick inappropriate and are to destroy all copies following complaints the content was against the city-state's family values. The other two children's books banned by Singapore — "The White Swan Express: A Story About Adoption" and "Who's In My Family: All About Our Families — also feature gay and lesbian characters.