"I'm incorporating certain gestures, certain kinds of bodies, citations from queer politics and art, figures from the past and present, and bringing that into a shared frame, a roadmap for understanding the present and future, to really be able to disassemble and reassemble things in a newly meaningful way."— Chitra Ganesh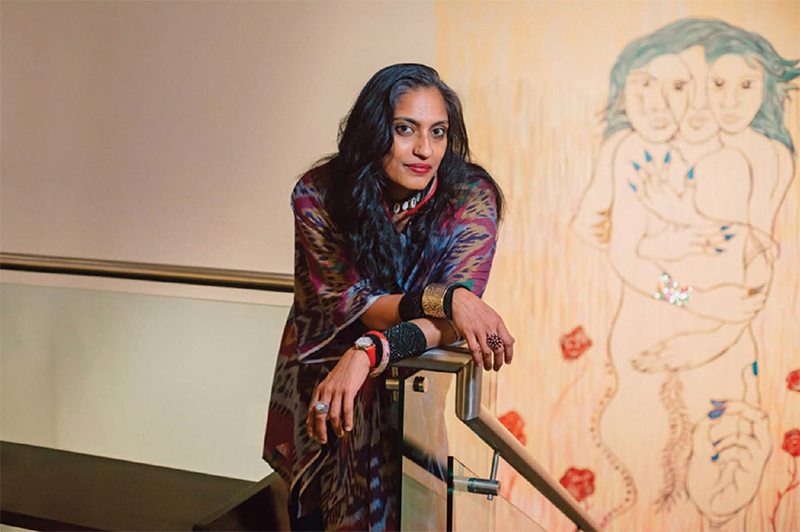 Chitra Ganesh | Image courtesy of the artist and Raul Irani
Born in 1975 in Brooklyn, New York, Chitra Ganesh is an Indian-American visual artist whose wall installations, comics, drawings, and mixed-media works attempt to reconcile representations of femininity, sexuality, and power absent from the artistic and literary canons, revealing feminist and queer narratives from the past and to imagine new visions of the future. Her body of work focuses on marginalized figures and narratives from art, history, and literature, particularly exploring the roles and expectations placed on women. Female archetypes—from goddesses to witches—fill her paintings, photographs, sculptures, installations, and comic books. Ganesh mines an array of influences in her work, from contemporary social theory to various world mythologies and Bollywood posters. She filters these influences through an aesthetic that combines text and bold, graphic imagery.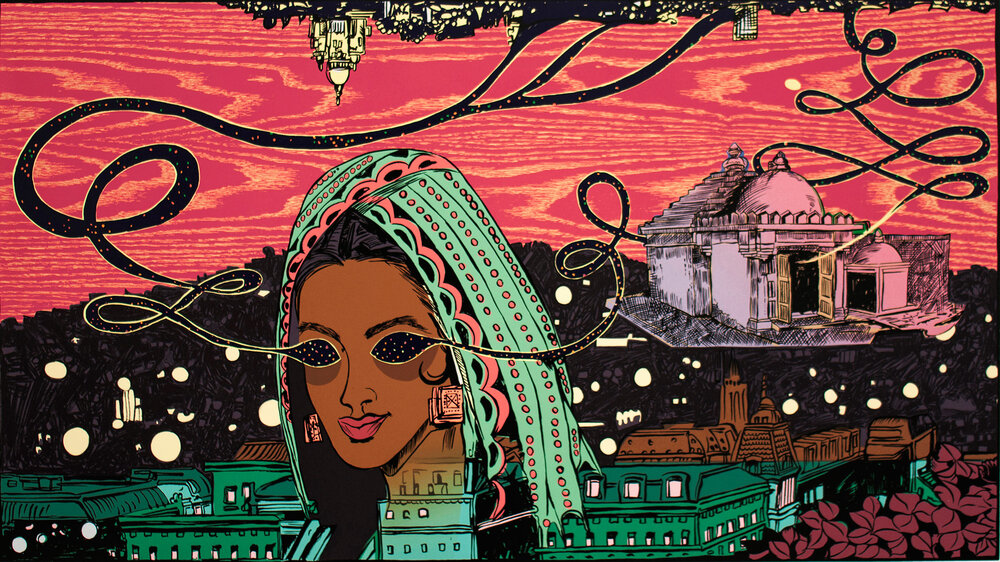 Chitra Ganesh,
Architects of the Future – City Inside Her
, 2014 | Image courtesy of the artist
After completing her BA in Comparative Literature and Art-Semiotics from Brown University in 1996, Ganesh taught at junior high school and continued to work in education while keeping painting in her apartment. After her mother's death in 1998, Ganesh realized life is short and declared her career as an artist. She attended the Skowhegan School of Painting and Sculpture in 2001 and obtained MFA in Visual Arts from Columbia University in 2002. From 1998 to 2003, Ganesh was a Board Member of the South Asian Women's Creative Collective (SAWCC). During her studies at Columbia University, Ganesh focused on finding images that reflected her subjectivity in mainstream art and culture that often meant "reckoning with the anthropological colonial lens that prevail in both the selection and contextualization of art objects, alongside disturbing mass mediated repetitions of South Asian subjects circulated in America". She noticed a distinct absence in representation of South Asian culture, art history, and contemporary art in her curriculum, and took additional classes in anthropology and South Asian studies to fill in some of the gaps.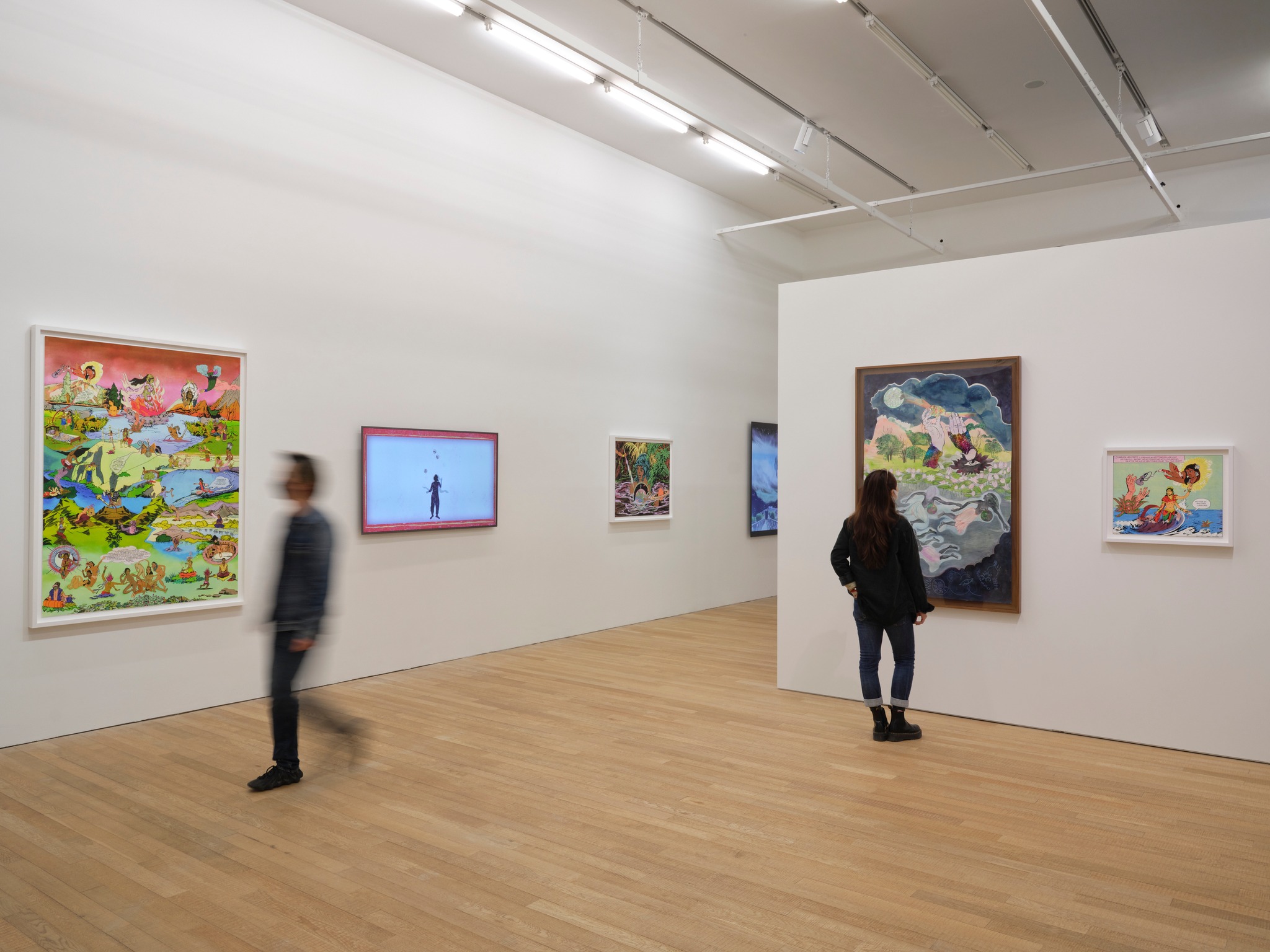 Chitra Ganesh
's work, Exhibition View of Myth Makers—Spectrosynthesis III, Tai Kwun Contemporary, 2022 | Image courtesy of the artist, Tai Kwun and Sunpride Foundation
Ganesh's work has been widely exhibited in the United States, including the Andy Warhol Museum, Baltimore Museum of Art, Berkeley Art Museum, Bronx Museum, Brooklyn Museum, Pennsylvania Academy of Fine Arts, and the Queens Museum. Her work is also widely recognized in Europe and South Asia, and has shown at Fondazione Sandretto (Turin), the Saatchi Museum (London), MOCA Shanghai (China), Kunsthalle Exnergrasse (Vienna), Gothenburg Kunsthalle (Sweden), The Indira Gandhi National Centre for Arts (New Delhi), Princes of Wales Museum (Mumbai), Devi Art Foundation (New Delhi), Travancore Palace (New Delhi), and the Dhaka Art Summit at Shilpakala Academy (Bangladesh). 
Filling the gaps
in official history, rising the untold stories to the surface as her artistic practice
Ganesh noticed that social hierarchies and codes are upheld just as frequently via the absence and repression of narratives perceived as threatening to our world order, be it between lovers or empires. Research helped her make sense of the many gaps she encountered while seeking certain aesthetic histories, representations, and modes of working beyond Eurocentric canons. Through early studies in social theory and deconstruction as tools to access or recuperate historic cultural texts, starting with literature and film, and gradually visual art. Engaging with feminist thought also allowed her to see how rigid constructions of female sexuality and gender-based power are not merely reflected, but constituted and obsessively reiterated in storytelling and visual culture.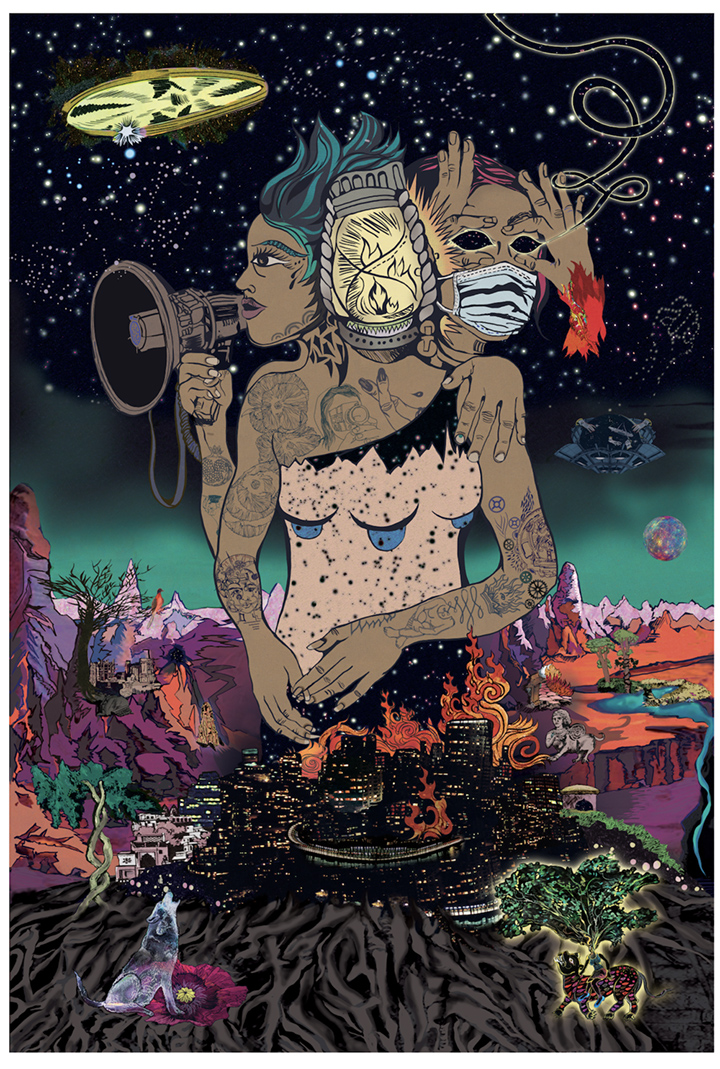 Chitra Ganesh, Urgency, 2020 | Image courtesy of the artist
At the core of Ganesh's work is a commitment to excavating and reiterating such narratives of transgression that have been systematically excluded from the official canons of history, literature, and art. The gaps in official history, the open fields where history and myth meet, became a central engagement in her work. These gaps and fissures are evident in seemingly benign tellings of traditional, mythological tales that are intended as cultural enrichment or entertainment for children. Such stories routinely celebrate sex and violence to tell an engrossing tale, only to ensure their repression at story's end, insisting upon appropriate behaviour and gender expression by inventing disastrous consequences that accompany any attempt to transgress social norms.
Exploring queer, queerness and femininity through
mythological
comic
"My work isn't actually about the world of gods and goddesses but about how mythic and superhuman iconographies are woven into the cellular structures of our contemporary everyday." Ganesh's work is inspired by mythological narratives, present day imperialism and queer politics, old Bollywood images and songs, lyric poetry, and erased moments in South Asian history. Amar Chitra Katha (ACK) is one of Ganesh's daily visual references both in New York City at home and in India during summer trips. It is a famous Indian comic series based on religious and mythological narratives, attempting to teach Indian children about their cultural heritage. Ganesh's interest in ACK is crucial as many of her works reinterpret and redefine the comic. She has four complete comic series inspired from Amar Chitra Katha, including "Tales of Amnesia" (2002), "She the question" (2012), "Architects of the Future" (2014) and "Multiverse Dreaming" (2021). In "Tales of Amnesia", there is an audacious female character who confronts subscribed notions of compliance in order to explore alternative models of femininity and power.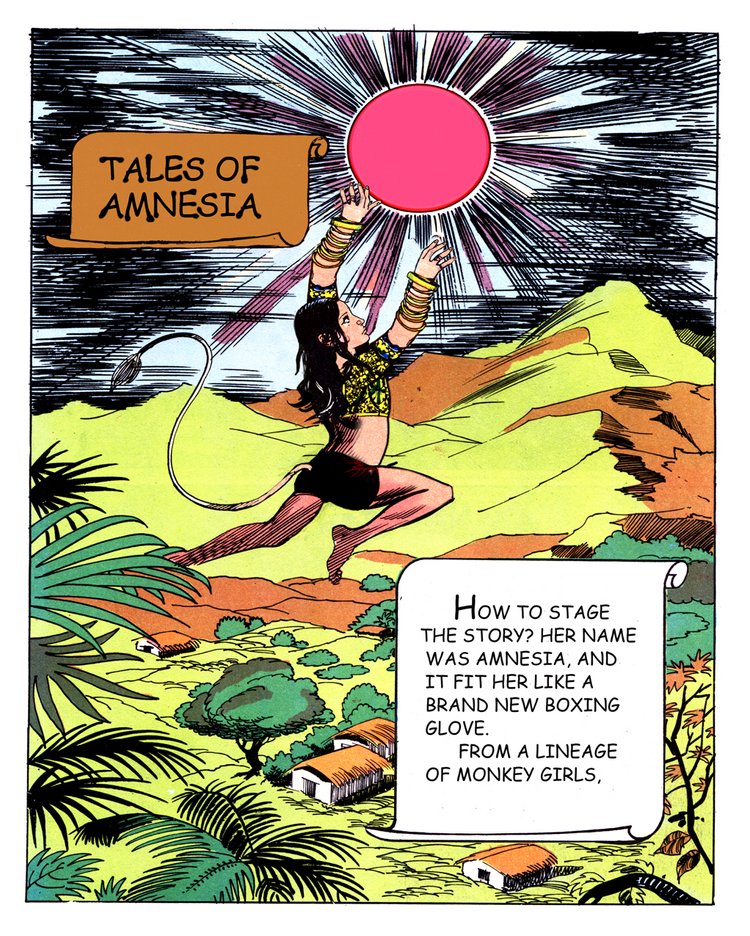 Chitra Ganesh, T
ales of Amnesia
, 2002 | Image courtesy of the artist
With her adult eyes, "the comic actually came with its own arguments, prescribed codes of conduct that maintain hierarchies of gender, skin color, and caste among other". She realized how often information was presented as timeless, trans-historical, and authentic. "The comic form itself is something that's been interesting and provocative and soothing for me to use as an artist right now because in the form itself it's about how different parts are fragmented, but also remain connected together as a whole, which is very much something that's been in the air and on my mind during this pandemic."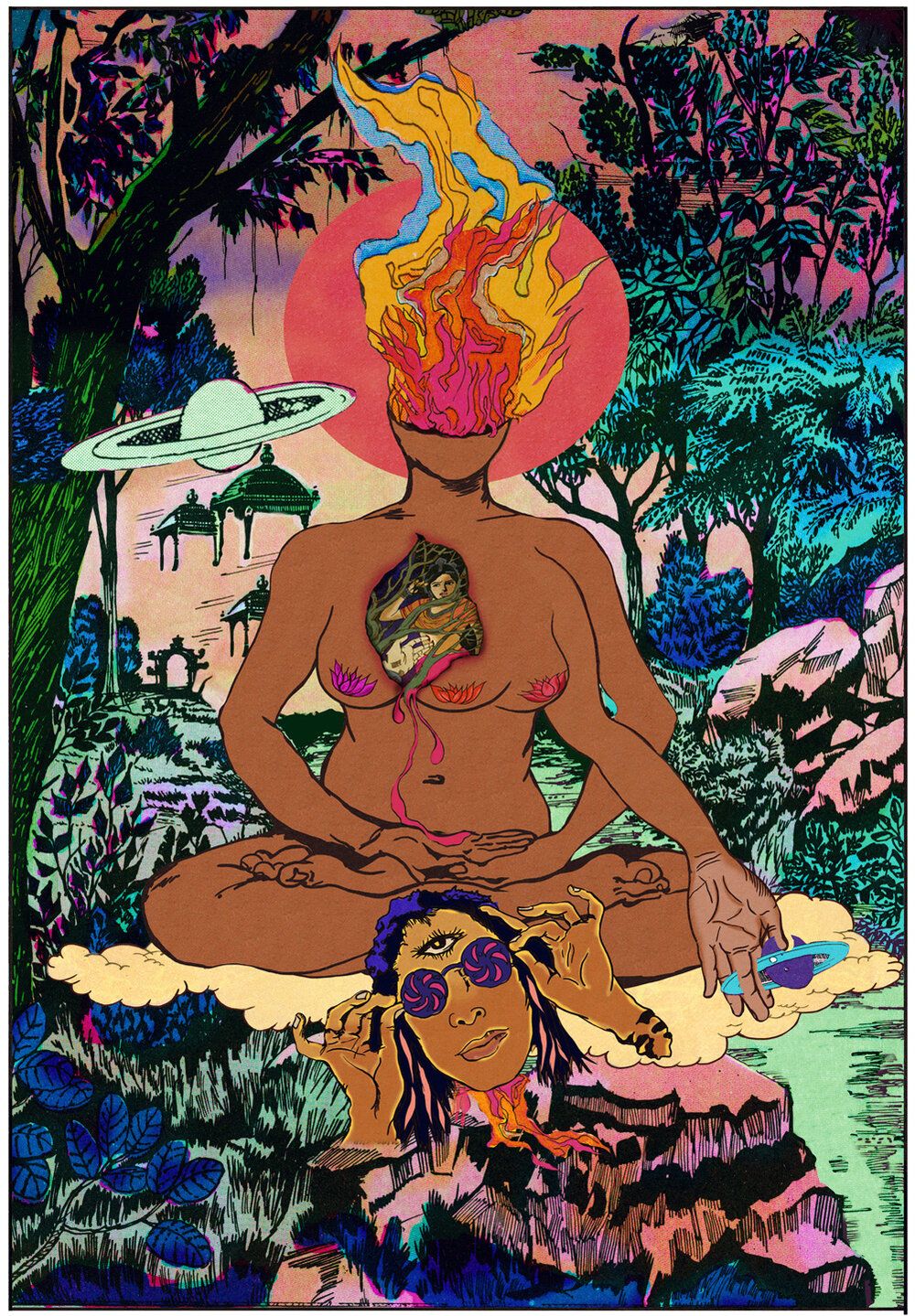 Chitra Ganesh, She the question – She the head in flames, 2012 | Image courtesy of the artist
During the pandemic, Ganesh held her first solo exhibition "Nightswimmers" in Hales Gallery from 18 November 2021 to 5 February 2022, continuing her immersive practice of kaleidoscopic experiments. In complex investigations of the social and physical body, she layers drawings, sculptural elements, and visual imagery with her own writing — an intricate process of intertwining different forms. In these new works for "Nightswimmers", Ganesh creates beautiful respite, weaving everyday life with the magical, speaking to quiet, playful moments of human connection. The erotic runs as a current through all of the pieces, as a great source of power and creative energy that is physical and psychic.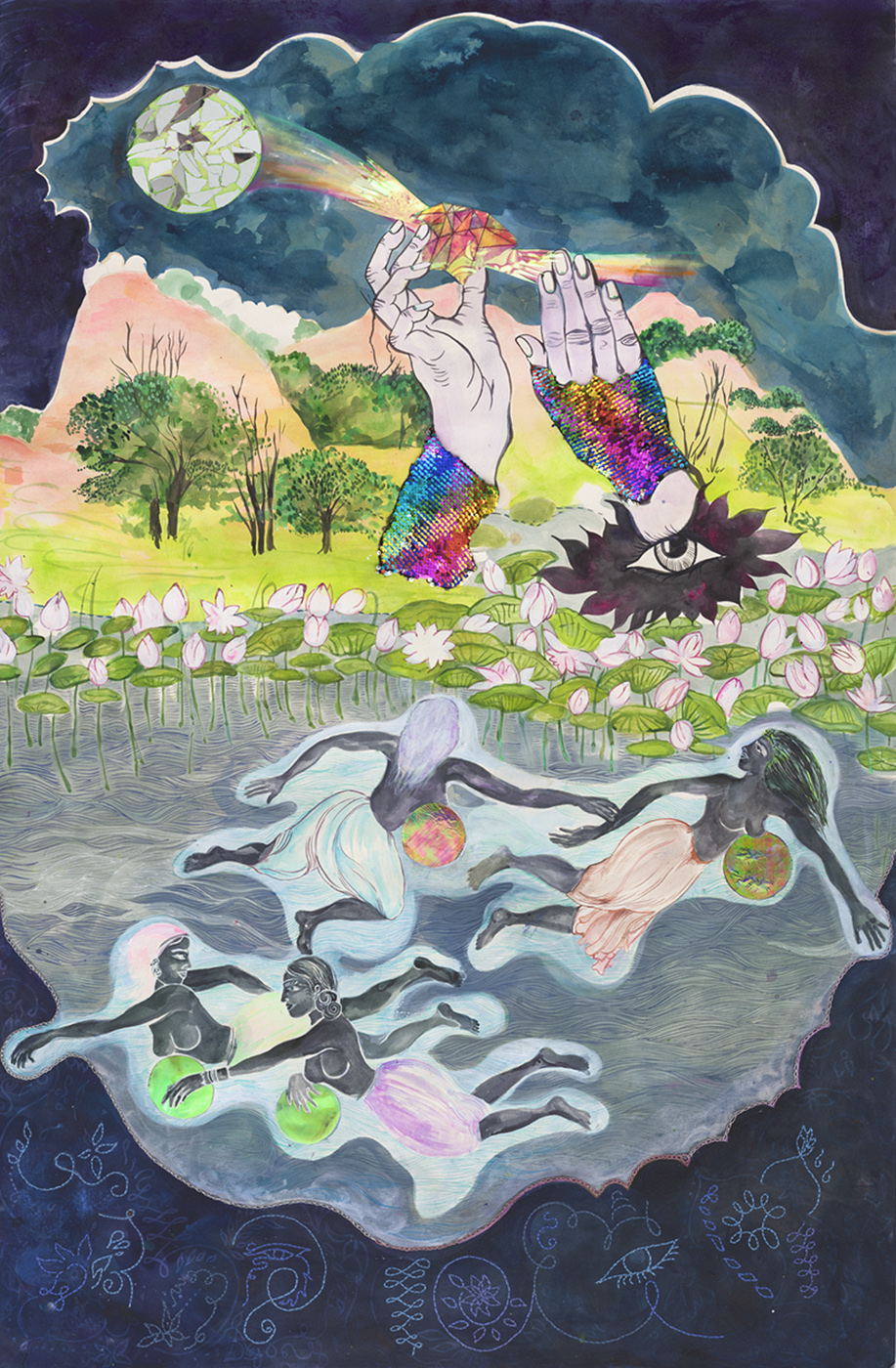 Chitra Ganesh,
Nightswimming
, 2021 | Image courtesy of the artist, Hales Gallery and Sunpride Foundation
Women are depicted nude and relaxed, lounging by water and swimming together, there is a spiritual grounding in nature. Their bodies are often in a state of becoming – heads turn into animals, trees and flowers, in mystical scenes full of fantastical elements. As well as whole figures, specific body parts are repeated in the works. These come from close readings of bodily movements, particularly of hand gestures and the many things they can symbolize, such as defiance, surrender, openness and care. Eyes repeat throughout the works to represent multiple realms of visibility and ways of seeing. There is an erotic connection to both the physical and spiritual body.