"I knew I wanted to paint very early on – painting was my secret garden. My art was an escape out of Heterosoc, and for me to use the word 'queer' is a liberation; it was a word that frightened me, but no longer."
— Derek Jarman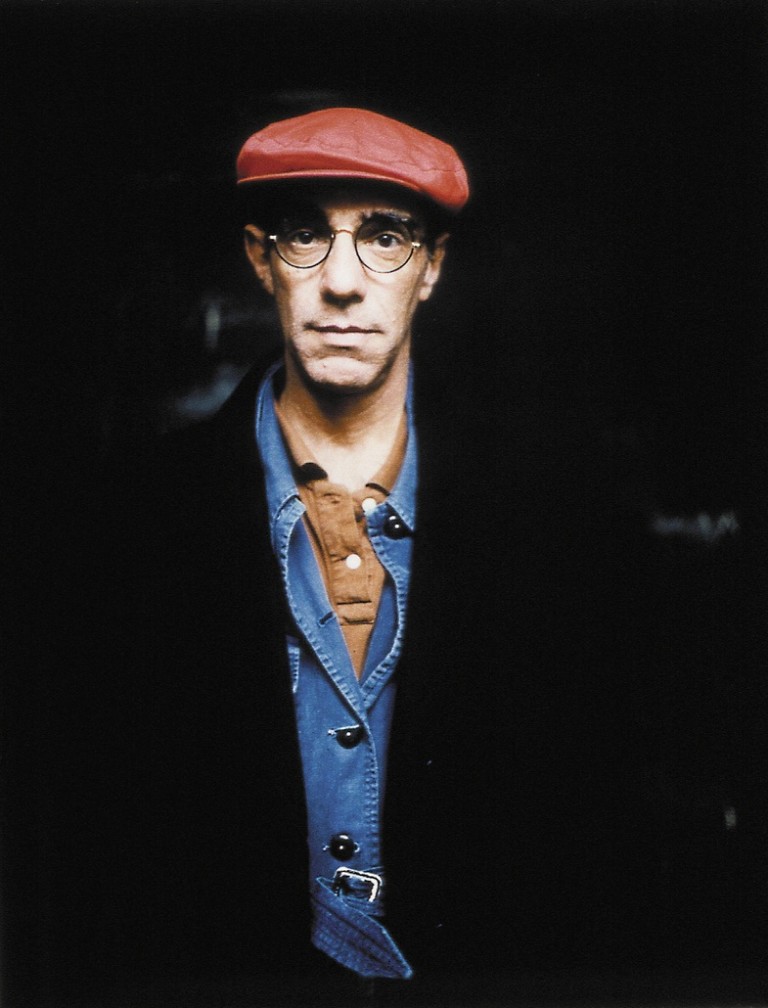 Derek Jarman
|
Image
c
ourtesy of the artist
 and the British Film Institute
Born in 1942 in Northwood, Middlesex, England, Derek Jarman was one of Britain's boldest directors. Although principally known for his films including Sebastiane(1976), Jubilee (1978), Caravaggio (1986), The Garden (1990), Edward II (1991), Wittgenstein (1993) and Blue (1994), Jarman was also a keen painter and poet, writer and memoirist, gardener and activist.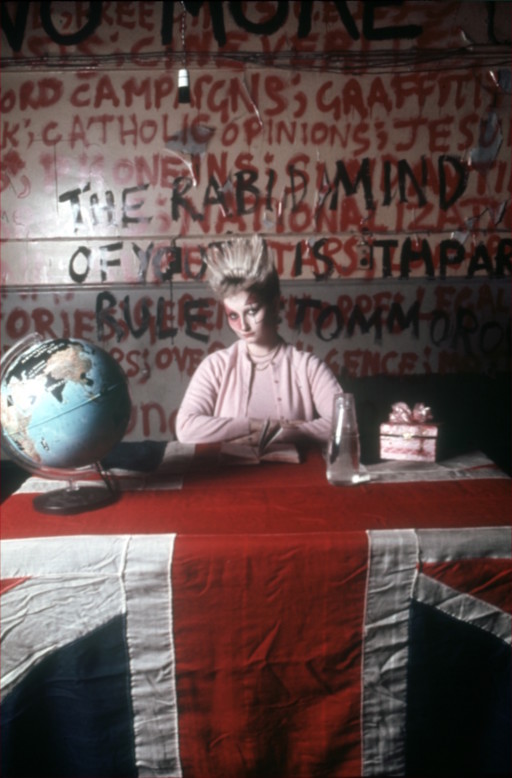 Film still
from
Derek Jarman
,
Jubilee
,
1978
|
Image
c
ourtesy of the
a
rtist and the British Film Institute
In the 1950s, Jarman first began to paint seriously at boarding school. As his father insisted that first he complete a 'proper' university degree before studying fine art, hecommenced a BA in History, English and History of Art at King's College London in 1960 after leaving the boarding school. Jarman first became known as a stage designer. Before moving into costume and set design for the Royal Ballet, Ballet Rambert and English National Opera in 1967, Jarman studied painting and stage design at the Slade School of Fine Art, University College London from 1963 to 1967.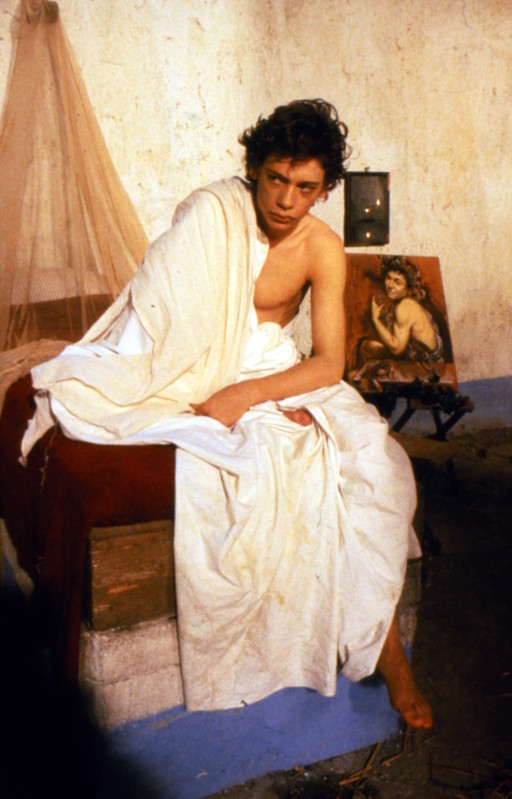 Film still
from Derek Jarman, Caravaggio
, 1
986 | Image
c
ourtesy of the artist and the British Film Institute
During his time at University College London, Jarman took a course on world cinema and a few years later began experimenting with making his own films in the low budget 'Super 8' format. His break in the film industry came as film designer for Ken Russell on The Devils (1971) in 1968. In 1971, he directed his first full-length feature film, Sebastiane (1976), one of earliest British films to include positive images of sex and intimacy between men.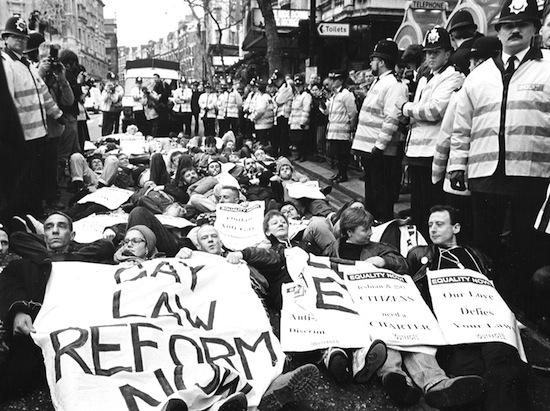 Derek Jarman
participating 
in
the OutRage! March at Parliament
|
Image courtesy of Peter Tatchell
In the early 1970s, Jarman was a committed and vocal campaigner for LGBT rights, involving himself heavily with gay liberation groups including the Gay Liberation Front and OutRage!. He was the first UK public figure who opened about his HIV status and discussed his condition in public. In 1986, he was diagnosed as HIV positive. As one of the keynote speakers in the world's first ever AIDS and Human Rights conference in 1988, Jarman gave a speech about his own HIV status and the need for governments to switch the focus from repression to education, support and treatment. During the 1980s, Jarman was a leading campaigner against Section 28 of the Local Government Act, introduced into British law in 1988, which sought to ban the 'promotion' of homosexuality in schools. In 1994, Jarman died of an AIDS-related illness at the age of 52.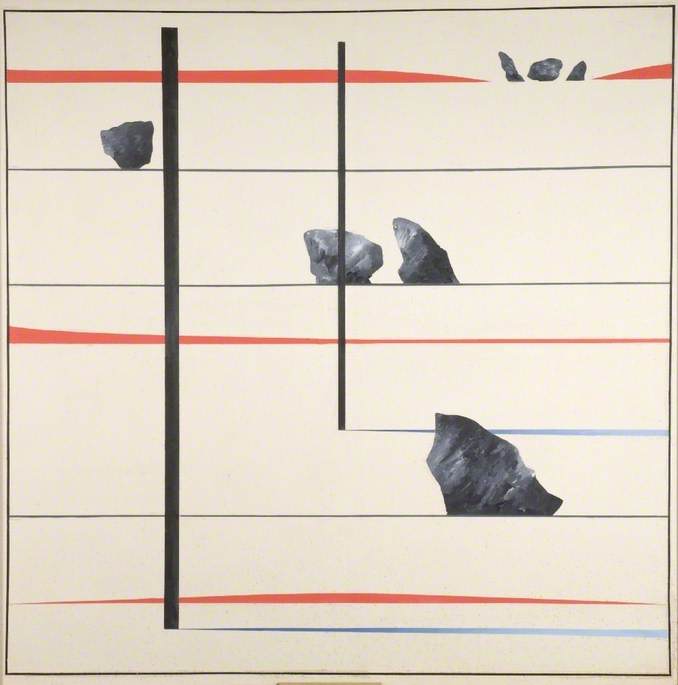 Derek Jarman, Avebury Series No. 4
,
1973 | Image
c
ourtesy of the artist and Northampton Museums & Art Gallery
Painting
—
Jarman
'
s
earliest artistic passion
and
returned to his last decade
In the late 1960s and early 1970s, Jarman's paintings tended not to reference his sexuality overtly but focused on the nature and experience of landscape. In the late 1980s and early 1990s, his late paintings conveyed a palpable sense of anger but also laced with humour and defiance, such as works in the 'Queer' and 'Evil Queen' series were informed by Jarman's involvement in HIV/AIDS activism. 'Queer' features Jarman played a central role in reclaiming the term 'queer', offering a possible alternative to rigid labels and categories of sexual and gender identity.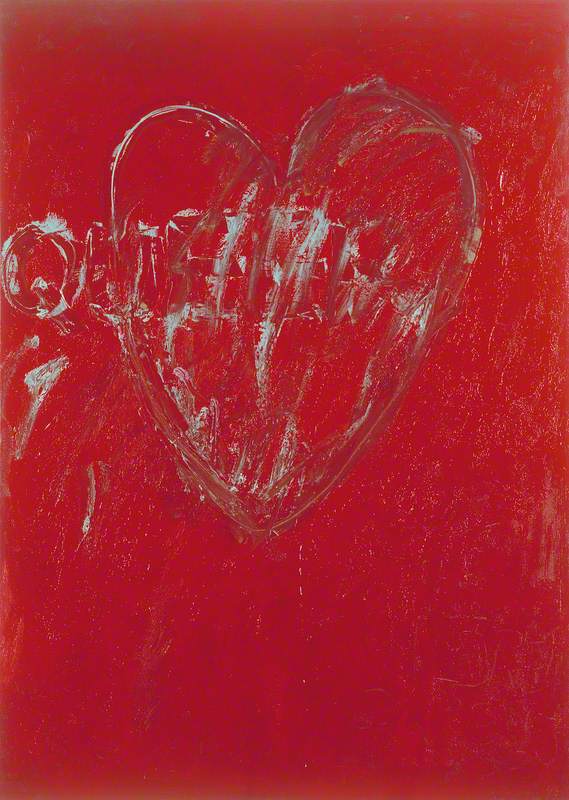 Derek Jarman
,
Queer
,
1992
|
Image
c
ourtesy of the artist and Manchester Art Gallery
Before pre and post–dates Jarman's diagnosis of HIV, his work became blacker and blacker. Jarman wrote in Chroma: A book of Color, 'moths which turn black to hide from predators… I painted the gold into my black paintings (melanosis)'. Jarman referred to 'melanosis' – the phenomenon where moths evolved to a darker color to blend with the soot of the industrial revolution and avoid predators. He made sure there was a contrasting brightness that illuminated his messages from the tarry black background, itself a metaphor for dark waters and shadowy corners where enemies lay in wait.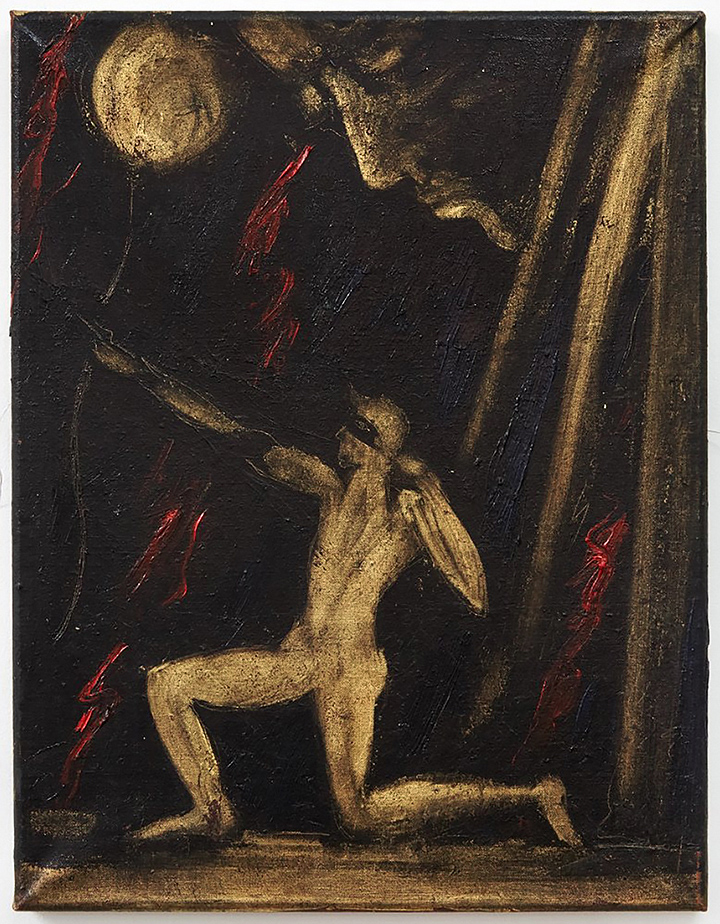 Derek Jarman, Untitled
 (Archer), 1983 | Image
c
ourtesy of the artist and Sunpride Foundation
Jarman
'
s
Prospect Cottage and g
arden
After being diagnosed with HIV, Jarman got as much out of life as possible and started creating a garden. Next to the nuclear power station at Dungeness on the Kent coast, he made a Prospect Cottage without boundaries that combined plants with sculptures made of found objects such as stones, driftwood and the debris of old fishing boats.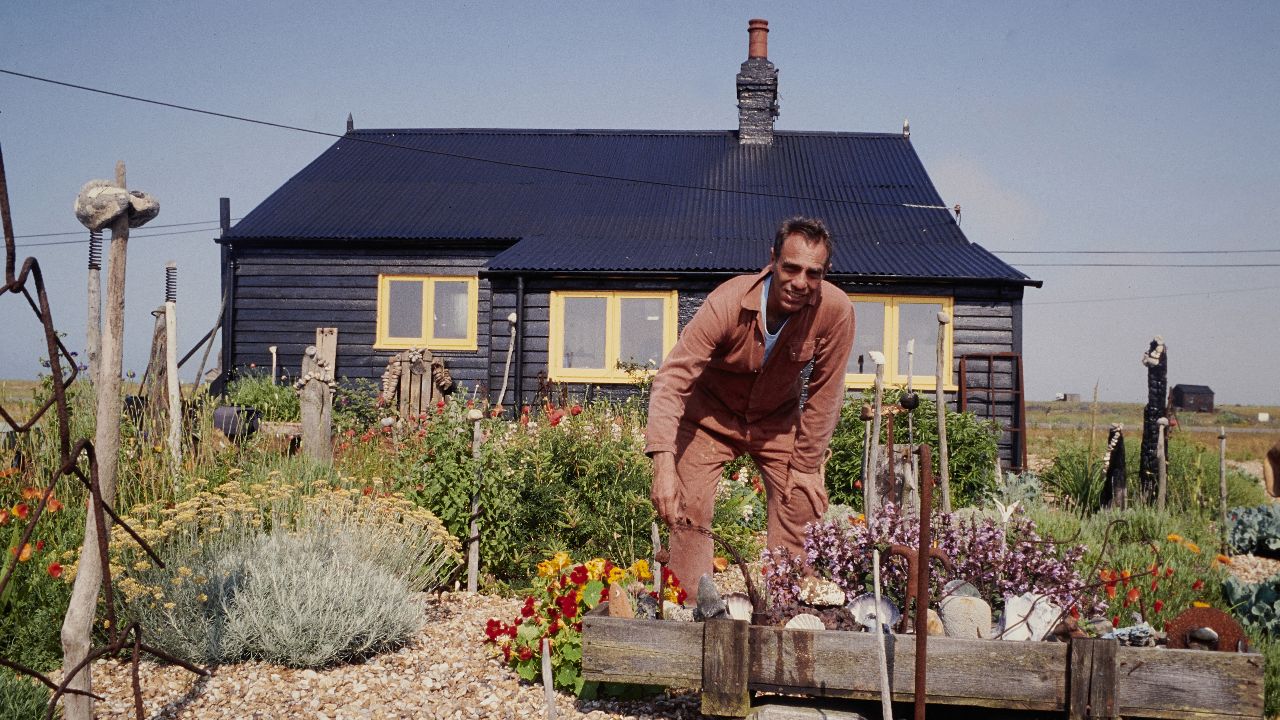 Derek Jarman
in the garden
in front of
Prospect Cottage
|
Image
c
ourtesy of the artist and The Art Fund
During his time there, his creative outpouring was immense, from flotsam and jetsam sculptures to paintings of red scratchings and black tar. Jarman also used the garden and surrounding landscape for scenes in his films The Last of England (1987) and The Garden (1990).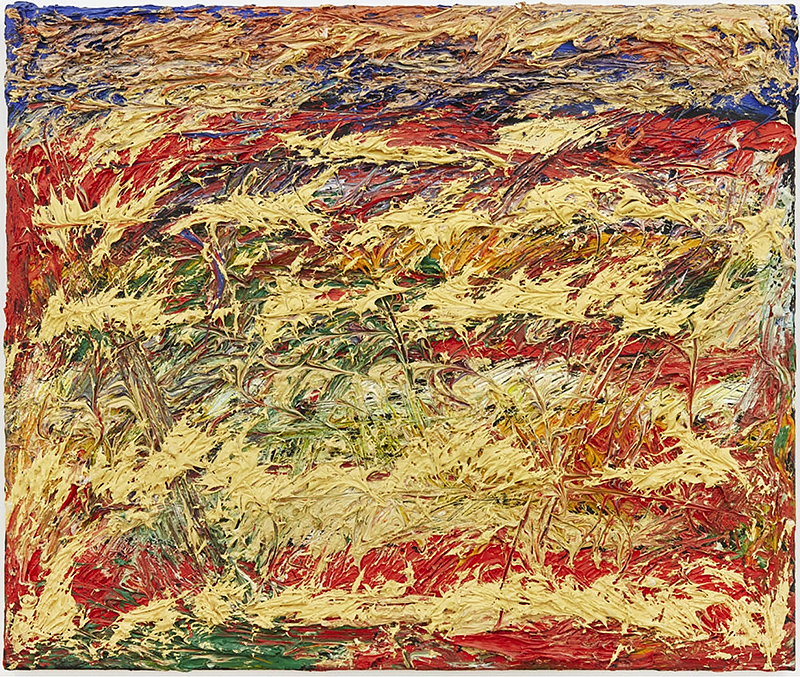 Derek Jarman,
Landscape
,
19
91
| Image
c
ourtesy of the a
rtist and Sunpride Foundation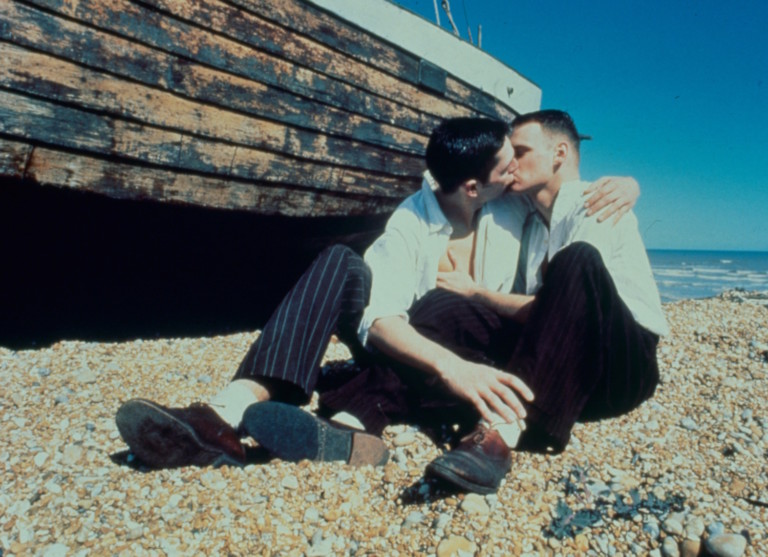 Film still from Derek Jarman,
The Garden
,
1990
| Image
c
ourtesy of the artist and the British Film Institute
Prospect Cottage became his Eden and later became something of a shrine to the artist since his death. It faced a turbulent future and at risk of being bought by a private company after his partner Keith Collins passed away in 2018. Until 31st March 2020, Art Fund ran a campaign to save the building as an archive of his work and a site of pilgrimage for many around the world.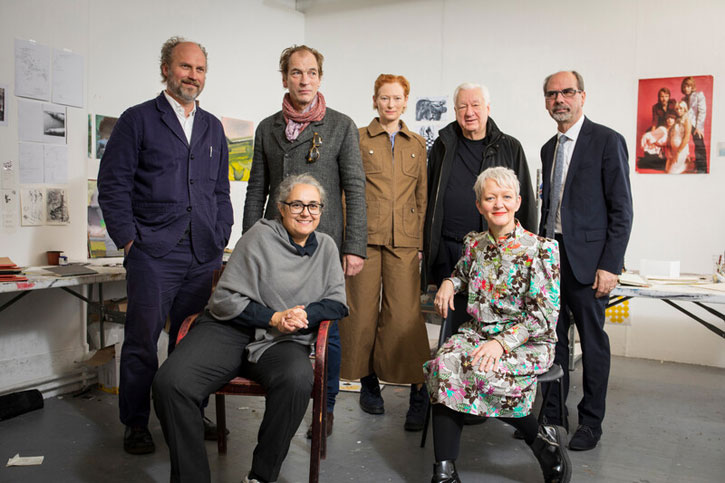 Art Fund's #saveprospectcottage campaign
supported
by
(Left to right) Creative Folkestone director Alastair Upton, actors Julian Sands and Tilda Swinton, artist Michael Craig-Martin, Art Fund director Stephen Deuchar, artist Tacita Dean and Tate Director Maria Balshaw
| Image
c
ourtesy of 
Art UK