"I want to make somebody feel less alienated — that's the most meaningful thing to me. I think part of what informs the book is the pain of having grown up for years and years believing I was from some other planet. I want people to hear me. I want to be understood and acknowledged to a certain extent. But do I think that something I say might have the weight to shift something? I don't know." — David Wojnarowicz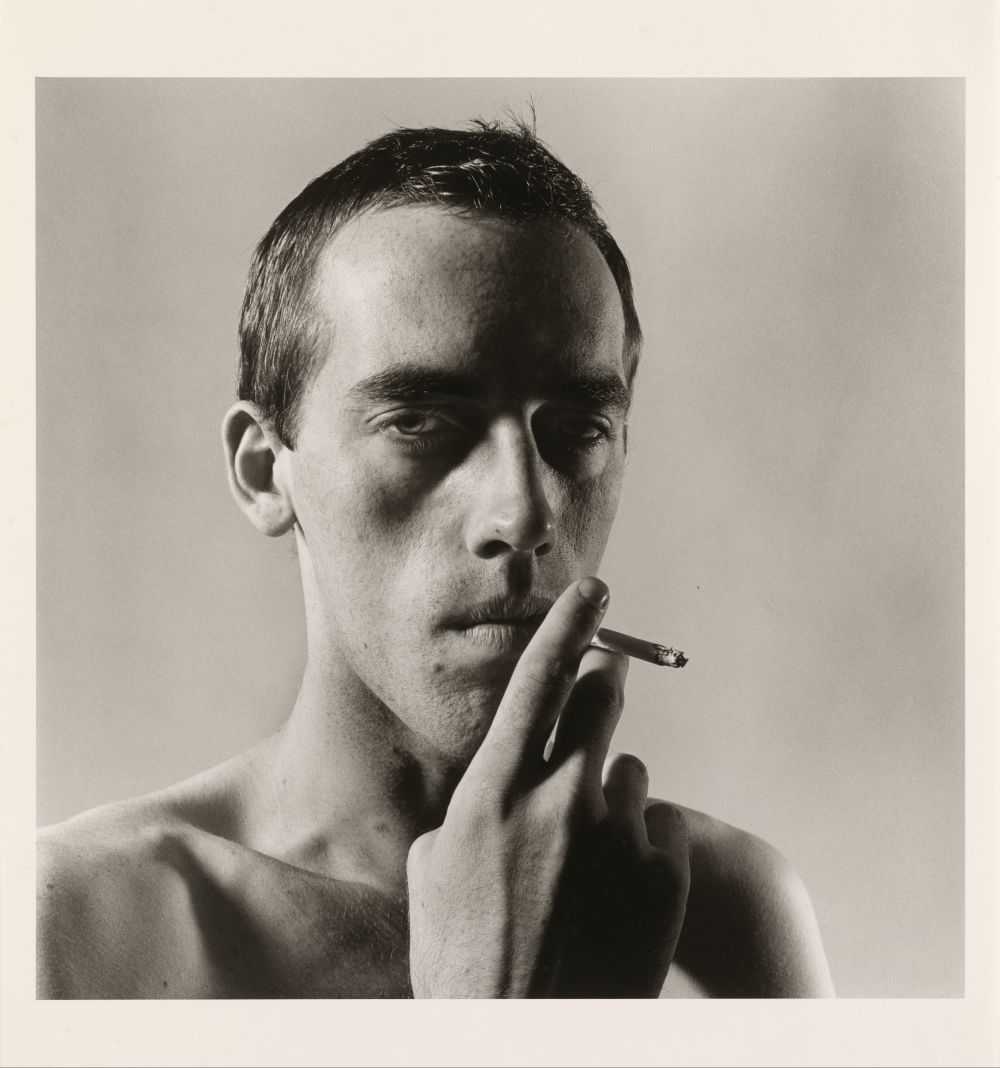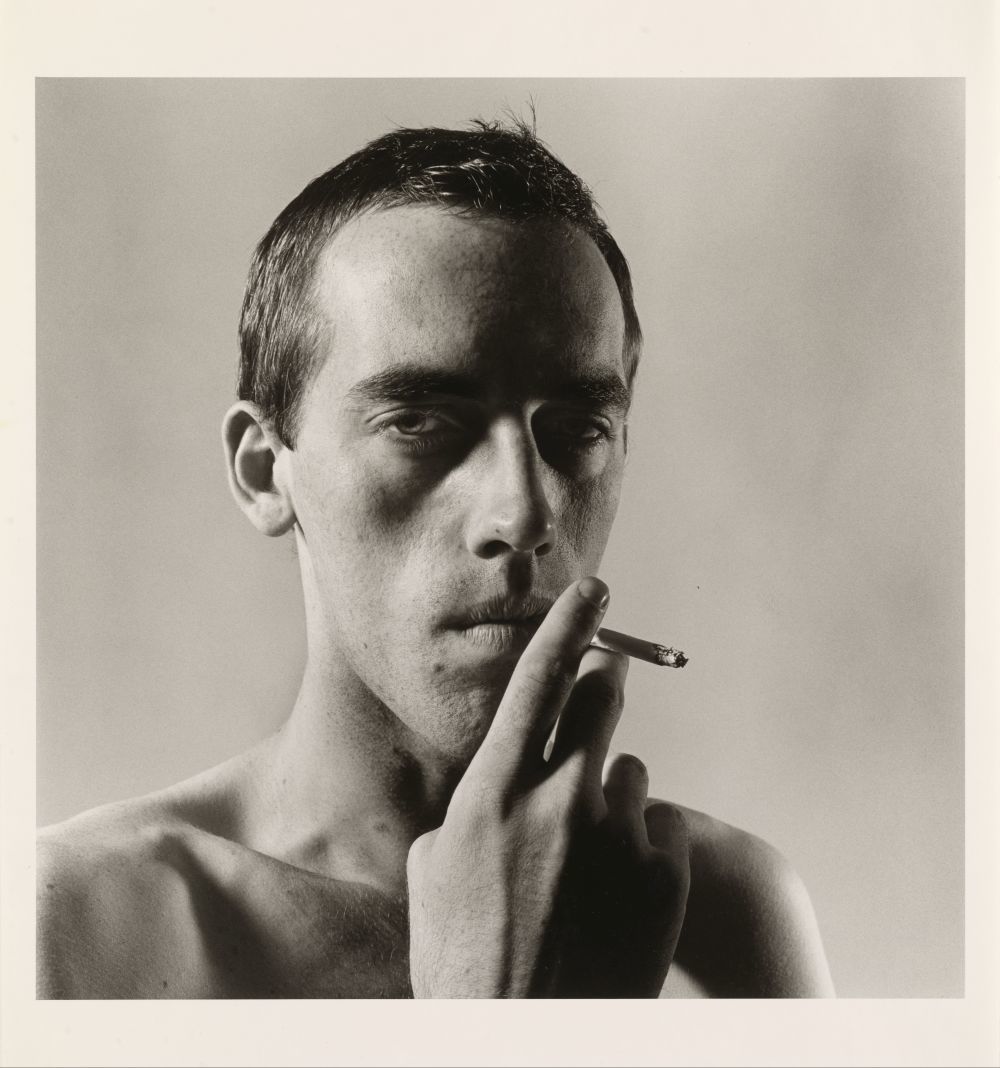 Peter Hujar,
David Wojnarowicz Smoking, 19
81
|
Image courtesy of the artist's estate and Peter Hujar Archive LLC
Born in Red Bank, New Jersey in 1954, David Wojnarowicz was one of the prominent figures of American art scene in the 1980s. Wojnarowicz was known for being a well-rounded artist who worked in a variety of media. He was a painter, writer, performance artist, photographer, and activist. Wojnarowicz developed ideas of making and preserving an authentic version of history in the form of images, writingsand objects that would contest state-supported forms of history. His body of work incorporated outsider experiences inspired from his personal history and the stories from the people he met in bus stations and truck stops while hitchhiking.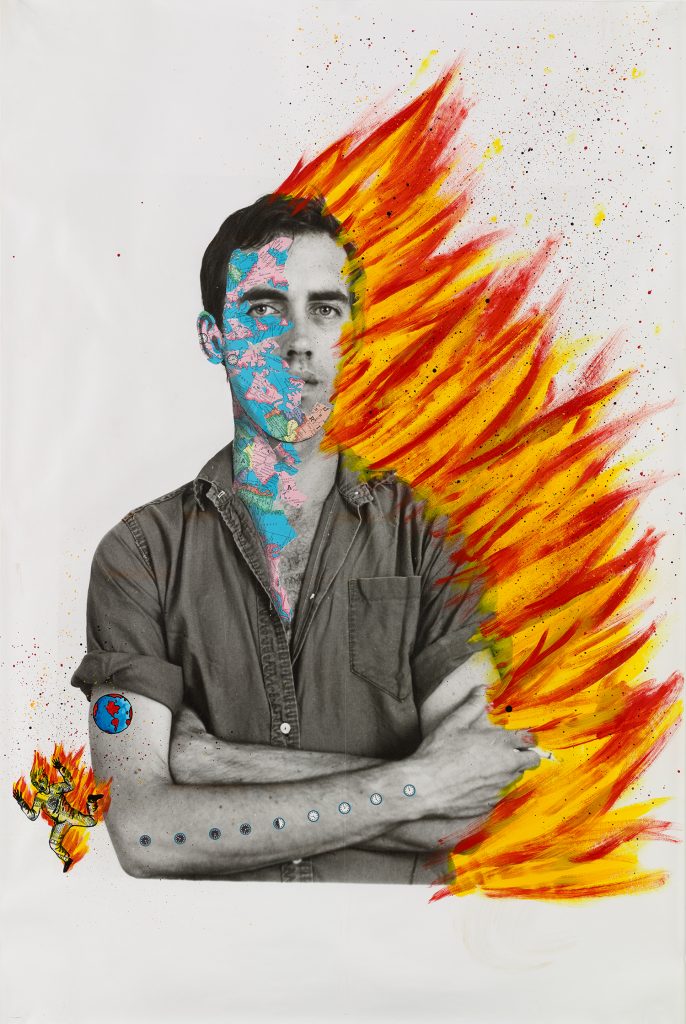 David Wojnarowicz
,
Self-Portrait of David Wojnarowicz, 1983–84
|
Image courtesy of the artist's estate and Whitney Museum of American Art, New York
His abusive family life and emerging sense of his own homosexuality brought him an extremely difficult childhood. After dropping out of the High School of Music & Art in Manhattan, he was living on the streets and hustling in Times Square by the age of 16. Before settling in New York's East Village in 1978, Wojnarowicz worked along the Canadian border as a farmer, hitchhiked across the United States, and lived in San Francisco and Paris for a period of time. After being diagnosed with HIV in the late 1980s, he became a prominent activist, questioning medical research and funding, morality and censorship in the arts, and the legal rights of artists. In 1992, at the age of 37, Wojnarowicz died of AIDS-related complications in New York City.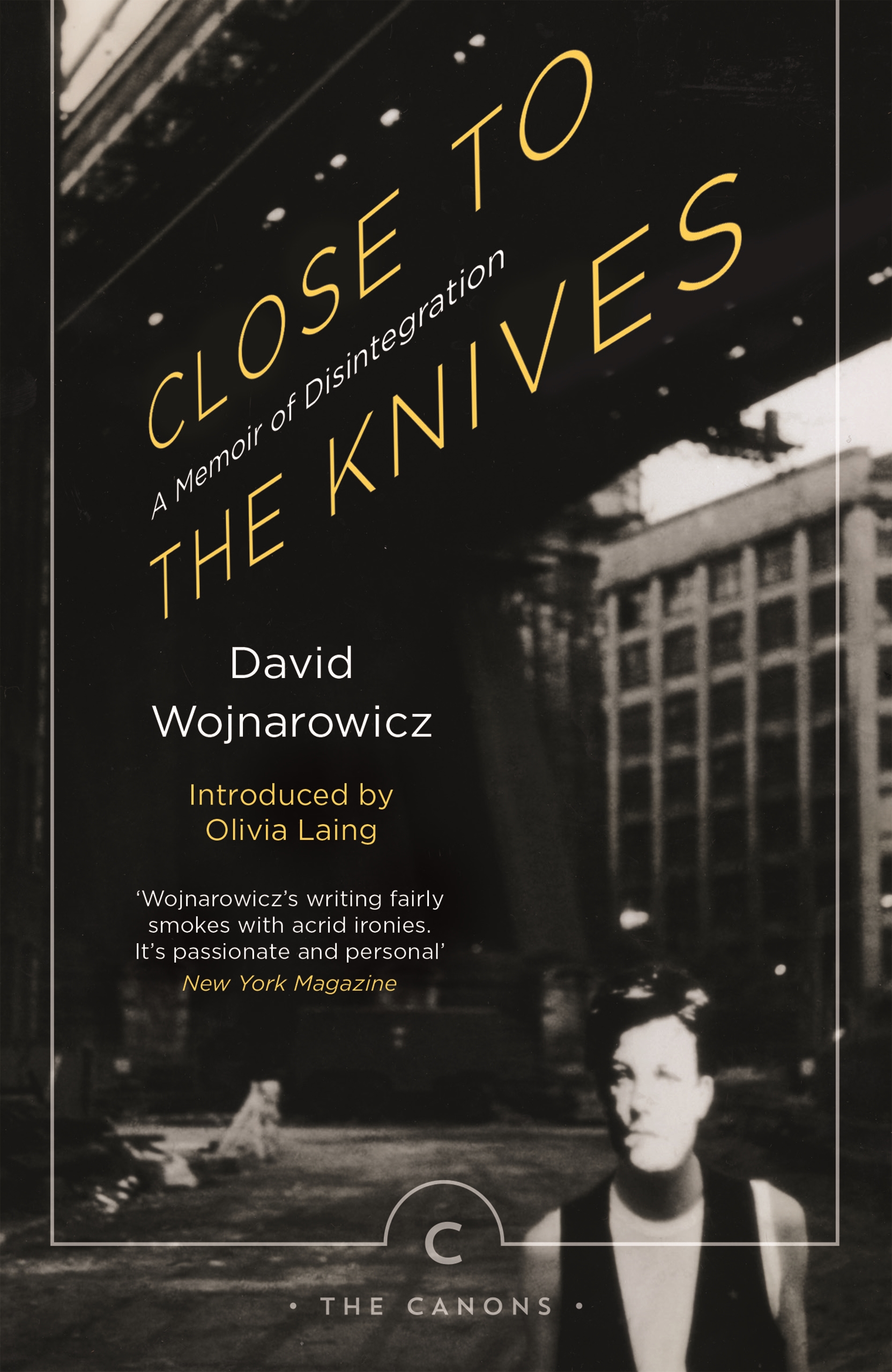 "Close to the Knives: A Memoir of Disintegration"
,
written
by
David Wojnarowicz
, first
published in 1991
During his lifetime, Wojnarowicz authored five books including "Close to the Knives". His artwork is in numerous private and public collections including the Museum of Modern Art, New York, and the Whitney Museum of American Art.
Paris
shaped
Wojnarowicz'
s early career
The friendships that Wojnarowicz developed in France defined his short career. In Wojnarowicz's early career, he concentrated on writing and occasionally drawing. In 1973, he moved on to work in bookstores around the city after meeting John Ensslin, a young writer who introduced him to New York's underground literary scene. In 1978, Wojnarowicz travelled to Paris in hopes that he would write his first novel there, and visit his sister Pat, who was expelled from home in her late teens and later became a successful model living in Paris. During his stay in Paris, Wojnarowicz saw life-size photographs of Arthur Rimbaud (1854-1891), the French symbolist poet with a similar life who inspired Wojnarowicz. Wojnarowicz also fell in love for the first time with Jean Pierre Delage, a French hairstylist who spoke little English. Their relationship maintained sporadically for several years in Paris and New York City.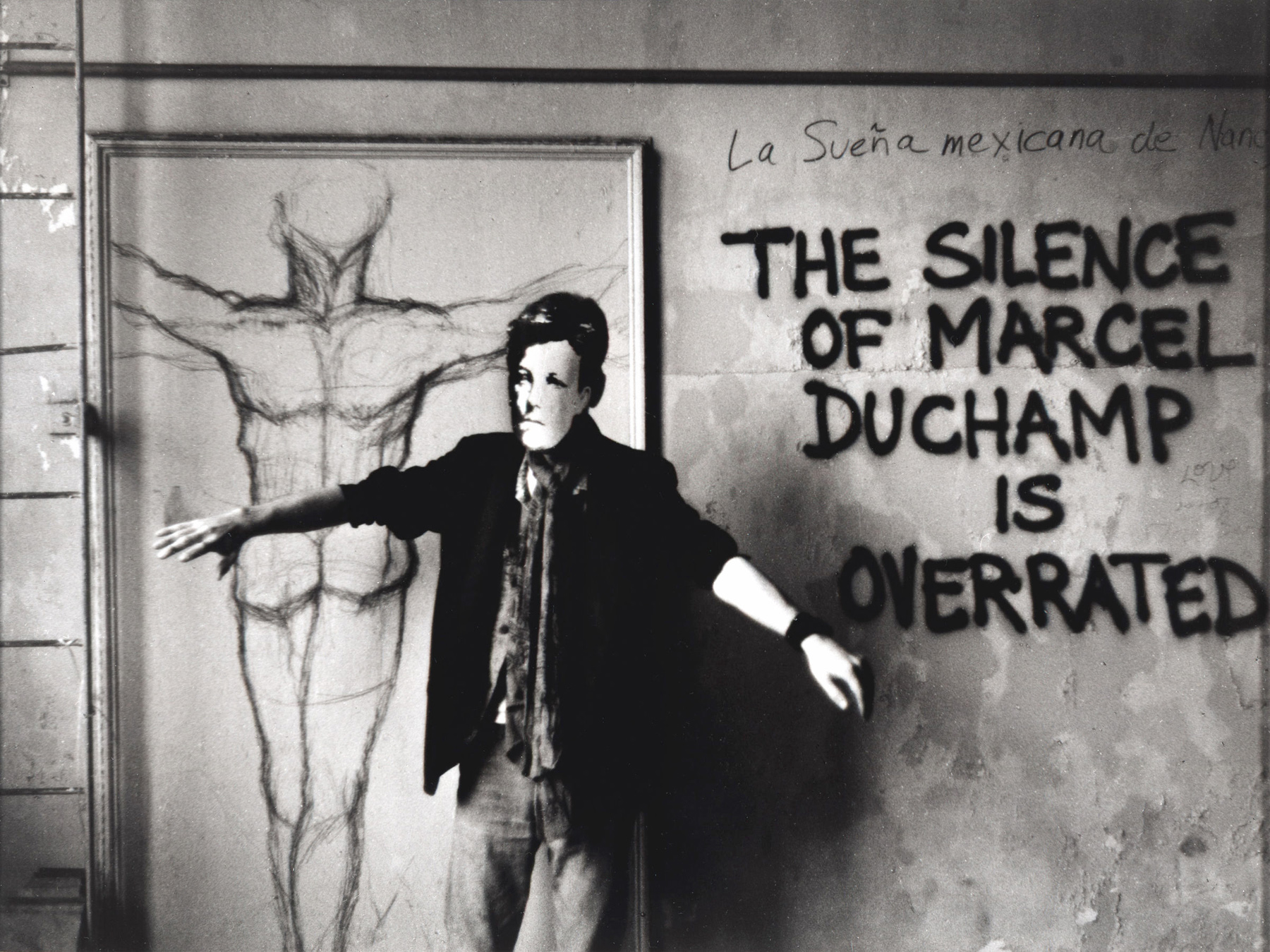 David Wojnarowicz, Arthur Rimbaud in New York (Duchamp, Pier), 1978-79 (printed
in
2004),
Collection of Philip E. Aarons and Shelley Fox Aarons | Image courtesy
of
the artist's estate 
a
nd P.P.O.W.
Gallery
, New York
Upon his return from Paris to New York in 1978, Wojnarowicz's artistic focus started to shift towards the visual arts, and spent more of his energy on new forms. He created "Arthur Rimbaud in New York" from 1978 to 1979, one of his early well-known series, photographed friends and his lover Jean Pierre in locations around New York wearing a mask modeled after one of the only existing photographs of the French writer.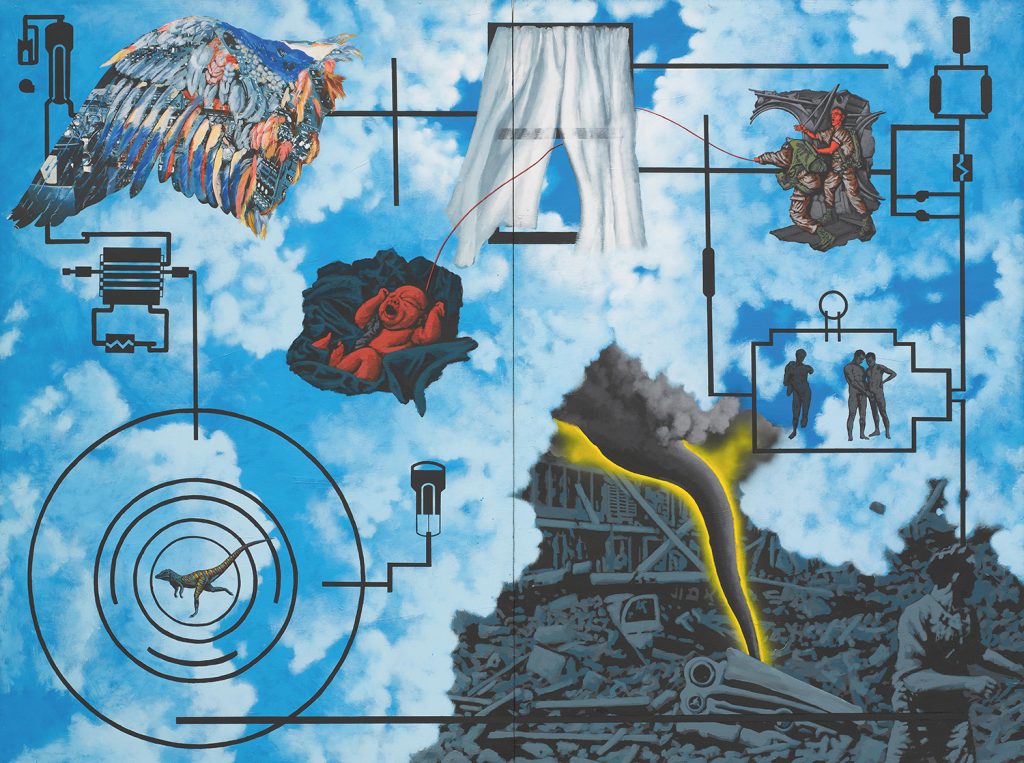 David Wojnarowicz, Wind (For P
eter Hujar), 1987
|
Image courtesy of
the artist's estate
and Second Ward
F
oundation
"Everything I made
,
I made for Peter"
Peter Hujar (1934-1987) was Wojnarowicz's lover, friend, mentor, father figure and spiritual collaborator. They met in the Bar at Second Avenue and 4th Street in August 1979 while Wojnarowicz was working on the Rimbaud photos. Hujar was the one who believed in Wojnarowicz's genius, and encouraged him to dedicate himself to visual art when he was going to throw away his drawings. Wojnarowicz came to self-identify as an artist, and began to paint due to Hujar's encouragement. First by stencil and later by hand, developing a strong visual vocabulary to rival the blistering prose readers recognize from his essays like "Being Queer in America" and "In the Shadow of the American Dream".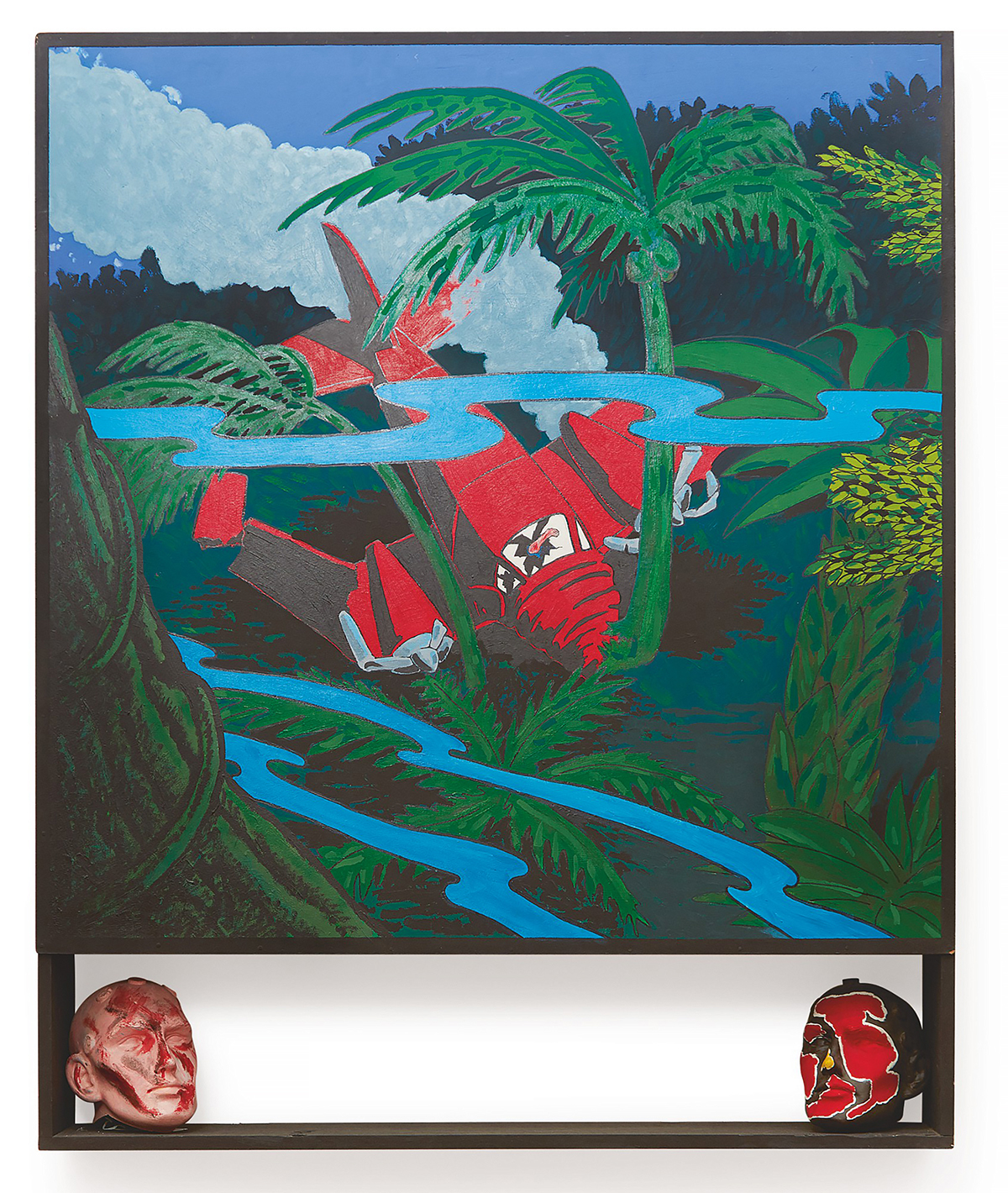 David Wojnarowicz, Plane Crash, 1983
| Image courtesy of the artist's estate 
and Sunpride Foundation
"Plane Crash" (1983), the acrylic painting carrying Wojnarowic's emotions towards his first lover Jean Pierre during his last night in Paris, which is referring to Wojnarowicz's dairy on May 31, 1979 in the book titled "In the Shadow of the American Dream: The Diaries of David Wojnarowicz" — "I felt tense and beautiful and vulnerable and sad. I thought of plane crashes and endings, the bloodlessness of my once loving arms, a deep sleep [or] something warm and enveloping to make me forget…".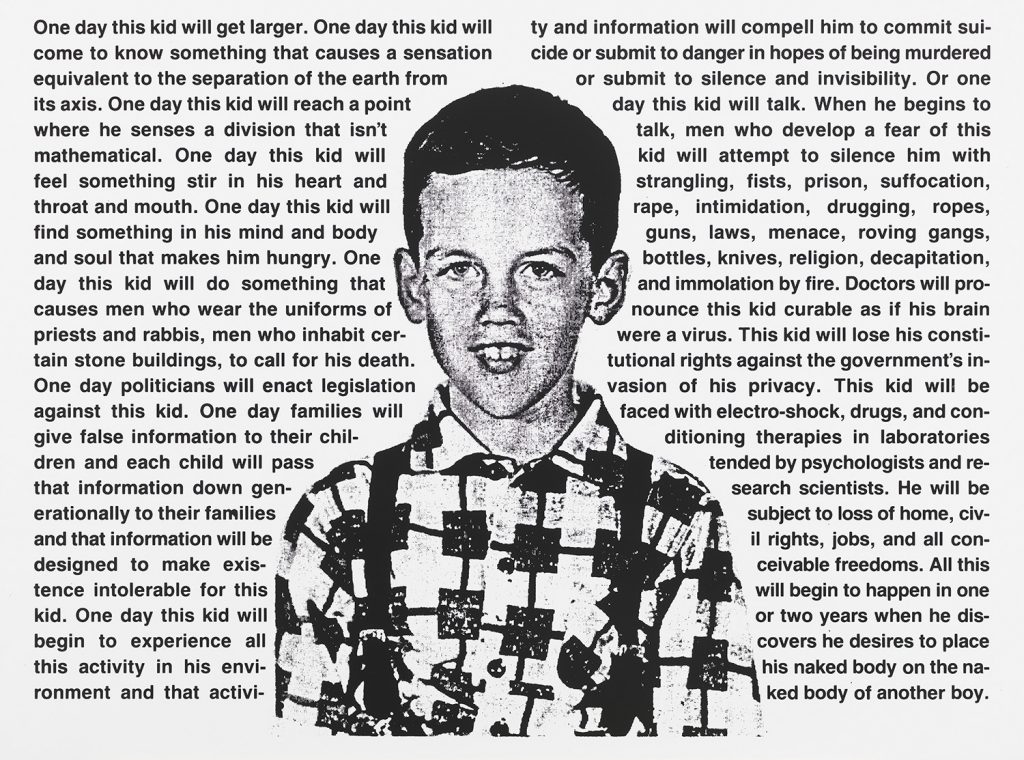 David Wojnarowicz,
Untitl
ed (One Day This Kid…), 1990 | Image courtesy of
the artist's estate
,
P.P.O.W
.
Gallery and Whitney Museum of American Art, New York
After Hujar's death from AIDS-related causes in 1987, and Wojnarowicz' and his boyfriend Tom Rauffenbart both received the diagnosis of AIDS, Wojnarowicz began to include text in his paintings, which grew more technically proficient and protest-oriented during the late 1980s.