"I'm not interested in composing a picture. I leave room for the viewer to complete the picture in the end. People get caught up in the mystery of how it's made, but that demystifies the whole thing. In the long run, you're seeing something, right? You're seeing something that's just there: the result of the process." — Carrie Yamaoka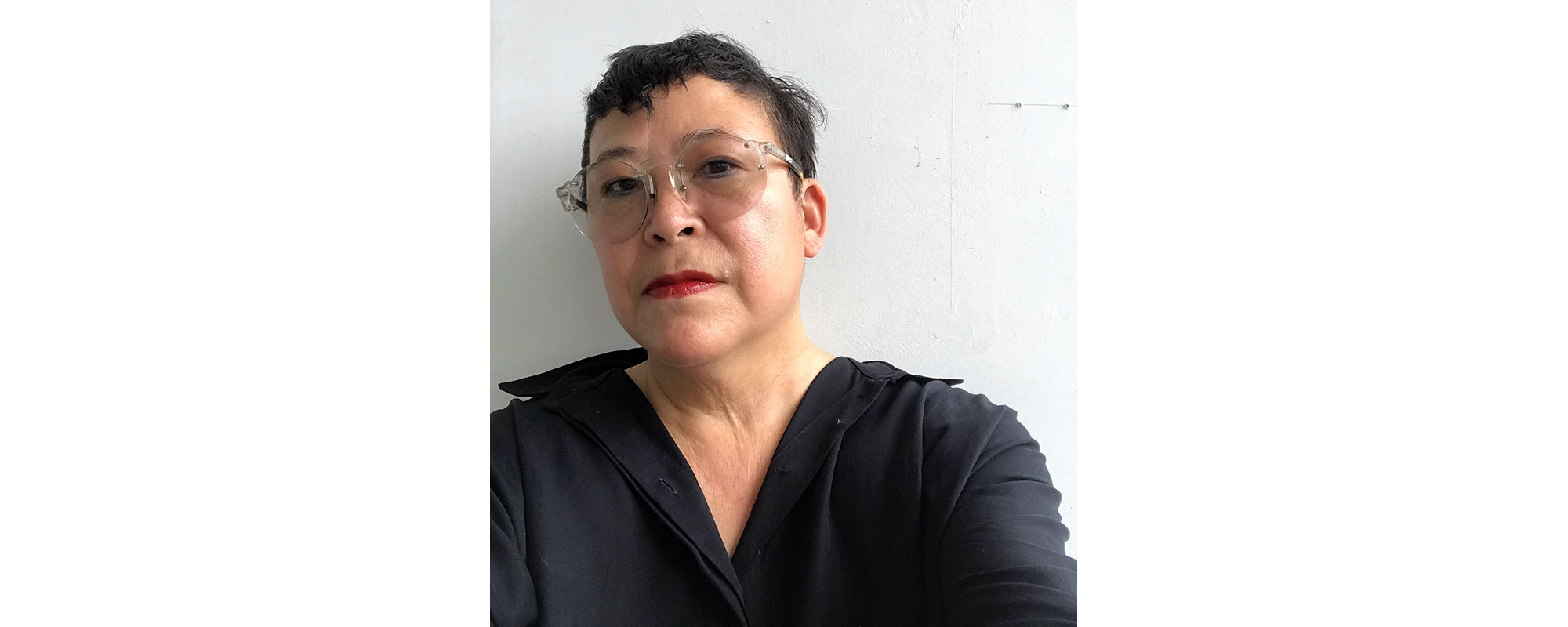 Carrie Yamaoka | Image courtesy of the artist and Modern Art Museum of Fort Worth
Born in 1957 in Glen Cove, NY, Carrie Yamaoka is a New York-based visual artist working in the expanded field of painting. She investigates issues of subjectivity, authorship, visibility, and perception. Her practice embraces error and defect, the slippage of material protocols, negotiations with chance and the trajectories that follow from engaging in and breaking the rules of process.
Yamaoka received a B.A. from Wesleyan University in 1979 and attended the Tyler School of Art, Rome, Italy from 1977-78. She is a 2017 recipient of Anonymous Was a Woman Award, and a 2019 John Simon Guggenheim Foundation fellow. Yamaoka is also a founding member of the queer art collective fierce pussy. She lives and works in New York.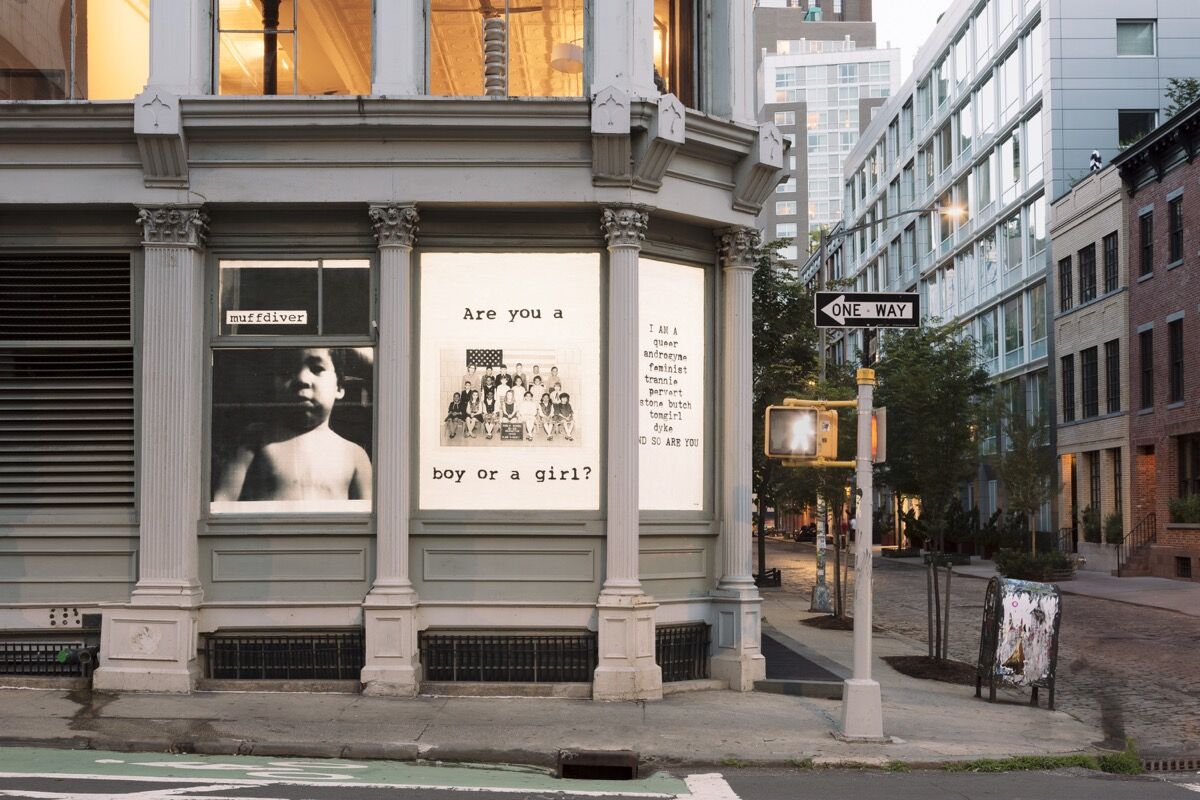 fierce puss
y
, "AND SO ARE YOU", façade installation in Leslie-Lohman Museum
of Art
, 2018 | Image courtesy of fierce pussy, Kristine
Eudey
and Leslie-Lohman Museum
o
f Art
Exhibiting widely in the US and Europe since the 1980s, Yamaoka's work is included in the collections of the Albright-Knox Art Gallery, Buffalo, New York; Centre Pompidou, Paris; The Henry Art Gallery, Seattle and the Victoria & Albert Museum, London.
The queer art collective fierce pussy
In the late 80s and early 90s, Yamaoka witnessed the government turn a blind eye to the lethal AIDS epidemic and became one of the founding members of fierce pussy, the queer art collective founded in 1991 in New York City addressing issues of lesbian identity and visibility and committing to art action in association with AIDS Coalition to Unleash Power (ACT UP).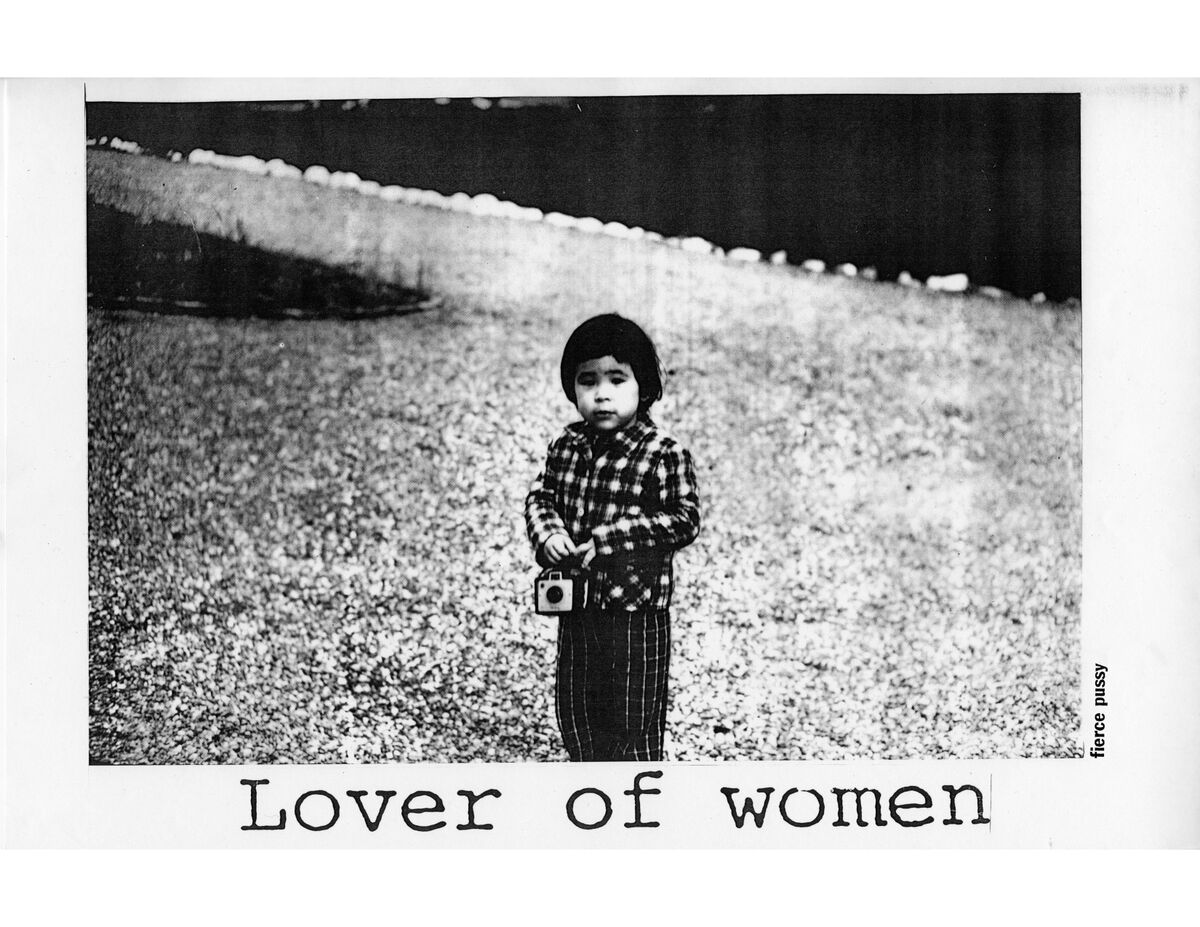 fierce pussy
's poster |
Image courtesy of fierce pussy
and Artsy
Low-tech and low budget, using readily available resources such as old typewriters, found photographs, their own baby pictures, and the printing supplies and equipment accessible in their day jobs, is the way of fierce pussy to respond to the urgency of those years.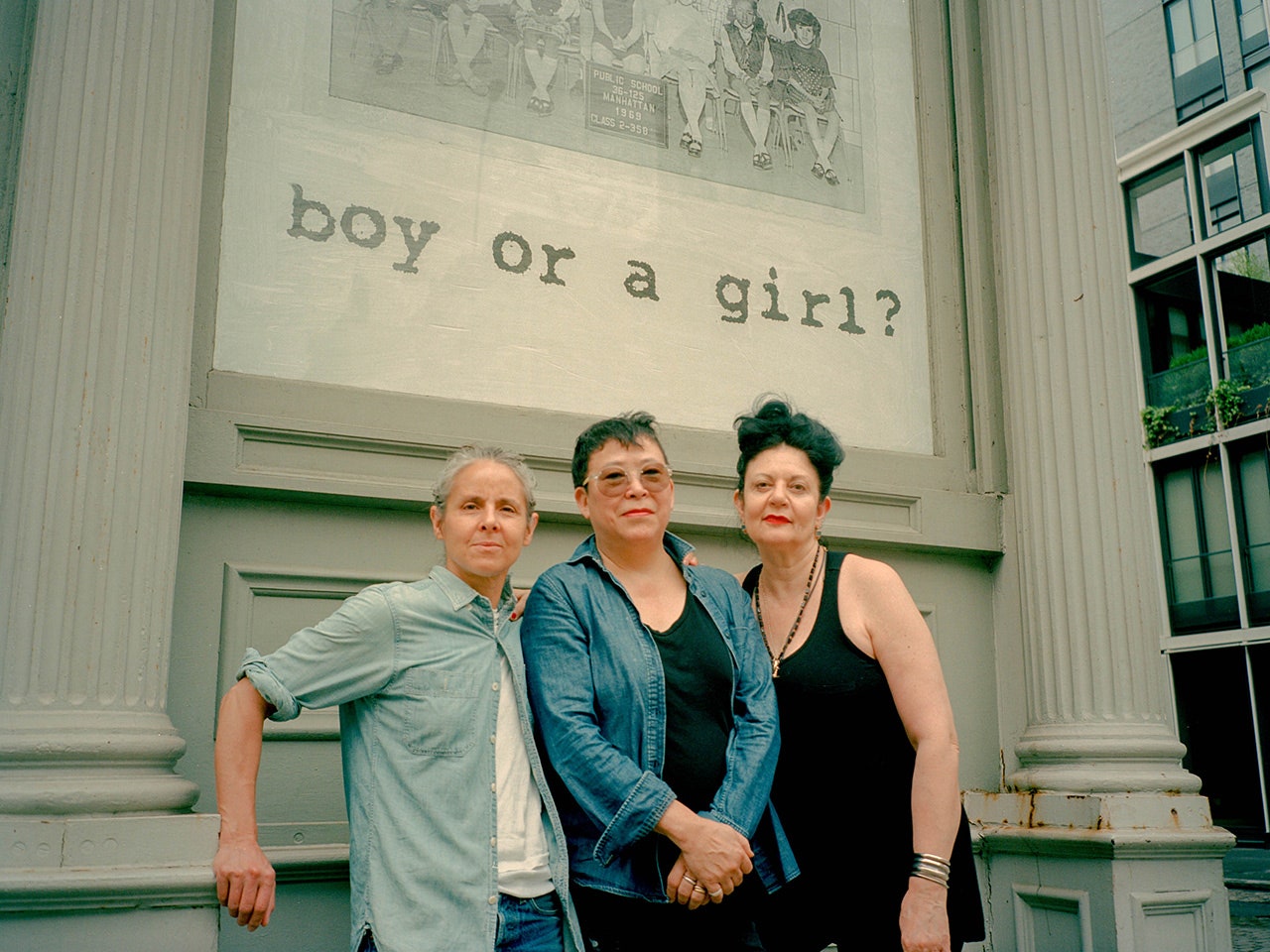 Nancy Brooks Brody, Carrie
Yamaoka
 and Joy
Episalla
in front of
façade installation "AND SO ARE YOU"
in Leslie-Lohman Museum
of Art
, 2018
| Image courtesy of the artists,
Ryker Allen
and them
Since 2008, the four of the original core members — Nancy Brooks Brody, Joy Episalla, Zoe Leonard, and Carrie Yamaoka — continue to work together. In 2018, they presented a year-long, site-specific installation entitled "AND SO ARE YOU" at the Leslie Lohman Museum in New York City. "Historically, public space has held a contradiction for queer people: on the one hand we have been invisible and on the other hand we are frequently the target of violence in public. Part of the impulse in making this work has been to let other queer people know that we are here, that queer people are everywhere—simply put, we make ourselves visible."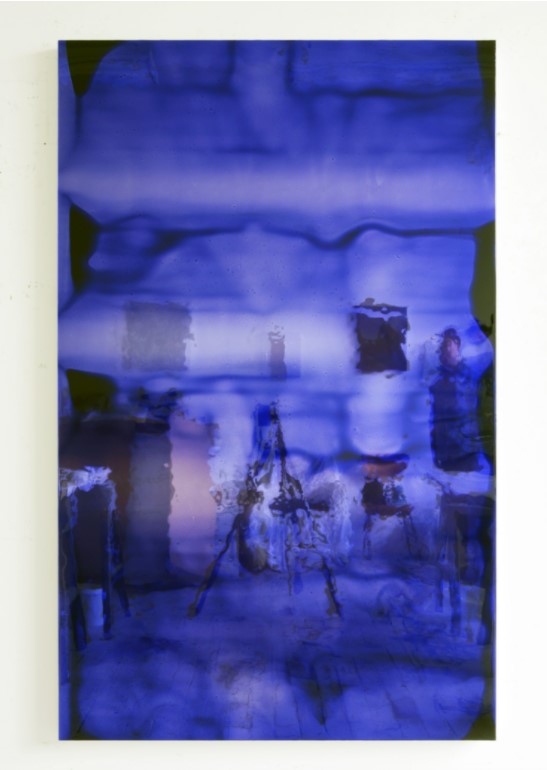 Carrie Yamaoka,
"
72 by 45 (deep blue #3)
"
, 2011/2017
|
Image courtesy of the artist, Collection of Chandra and Jimmie Johnson and Henry Art Gallery
Yamaoka's
signature 
minimalist
 work
as a
hybrid zone between painting, drawing, and sculpture
In the mid-1990s, Yamaoka began creating works by using reflective polyester films. She compared the process as placing a photograph in the developer tray in a darkroom — "Have you ever worked in a dark room, in the analog days, when you worked with chemicals? You know the moment when you stick the blank photo paper into the developer tray? And the image starts to come up? It's the moment when you're seeing something emerge, but it's not readable yet. That's the moment I'm interested in."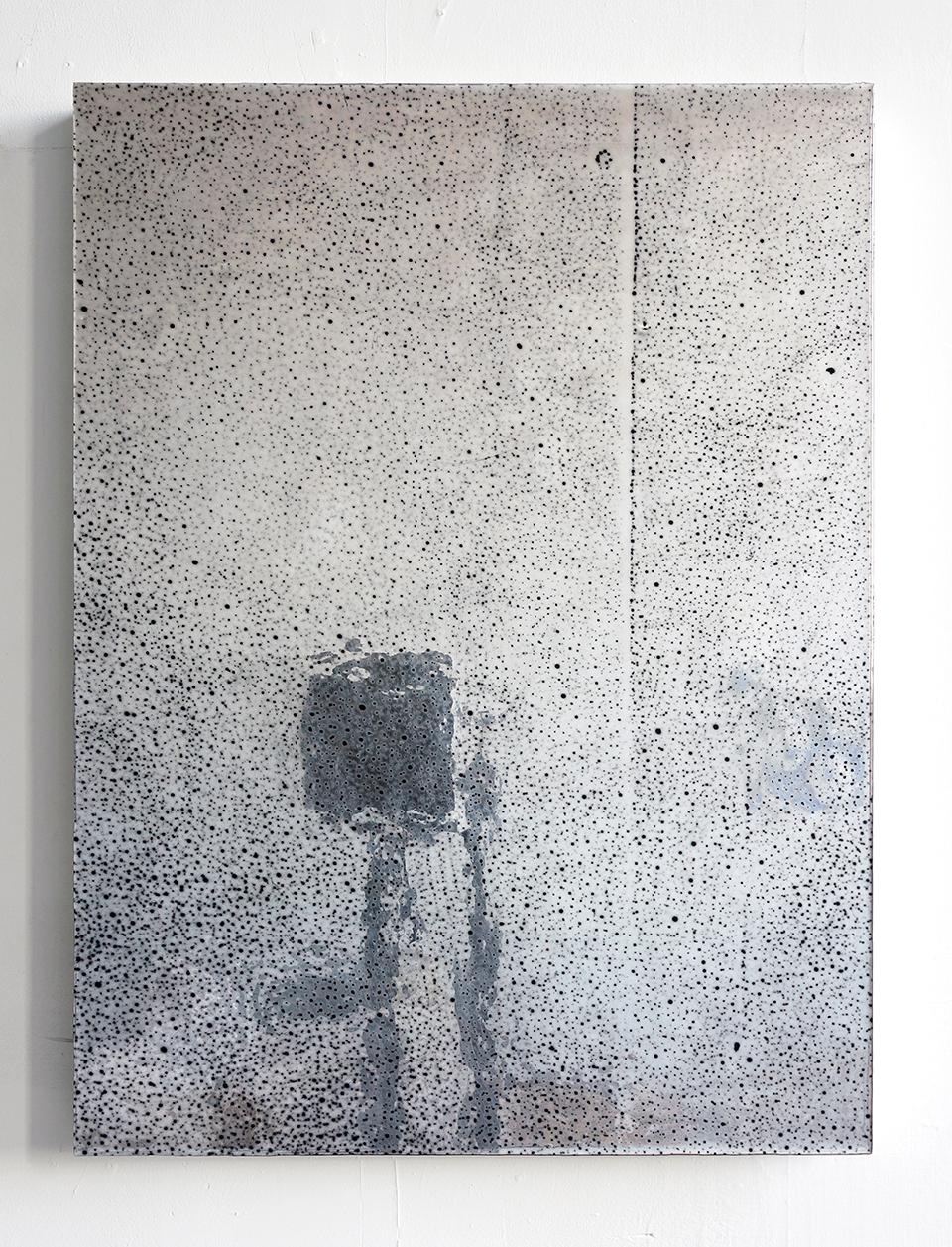 Carrie Yamaoka, "24 by 18", 2017
| Image courtesy of the artist and
Sunpride
Foundation
Layering thick resin over Mylar and mounting the final works are a part of the whole process. Yamaoka rubs textured surfaces with Mylar, a mirror-like material resulting in panels that reflect light, the topography of the artist's surroundings, and any mistakes she makes, as well as the viewer's gaze.