"In life we all the time make social adjustments to please people around us. We forget our duty towards ourselves. What we should do in art and life is do exactly what one likes." — Bhupen Khakhar
Born in 1934 in Bombay, India, Bhupen Khakhar was regarded as "India's first Pop artist", the first Indian artist to combine traditional art, Indian popular culture and Western pop art in the late 1960s. He was known for his vibrant, often autobiographical paintings as well as his candid depictions of traditional Indian life.The Intimate scenes of figures amidst richly colored landscapes is one of his signature painting subjects and styles.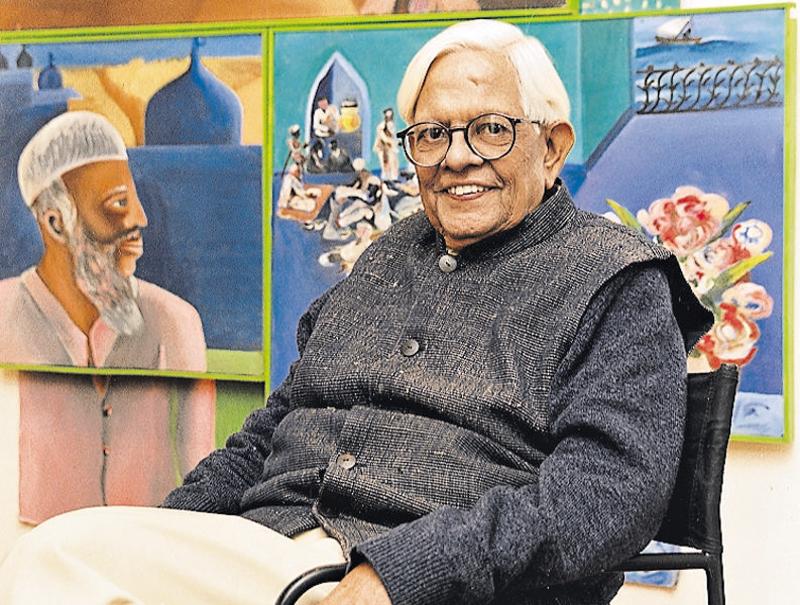 Bhupen Khakhar | Image courtesy of the artist's estate and Anil Girota/HT
Khakhar was an accountant-turned-artist-and-writer. Graduated from economics and accountancy at the University of Mumbai,  becoming a chartered accountant in 1958, he met Ghulam Mohammed Sheikh who was a painter, poet and art critic encouraged him to study art. From 1962 to 1964, Khakhar spent two years studying art criticism at the Faculty of Fine Arts, Maharaja Sayajirao University, Baroda. During his studies, he met several artists and later co-edited the magazine Vrischik, a literary, art review with Sheikh from 1969-1973. After completing his studies, Khakhar began working part-time as a chartered accountant while continuing to paint and exhibit his work. In 1976, Khakhar visited Europe through a cultural exchange programme organised by the Indian government, which took him to the USSR, Yugoslavia, Italy and the UK. He further spent six months in Britain in 1979 as the artist-in-residence at the Bath Academy of Arts. These visits were instrumental in shaping his artistic vocabulary, introducing him to the works of artists including David Hockney and Henri Rousseau.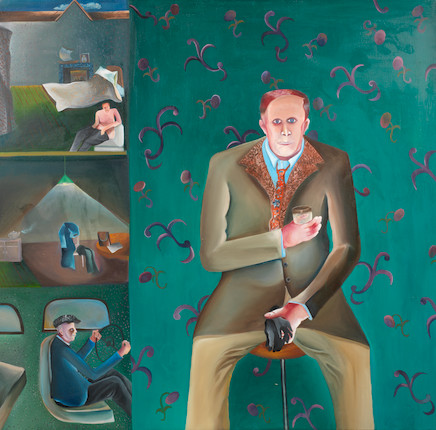 Bhupen Khakhar, Man in Pub,1979  | Image courtesy of the artist's estate
In 1992, Khakhar was the first artist of Indian origin to be selected for Documenta IX. His work has been exhibited at art venues across the world, including the Tate Modern, London; the Centre Pompidou, Paris; the National Gallery of Modern Art, New Delhi, and the Museo Nacional Centre de Arte Reina Sofia, Madrid. Today, his works are held in the collections of the Victoria and Albert Museum in London, the Museum of Modern Art in New York, and the National Gallery of Modern Art in New Delhi, among others.
Khakhar's figurative style
"I have always felt that the human being is the source. Sometimes landscapes fascinate me. but I feel my paintings are incomplete without figures. Everything I see is in connection with the figure."
Khakhar could not accept art without a certain root. He used to choose his subject as an individual. As a student from MA in art criticism at Faculty of Fine Arts, Maharaja Sayajirao University, Baroda, in the 1960s, Khakhar approached a lot of abstract, no objective works from the late 50s and early 60s but he was not convinced about totally abstract, non-objective works. "Rather figurative painting can create a genuine regional quality and that should be retained. I somehow could not accept our art to be borrowed from Paris. Whatever works after French influence were done at that time did not interest me, totally non-objective works also have no roots here. Abstract painters' idea of absolute did not attract me. These are often simplistic in relation to our complex culture."
In the early stage of his body of work, Khakhar took inspiration from wherever he found it to produce paintings, collages, drawings, etchings, watercolours, and even ceramics. He collected such ephemera, along with the mass-produced secular and religious prints that are seen all over India, which he used in his early collages; but he equally drew upon ancient Rajasthani Pichwai, devotional paintings telling the story of Krishna.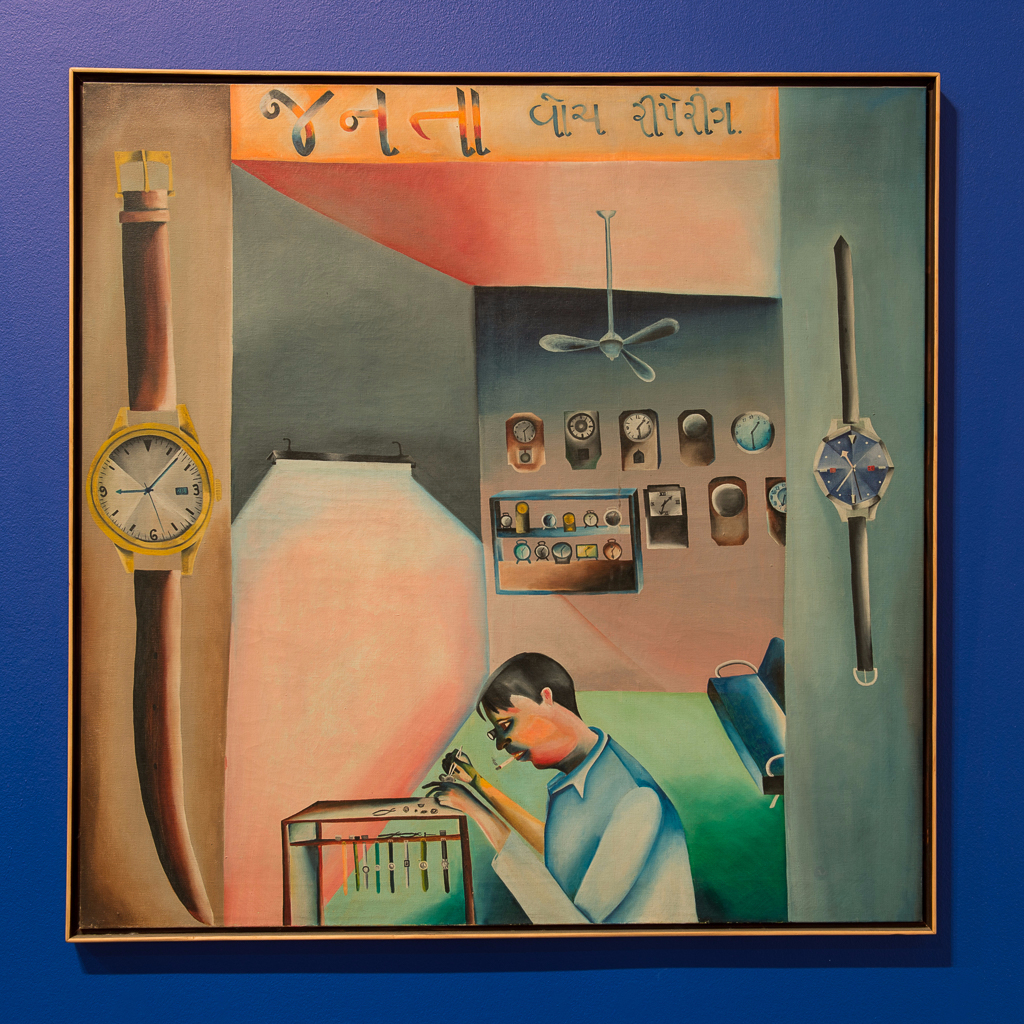 Bhupen Khakhar, Janata Watch Repairing, 1972  | Image courtesy of the artist's estate
After experiments with collage, Khakhar's early paintings depicted the ordinary lives of workers and tradesmen. A series of "trade paintings" created in the early 1970s. Working as an accountant in the Gujarati city of Baroda led him to paint the people he encountered in his everyday life, including barbers, tailors and watch-menders.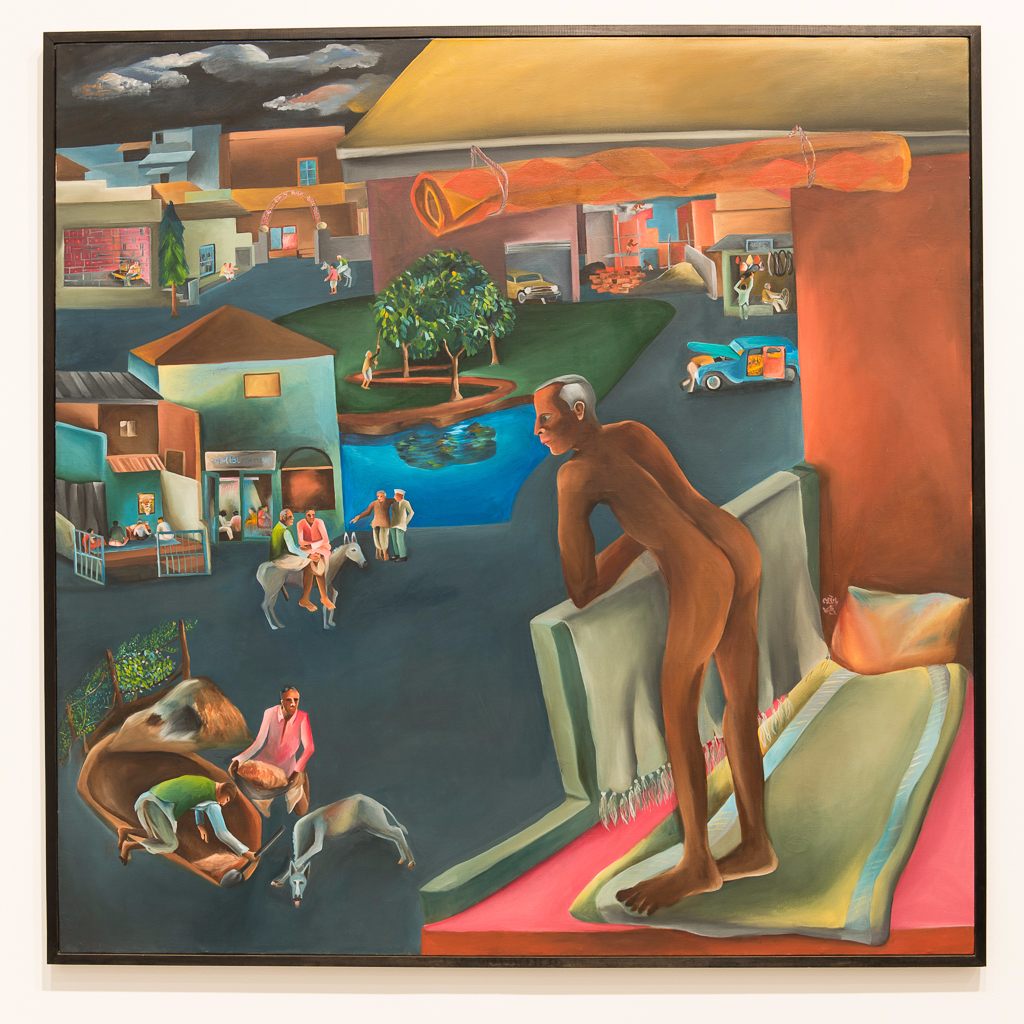 Bhupen Khakhar,
You Can't Please All
, 1981  | Image courtesy of the artist's estate and Tate Modern
Following his time in Europe in the late 1970s, he painted the seminal work You Can't Please All (1981), depicting a life-size naked figure on a balcony watching characters from an ancient Aesop fable. This confessional painting signalled Khakhar's self-awareness as a gay man and suggests the personal difficulties he faced at the time. His London trip helped him come to terms with his sexuality in far more expressive ways and, from the 1980s onwards, his narrative turned to gay contexts without social prejudice. Towards the end of his life in 1990s, Khakhar also made works that expressed his very personal battle with cancer.
Homosexuality as the main subject in Khakhar's figurative paintings during 1980s
"Homosexuality in my paintings are not directed to any group, sert, underground etc. Even though there are some homosexual groups in our country, but I did never go there, nor subscribed them. Homosexuality in my works are not part of any scandal but they are aesthetical, meaningful, and also directed to whole humanity. This homosexuality is a deep search for a friendship and that could happen between two unequal age groups also."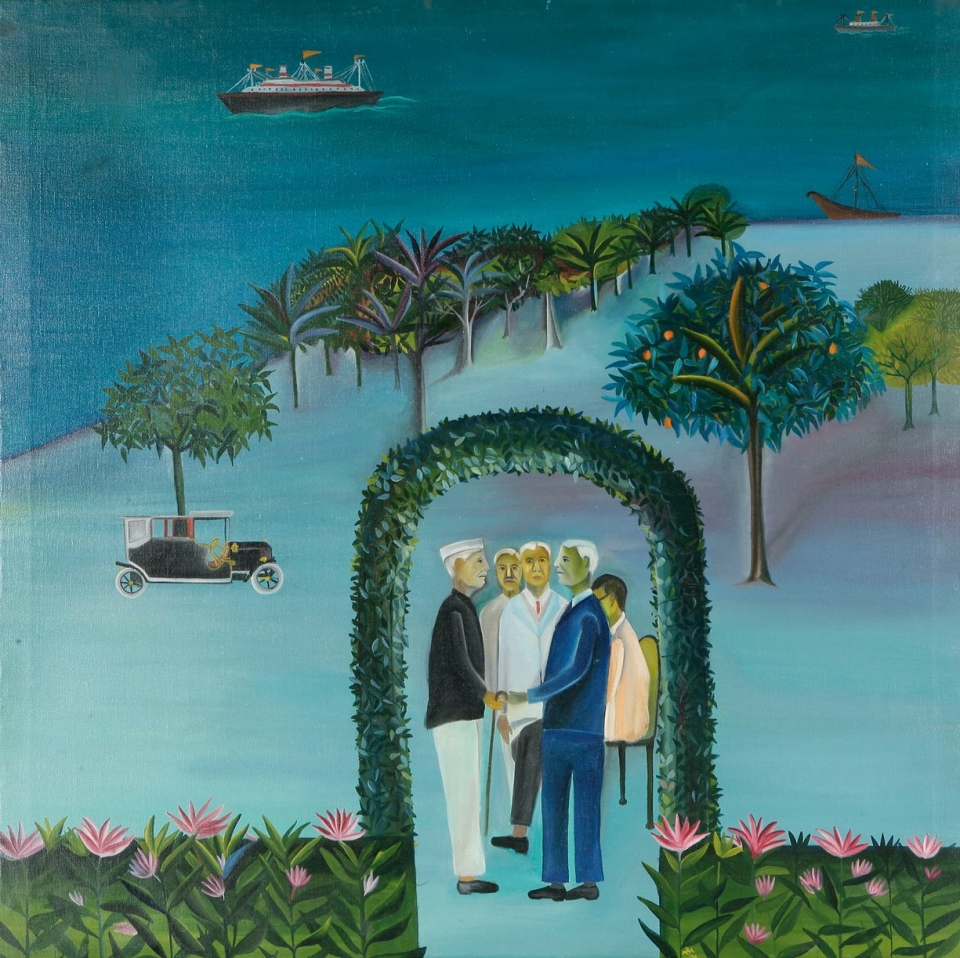 Bhupen Khakhar,
Man Leaving (Going Abroad), 1970
| Image courtesy of the artist's estate
In the 1980s, Khakhar was courageously the first homosexual Indian artist to come out. "When I'm telling the truth, there's no restraint". For him, "the glimpse of truth in one's work is more important for me than whether you use colour well or other such technical virtuosities. Truth and…a certain kind of confession. In our situation, there are hardly any other painters touching these sexual subjects. I guess people only want to hide."
Bhupen Khakhar,
Visitors, 1998
| Image courtesy of the artist's estate and Sunpride Foundation
"I think it is the influence of the British Raj and the Victorian inheritance that has made us timid. At a certain stage in our history, the British made us feel ashamed of our own sexuality and made us feel inferior because of our society's traditionally more open approach to body and sex. This has now made us into a nation of hypocrites and we don't want to be who we are. It will take many years to outgrow this."