"Above all else, it is about leaving a mark that I existed: I was here. I was hungry. I was defeated. I was happy. I was sad. I was in love. I was afraid. I was hopeful. I had an idea and I had a good purpose and that's why I made works of art. "
– Felix Gonzalez-Torres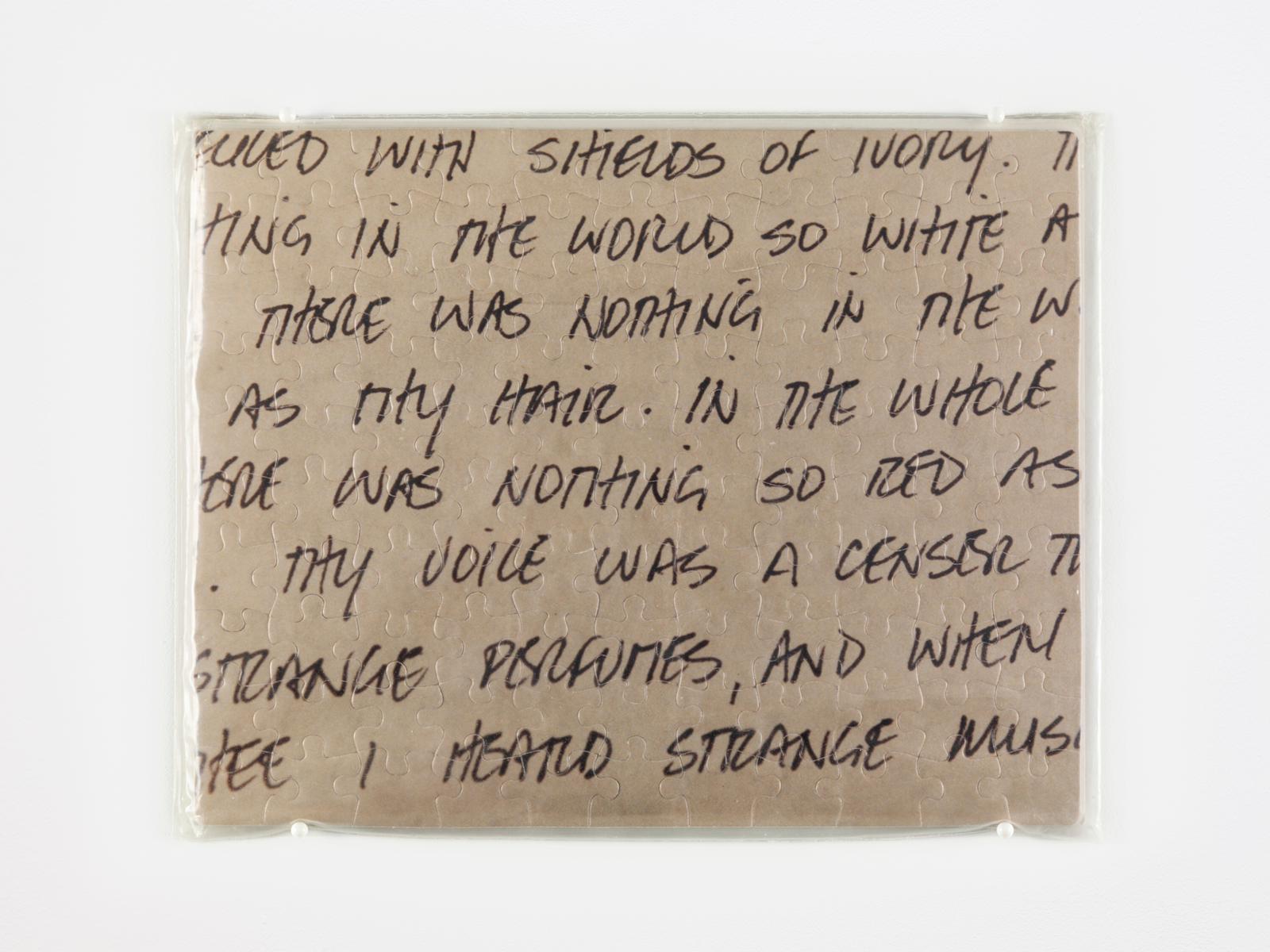 Felix Gonzalez-Torres, "
Untitled" (
Lover's Letter
)
,
1991
| Image courtesy of The Felix Gonzalez-Torres Foundation and 
Sunpride Foundation
Born in Guáimaro, Cuba, in 1957, Felix Gonzalez-Torres grew up in Puerto Rico. Until 1979, moving to New York after graduated from the University of Puerto Rico. During studying in the Whitney Independent Study Program and BFA in photography from Pratt Institute in Brooklyn, New York, he developed his interest in critical theory, Minimalism, and Conceptual Art that inspired his artistic creation and practice. In 1987, he worked as an adjunct art instructor at New York University after obtaining an MFA from the International Center of Photography and New York University. From 1987 to 1991, he was part of Group Material, a New York-based art collective whose members worked collaboratively to initiate community education and cultural activism.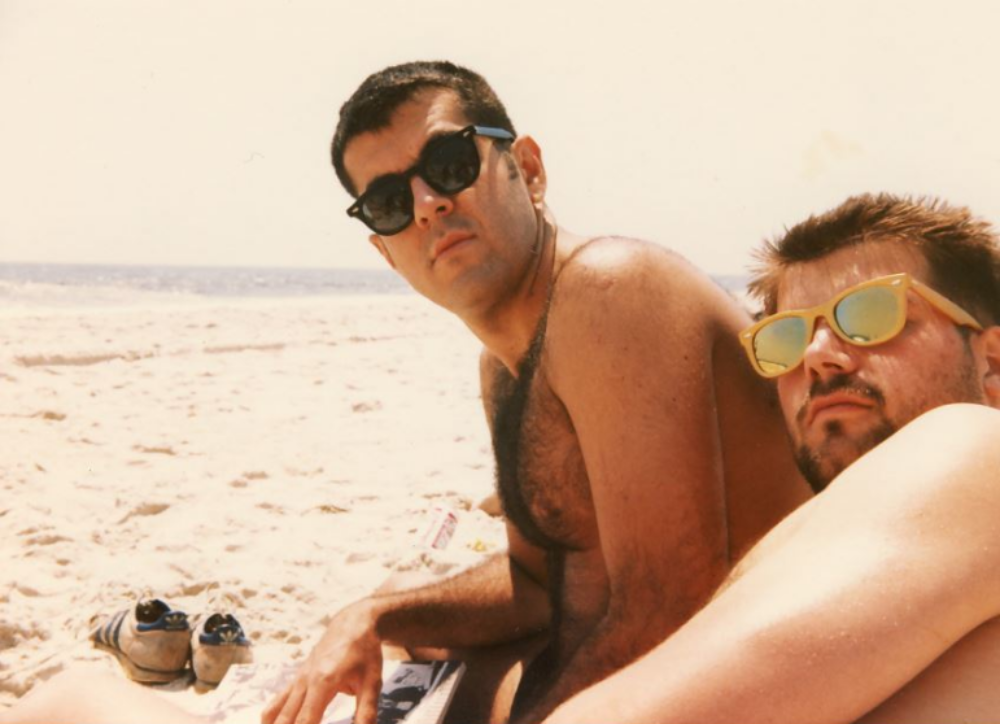 Felix Gonzalez Torres and Ross Laycock
at
Jones Beach, NY
in 1986
| Image courtesy of
Carl George
Gonzalez-Torres was an openly gay man exploring social and political issues. His private and public life overlapped in his art career. He is well known for his landmark installations that transform humble objects into solemn meditations on death and intimacy. In 1996, Gonzalez-Torres died from AIDS-related complications in Miami at the age of 38. In 2002, The Felix Gonzalez-Torres Foundation was founded. He later was selected as the posthumous representative of the United States to the Venice Biennale in 2007.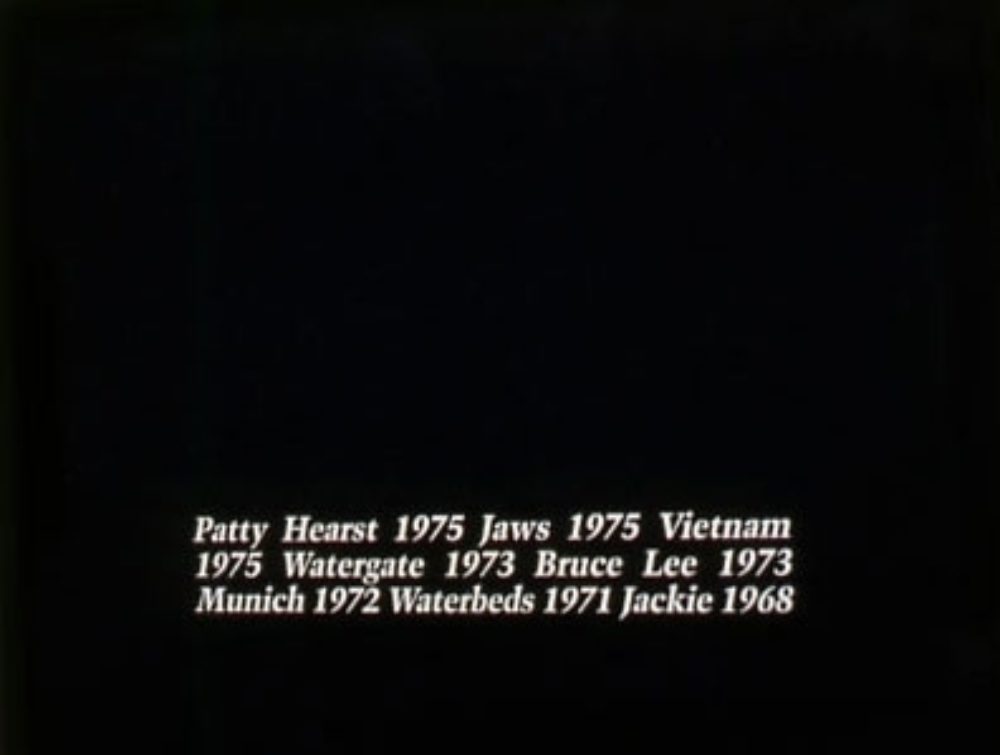 Felix Gonzalez-Torres, "
Untitled",
1988
| Image courtesy of The Felix Gonzalez-Torres Foundatio
n
and and Andrea Rosen Gallery, New York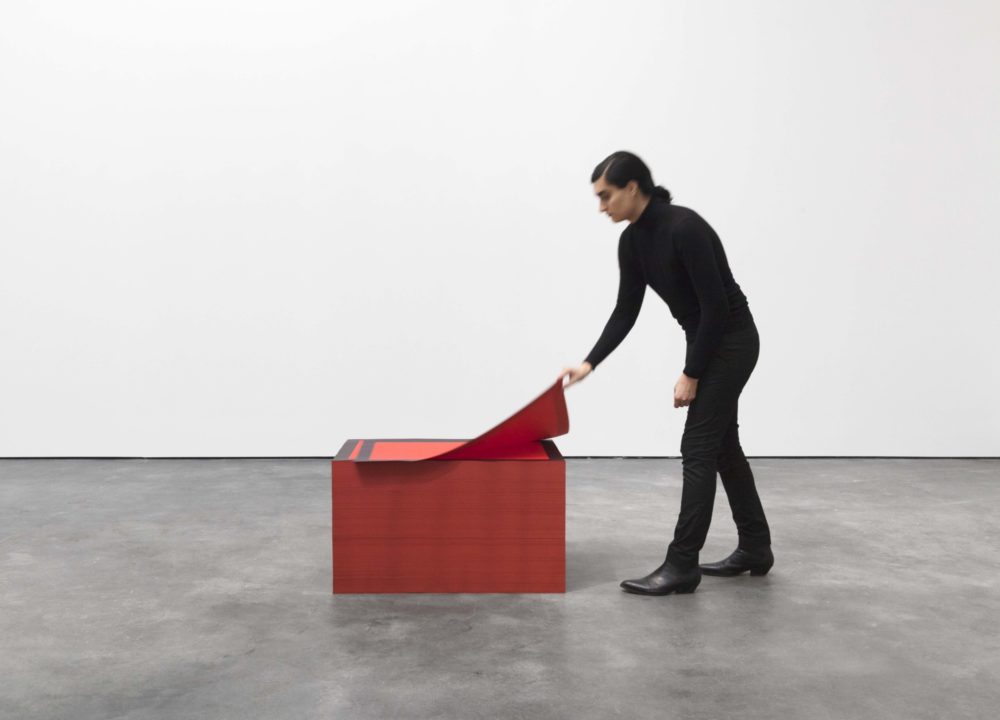 Felix Gonzalez-Torres,
"Untitled" (NRA – National Rifle Association), 1990
| Image courtesy of
The Felix Gonzalez-Torres Foundatio
n
Viewer
s
as a
part of the work
"Love and loss", "sickness and rejuvenation", "gender and sexuality" are the themes explored in Gonzalez-Torres's body of work. The viewers' participation is one of the key elements constituting and completing his work. Without using aesthetic vocabulary reminiscent of both Minimalism and Conceptual art, Gonzalez-Torres listed texts, figures or images to inspire the viewers, making them to consider the relationships, gaps and narratives between the diverse references, alongside a construction of individual and collective identities and memories. Employing simple everyday materials such as candy, viewers have been asked to interact, to take away or to consume them. The impermanence of these works, which slowly disappear over time unless they are replenished, symbolizes the fragility of life.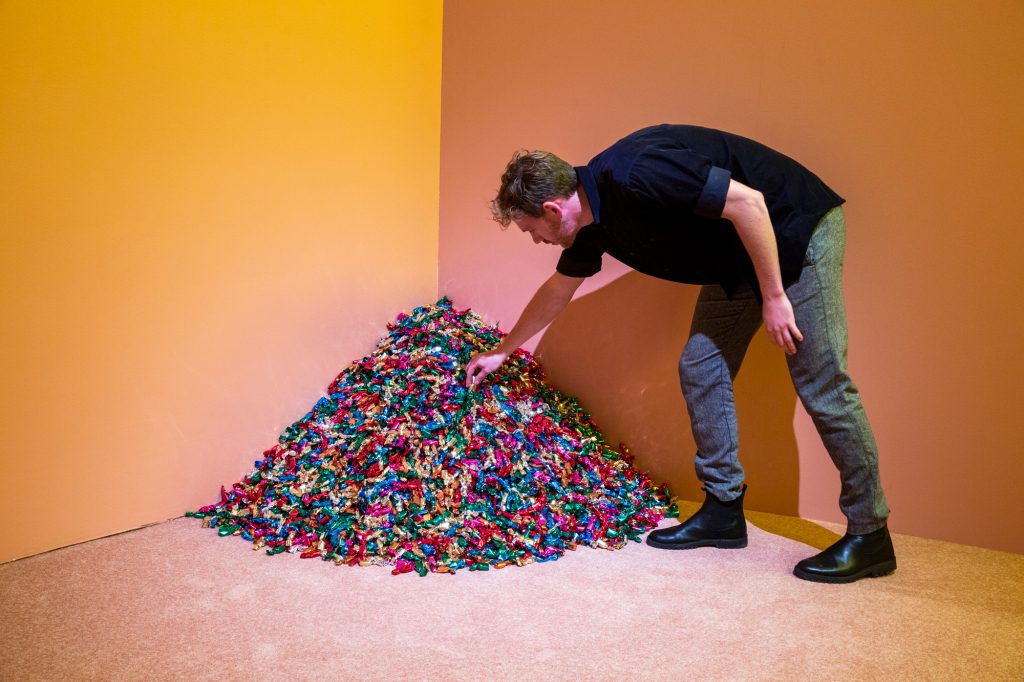 Felix Gonzalez-Tor
res, "Untitled" (Placebo), 1991
in
"Measure Your Existence
",
the exhibition
a
t Rubin Museum of Art, New York
| Image courtesy of
ARTnews
The puzzle series of encapsulating intimacy
Since Ross Laycock, his lover died of AIDS in 1991, Gonzalez-Torres's private life and artistic creation have been heavily influenced. Many of his works can be read in this parallel narrative of loving generosity and melancholy despair. From his puzzle series, he made his jigsaw pieces out of a variety of images, included newspaper clippings, photos, love letters, and handwritten notes. Those images, representing the past and memories between him and his lover, have been printed on the puzzle and encapsulated by transparent plastic bags in order to protect and maintain the full set of puzzle as well as to avoid the fading of memories.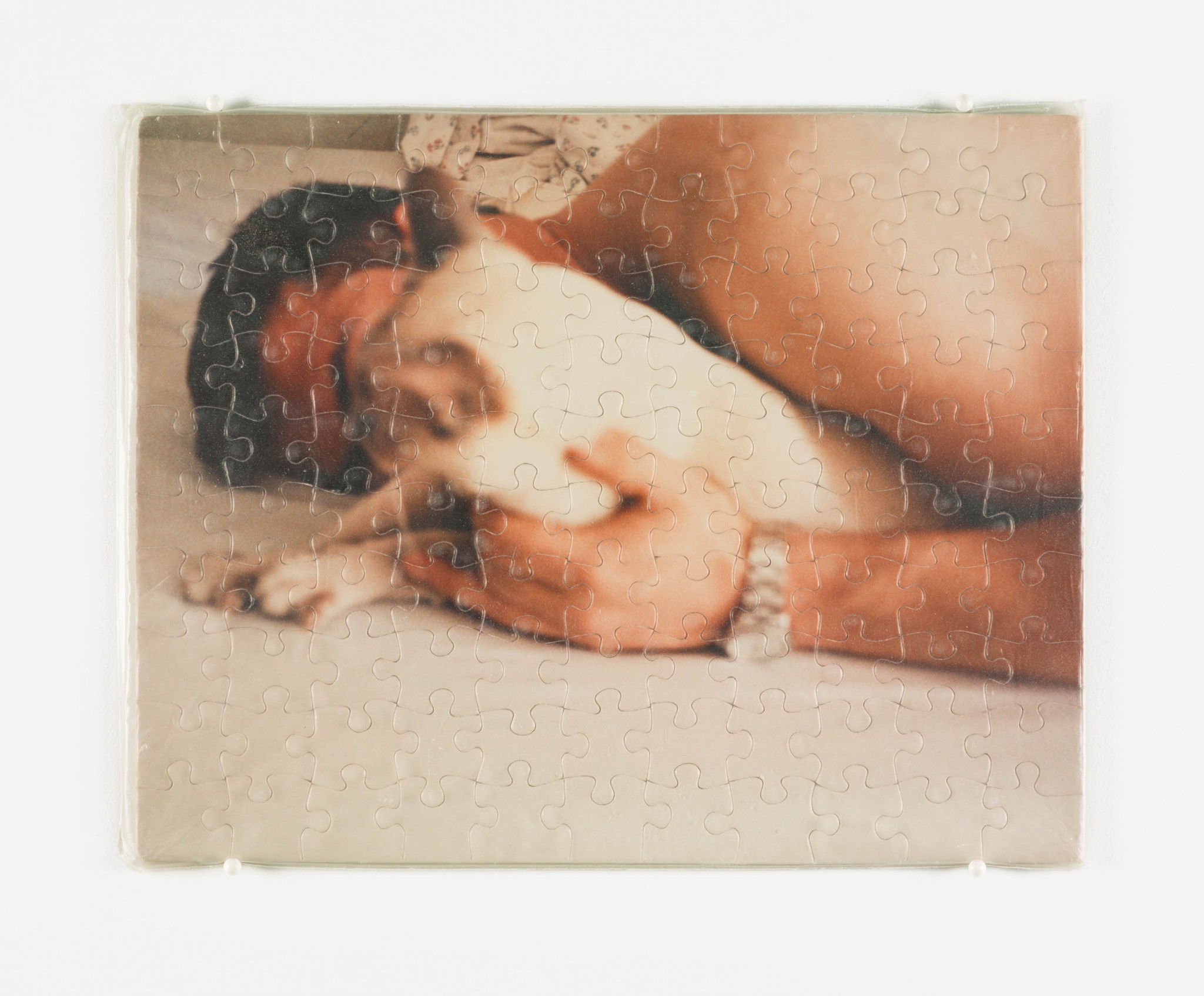 F
elix Gonzalez-Torres, 
"Untitled" (Loverboy
),
1988
| Image courtesy of The Felix Gonzalez-Torres Foundation and David Zwirner Gallery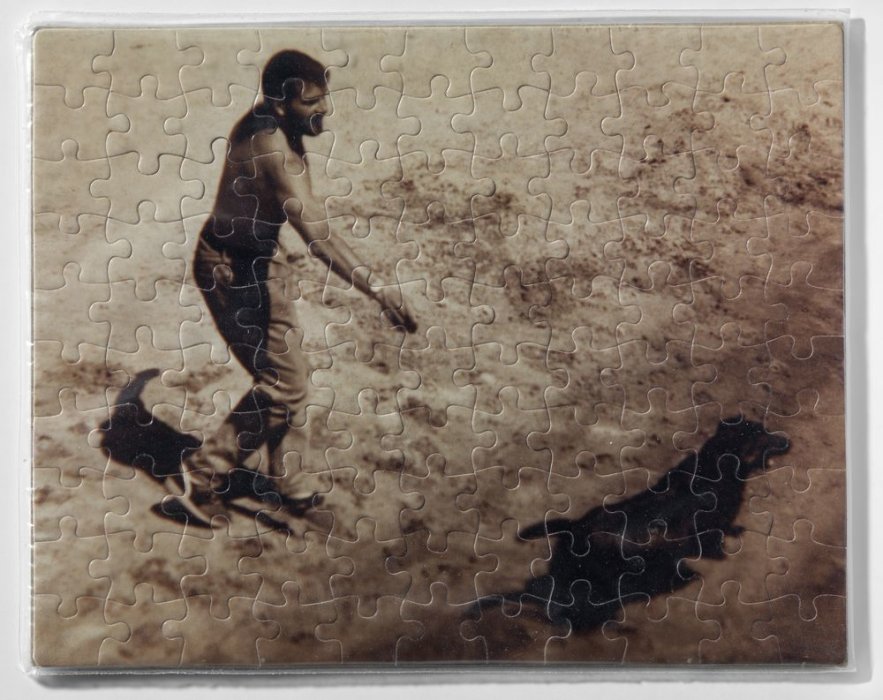 Felix Gonzalez-Torres, 

"Untitled" (Ross & Harry), 1991

| Image courtesy of

The Felix Gonzalez-Torres Foundation and 

MACBA Foundation
The handwritten texts on "Untitled" (Lover's Letter) and "Untitled" (Last Letters), two of works in the puzzle series, both come from the monologue of "Salome", a famous play by Oscar Wilde. Gonzalez-Torres and Laycock could be analyzed and interpreted as Salome and John the Baptist. Salome madly loves John the Baptist. After John the Baptist refused to kiss her, she requested her stepfather Herod for the head of John the Baptist on a silver platter for kissing him. Although Salome got her wish, her stepfather later ordered her to be killed because of her crazy love for John the Baptist. In the reality, Gonzalez-Torres looks like Salome, madly loving Laycock. Oppositely, he hoped that Laycock would be resurrected but killed by AIDS, and he later died of AIDS as same as Laycock.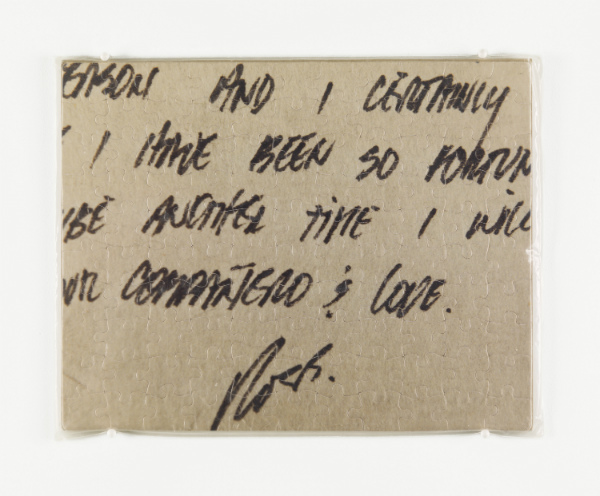 Felix Gonzalez-Torres,
"
Untitled" (Last Letter)
,
1991
| Image courtesy of The Felix Gonzalez-Torres Foundation and Andrea Rosen Gallery, New York