"In general I like art that is capable of organizing a space of perpetual and indefinite accumulation of time and language and image in an immobile place."
— Ugo Rondinone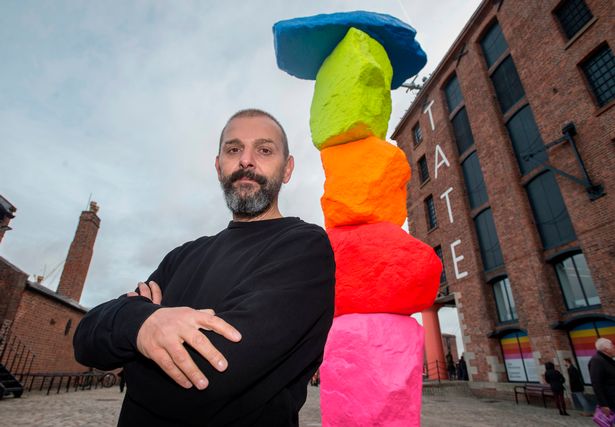 Ugo Rondinone
and his work
"
Liverpool Mountain
"
, 2018
|
Image courtesy of
 the artist, Liverpool Echo, and TATE Liverpool
Born in 1964 in Brunnen, Switzerland, Ugo Rondinone is a mixed-media artist as well as one of the most versatile artists nowadays. Ronfinone has produced a diverse body of work that encompasses multiple mediums, including sculpture, painting, photography, video, and curatorial projects. Rondinone knew that he wanted to become an artist when he was eighteen. He first wanted to become an art teacher, but instead he became the assistant to Hermann Nitsch, an Austrian artist whose artwork called "Theater of Orgies and Mysteries" made a strong impression and turned Rondinone's fantasy upside down. From 1986 to 1990, he studied at the Hochschule für angewandte Kunst in Vienna. In 1998, he moved to New York. In the 1990s, Rondinone emerged as an artist and rose to international acclaim with highly varied work. Rondinone has exhibited widely in Europe and the United States. He represented Switzerland with Urs Fischer in the 52nd Venice Biennale in 2007. Referring concurrently to the natural world, romanticism and existentialism, his works encapsulate a "mental trinity" that has underpinned his art for more than twenty years.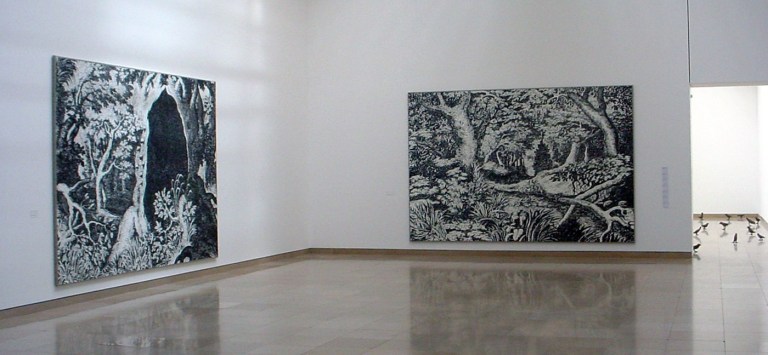 Installation view of "Ugo Rondinone: Becoming Soil"
at the
Carré d'Art –  Musée d'Art Contemporain
, Nîmes
, France
|
Image courtesy of the artist and 
Joseph Nechvatal and Hyperallergic
Inspirations
from
Romanticism
German Romantic movement is the first movement to blur the line between reality and illusion and to acknowledge the importance of dreams, irrational feelings as well as the spirituality of the landscape. In Rondinone's body of work, the symbols originate from the German Romantic movement, including landscape drawings, mandala-like sun paintings, star and cloud paintings, animals, used stones and clowns who represent thesolitary figures on the edge of a cliff looking out. After Rondinone puts those symbols in new contexts by means of repetition, isolation, or reduction, a poetic dimension is addedand the outside world is transformed into a subjective, emotional inner world.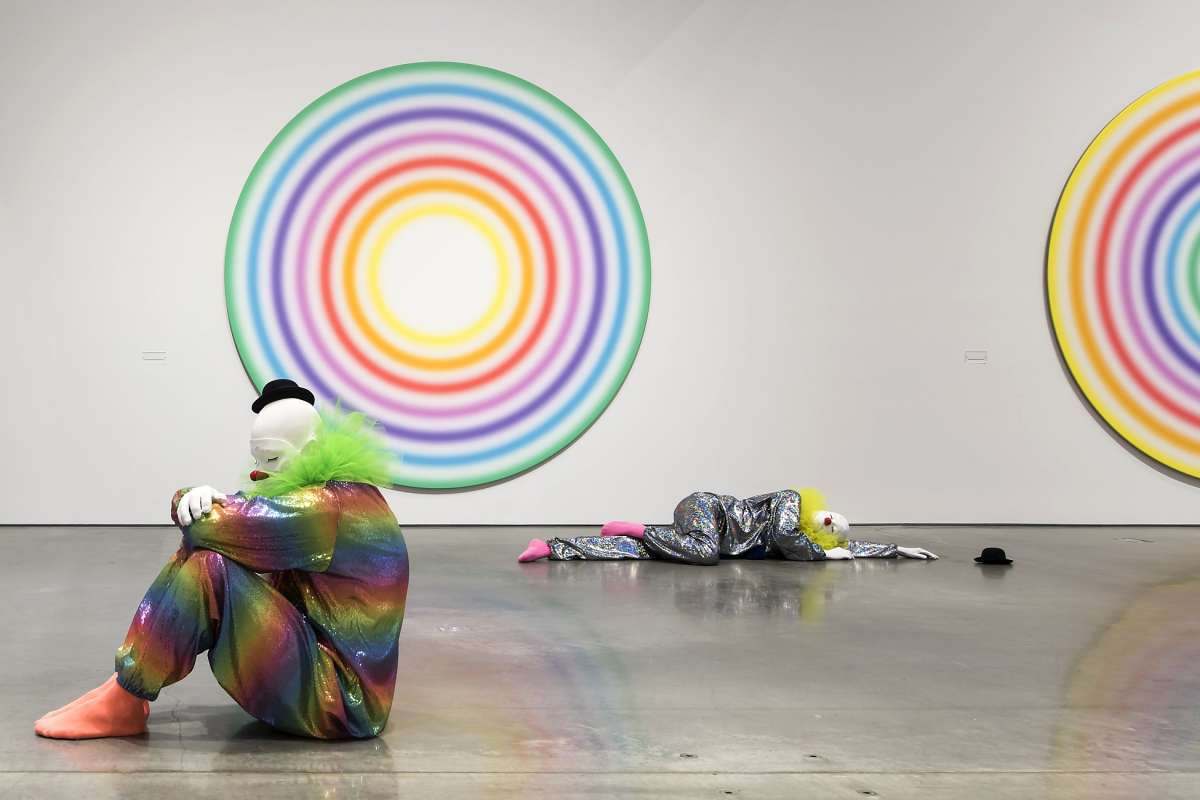 Ugo Rondinone, from the series "Vo
cabulary of Solitude"
,
2014-
20
1
6
|
Image courtesy of the artist and 
Frahm & Frahm
Rondinone
'
s Public Art
In recent years, Rondinone has increasingly turned his attention to public projects. "Seven Magic Mountains" in the desert outside of Las Vegas, Nevada from 2016 to 2020 is his recent public artwork. The idea is extended from the 9 stone figures made of rough-cut blue stones at the Rockefeller Plaza in New York in 2013.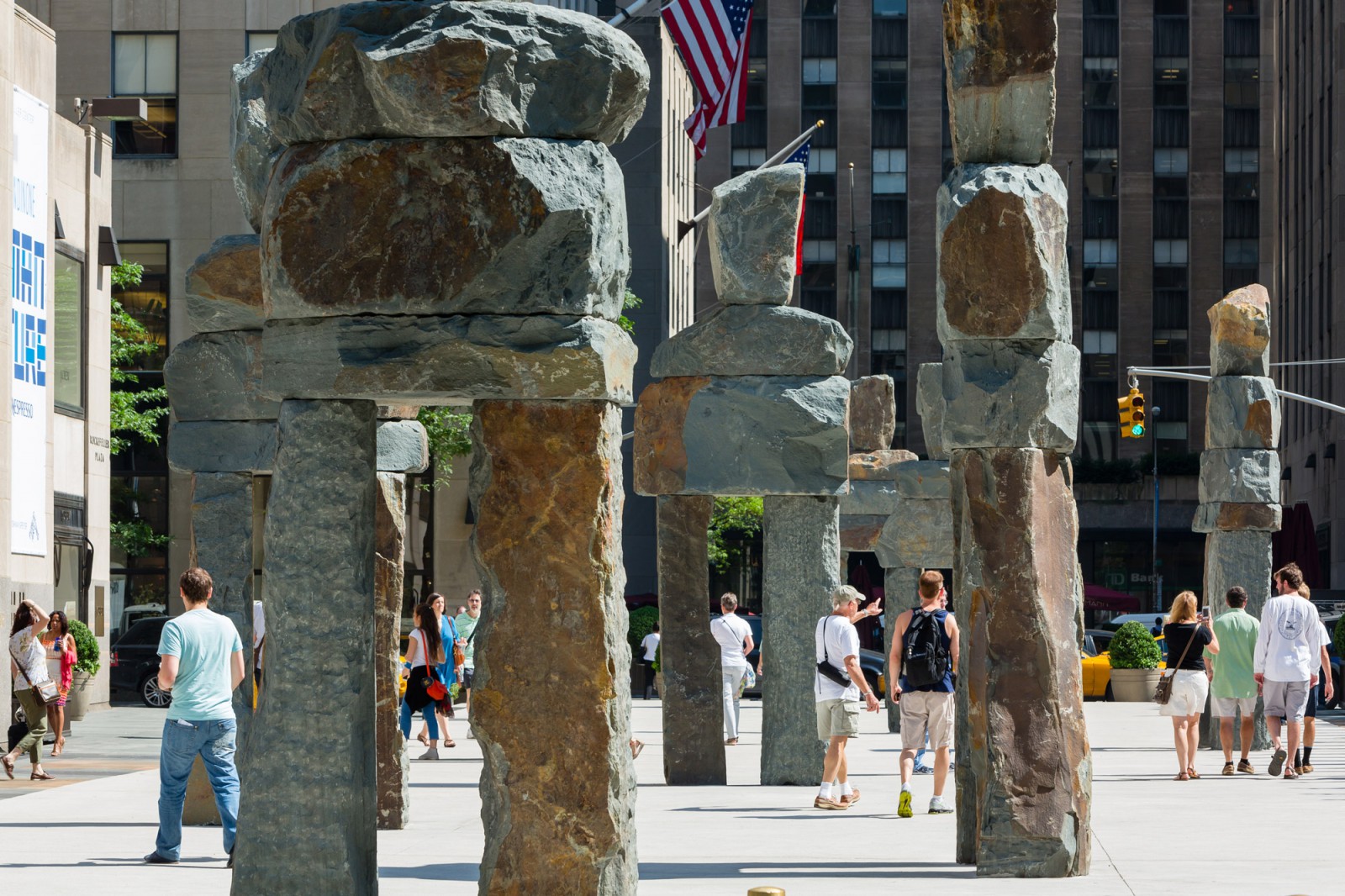 Ugo Rondinone,
"
Human Nature
"
, 2013
|
Image courtesy of the artist, 
James Ewing and Public Art Fund
With his art practice of dualism and dynamism, the used stones maintained in its natural and rough way in the setting of a city while the used stones were assigned by an artificial appearance in the setting of a desert. For Rondinone, it is also a way to bring forward the notion of Land Art in a contemporary way. He made a work surrounding the beauty of the desert and landscape, but with a different tool, bringing colors to distinguish the work from the landscape background and the setting. With adding black, white and silver, the rainbow color is the foundation of "Seven Magic Mountains". The Day-Glo color is activated by the sun in the desert but there is still the glow of the color at night under the moonlight.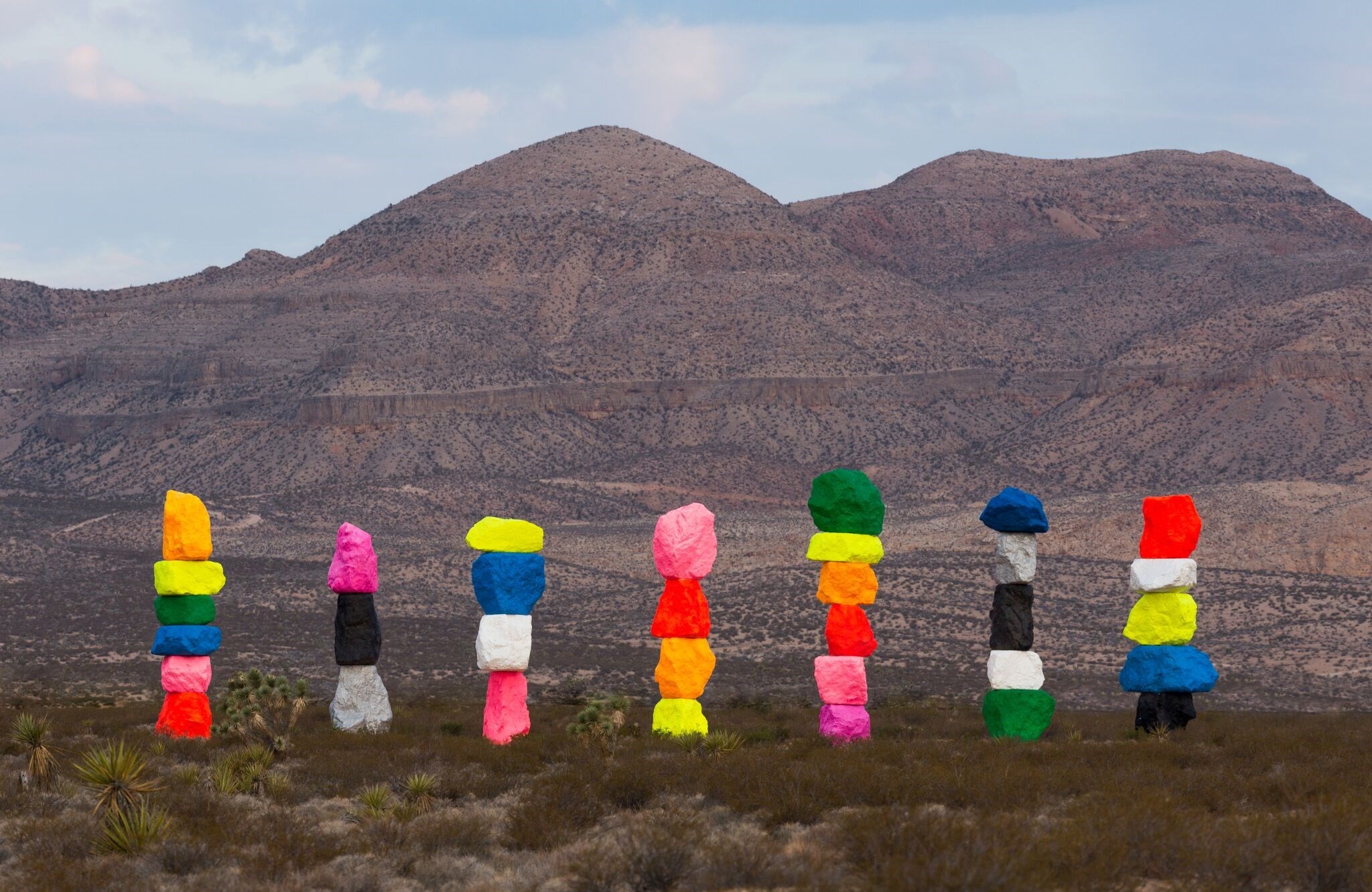 Ugo Rondinone,
"
Seven Magic Mountains
"
, Las Vegas, Nevada, 2016 | Image courtesy of the artist, Art Production Fund and Nevada Museum of Art
As a p
o
e
t
and a curator
Rondinone is fascinated by poetry as there is a connection to visual work. He thinks that poetry is aesthetic in logic and a slow motion language that is full of suspension, ambiguity, slowness, which is similar to art. The use of words in his series of public rainbow sculptures is related to poetry. The first one in 1995 is "Cry Me a River" while the last one in 2012 is "We Are Poems".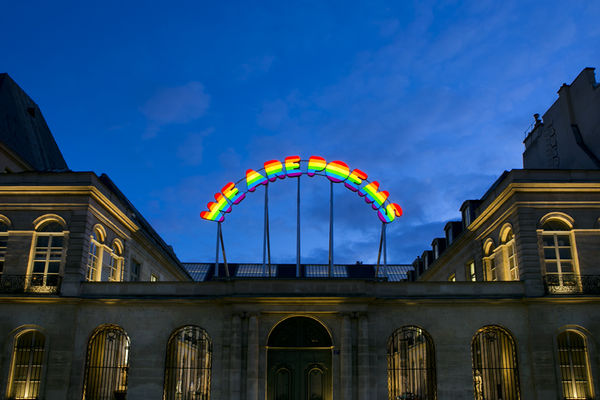 Ugo Rondinone,
"
W
e
A
re
P
oems
"
, 2011
|
Image courtesy of the artist and kamel mennour, Paris/London
Due to poetry, Rodinone met his husband John Giorno, a poet and performance artist. In the fall of 1997, he attended a reading by Giorno and invited Giorno to collaborate on a project.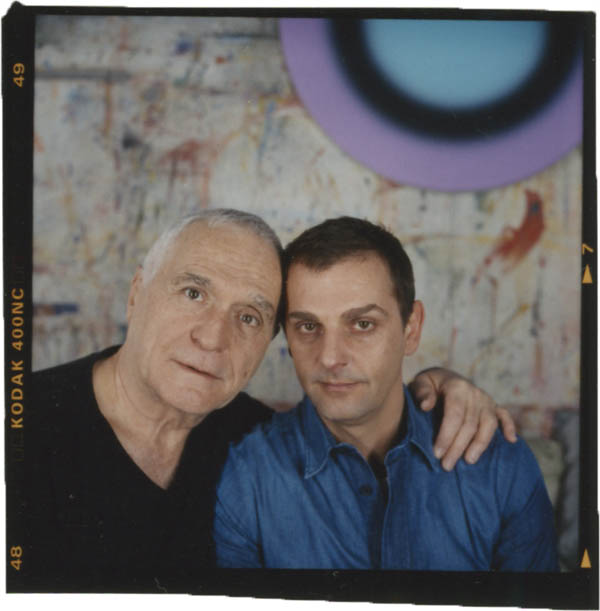 John Giorno
and Ugo 
Rondinone
 | Image courtesy of The Brooklyn Rail
On Giorno's 70th and 75th birthdays, Rondinone curated two group shows, entitled "The Third Mind" in Palais de Tokyo, Paris in 2007 and "the spirit level" in Gladstone Gallery, New York in 2012 as birthday presents to Giorno. The largest scale one entitled as "Ugo Rondinone: I Love John Giorno" in both Paris and in the city of New York. It is a joyous celebration of Giorno's ubiquitous presence in contemporary culture, as well as his myriad contributions to it, coinciding with the poet's 80th birthday.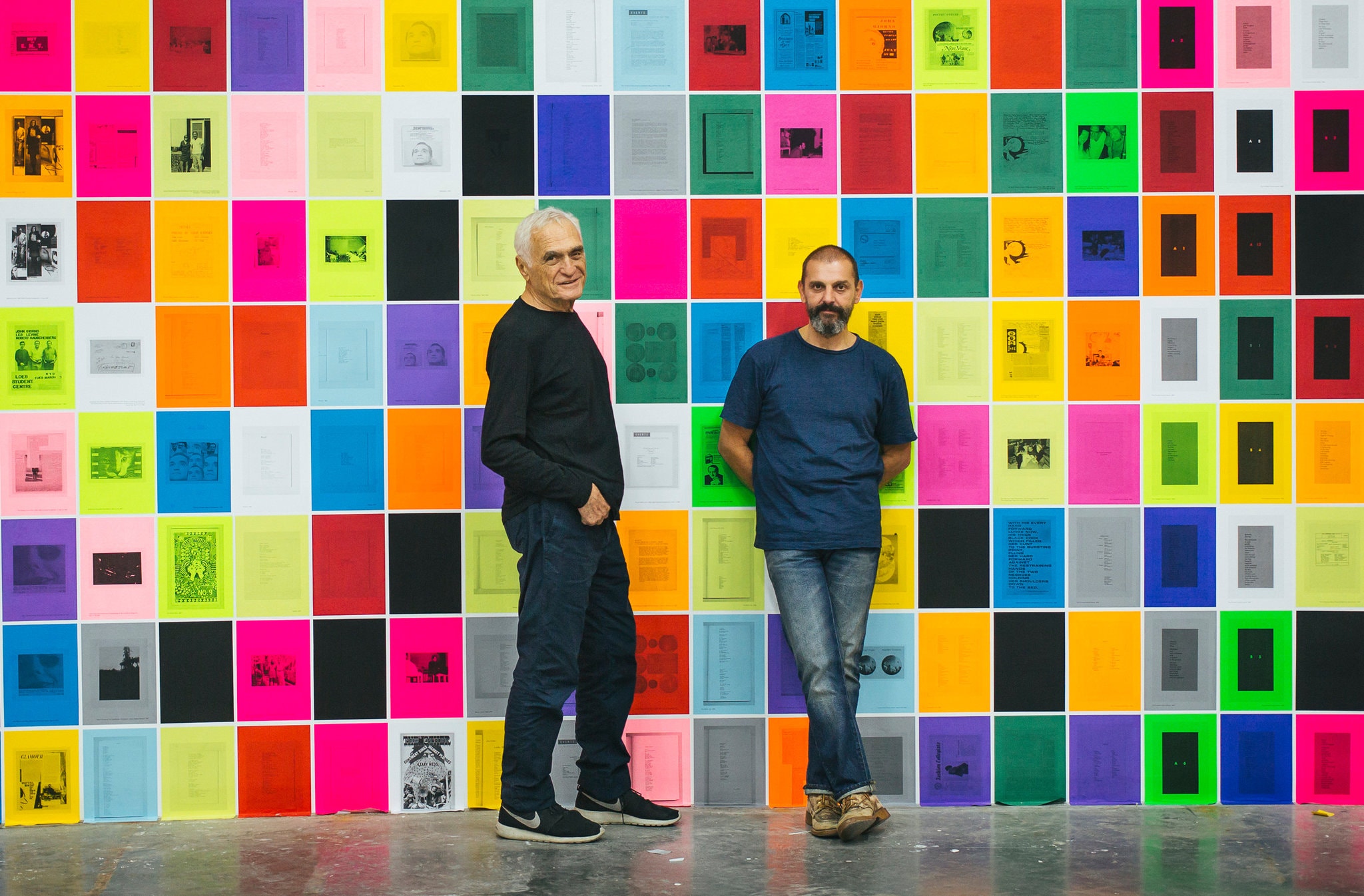 John Giornio and Ugo Rondinone at the exhibition
"
Ugo Rondinone: I Love John Giorno"
,
Palais de Tokyo in Paris
,
2015
| Image courtesy of the artist, 
Alex Cretey-Systermans and The New York Times