"Clay, symbolically and materially, has a semblance to flesh — that's what drew me to the material. Ceramics is very technical, but it can be very democratic. If you make small works, you can approach it quite fluidly — that's how I started."
– Ramesh Mario Nithiyendran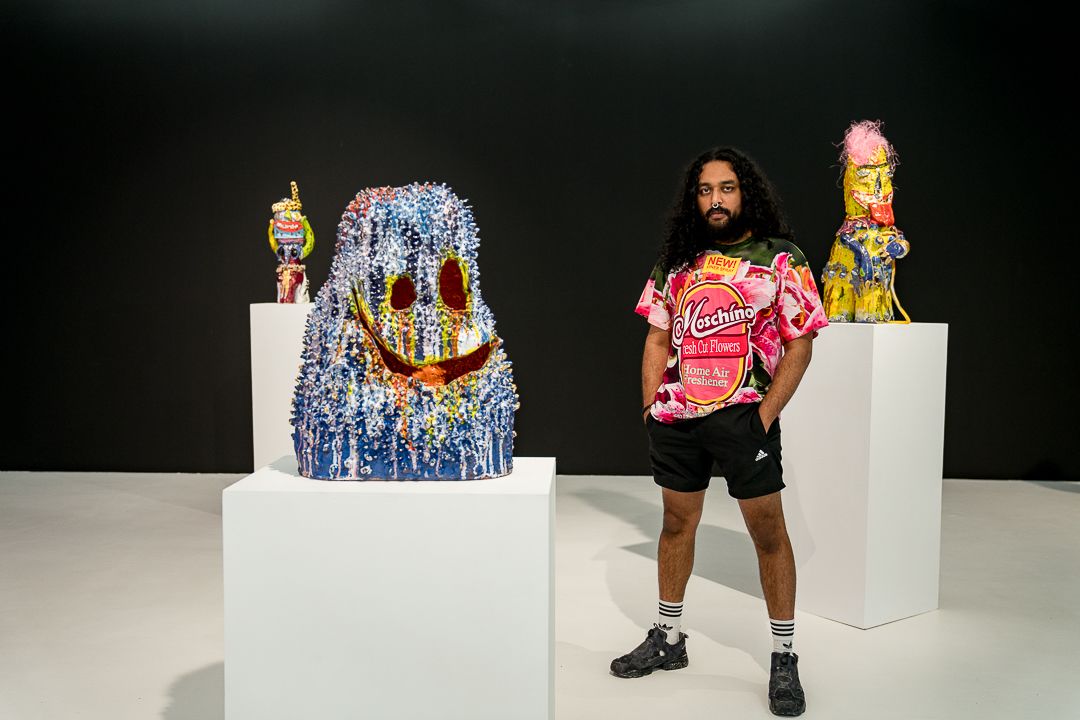 The artist at his solo show in Singapore | Image courtesy of Ng Wu Gang, the artist and Sullivan+Strumpf Gallery
Born in Sri Lanka and lives in Australia, Ramesh Mario Nithiyendran is the most influential and active artist in Australia, using ceramic as the main creative medium. Nithiyendran grew up in Sydney after moving to Australia as a refugee with his family when he was one year old. After winning the best emerging artist award and scholarship, he visited his birthplace Sri Lanka to seek for creative inspirations. As the finalist of Australia's three major art awards and the youngest participating artist in the National Gallery of Australia, his work has been shown in Art Basel for two consecutive years.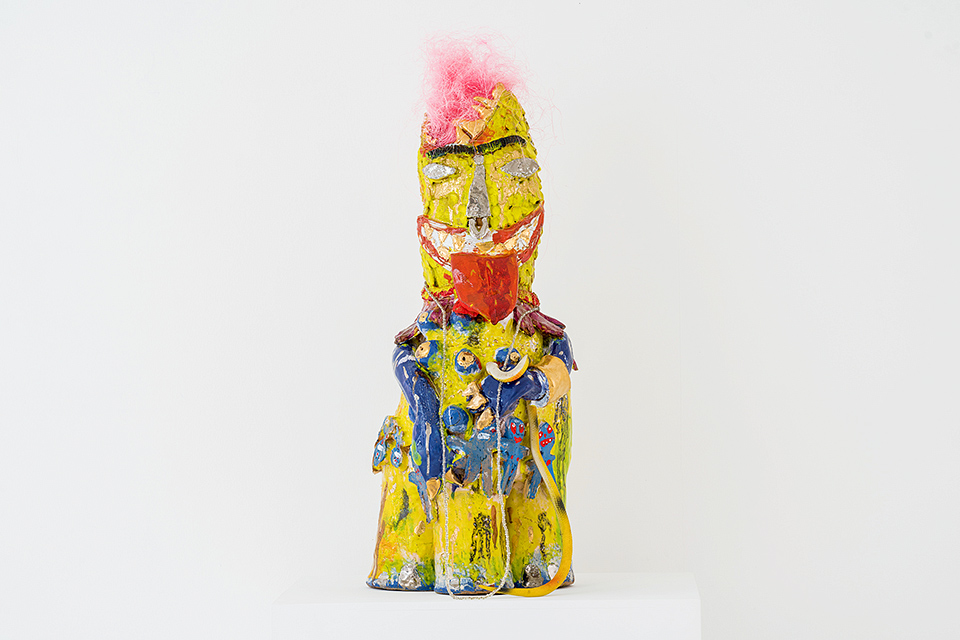 Ramesh Mario Nithiyendran, Snake Charmer II, 2018 | Image courtesy of Ng Wu Gang,  the artist and Sunpride Foundation
Nithiyendran's art practice seems "deviant" by putting the elements of male reproductive organs and metaphor of gods, anthropomorphic creatures and peculiar monsters with a strange appearance in his work. Due to the fancy clothing style, the casual black long curly hair, and the pursuit for ceramic art, Nithiyendran is regarded as "bad boy of ceramics". Regarding the impression of "bad boy", Nithiyendran thinks it is just a part of his image. There is always another side of "good" from his "bad" and he has his own "good" side. Behind his unruly image, Nithiyendran's achievement and work attitude are the responses towards his "bad boy" reputation. For Nithiyendran, he stays in the studio almost every day as he feels uncomfortable if he stops creating art.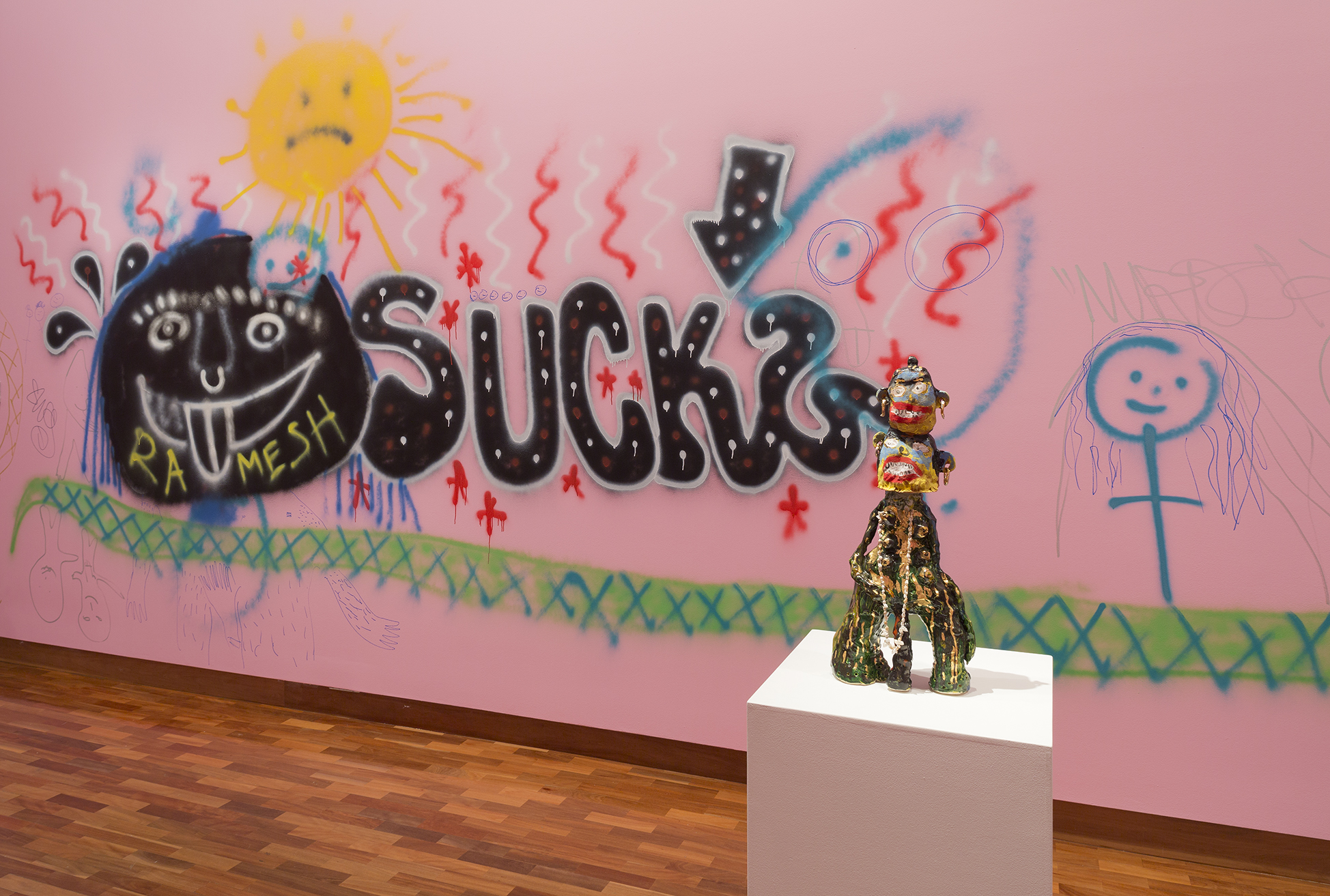 Installation view
of the 
"In The Beginning" exhibition at The Ian Potter Museum of Art, 2016 | Image courtesy of the artist and the Museum
Nithiyendran studied painting and became interested in ceramics when he was young. After he later gradually shifted his focus to ceramic art, he was regarded as a representative figure in the revival of Australian ceramic art. Using ceramics as the symbol of basic material, the figurative sculptures he created have blurry edges and corners which are daunting but fascinating. The political narratives related to gender, institutional religions and monuments have been questioned by his work in difference forms and scales. Inspired by the stage performances and the exploration in gender and identity, the front of the sculpture contains Nithiyendran's idea, which is the sameto the performer on the stage, facing the audiences on the offstage. This "one-sidedness" is intendedly designed by Nithiyendran, leading the audiences to look straight at the ceramic sculpture and creating interactions among them.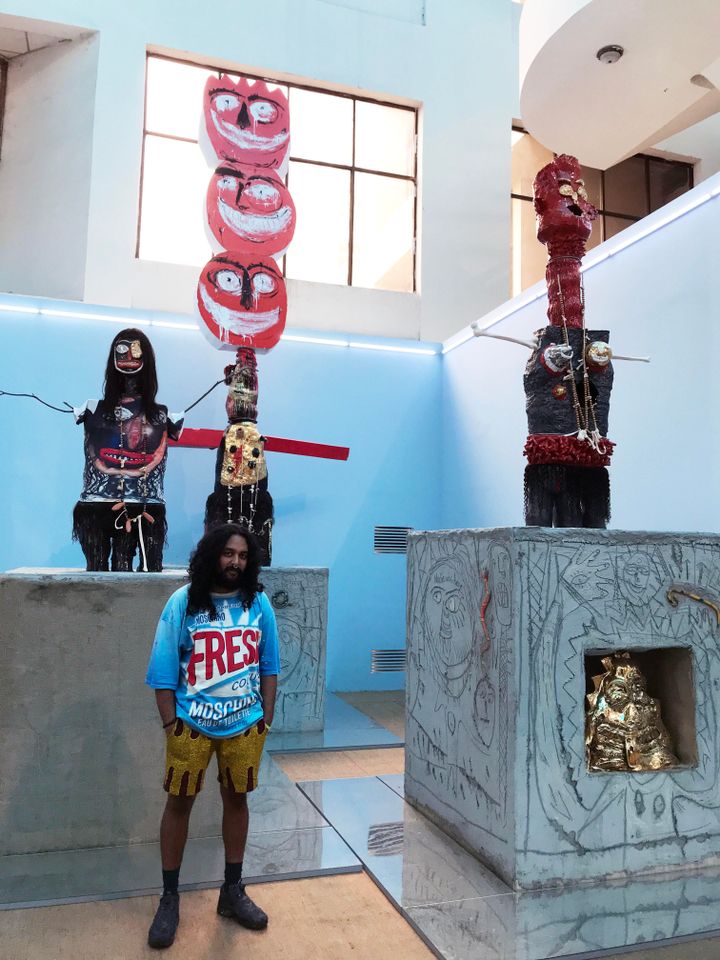 Ramesh Mario Nithiyendran, Idols (2018), Dhaka Art Summit, 2018 | Image courtesy of Gareth Harris and the artist
Nithiyendran mentioned that "In Christian language, human beings have been created by God's hands and soil. There is a saying which is that everyone has clay. If soil is regarded as clay, every ceramic product can amplify the energy by the hand of creation". When Nithiyendran "acts as" God, the work created by his hands is attractive, aggressive or hermaphrodite. His work exhibited in Dhaka Art Summit, India in 2018 vividly interprets this style. In the exhibition, "Idols", a group of sculptures constituted by different mediums, is regarded as "deities in drag" in the 21st century. This group of sculptures involved three-dimensional and multi-faceted information, including Hinduism that embraces androgynous gods, race issues, and human organs represented on the internet.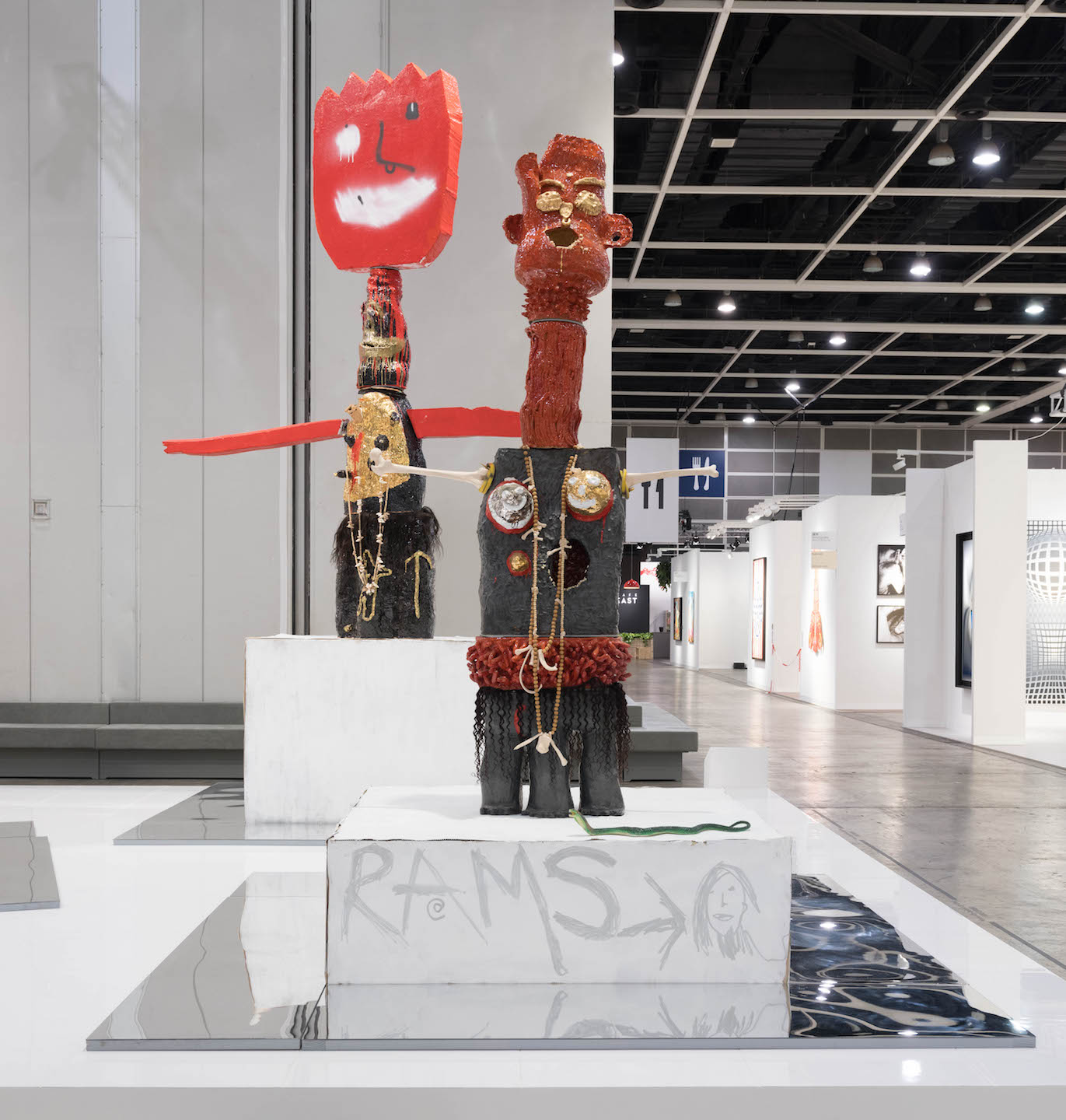 Ramesh Mario Nithiyendran, Mud Men: Volume II (2018), installation view at Art Basel Hong Kong, 2018 | Image courtesy of the artist and Sullivan+Strumpf Gallery
Nithiyendran based on "Idols" to make further adjustments. "Mud Men: Volume II" has been exhibited in the "Galleries" area of Art Basel Hong Kong in the same year. One of the bronzes was carved into a sculpture containing multiple male reproductive organs, water bottles and snakes. It is common to commemorate male figures under colonial period by public statues in Australia. This gives Nithiyendran a strong impact and he is curious why statues commemorating non-colonial relations or people of color are so rare. His bronze sculpture weighted up to 100 kg is created to question the white male image in the colonial period.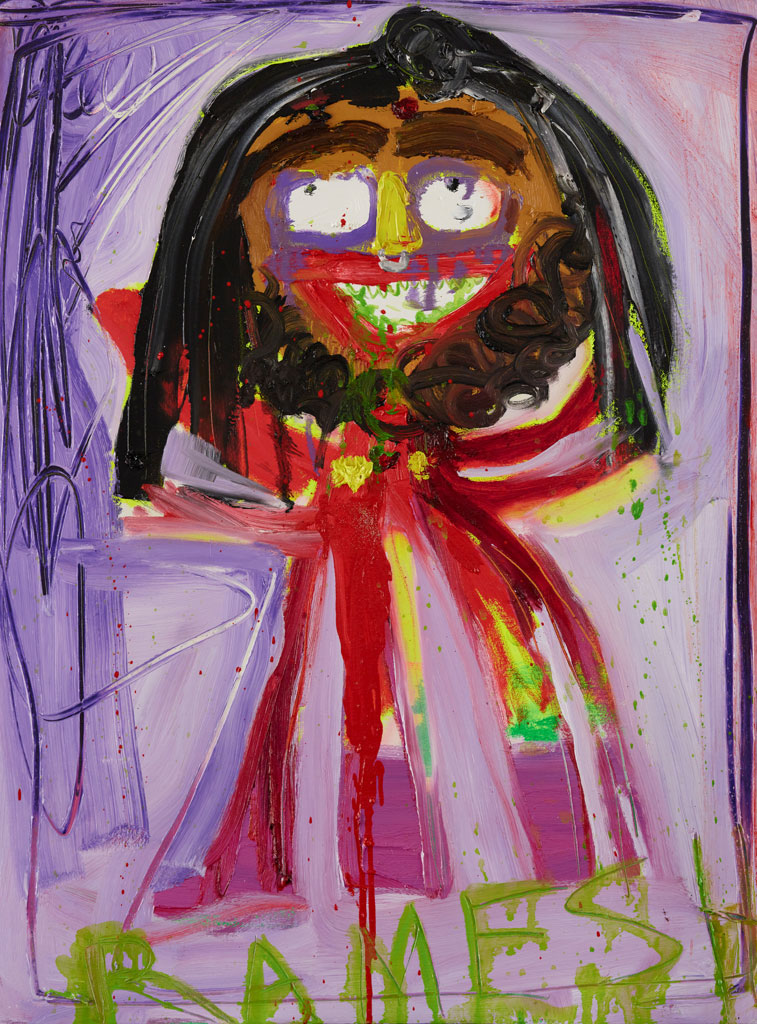 R
amesh Mario Nithiyendran, Multi-limbed self-portrait (after ceramic figures) | Image courtesy of the artist and The Art Gallery of New South Wales
In Nithiyendran's painting "Multi-limbed self-portrait (after ceramic figures)", the character is created by his inspiration from Saint Sebastian, the historical figure who died in the arrows. From Nithiyendran's perspective, the arrow represents productive organs while the out of focus eyes can represent pain, ecstasy or orgasm. Through the erotic male image, Nithiyendran hopes the audiences can understand his discussion on "toxic masculinity", which is as same as homophobia, violence and objectification and derogation of women.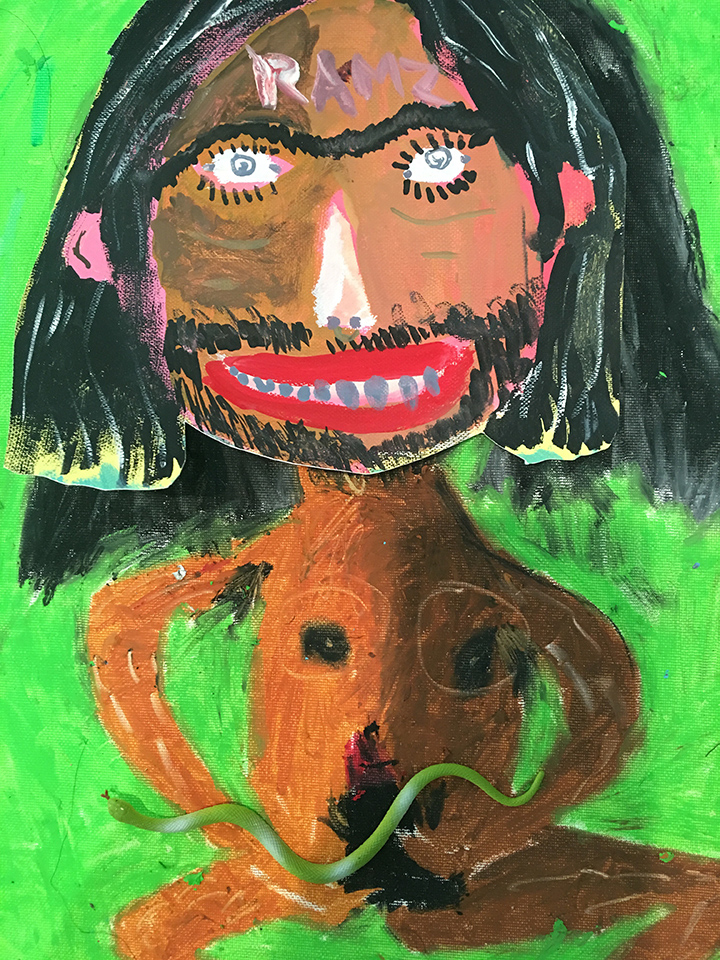 Ramesh Mario Nithiyendran, Self Portrait 6, 2016 | Image courtesy of the artist and Sullivan+Strumpf Gallery
Nithiyendran also constantly reconstructs his image by painting his self-portrait. The dual portrayal of male and female sexual organs embodies the possibility of gender fluidity. In the colourful painting "Multi-limbed self-portrait (after ceramic figures)", which is also a self-portrait, Nithiyendran owns multiple limbs, filling with childlike innocence and unconstrained ideas. His body of work is full of joy, openness and tolerance. Meanwhile, he tries to put surprising elements in his work.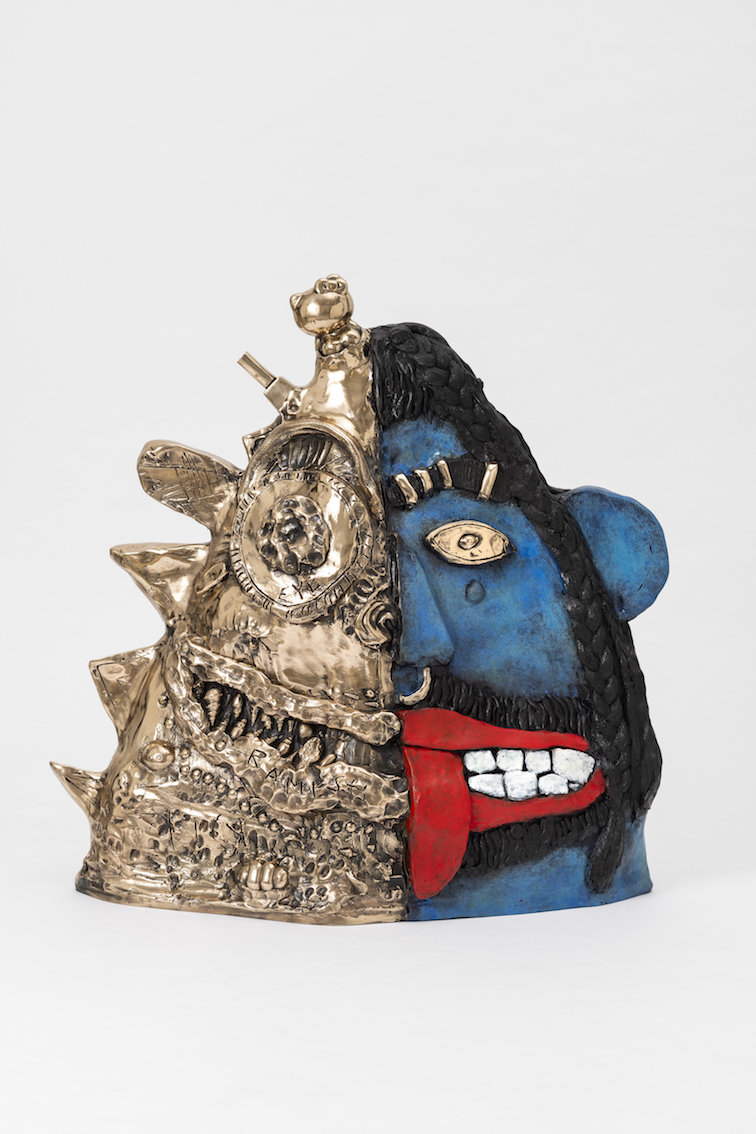 Ramesh Mario Nithiyendran, Bi-head, 2018 | Image courtesy of the artist and Sullivan+Strumpf Gallery