"There is an old saying that life is always like a play, but life does not allow rehearsals. It is impossible to edit the plot and change the roles, time and space. Let's say drama is like a life? But the drama cannot exist alone without the audience. Even though it has magical power, nothing can be done if there is no audience. If it is not as good, it is the same general helplessness."
– Christopher Cheung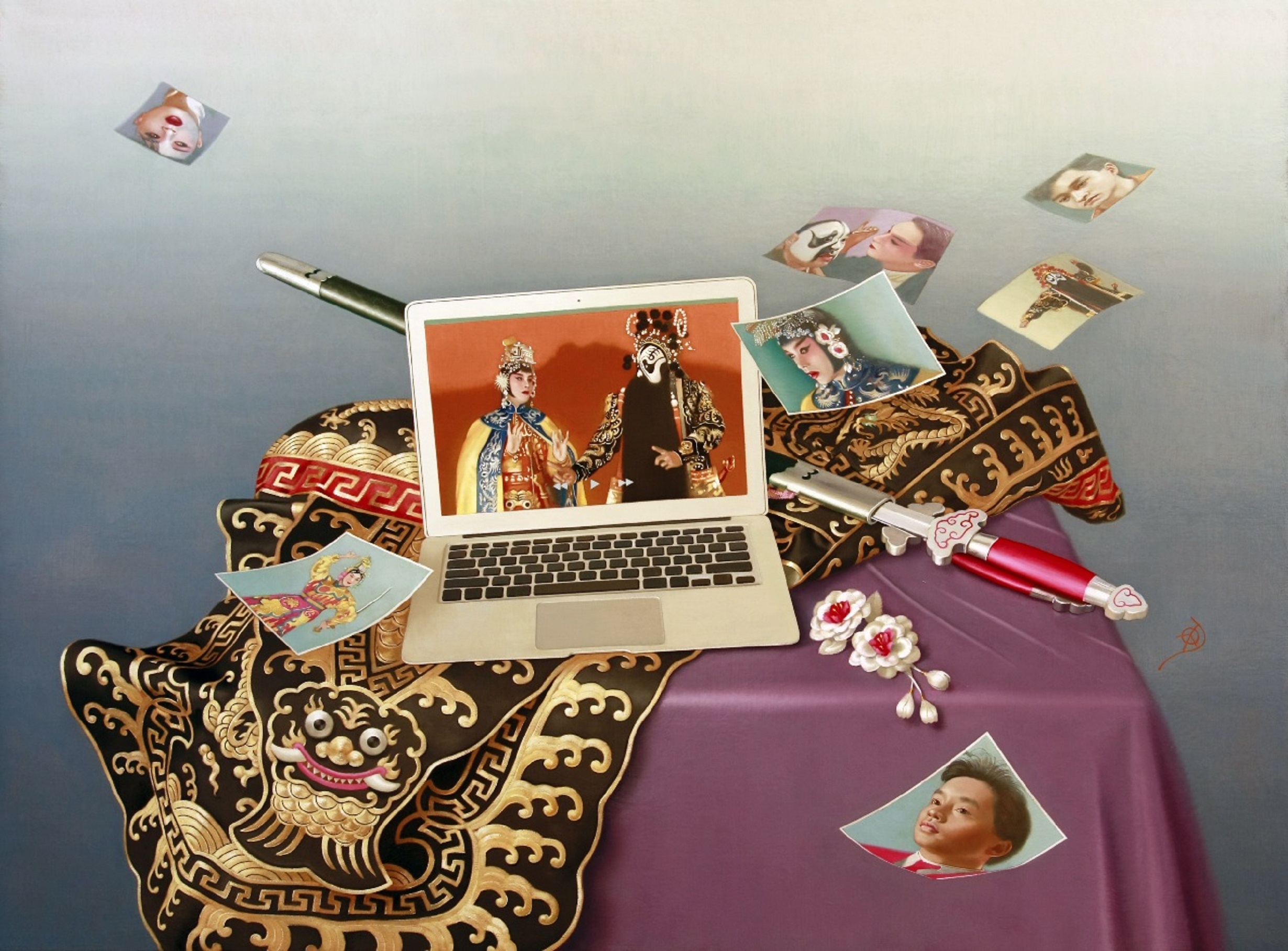 Christopher Cheung,
'
Farewell
'
, 2015
|
Image courtesy of the artist and Sunpride Foundation
Born in Hong Kong, Christopher Cheung is a painter living abroad in France. It is full of oriental elements under his brush. The realistic style of painting does not hinder the obvious magical colour in his work. It echoes the saying 'when false is taken for true, true becomes false', which is not only applied to canvas but also refers to this vast world. In oriental imagery, the true and false is dreamlike – the magic that Cheung is good at.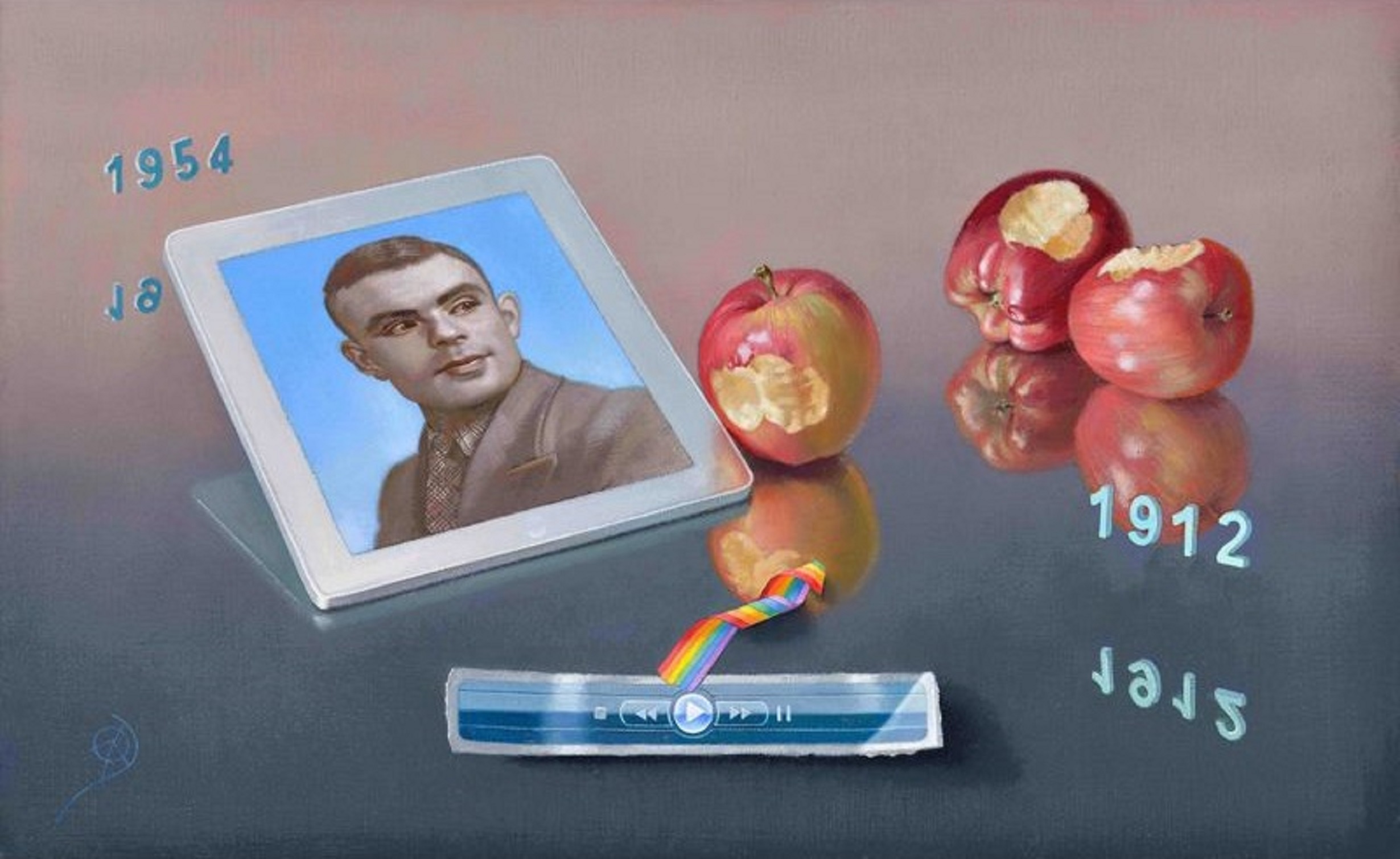 Christopher Cheung,
'
Alan Turing – Alan Turing
'
, 2012 | Image courtesy of the artist and
iP Gallery
Cheung works and lives in Europe all year round. The colour tone of his work is mildwith sharp and realistic lines. There is a foggy feeling as if his work is visually separated from the sandpaper. It looks not real but touches the deepest part of the heart. Family culture is authentic oriental. In the paintings, typical oriental elements such as chess boards, Beijing opera and porcelain have been often seen. These elements seem to be thick and heavy in colour on the light and subtle picture – you can always see them in the most conspicuous position.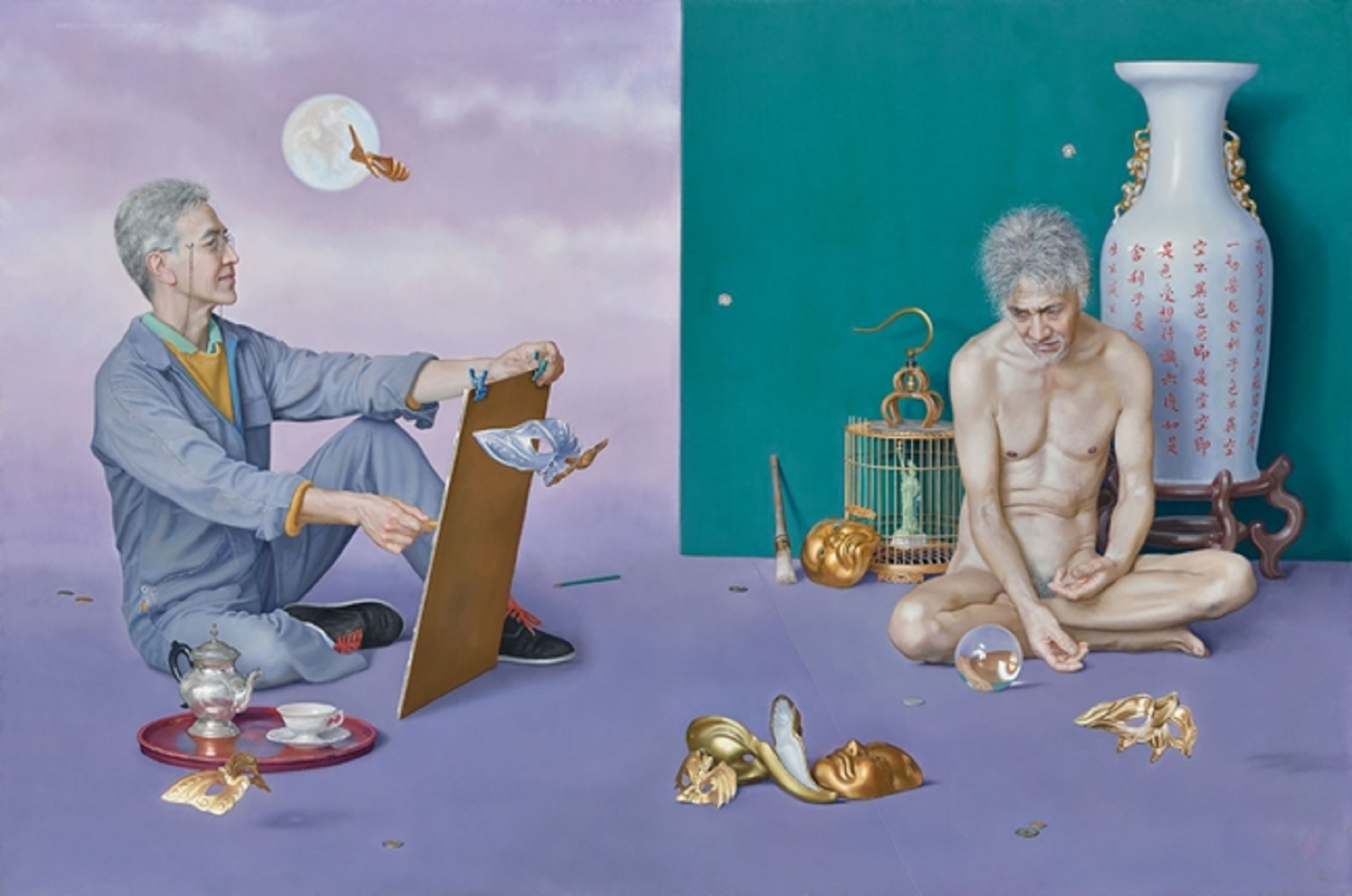 Christopher Cheung, '
He Me
', 20
09
| Image courtesy of the artist and
Moon
Gallery
As Cheung's life in France began in his early period of art career, his participating exhibitions were in Paris and all over Europe. His paintings are mostly categorized as 'hyperreal', which refers to the reproduced pictures and characters by re-interpretation are mixed with some impossible possibilities. His painting objectsinclude the male famous roles cross-dressing in female attire during Beijing opera,the affectionate studio and the lament of tasting Mengpo soup. Masks are props commonly used by Cheung. Under the masks, they seem to have the freedom to dream about life at will. Contrast, metaphor and composition are applicable to the depiction of 'object' and 'people' by the painter.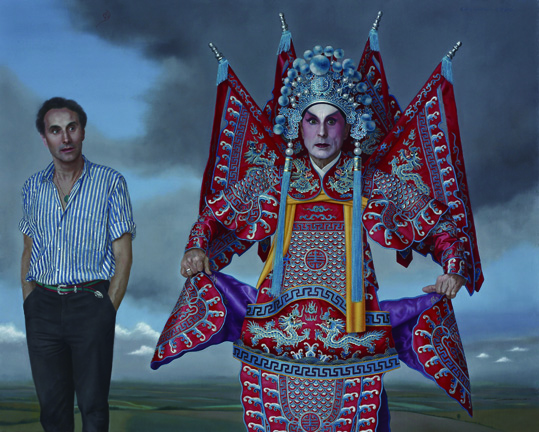 Christopher Cheung, '
Stage Make-up
', 20
11
| Image courtesy of the artist and Main Trend Gallery
In 2011, Cheng's work 'Stage Make-up' extended his perseverance in 'drama'. In the painting, a person has already had make-up and is dressed properly. He is ready to perform on the stage while looking at the audience. Meanwhile, another person dressed casually with his hands in his pockets, looking at that person who is about to sing Beijing opera. The obvious contrast and metaphor are formed under a clouded sky. The performer is an actor still wearing a mask while the person who looks at him is the self under the mask. They are separated so that 'the self' looks at 'me'. Thissimple composition condenses into a rather tense relationship.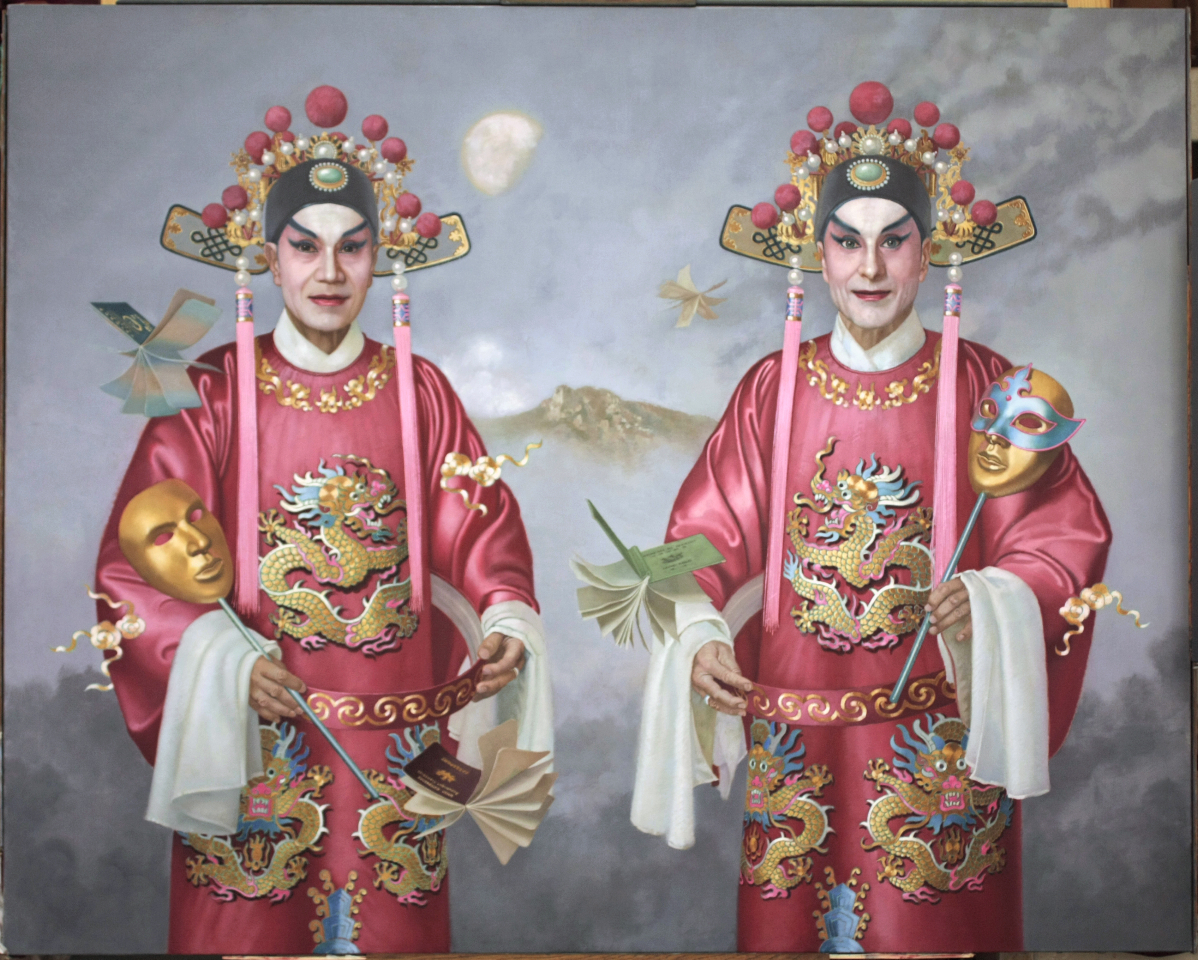 Christopher Cheung, 'Dress Rehearsal', 2017 | Image courtesy of the artist and Sunpride Foundation
In the exhibition 'Spectrosynthesis II', one of Cheung's paintings 'Rehearsal' was shown. The two people in the painting are wearing bright red Beijing opera costumes, but holding Western-style golden masks in their hands, with passports thrown into the air up and down beside them. It symbolizes the country where theylive now and their hometown in memory. The shape of the passports in the air is like a dice thrown and then dropped, fate, gambling, stage, dress-up, smiling face and mask. Behind it is a bright moon with a missing corner in the overlapping dark clouds. It symbolizes the confusing future life and a play that has already been on stage.