"For me, art is as natural as body, which means it includes both each emotion and movement that mix and inseparable. It is like the air and food we have everyday. It is attached and inseparable." — Ly Tran Quynh Giang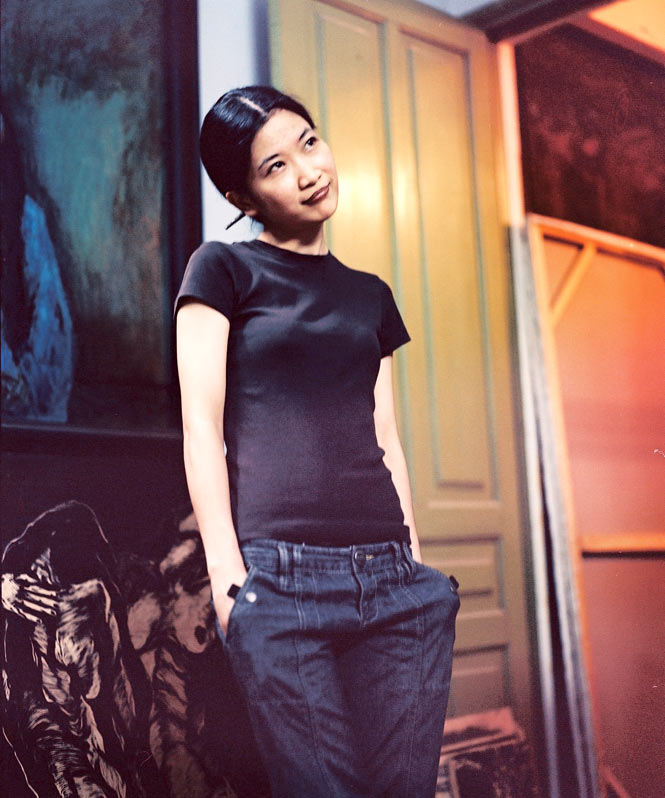 Ly Tran Quynh Giang | Image courtesy of the artist and DestinAsian Media Group
One of the most prominent female contemporary artists of Vietnam, Ly Tran Quynh Giang (b. 1978, Hanoi) is best known for her oil painting and wood cut panels. Considered herself to be under the influence of the Norwegian Expressionist artist Edvard Munch, Giang dissects her own internal turmoil and the most private feelings, emotions and spaces. The representations of human and animal figures in her paintings exude a range of emotions and sensations, including sadness, melancholy, ennui, uncertainty, intimacy, intensity, and eroticism. Her de-mythicizing series of images in earthy colours invite viewers to question the values of modern societies and the individual pain that one endures in search for one's true identity.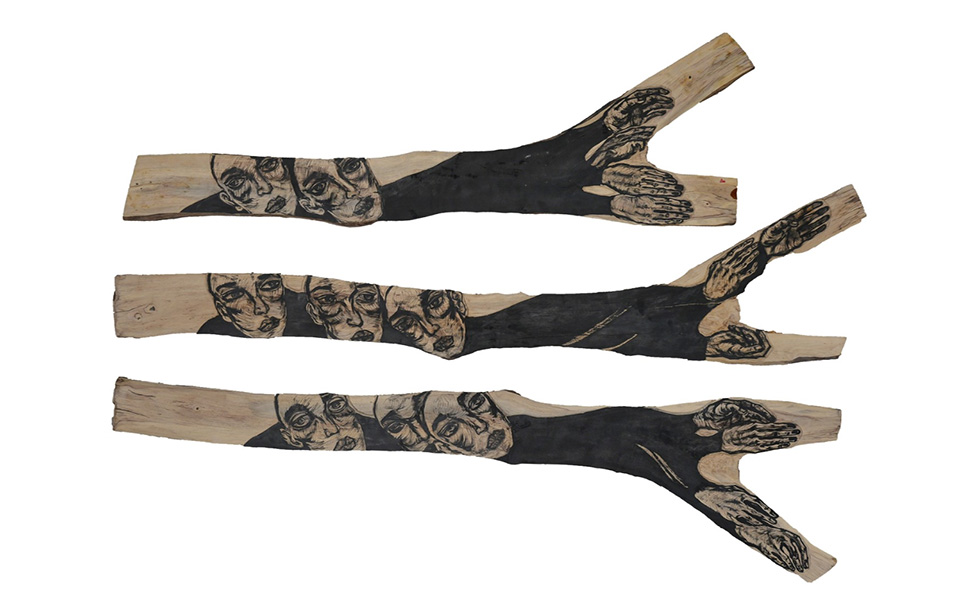 Ly Tran Quynh Giang, Where they turn to, 2016 | Image courtesy of the artist and CUC Gallery
Graduated from Hanoi Fine Art University in 2002, Giang was the first recipient of the Vietnam Foundation for the Art's individual award in 2008, and the winner of the Bright Young Eyes competition organized by the French Embassy and the Vietnamese Fine Art Association in 2004.Giang's works have been exhibited in different countries, including Italy, England, USA, Singapore, China and Malaysia. Her significant exhibitions include Where they turn to (2014), Hey are you sick (2010), The solitary world of Ly Tran Quynh Giang (2010), Giang (2007), and Tropical zone (2002).
Self-portrait in Giang's body of work
Self-portrait is the main part of her oil paintings and wood cut panels. Giang mentioned she is afraid of stirring places and losing herself in a chaotic, pale, and unstable crowd. "Walking into the crowd, we keep getting entangled in the cobwebs of time-consuming relationships, getting ourselves into affairs that have nothing to do with us, smiling just to reciprocate other people's smiles, going along with other people's ideas, then it's certain our self will be lost". Giang paints herself in different mood moments and space-time, expressing her external daily life and inner self.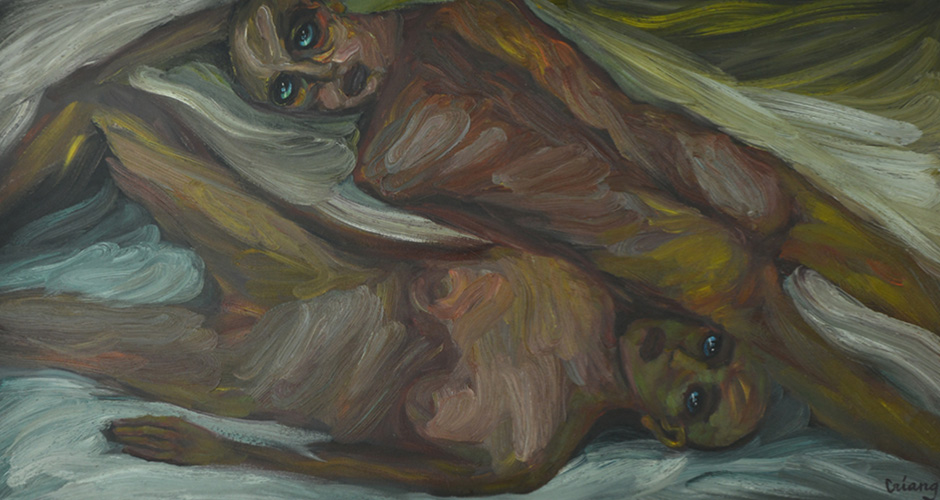 Ly Tran Quynh Giang, Afternoon, 2019 | Image courtesy of the artist and CUC Gallery
The characters in her body of work are often lonely and reflective. Fatigue and nakedness are also familiar themes of Giang. By exposing hidden casualties, she turned pain and uncertainty into art, turning the private into the common and thereby transforming those hauntings into empathy.
Her expressionist wood cut panels
Oil painting is an indispensable part of her creative life. Giang painted a lot of oil paintings with a consistent, distinct expressionist style. In 2004, with her painting series entitled Me, Trees and Sadness, a trio of paintings carved and painted with ink on wood, Giang won the Bright Young Eyes competition organized by the French Embassy and the Vietnamese Fine Art Association. She turned her self-portrait from oil painting to woodblock painting that looks like black and white painting engraved directly on wood.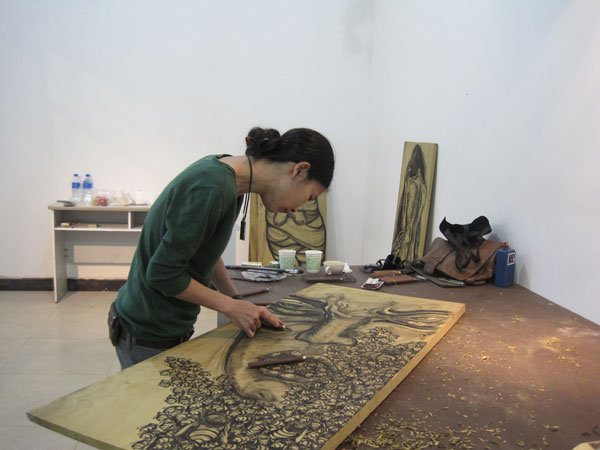 Ly Tran Quynh Giang | Image courtesy of the artist and Tai Project
The engravings and brushstrokes shown on the wood cut panels with her stronger emotional flow and more impressive visual impact. Giang's artistic language is an expressionist language mixed with surreal, symbolic elements. At the same time, Giang moved on to another content topic — expressing herself, expressing her ego, the lonely individual, the existential instinct in contemporary life.

Ly Tran Quynh Giang, Deux Parties du jour, 2007 | Image courtesy of the artist and Sunpride Foundation
One of her wood carving works, Deux Parties du jour (two parts of the day in French) in 2007, depicting two stylised, elongated figures whose limbs meet on a twisted, branch-like knot in the middle of the composition, the work depicts a relationship taut with both passionate and constricting overtones. Utilising an extreme perspective in which both female figures are viewed from above, the work's edges area cropped close to their bodies. One of the subjects is shrouded in darkness while the other exits on the plain ground of light wood grain. The elongated nature of the composition emphasises the work's claustrophobia in which the figures are crowded and trapped. The work is an emotive and evocative testament to the complex realities of being an individual vis-à-vis the world.