"Once you start immersing yourself in the feedback loop, you become a very accountable agent in that process and to me, that's the direction our species has to go in because for so long, we've, separated ourselves from all of these other constructed categories as a way to exploit all of those other species and elements and sensory integration to me is the way of reconnecting and re-entangling the paths of empathy." — Wang Shui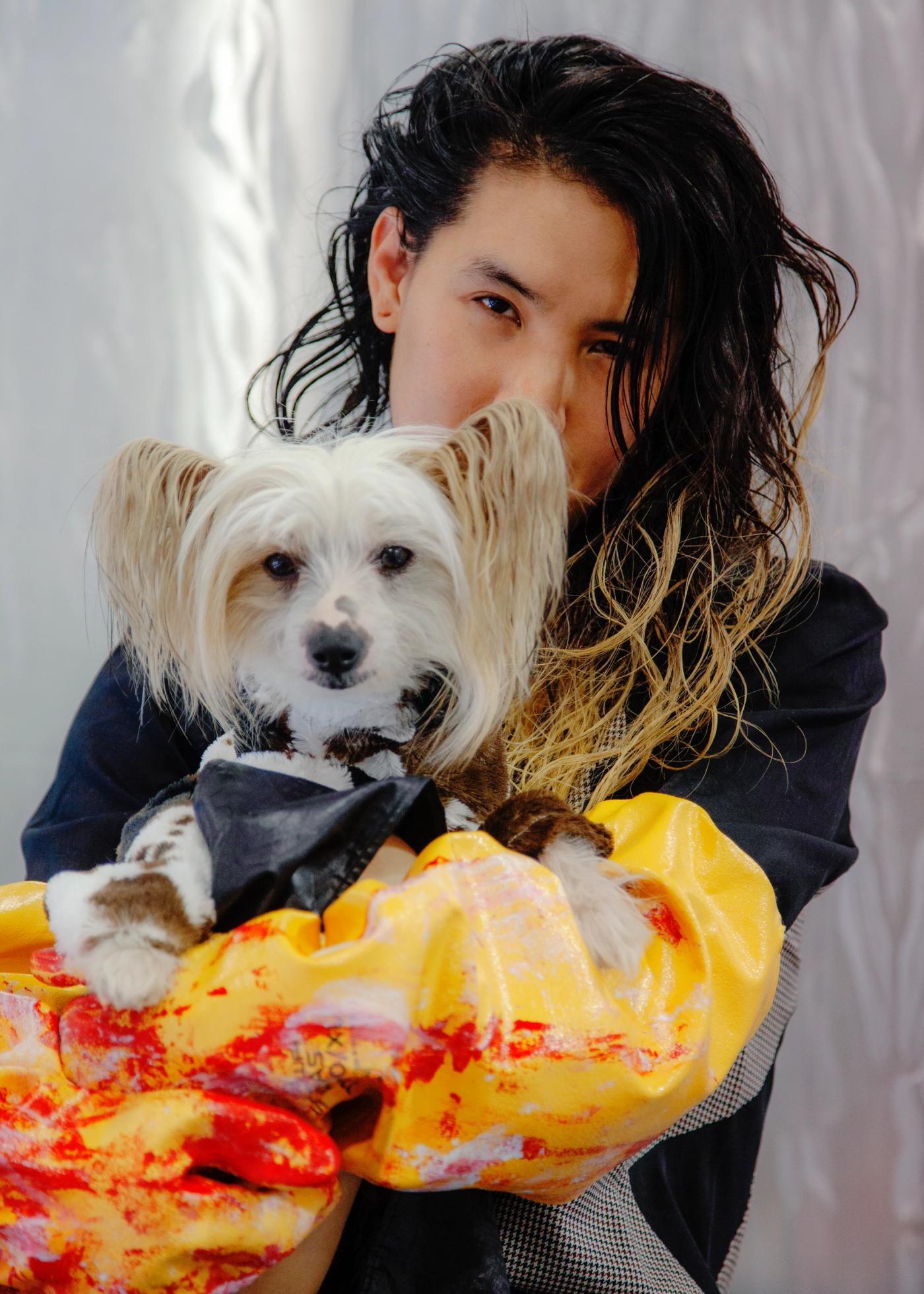 WangShui | Image courtesy of the artist, Sam Clarke and PIN–UP
WangShui (b. 1986, New York, United States), a New York-based studio using moving images, installation, architecture, sculpture and painting to explore contemporary notions of desire. The energetic fluidity between species, regimes, materials, and genders courses through WangShui's body of work. Their work often restages image technologies to locate intimacy, autonomy, and sanctuary, addressing the latent space of images and materials as a way to activate the hallucinatory states between detail and distance, transparency and opacity, knowing and unknowing.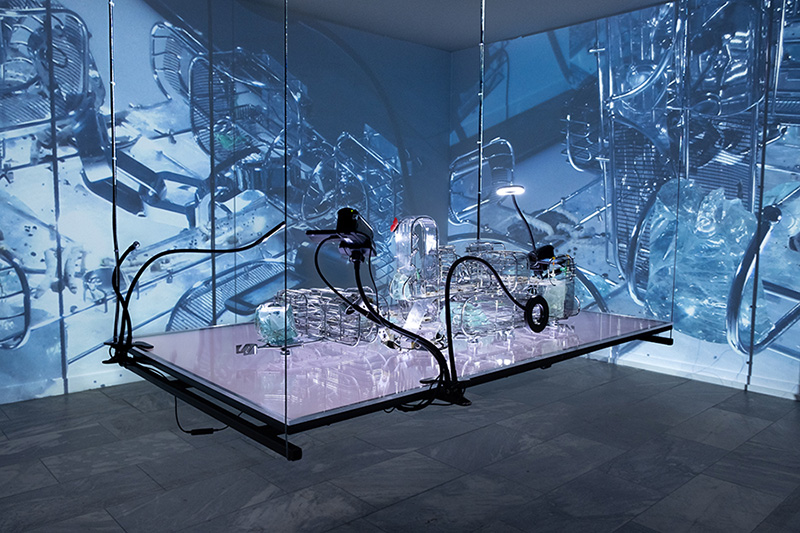 WangShui
, Gardens of Perfect Exposure, 2018, Julia
Stoschek
Collection, Berlin
, 2019 | Image courtesy of the artist,
Alwin Lay
and
Julia
Stoschek
Collection
WangShui earned a BA in Art Practice and Social Anthropology from UC Berkeley and a MFA in Film and Video from Milton Avery Graduate School of the Arts, Bard College. Their work has been exhibited at various venues, including the 2022 Whitney Biennial, NY; 2022 Biennale de Lyon, France; Hammer Museum, LA; Hessel Museum of Art, NY; Sculpture Center, NY; Julia StoschekCollection, Germany; Tai Kwun Contemporary, Hong Kong; The Shed, NY; New York Film Festival; Rotterdam International Film Festival, The Netherlands; Experimental Media and Performing Arts Center, NY; amongst others. WangShui's work is in the permanent collection of The Whitney Museum of American Art.
Post-human perception as the theme of their body of work
LED video sculptures are the recent work of WangShui, focusing on posthuman perception as they think of as almost structural integration between animal, environmental, human and machine. "I really believe we are in an important moment in history where the entire notion of the modern human is being melted down for parts and reconstituted. I only found words for it more recently, but my work has always in one way or another tried to document this transition towards post-human consciousness".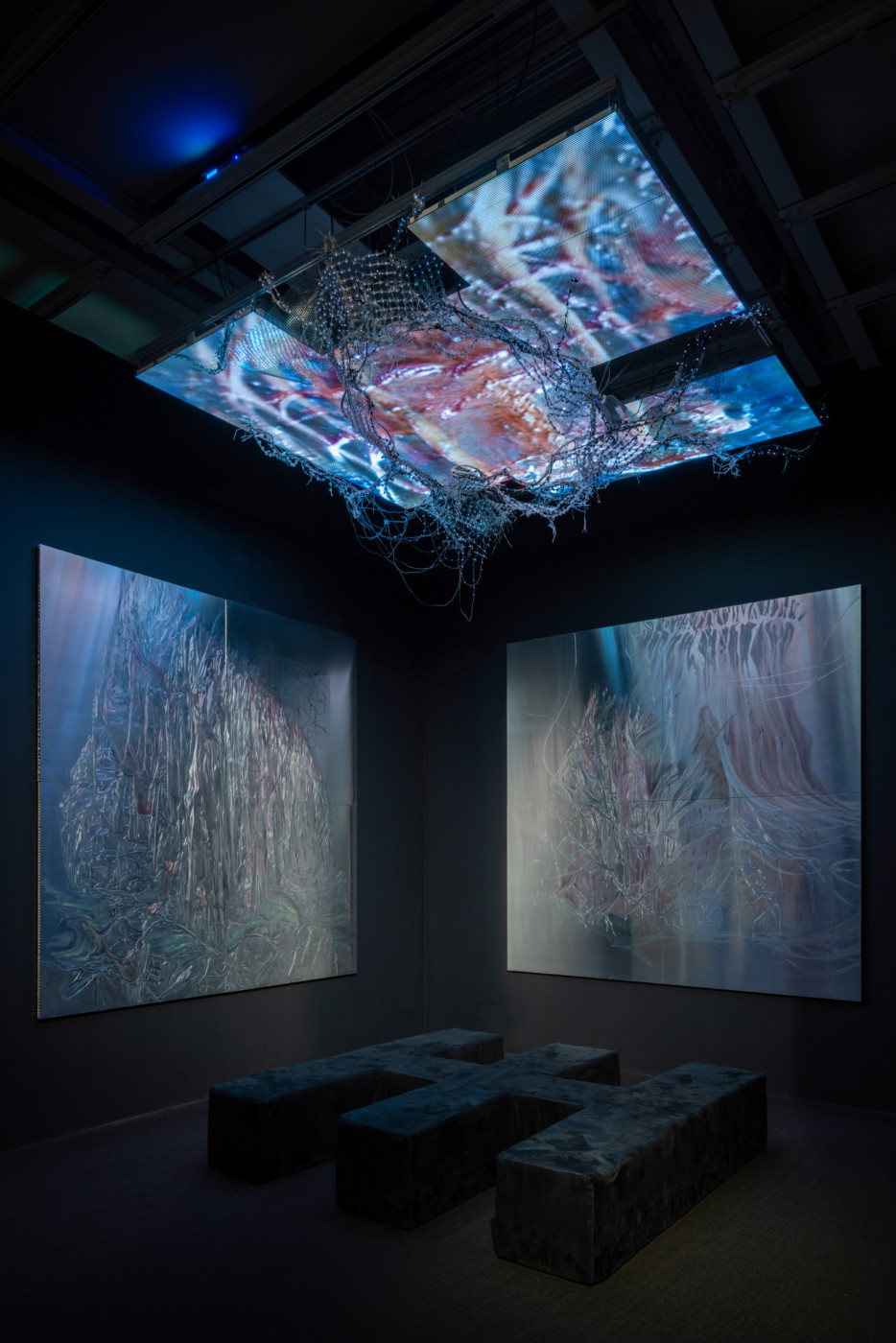 WangShui
,
Scr
∴
pe
II (Isle of
Vitr
∴
ous
), 2022, Whitney Biennial, Whitney Museum of Art, New York, USA, 2022 | Image courtesy of the artist, Whitney Biennial and Whitney Museum of Art
Through their work, WangShui not only attempted to physically interpolate the latent space between pixels, but also found that their research into perception, posthumanism, and neurodivergence entangled under the lens of Artificial Intelligence (AI). WangShui also thought that "post-human perception as more objective because humans have to deal with all cultural myths when trying to see the world around them, that they end up getting stuck on really bannal lies". In turn, "AI has the power to see humans better than we see ourselves and to see nature better than we see nature".
Reconstituting being itself in
the latent space between pixels under the lens of AI
Scr∴pe (2021), WangShui's first video collaboration with AI, is composed of General Adversarial Networks (GANs), a class of machine learning frameworks trained on an evolving dataset of images that WangShui habitually gathers. WangShui was inspired by the fleshy shape-shifting alien architecture in Octavia E. Butler's Xenogenesis trilogy. The idea of Scr∴pe also came from cancer in their family. Those generated images in the work like anamorphic post-human tissue sample excised from the latent space of GANs.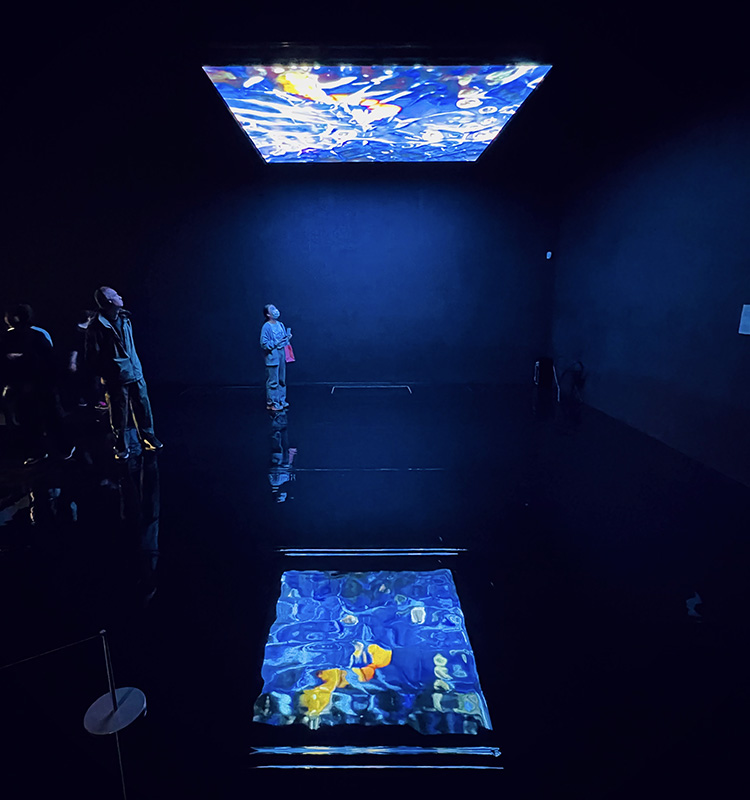 WangShui
,
Scr
∴
pe
, 2022
,
Exhibition View of Myth Makers—
Spectrosynthesis
III, Tai Kwun Contemporary, 2022
| Image courtesy of the artist, Tai Kwun and
Sunpride
Foundation
All images and ideas are sensory integration as part of the interconnected exchange between us, our environments, algorithms and forces beyond our control. There are active sensors in the work that read light levels emitted from the screens and carbon dioxide levels from viewers. The data is then fed back into the image generation to effect diversion, pace and brightness of the videos. When the exhibition is closed, the work dims and slows down to a state of suspended animation.