"Well, one can say a continuing interest in problems which religion covers such as birth, death, sex – these particular aspects of humanity. And certainly religion is either revealed or human beings thought it up. The human being is the link between God and the material world…" — Alfonso Ossorio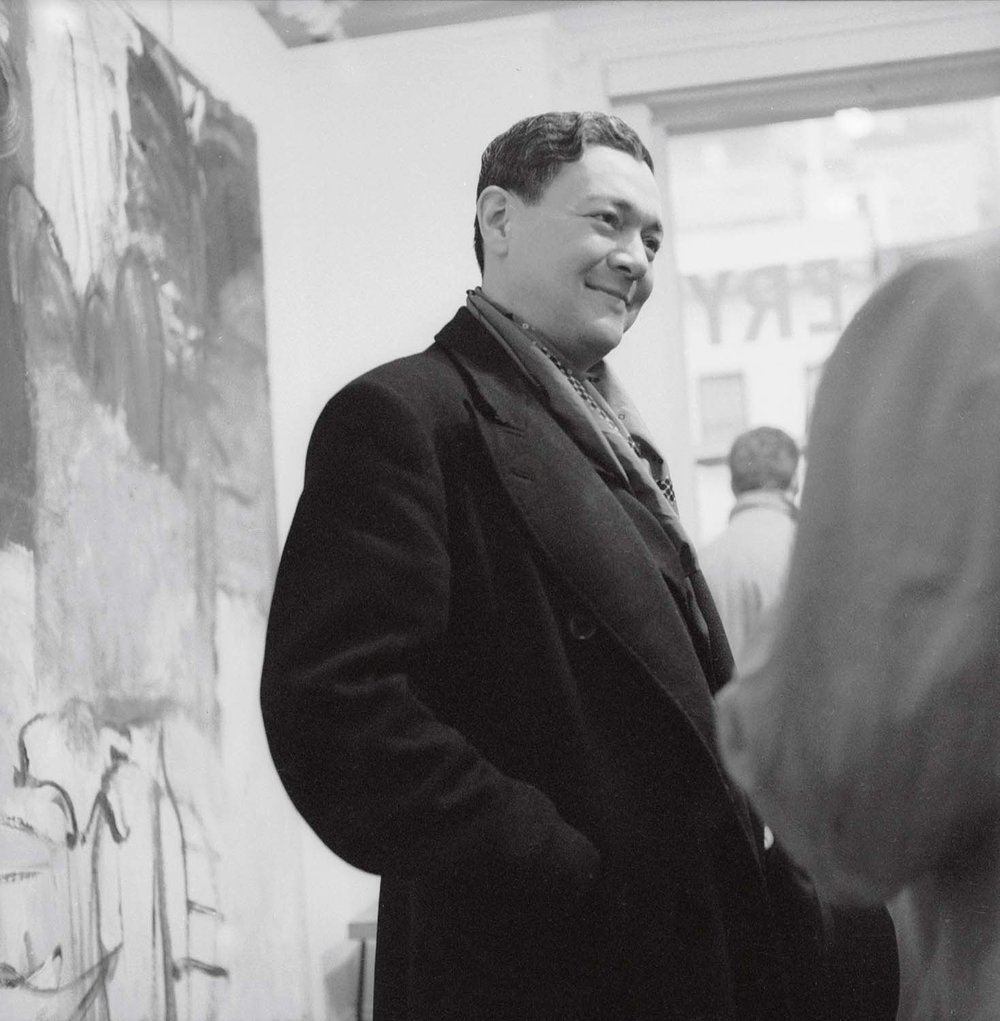 Alfonso Ossorio | Image courtesy of the artist's estate
Born in 1916 in Manila, the Philippines, Alfonso Ossorio was an American-Filipino artist and a collector best known for his Abstract Expressionist paintings and his unique sculptural Congregations series. Ossorio was born to a wealthy and Catholic Filipino family. Between the ages of eight and thirteen, Ossorio educated in Catholic boarding schools in the United Kingdom before coming to the United States in 1930 and became an American citizen in 1933. In 1938, he graduated from Harvard University, majored in fine art, completing a thesis titled "Spiritual Influences on the Visual Image of Christ" before briefly studying painting at the Rhode Island School of Design.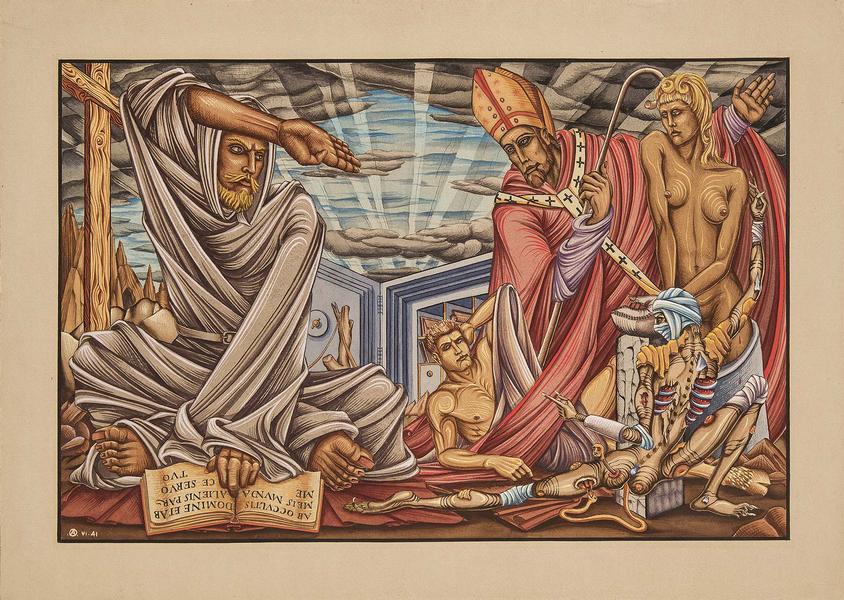 Alfonso Ossorio,
Untitled (W41-007), 1941 |
Image courtesy of the artist's estate and Sunpride Foundation
Discovered by the famed art dealer Betty Parsons, his first solo exhibition took place at the Wakefield Gallery in 1941. In 1943, Ossorio entered the US army as a medical illustrator. After his discharge from the army in 1946, he settled in New York, where he encountered the nascent style of abstract expressionism before eventually purchasing the East Hampton estate known as the Creeks in 1951 where he would spend the majority of his time.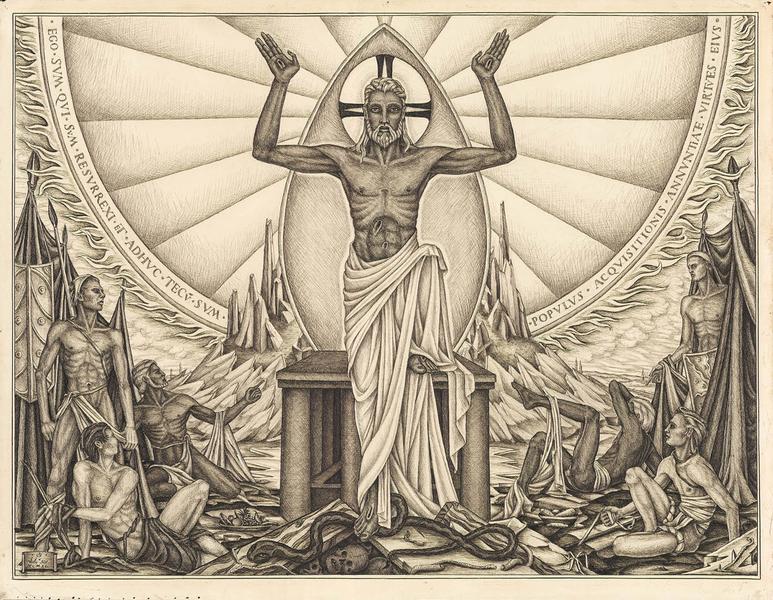 Alfonso Ossorio, Resurrection, 1940 | Image courtesy of the artist's estate and Michael Rosenfeld Gallery
Throughout Ossorio's lifetime, his work was exhibited widely at home and abroad, including Documenta III (Kassel, Germany, 1964); Contemporary American Sculpture (Whitney Museum, 1966); Dada, Surrealism, and their Heritage (MoMA traveling exhibition, 1968); 30 Years of American Art (Whitney, 1977); and Alfonso Ossorio 1940-1980 (Guild Hall Museum, East Hampton, 1980). Died at the age of 74, Ossorio left behind a remarkable legacy of diaries, photographs, letters and other historic materials, documenting a lifetime of artistic and cultural activity. His heir and life partner, Edward F. Dragon (1921–2011) , established the Ossorio Foundation and settled on a commercial warehouse in neighboring Southampton as the location to begin the preservation of Ossorio's legacy.
Artistically liberated by
Jackson Pollock and Jean Dubuffet
Ossorio's work of the early 1940s was dominated by surrealist still lifes, landscapes, and portraits executed with haunting detail and an unnerving precision of line. In the late 1940s, he began to explore abstraction, forming vital friendships with Jackson Pollock (1912-1956), an American painter and a major figure in the abstract expressionist movement, and Jean Dubuffet (1901-1985), a French painter and sculptor best known for founding the art movement art brut and for the collection of works. They showed him the value of reaching inward for inspiration rather than starting with an object or world external to himself.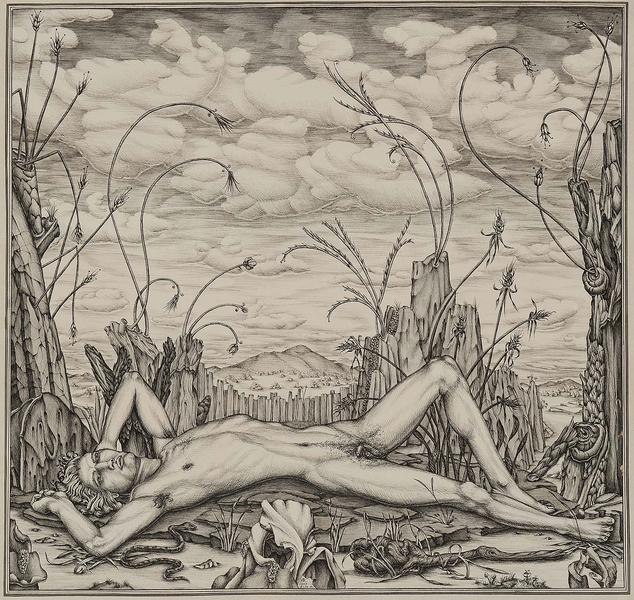 Alfonso Ossorio, Young Moses, 1941 | Image courtesy of the artist's estate and Michael Rosenfeld Gallery
"The influences of Dubuffet, Still and Pollock on my life have common roots: I had always been more interested in pre-Renaissance painting, in primitive art and in all forms of Oriental art than in the European tradition that prevailed between 1400 and our own time. And I was mesmerized by the way each of these painters revolted against the Western tradition and dealt with post-cubist space." Ossorio's detailed surrealist imagery began to morph into more abstract and overtly expressionistic work, while his artistic fascination with religion and sexuality grew.
Ossorio's Victorias Drawings, a series of wax-resist paintings
In 1950, Ossorio returned to the Philippines at the request of his father. He traveled to Victorias, Negros, to work on a 36′ x 20′ mural for the Church of Saint Joseph the Worker, which his family had built. This trip signaled his first time in the Philippines since his childhood, and it opened old wounds from childhood, adolescence, and young adulthood, including racial discrimination, conflict about his sexuality, and his devoutly Catholic upbringing. Ossorio poured his feelings into a series of wax-resist paintings collectively known as the Victorias Drawings and centered on themes of childhood, birth, sexuality, mythology, and religion.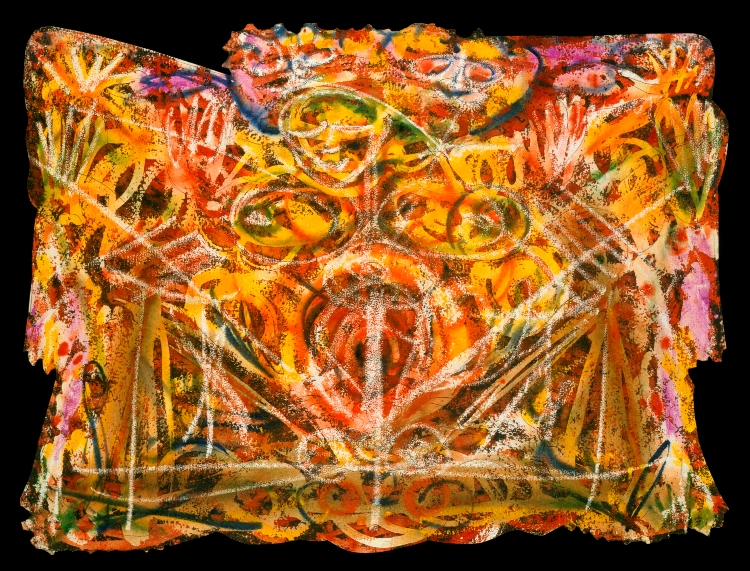 Alfonso Ossorio, The Helpful Angels, 1950 | Image courtesy of the artist's estate and Michael Rosenfeld Gallery
The Victorias Paintings were the results born from Ossorio's early inquiry in his Harvard thesis into the relationship between the changing images of Christ and movements within society. The images he created, the interpretations of the Eucharist, death, and the Crucifixion have to be seen within the context of his personal influences and then current issues in order to be fully translated. Ossorio painted abstract and figural paintings using a new wax-resist technique which he adapted from French Surrealist Victor Brauner. The Victorias Paintings were a convergence of the traditional and the primitive, a unity of artistic influences and personal struggles, deliberate figures with unintentional designs.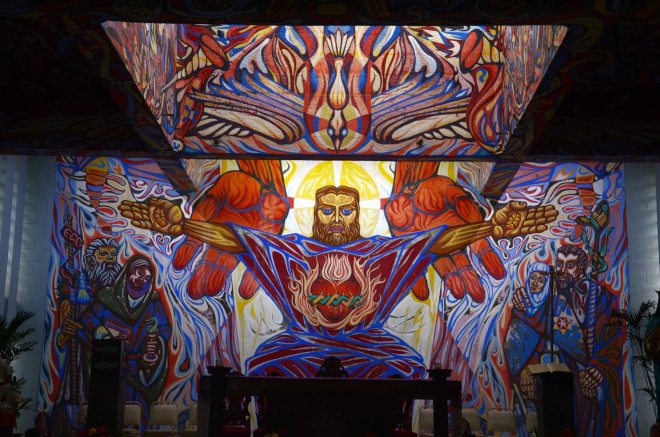 The Church of Saint Joseph the Worker, Victorias City, Negros Occidental | Image courtesy of Arnold Almacen
Later, Life magazine dubbed the mural as "The Angry Christ". A searing and radical image that offers a stylized vision of  "The Last Judgment" with the Holy Spirit and an army of angels dawning on the world in critical transition, it was tolerated by the community largely because Ossorio's influential brothers were in charge of the project.