"I see myself as someone who's just painting in a room with my dog." – Maria Taniguchi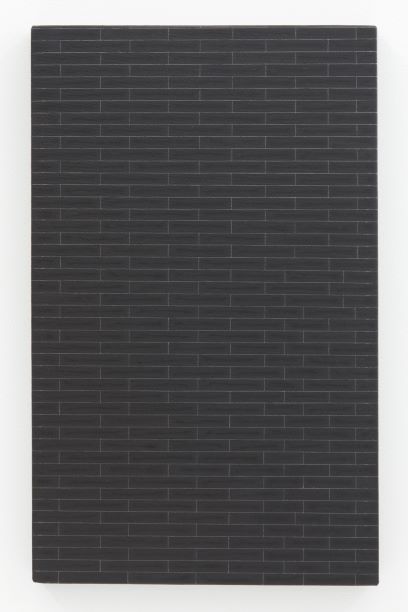 Maria Taniguchi
,
"
Untitled
"
,
2017 |
Image courtesy of the artist and
Taka Ishii Gallery
Born in the 80s Philippines, Maria Taniguchi now lives in Manila. She studied BFA in sculpture at the University of the Philippines. In 2009, she further studied MFA in art practice at Goldsmiths, University of London. Taniguchi's work included painting, sculpture, video and installation. Particularly, the black brick wall, also regarded as "brick paintings", is her unique style and signature.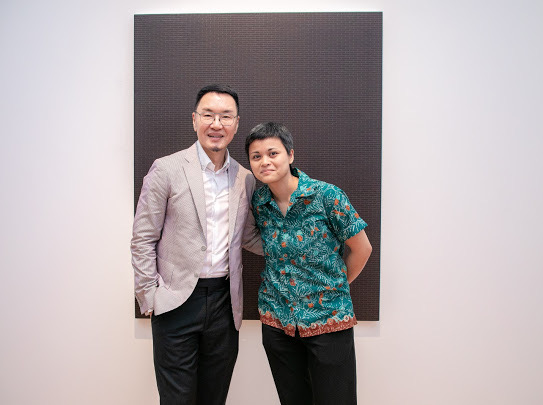 Maria Taniguchi
and
Patrick Sun
,
the
Founder of Sunpride Foundation at the opening of
"
Spectrosynthesis II
"
|
Image courtesy of Bangkok Art and Culture Centre and Sunpride Foundation
The u
ntitled
"
brick painting
"
Taniguchi's persistence in single style won the Hugo Boss Asia Art Award for Emerging Asian Artists in 2015. Since 2008, Taniguchi has been repeatedly and consistently painting the same object in her living room over 8 years. She first set the canvas on the big plank and put it on the ground. She then painted a layer of grey and horizontally drew one rectangular after another by pencil on the canvas. By using the skill of water color painting, "Brick painting" was produced after Taniguchi gradually filled every single rectangular in color by black acrylic. Taniguchi often creates large-scale works. One of her brick paintings presented at the 2017 Art Basel Hong Kong fair reached an awestruck 274 cm in height and 483 cm in width.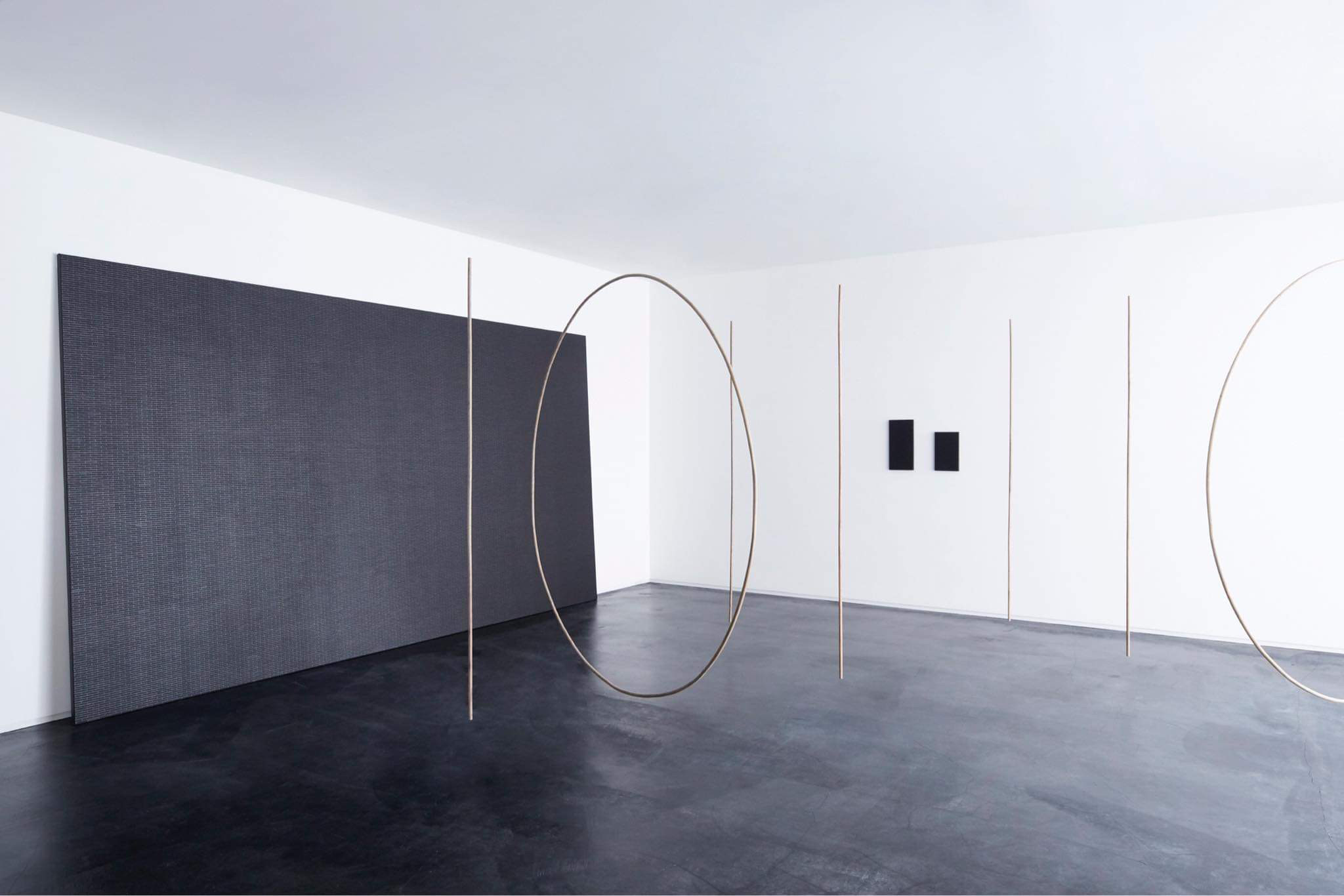 Taniguchi's 2017 solo exhibition at Taka Ishii Gallery
|
Image courtesy of the artist and Taka Ishii Gallery
The
brick wall
jumping out of the frame
Taniguchi's work is easily interpreted as a cold brick wall rejecting people from thousands miles away or analyzed in the perspectives of formalism and minimalism. Her work is even misunderstood as a kind of meditation practice. For Taniguchi, creating "brick painting" is to help her for thinking. The starting point is related to the elements of "skin", "pattern", "system" and "architecture". During many years of repeated painting, her own logic system has been internally built up. She then further develops and practices the system in her sculpture work.
T
he unique purple brick wall
Black is the main color tone of Maria's "brick painting" series. In "Spectrosynthesis II", the Asia's largest LGBTQ themed exhibition, Taniguchi's first purple "brick painting" has been launched. When following the eight major themes of "Spectrosynthesis II" in order, Maria's work was in the last part of the exhibition.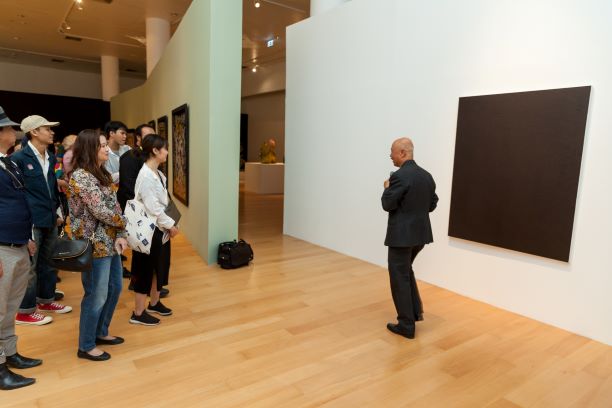 Guided preview in front of Taniguchi's
"
Untitled
"
, Spectrosynthesis II exhibition, 2019
|
Image courtesy of Bangkok Art and Culture Centre and Sunpride Foundation
After putting aside the established ideas and re-interpreted Taniguchi's work in front of "brick painting", the audience took away the diverse and mobile gender and sexuality spectrum from the exhibition and left from the venue.