"… Art is not only for art fans to visit but also belongs to all Cambodians. With the aim of providing a channel for the general public to approach art after leaving art galleries or exhibitions, Sa Sa Art Projects was born." – Lyno Vuth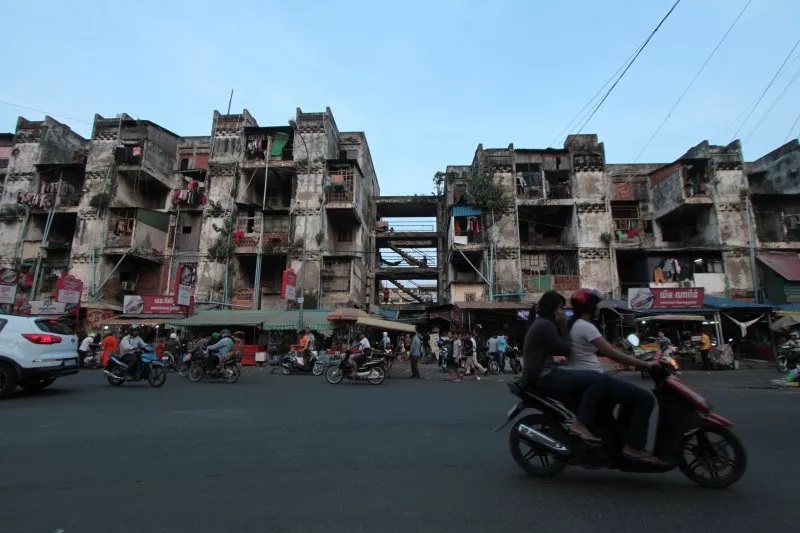 The White Building, 2015

Photo: courtesy of Sok Chanrado
Lyno Vuth's interest areas included microhistory, concept of community and production of social conditions. Participatory is the core of his art and curatorial practice. He often explores collective learning and experimental art as well as shares different views and voices through interactions. In 2007, he founded an artist group called Stiev Selapak. In 2010, this artist group launched Sa Sa Art Projects in the White Building located in Phnom Penh, Cambodia where is a community living with low incomers.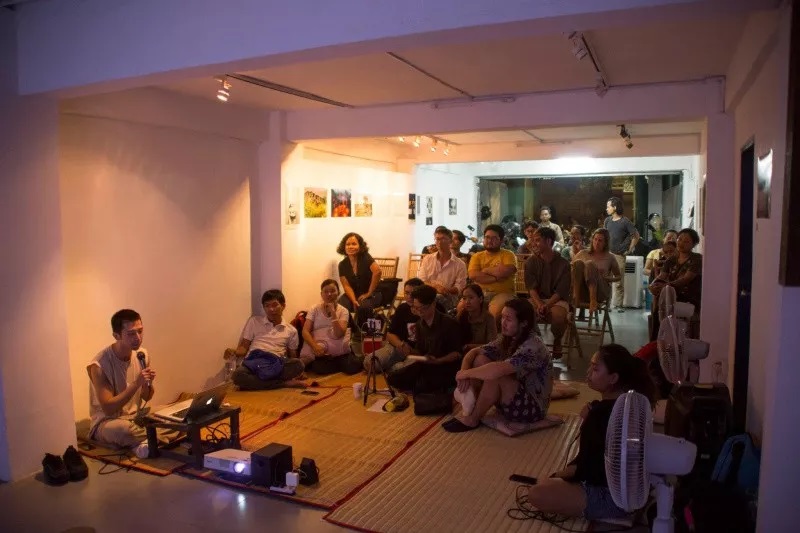 Sa Sa Art Projects' Artist-in-Residence Scheme
Photo: courtesy of Cobo Social

Sa Sa Art Projects is an experimental project. Vuth invites residents from the While Building to participate in art creations and to exchange projects with artists outside Cambodia. Community and art are both important in Sa Sa Art Projects, trying to strike a balance between them through conversations and interactions. Beyond the border of traditional space with community engagement is the key factor in the project. "I don't hope people rely on Sa Sa Art Projects. Instead, its role is to guide and facilitate people from different backgrounds to take part in art. I hope Sa Sa Art Projects is regarded as a spirit of gathering different people included students, artists and residents,making use of their resources to approach art.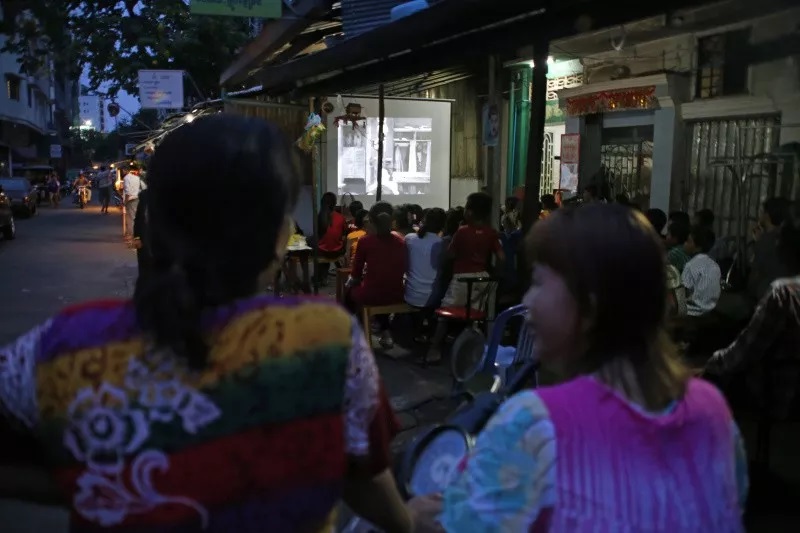 A
coffee shop became a film screening
venue in the White Building community
, 2016.

Photo: courtesy of
Cobo Social
The target audience of Sa Sa Art Projects is the ordinary people from the community, not the particular group of art gallery visitors. Therefore, Sa Sa Art Projects is being positioning as "scheme-oriented space" without applying the typical business model of art galleries. At the beginning, except exhibitions, other art related activities included workshops, Artist-in-Resident Schemes and collaborations launched by Sa Sa Art Projects, inviting local residents, artists and people from creative industry to join and to make use of the existing resources and spaces for integrating art to the community and surrounding environment. It aims to raise our awareness on the possibilities of spaces and ways for creating art outside art galleries. The residents from thecommunity are allowed to have familiar but new experiences such as organizing Mr. Bean and Diamond Island's public screening, one of the filmsshown in Cannes International Film Festival.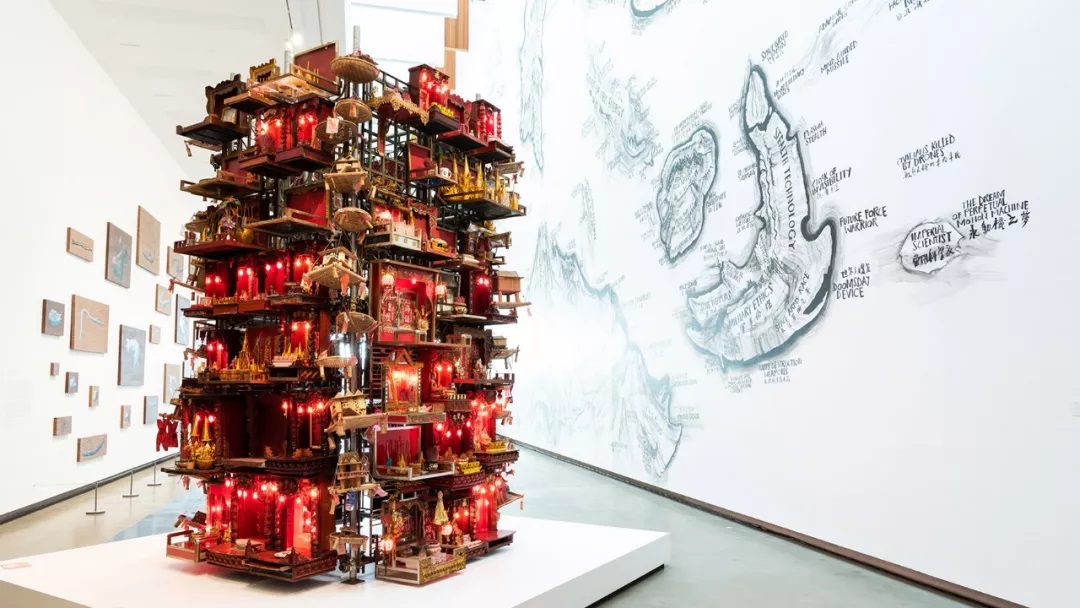 Lyno Vuth,
House-Spirit
(2018),
Queensland Art Gallery & Gallery of Modern Art
,
2018
Photo: courtesy of
the Gallery
Vuth's art practice inherits the idea of "stepping into community", investigating the topics on social changes, community relationship and urban development in Cambodia. As the White Building was demolished in 2007 due to urban development, Vuth honours to the White Building and its community by his sculpture work House-Spirit (2018). During the forced relocation, Vuth collected over 100 spirit houses which are domestic temples or shrines that are worshipped to appease the spirits from the residents to make a tower thatlooks like the White Building.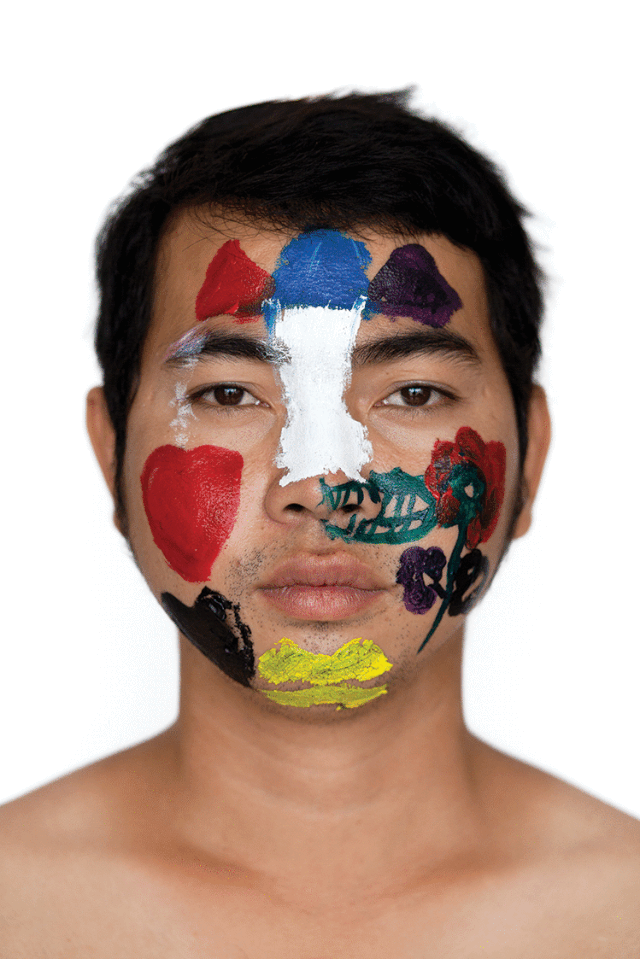 Lyno Vuth
,
Thoamada
(2011)
Photo: courtesy of
the artist
Vuth stepped into the community again to interview 9 male homosexuals and bisexuals. Through his work Thoamada, he enhances public understandings of LGBTQ community. 9 people with different ages from LGBTQ community were invited to take part in a workshop. Vuth interviewed their views on gender, sexuality, sex and personal experience. After the workshop, Vuth would like to take portrait photos for individuals. As most of them are still living in the closet, they painted symbols that are able to represent their own identities on their faces. Those symbols act like face masks to hide their real identities and symbolize how the interviewees position themselves. Some painted circles on the face to represent life. Some painted a non-aggressive lion. Some painted black and white butterflies representing half happiness and half furiness. Some painted Asura, a devil in Indian mythology representing the fear of public towards LGBTQ community.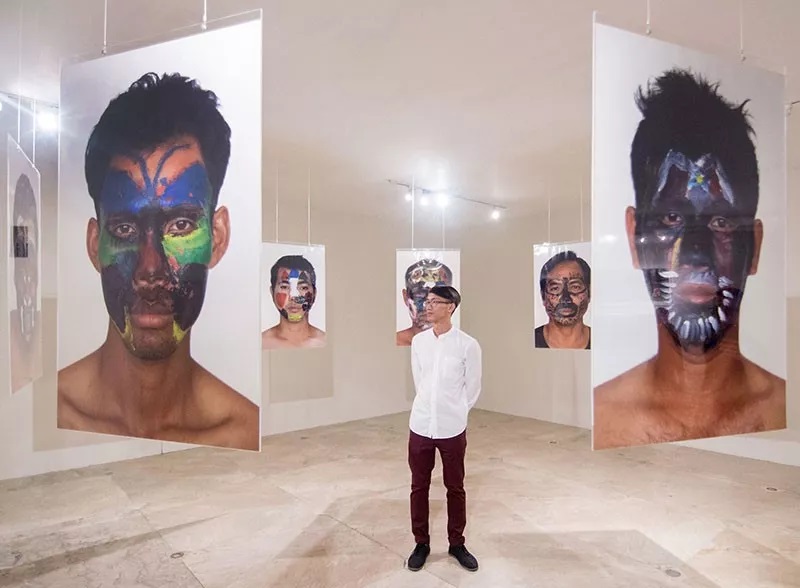 Lyno Vuth
,
Thoamada
(2011),
Metropolitan Museum of Manila
,
2018
Photo: courtesy of
the Museum
Thamada, an installation formed by hanging portraits of the nine interviewees in a circle after the photos were double-sided processed. The 9 faces from LGBTQ community are able to be seen both inside and outside the circle. Circle represents the work from the community but it is incomplete. There are gaps among the 9 portraits which symbolize paths for visitors to step into the circle if they would like to join or get more understandings of the community.

Lyno Vuth
,
Thoamad
a
II
(2013)
Photo: courtesy of Chiang Mai University
Afterwards, Vuth stepped into the families from the LGBTQ community. He interviewed their family members included their partners and partners' families. Thoamada was further developed to Thoamada II, a series about relationships among sexuality, family and memory. With the message that various combinations of families are possible to be formed by different people, rainbow families are presented to the public through camera lens.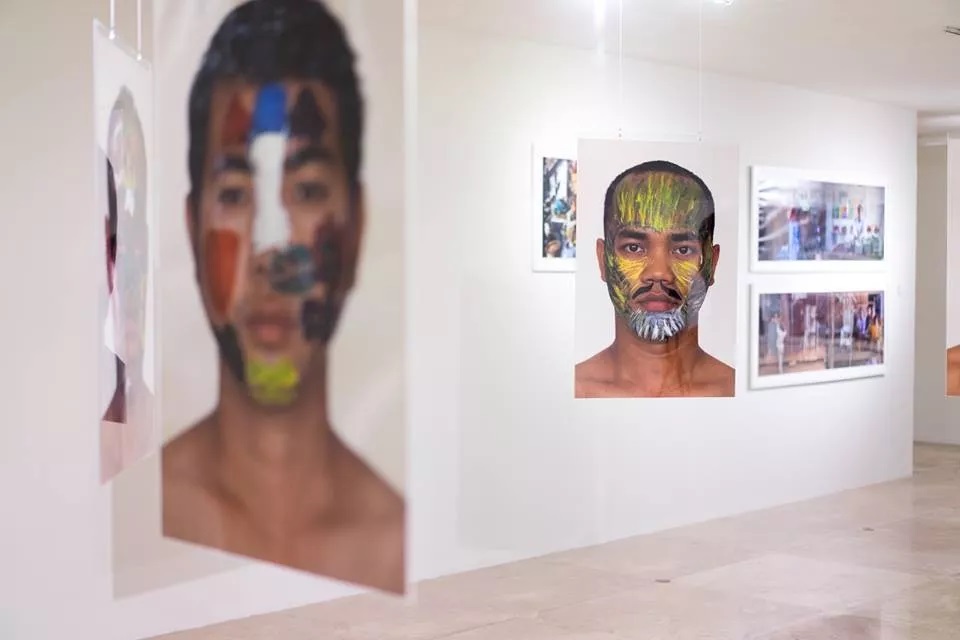 Lyno Vuth
,
Thoamada
(2011),
Metropolitan Museum of Manila
,
2018
Photo: courtesy of
the Museum
In the exhibition SPECTROSYNTHESIS II, Thoamada was shown in Bangkok Art and Culture Centre. It invited visitors to step into the circle formed by 9 portraits and to listen LGBTQ community's stories and inner voices.