"I explore love in my work. Love is what matters — love for each other and the love that we pour into the art we feel compelled to share. We human beings are here for a certain period, and during this time if we're not allowed to be who we are, we are not appreciating the gift that was given us. We are only saved by love." — Gazi Nafis Ahmed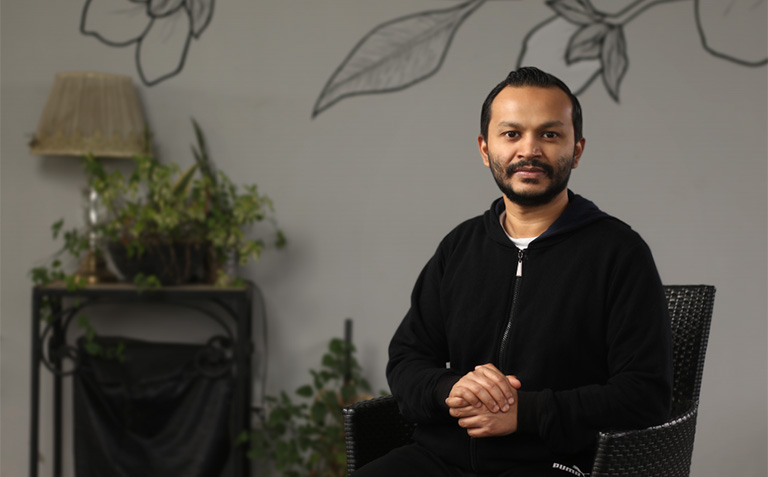 Gazi Nafis Ahmed | Image courtesy of the artist and ICE Today
Born in 1982 in Dhaka, Bangladesh, Gazi Nafis Ahmed is a Bangladeshi scholar and artist working with photography and video. His pictures portray visual stories, highlighting unseen or ignored realities. Inspired by real-world issues concerning equality, human rights and tolerance, Admed eschews documentary detachment, favouring a more intimate, humanistic and often playful kind of collaboration.
After graduating from Bangladesh International Tutorial High School in 2003, Ahmed studied art and design at the Sir John Cass Department of Art, Media & Design of London Guildhall University in London, and photography at the Danish School of Media and Journalism in Denmark. Ahmed was awarded a full scholarship by Istituto Europeo di Design in Madrid to study Master of Fine Arts in photography.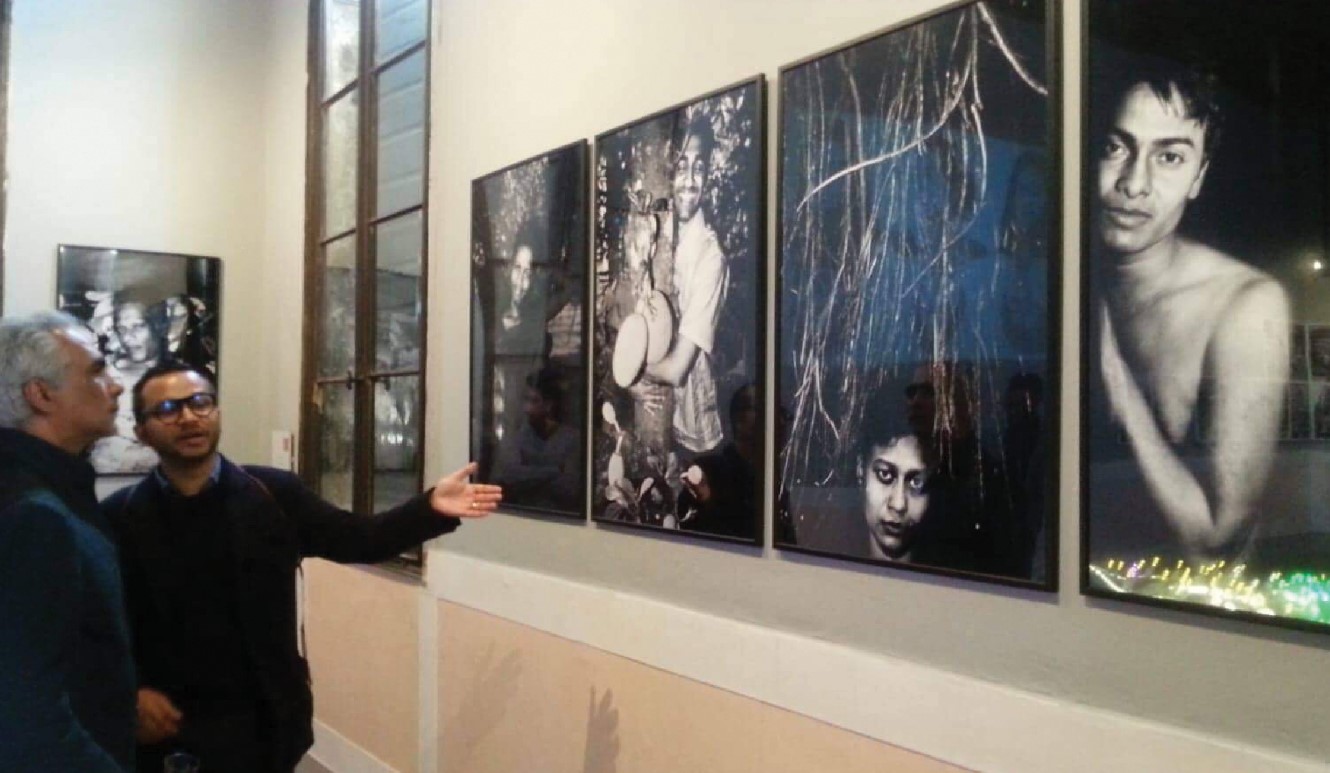 Gazi Nafis Ahmed, "Inner Face", Bangladesh National Pavilion, the 58
th
Venice Biennale, 2019 | Image courtesy of the artist and BBF Digital
From 2012 to 2014, he worked at VII Photo Agency, working with John Stanmeyer who is an American photojournalist and one of the founders of VII Photo Agency. In 2015, Ahmed was awarded at the Pride Photo Award and won in the "Stories of Love and Pride" category for his series "Inner Face".  In 2016, Ahmed was invited as a scholar at The Center for Social Difference at Columbia University. In 2019, he was one of five artists that represented Bangladesh at the 58th Venice Biennale. His photos have been published in Guardian, The New York Times and The New Yorker.
Optimism, the side of humanity that Ahmed has always been interested in
"The people in my photographs are not subjects – they are participants. A substantial part of my photography process involves participation, suggestions, and interactions." Ahmed's experience was unpleasant from some rules of photojournalism that revolved around highlighting his country as an icon of poverty such as natural disasters, accidents, and calamities.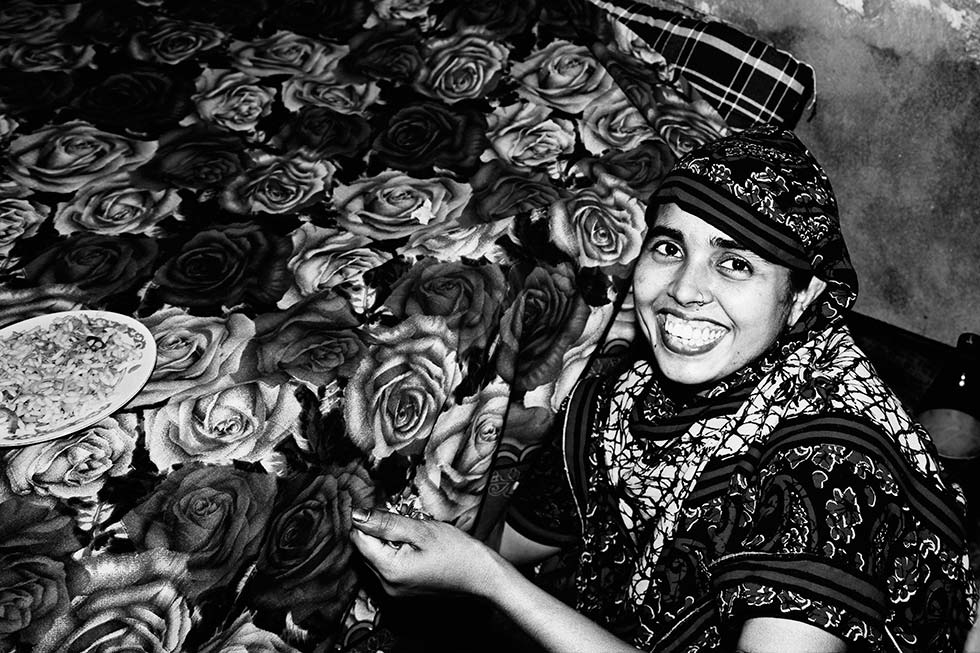 Gazi Nafis Ahmed, Made in Bangladesh Series, 2013 | Image courtesy of the artist
Ahmed thinks that telling only a side of a story would appeal to the pathos of international readers to garner readership, but regardless of what background one has, they have richness in their lives from various aspects, including happiness, strength, quality, and romance in their lives.
"Inner Face Series" works as a catharsis
Since 2008, after completing his studies at the Danish School of Media and Journalism, Ahmed came back to Bangladesh and started researching about the project — "Inner Face Series", a tribute to the LGBTQ youth of Bangladesh that mostly captures younger queer circles, who are lower- to middle-class. In Bangladesh, the socio-economically challenged gay men are referred to as Men who have Sex with Men (MSMs), an umbrella term created by public health officials to describe men who are considered to be high risk for HIV and AIDS. They are in secret relationships with double lives like they are married to women. Unlike the upperclassmen, they do not have access to books or the Internet. Ahmed also found that "the lesbian community seem to be less forthcoming or comfortable with being in front of the lens, which depicts yet another aspect of this complex community and their struggle — minorities within minorities."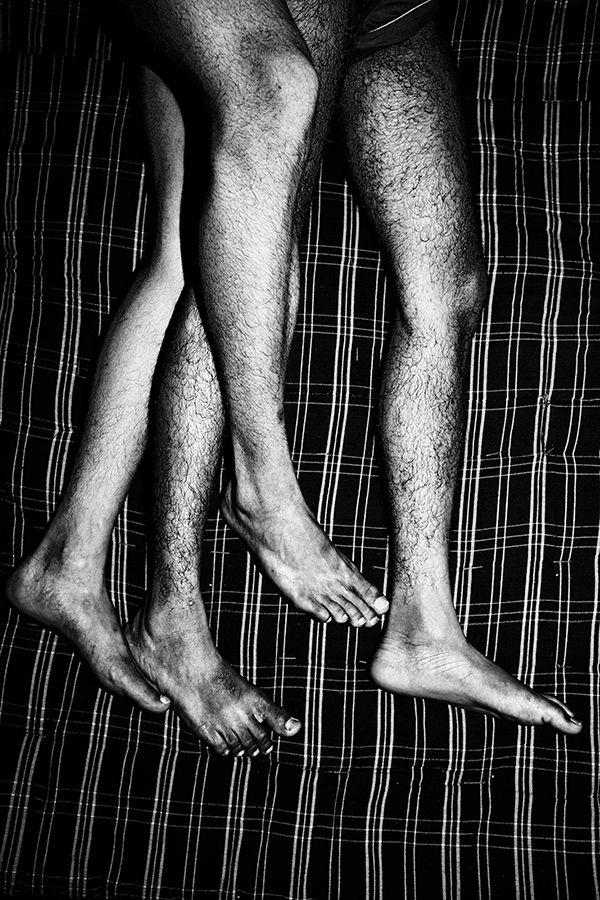 Gazi Nafis Ahmed, "Lovers #11", Inner Face Series, 2014 | Image courtesy of the artist and Sunpride Foundation
The exhibition "Inner Face", the first exhibition on the theme of LGBT community in Bangladesh, took place in 2009 at the Goethe Institute. During the opening day of the exhibition, academics, intellectuals, activists, human rights lawyers, and members of the LGBTQ community from all socio-economic classes were present to witness and appreciate this bold photography series. Before Ahmed took his first photograph for the series in late 2008, he took almost a year collecting data from organizations, working with LGBT community, traveling to different parts of the country, and conducting interviews.
Ahmed carves out a safe space, where young queer people can express themselves and their love freely. "It works as a catharsis. I spend a lot of time with people reaching deep and opening doors. It's like ventilation. Some of the things that have been imprisoned inside you, through my working process, you let them out. You open the window."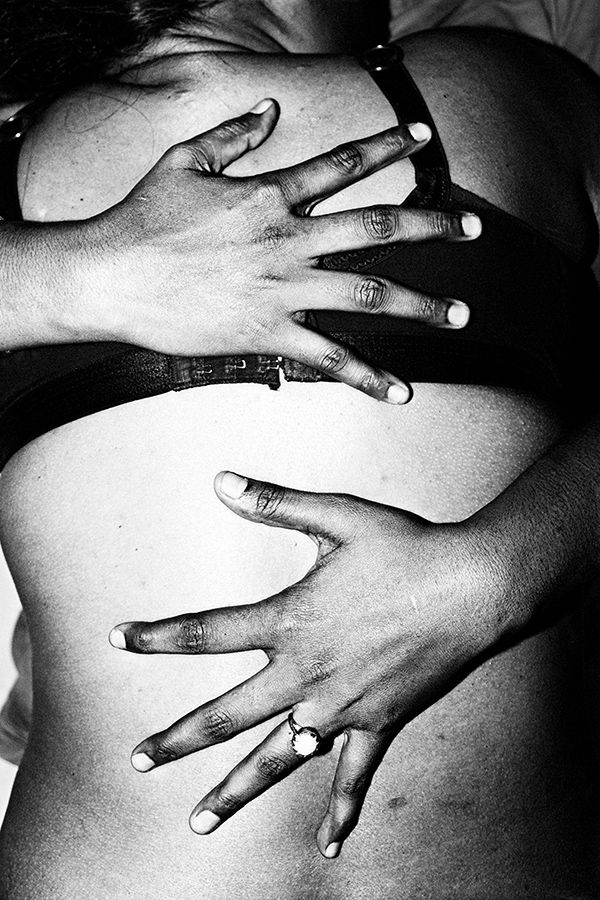 Gazi Nafis Ahmed, "Shahinoor & Nipa #10", Inner Face Series, 2013 | Image courtesy of the artist and Sunpride Foundation
"I am a woman and I love another woman. I want to live with my lover. I don't want anyone to come between us. We don't want anyone among us to commit suicide, to get hurt, to become addicted to drugs, to cut themselves. Let us live the way we want to. Now is the time to open up and talk about it." — handwritten note by Shahinoor and Nipa.